Laptops
Dell Inspiron 15 7000 2-in-1 Laptop Review
A fine 2-in-1 notebook from Dell that's too darn big as a tablet.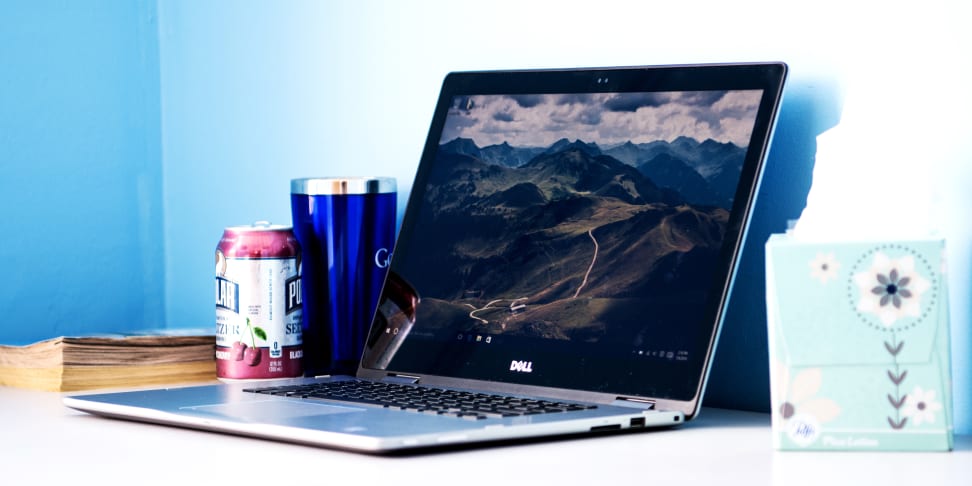 Credit:
Even just a few years ago, buying a convertible laptop meant spending extra to get a computer with trick hinges and a touchscreen. Now you can get the 2-in-1 experience without blowing a bundle on a premium model, and the new Dell Inspiron 15 7000 2-in-1 (MSRP $749.99) is proof positive. This 15-inch 2-in-1 sells for what we'd expect a decent normal ultrabook to sell for, but you get a Lenovo Yoga-style experience for less cash.
The Inspiron 7000 series comes well-equipped, something we discovered with the 13-inch version of this notebook. You get a full-metal case with a brushed-looking finish, Windows Hello-compatible webcam standard, and specs that all passed our sniff test—8 GB RAM, an Intel Core i5 chip, and a 256 GB SSD make it perfect for typical laptop users.
That's not to say that this is the perfect notebook computer. I found the keyboard and trackpad a little finnicky in use, even if the trackpad is better than many around the same price. Finally, the big question comes down to whether or not you have the muscle to use a whopping 15-inch tablet. But, all told, for the money, the 15-inch screen and powerful internals might be worth putting up with all the other quirks.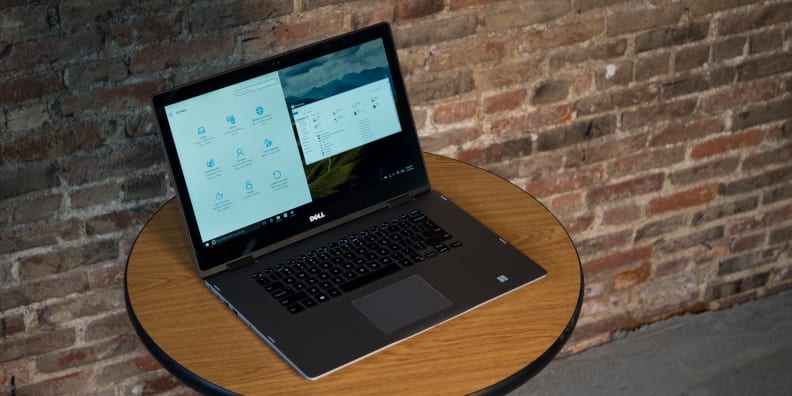 About the Dell Inspiron 15 7000 2-in-1
The Inspiron 15 7000 is one of a family of three very similar notebooks with different screen sizes. This 15-inch version is available with a range of processors from Intel i5 to i7, with only SSD flash drives instead of hard drives. We sampled the entry-level $749 version that has about everything you'd need:
•6th Generation Intel Core i5-6200u dual-core processor
•8 GB DDR4 RAM
•256 GB Solid State Drive
•Intel HD Graphics 520
•15-inch HD (1920 x 1080) IPS touchscreen
•WiFi AC/Bluetooth 4.0
•42WHr internal battery
If you need more storage, there are more expensive configurations that have a 512 GB SSD and 12 GB RAM, along with a faster i7 processor. Thankfully, Dell has used RAM and storage that are standard parts, and Dell even has the service instructions posted online for anyone to access.
What We Liked
A solid choice for value
The Inspiron 7000 series has been well-specced to give you what you need for the least amount of money. No matter which of the 15-inch 7000s you buy, you get a solid 8 GB RAM, flash storage as standard (and at least 256 GB to boot). Contrast the specs of this Dell with the original ultrabook, Apple's MacBook Air, and you get a really nice deal—all for $749. The Inspiron 15 7000 2-in-1 gets major points for including twice the amount of SSD space, and delivering a sharp 1080p IPS screen with nice viewing angles.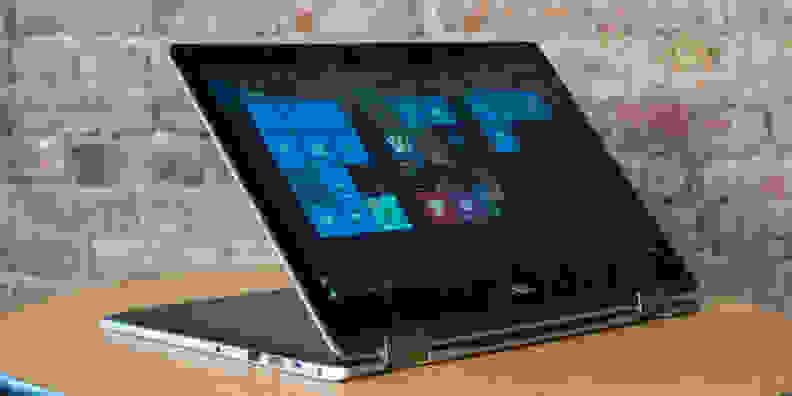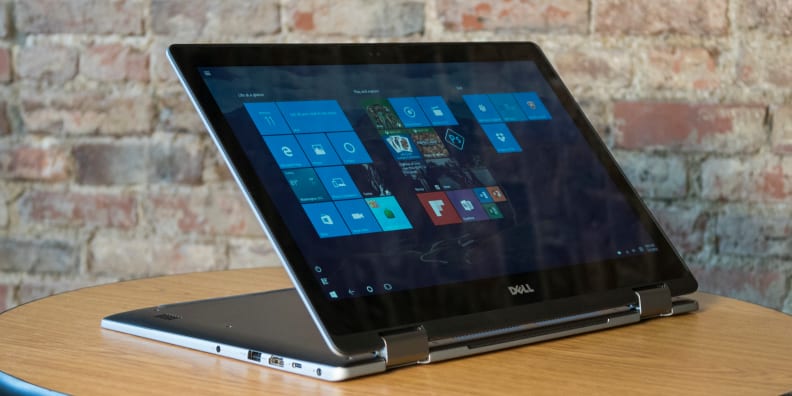 What's more is that for the money, Dell gives you an all-metal build that feels weighty and solid. The biggest issue with the 15-inch might be that it's too darn big! As a tablet, this 2-in-1 is far too heavy and large to hold without straining your arms. We felt the same thing when we used HP's 15-inch Spectre X360 notebook, too. These 15-inch 2-in-1s seem to be best when used as a normal notebook, or in tent mode on an airplane's tray table or your kitchen counter, for instance.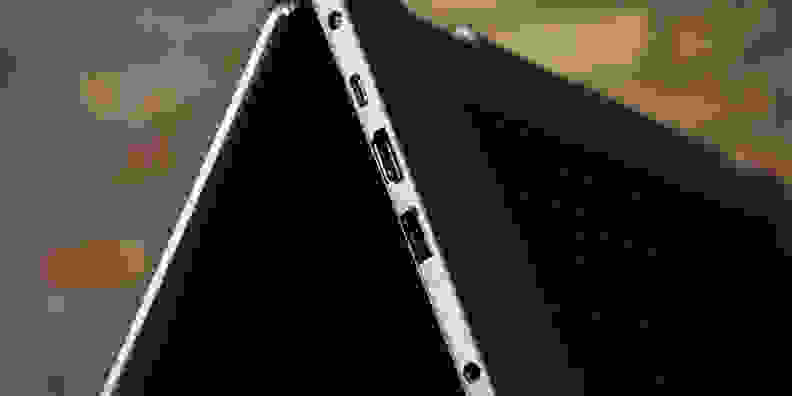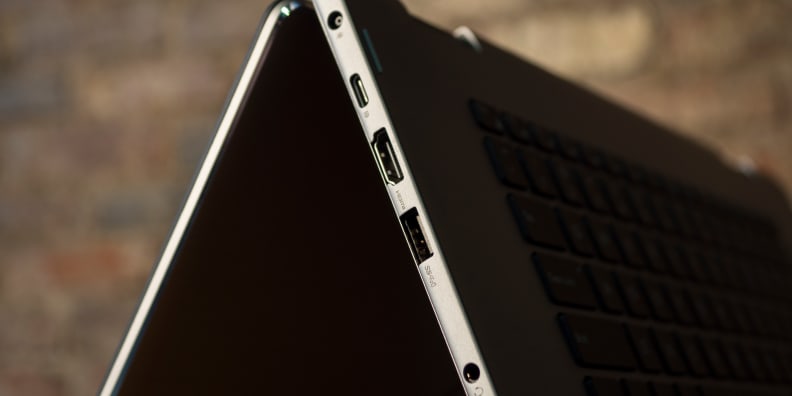 More ports than you'll know what to do with
When PC makers start cutting the fat to make a computer as thin as possible, sometimes some ports get left behind. But, just like on the 13-inch version of the Inspiron 7000, you get a full suite of standard ports to do just about anything with. There's a newfangled USB-C port that's compatible with 3.1 speeds and even DisplayPort. There's also a full-sided HDMI so you'll be ready to hook up to a TV or projector. On the right side, you get a USB 2.0 port and a full-sized SD card slot.
Facial login camera is standard
One of my favorite features that's built into Windows 10 is Windows Hello, which is Microsoft's way of letting you log in with things like a fingerprint scanner or a camera that can recognize your face. I got used to using the Hello-compatible camera that Microsoft puts on its own $1500 Surface Book, and again here on the Dell Inspiron 15 7000 2-in-1. That's right, a $749 2-in-1 has unthinkably cool, cutting-edge facial login as standard—it's not an extra.
Major kudos go to Dell here. Whereas competitors might put in a cheap webcam to shave a few pennies off the cost, Dell has brought some very new technology down in price so that the rest of us can afford to use it, too.
What We Didn't Like
A squishy keyboard and jumpy trackpad
We've given Dell plenty of praise for its use of Microsoft's Precision touchpad drivers in the past, and we're pleased to say that the Inspiron 7000 series all have it standard. Unfortunately, our 15-inch review unit was a tad oversensitive, and the palm rejection didn't work as well as other Dells or even competing notebooks. We hope that a driver update could improve performance of the trackpad in the future.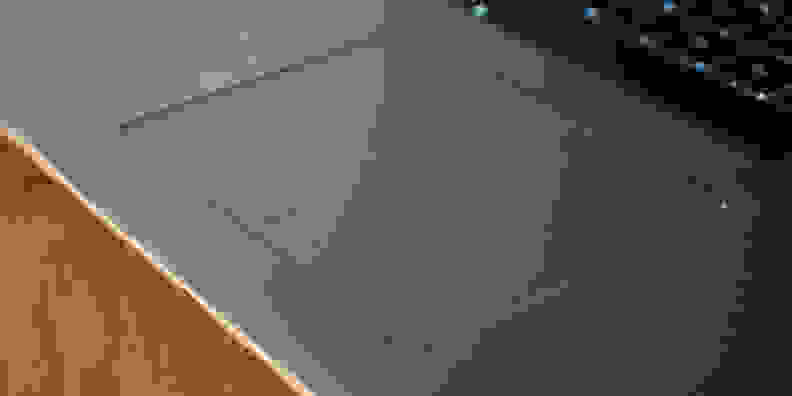 What might have been more disappointing is the Inspiron 7000's soft keyboard. Though the keys are very similar to other recent Dells like the XPS 13 ultrabook, this feels a bit less satisfying to type on. The feedback you'll feel is surprisingly soft and the throw of the keys is short. It caused me to make a noticeable amount of extra errors when compared to many other ultrabook keyboards. Thankfully, the keys are backlit, so at the very least they're easy to see in the dark when do you make a mistake.
Bigger frame, but mediocre battery life
One thing really surprised us about our test results from the 15-inch version of the Inspiron 7000 2-in-1: It had weaker battery life than its little 13-inch sister. While we got competitive battery life from the small 7000 in our intensive PCMark 8 home test (3 hours 40 minutes), we got around 20 minutes less from the 15-inch. This was disappointing because the 15-inch version of the HP Spectre X360 was the battery life champ compared to the smaller 13-inch Spectre. But, in this case, Dell put the same size battery in both Inspiron 7000s, and the bigger screen of the 15 inch drained it faster as a result.
The volume buttons are easy to press accidentally
Many convertible laptops like this tend to have power and volume buttons somewhere that makes them easy to reach when the notebook is used in any orientation, and in any mode. With this Dell, the volume and power buttons are on the front righthand edge of the keyboard deck, and they're just darn easy to bump accidentally. I'm sure you'd get used to it over time, but during our review period, the Inspiron 15 7000 didn't win any favor from me as far as this design choice is concerned.
A screen that looks a little washed-out
We test the latest and greatest TVs here at Reviewed.com, and so I might be spoiled when it comes to screen quality. The IPS panel in the Inspiron 15 7000 isn't the worst display I've laid eyes on recently, but in our labs and in the real world I just couldn't shake my impression that it was lacking. Contrast is only okay, and the colors were dimmer compared to competing computers. It was especially evident when I fired up OneNote to write down my thoughts and write this review. The punchy purple of the app just looked dim and lackluster instead.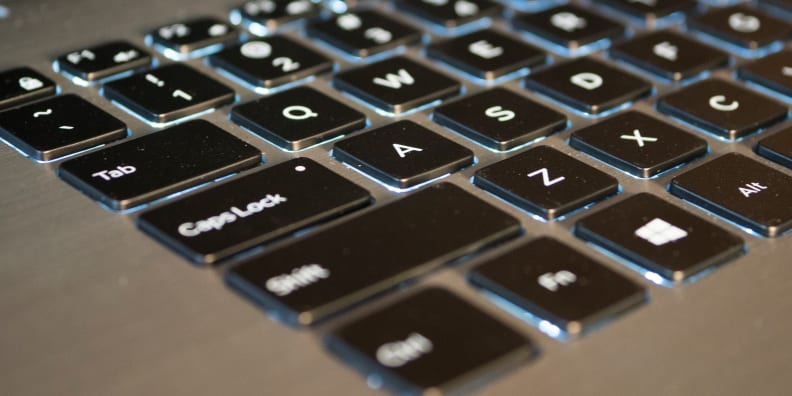 Bloatware isn't awful, but weird audio
Finding bloatware onboard your new laptop can be a disappointment, but thankfully Dell's dialed down the amount it's been putting onto new systems lately. McAfee is not too terribly obtrusive, but you're gonna want to uninstall it and stick with the free Windows Defender software instead. The only annoying bit of preinstalled cruft was the built-in Dropbox 20 GB offer, which kept popping up at inopportune times.
For me, the worst part of Dell's built-in software has to be its MaxxAudio sound software. By default, the computer applies a weird "enhancement" filter that made my favorite YouTube videos and podcasts sound like garbage. We recommend turning this feature off in order to maintain the best audio clarity from the Inspiron 15 7000.
Should You Buy It?
This big Inspiron 2-in-1 is a bit of a tough recommendation, even though I think that Dell's made a fine product for a palatable price. For me, the biggest dealbreaker is that the 15-inch Inspiron just too big to be of use as a credible 2-in-1. I also felt like HP's Spectre X360 was also too big in its 15-inch guise.
Here, we definitely recommend the smaller Inspiron 13 7000 2-in-1, since it nets you all the things we loved about the 15 in a more portable, more tablet-friendly package. As we said in that review, I feel like it's the Goldilocks of the Inspiron 7000 2-in-1 lineup.
Though the 15-inch Inspiron 7000 is good, the 13-inch is definitely the Goldilocks size of the bunch.
Given that its $749 price will probably fluctuate, we're bullish on the Inspiron 7000 series as a great compromise between premium and value, and Dell's done its due diligence to deliver the goods. It's cheaper than a MacBook Air, and you get double the amount SSD space to boot. Throw in the a cutting-edge USB-C port and that high-tech Windows Hello-compatible camera and you'll feel like you're just that much closer to living in The Jetsons.
Related Video