Laptops
HP Folio 13 Review
The HP Folio 13 is a high-end ultrabook aimed at business users. Priced at under $1000, it offers middling performance, but great battery life.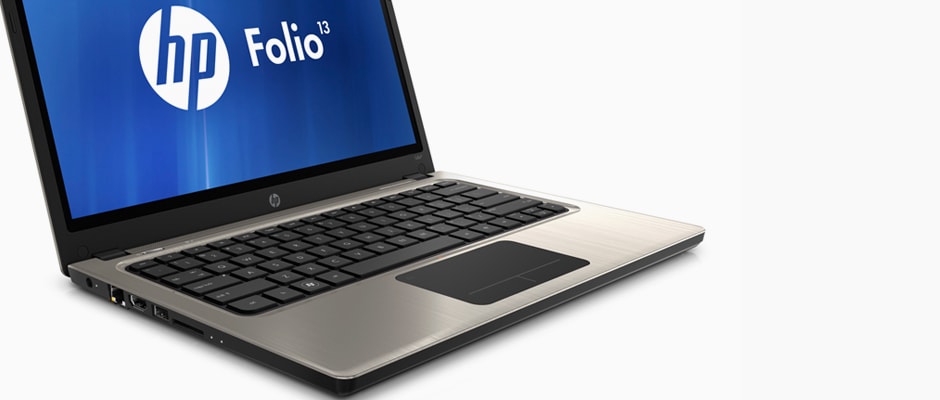 Credit:
Overview
The HP Folio 13 is priced at under $1000, and it offers a lot of features for the price, with a good screen, keyboard, and touchpad. It didn't set the house on fire in our performance tests, but it more than made up for this with a battery life that is significantly longer than most.
This would make it an attractive choice for the road warrior who needs to work on presentations without begging for a power socket.
Design & Usability
Though the Folio 13 is sleek and ultra portable, it has several usability issues.
The Folio's touchpad has no separate mouse buttons. Instead, the bottom section is divided into two spots for right and left clicks. The lack of actual buttons causes both sides to respond to clicks, which made the Folio 13 feel a little cheap and fragile. We also noticed that the rubbery surface required a light touch. Pressing down too hard nullified any effort we made to make the pointer move. This laptop is not for the heavy handed.
Momentum and EdgeMotion rarely worked properly.
The laptop was prone to false touches of the palm, and tapping its corner could easily turn it off. While this is a useful feature, it is accompanied by an obtrusive screen animation, which gets annoying real fast.
From the Synaptics Clickpad menu, we could control a variety of aspects. Two of the more interesting options are Momentum and EdgeMotion. Momentum allowed us to move the cursor across the screen with one flick of the finger. EdgeMotion helps conquer the limited space on the touchpad: With this feature turned on, when your finger gets near the edge of the touchpad, the motion will continue until you lift your finger up. In theory, both of these features help remedy the limited space of the touchpad. In practice, however, we found that they rarely worked properly. This just added to our frustration.
Performance & Features
This ultrabook sacrifices little in the way of features, even given its slight profile.
This laptop's display is on par with its fellows, but it has a poor viewing angle. Colors become pale at anything other than straight on—a shame, since the Folio 13 has a 13.3 inch 1366 x 768 pixel screen with LED-backlit HD Brightview technology.
This laptop's display has a poor viewing angle.
In terms of guts, the Folio 13 is built around an Intel i5-2467M processor with 4GB of RAM. Data is stored on a 128GB SSD drive, which helps the computer to start up quickly. However, in our labs, the HP Folio had below average performance. It showed the lowest scores during the applications round. In our Photoshop test, it managed to run through a set of common filters in 17.2 seconds. That's a little slower than most: the Dell XPS 13 ran the same test in just under 14 seconds, and the Acer Aspire S3 did it in 14.7.
Our Handbrake test looks at how long it takes the laptop to convert an HD movie to a lower resolution. The Folio managed to do this in three minutes and 40 seconds, which again is a decent, but not outstanding. It is slower than the Dell XPS 13 and the Acer Aspire S3 (which both took about two minutes and 50 seconds), but quicker than the Samsung 9, which took just over four minutes. Lastly, we ran the Folio 13 through a complex Excel spreadsheet. Averaging the results, this laptop finished the spreadsheet in 17.24 seconds—once again, a middling result for the Folio 13. The Dell XPS 13 finished the same test in 13.98 seconds while the Lenovo X220 Thinkpad took 23.80 seconds.
Conclusion
Anyone who travels a lot should consider the HP Folio 13.
The HP Folio 13 is an ultrabook with an impressive battery life, first and foremost. However, the trade-off is in its lower performance; it had middling results in testing.
For anyone who works while traveling, the HP Folio 13 is definitely worth a look. One of these ultrabooks can be had for under $1000, so it's fairly economical.
Introduction
This is a good ultrabook for anyone who plans on taking it out on the road.
Applications
Through the wringer
In order to cover the gamut of applications a typical user goes through daily, we chose to use Photoshop, Handbrake, and Excel. In Photoshop, we timed how long it took the HP to run through a list of filters. With Handbrake, we had an HD video compressed into standard definition, keeping an eye on the timer. Finally, we had the computer run a complex Excel spreadsheet and recorded how long it took to complete 1,000 lines. All-in-all, the Folio scored below average performance with all applications.



PC Mark
More unexciting results
PC Mark runs a set of simulated activities in rapid succession. Everything from web browsing to image manipulation is covered under the PC Mark umbrella.
The Folio 13 scored a 5656. That's a fair score, but nothing that would raise our eyebrows. The Dell XPS 13 managed a 7344, and the Macbook Air achieved a 7089. Both are similar in size to this HP.