Laptops
Lenovo LaVie Z 360 Laptop Review
An average lightweight laptop for the average consumer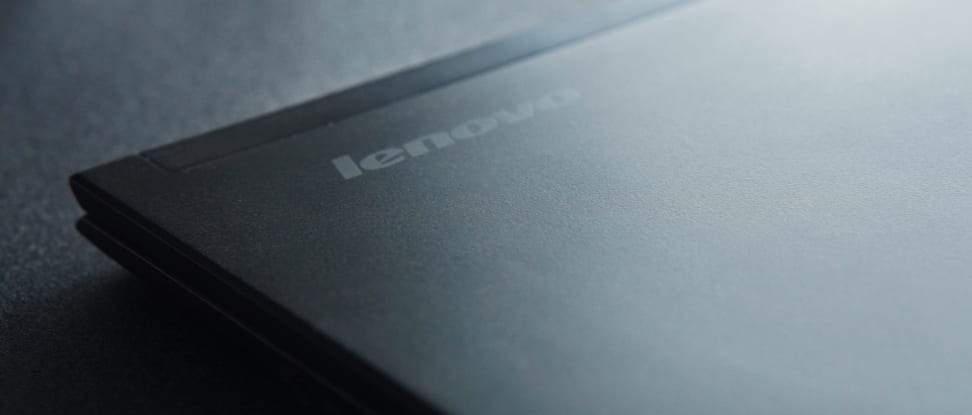 Credit: Reviewed.com / Nick Schmiedicker
It's a tale as old as time: If you want something that's lightweight and portable, you're probably going to have to sacrifice somewhere. For laptops, the trend lately has been to go with weaker components that are more power efficient, like Intel's mobile-friendly Core M processors. Thankfully not all manufacturers think alike and Lenovo has gone in a different direction with the LaVie Z 360 (MSRP: $1,449.00).
Coming in at a scant 2.04 pounds, the Z 360 nonetheless features a fifth-generation Intel Core i7 processor, 8GB of RAM, an Intel HD Graphics 5500 GPU, and a 256GB SSD for storage. The result is that the LaVie Z 360 has plenty of juice to handle all of your basic laptop needs and then some. And despite being one of the lightest laptops around, this is machine will run rings around the Core M processor crowd.
But, while it hits well above its weight class, there are a few key flaws that keep it from being a true knockout. These range from a small quirks—like an unusual keyboard layout—to things that are a tad more troublesome. Most notable? A hollow-feeling chassis that lacks the reassuring heft of Lenovo's traditional ThinkPad line.
Design
So light, it practically feels hollow
First impressions mean a lot, and the LaVie Z 360 really caught our eye thanks to its minimal design. It's about as nondescript as a mousepad—dressed only in black—and uses a magnesium-lithium alloy in the frame to keep its weight down to an impressive 2.04 pounds. This is a laptop that was designed with one thing in mind: portability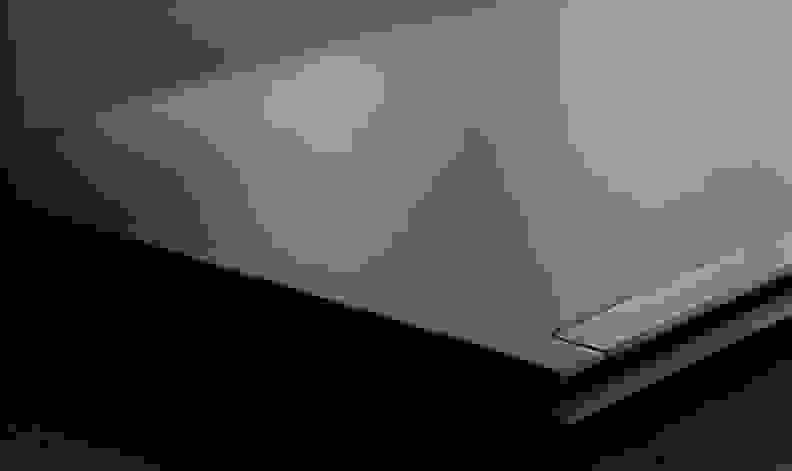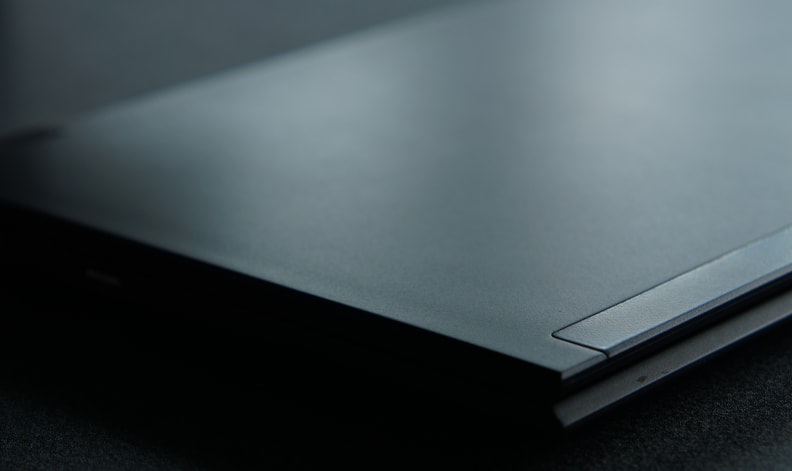 While its weight is definitely the main selling point, it has the unfortunate side effect of making the lid and underside feel practically hollow. Left on a desk or other smooth surface, it feels great to use, but as soon as you pick it up to move you'll be reminded of how fragile it really feels.
Lift the lid—which can go all the way back to shift into a tablet mode—and you're greeted with a 13.3-inch WQHD touch panel display with a resolution of 2560x1440. That makes for a beautiful display, which is perfect for editing photos or relaxing with Netflix.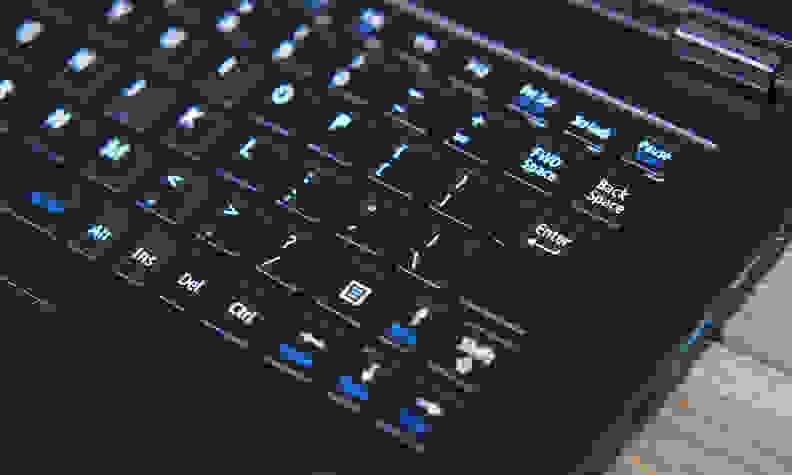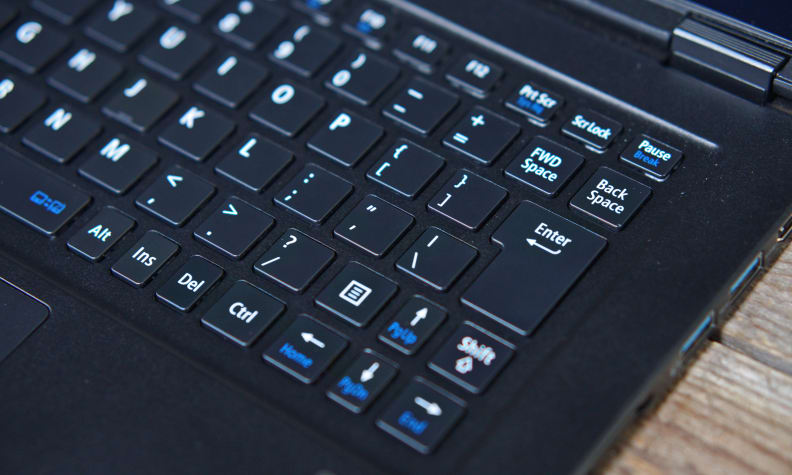 Take a gander at the keyboard and you might notice some things seem a little off. Well, that's because the LaVie series stems from a partnership between Lenovo and Japanese manufacturer NEC. On the Z 360, the keyboard uses a Japanese-style layout that's been rebranded with English characters. Some keys are misplaced and sized much smaller than what you'd find on an English keyboard and adjusting for the new scheme is a trial in patience. On the bright side, the touchpad is great and was plenty precise for general use as well as multitouch gestures.
As with most other laptops in this category, the LaVie Z 360 comes equipped with only the essentials. That includes two USB 3.0 slots, an SD card reader, a single HDMI port, and an audio jack on one side and the power button, volume rocker, and the power connector on the other.
I mentioned Lenovo's inclusion of its specialized hinges—which is what earned this model the moniker "360"—and while we normally love the versatility this provides, two of the modes don't function correctly thanks to a couple of glaring errors. Namely, using the laptop in "tent" mode won't auto-rotate the screen and "stand" mode won't deactivate the keyboard.
It's a sour spot on an otherwise stellar design. And while tent and stand modes aren't that useful, it's unfortunate that the LaVie Z 360 suffers where every other Lenovo laptop with those hinges succeeds. With any luck, Lenovo is working on a software update to resolve the issue, but there's been no indication that such a fix is coming.
Software
Still shipping with Windows 8.1
Despite the July 29th release of Windows 10, Lenovo is still shipping the LaVie Z 360 with Windows 8.1, at least at the time of this review. The good news? You have a full year from the Windows 10 release date to upgrade for free. The process is about as painless as could be and you shouldn't have any problems with the LaVie Z 360 running the new operating system.
But whether or not you stick with 8.1 or upgrade to Windows 10, the first thing everyone has to contend with is the amount of pre-installed software the manufacturer put on your new laptop. While there are the occasional diamonds in the rough, this software is typically redundant and does nothing more than take up precious hard drive space that could be better served for pictures of your family.
Thankfully, when Lenovo set out to build a lightweight laptop that notion extended to the software. The bloatware on the LaVie 360 is sparse and what's there actually isn't that bad. You'll start off with a trial membership for McAfee—which quickly devolves into annoying pop ups once the trial runs out—but is a good reminder for getting some kind of virus protection installed sooner rather than later.
There's also a scant handful of Lenovo's branded apps like SHAREit—a cloud system for connecting your devices—a laptop user guide, and a tool for system updates. While these are definitely great tools to have, with more mainstream alternatives for cloud storage—like Dropbox or Google Drive—and the built-in hardware of Windows handling the rest, there isn't really a big enough draw to use Lenovo's apps instead.
Performance
It's an average laptop for average needs
If you've ever gone to a manufacturer's website in hopes of buying a new laptop only to be overwhelmed by all of the configuration options, you're not alone. There's something to be said for being able to just pick a laptop and be comfortable knowing that it has enough power to do what you need to do. Well, Lenovo has taken out all of that guesswork and is only offering a single configuration for the LaVie Z 360.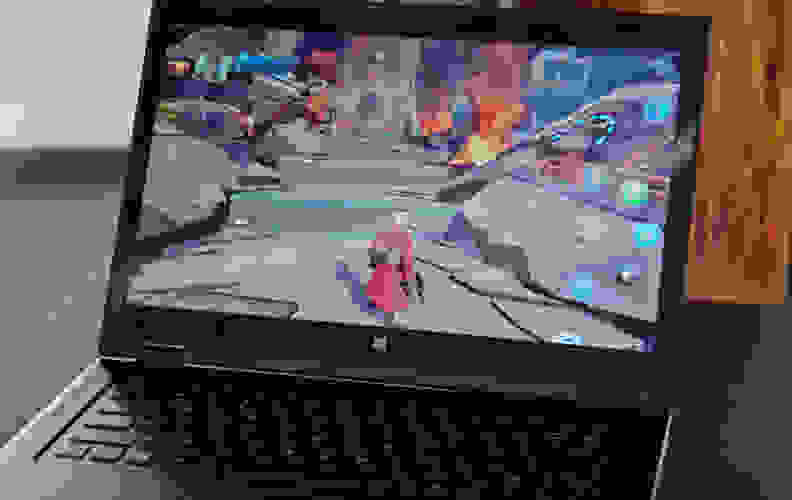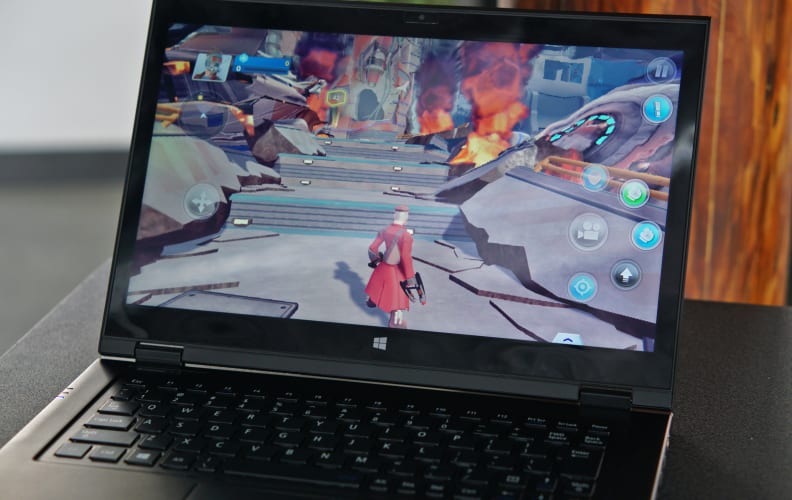 There are plenty of manufacturers taking advantage of Intel's power-efficient Core M processors to keep their laptops extra slim. Instead, Lenovo opted for a full fifth-generation Intel Core i7 5500 clocked at 2.4GHz and 8GB of RAM. There's plenty of juice there to handle basic tasks like surfing the web or catching a Netflix show and even heavier workloads like editing photos or videos—but not hardcore video games.
With an Intel HD Graphics 5500 GPU, it should be fairly obvious from the get-go that the LaVie Z 360 wasn't meant to take on any of the graphic-heavy games on the market today. (For that you'd want something like the Asus ROG G501 Gaming Laptop.) Don't believe me? Using a benchmark test with Metro 2033: Last Light, we averaged 7 frames per second before maxing out at 19, which renders the game completely unplayable without some serious rage-inducing lag.
Keep in mind that Metro 2033: Last Light is an absolute beast of a game when it comes to graphics—which is why we use it in our tests. If you're really more of a casual gamer and only plan to play a few browser-based games or whatever is on the top of the charts in the Windows game store, then you won't have as much of a problem. No matter what you prefer though, most games will wreak havoc on your battery and the LaVie Z 360 doesn't have a lot to spare.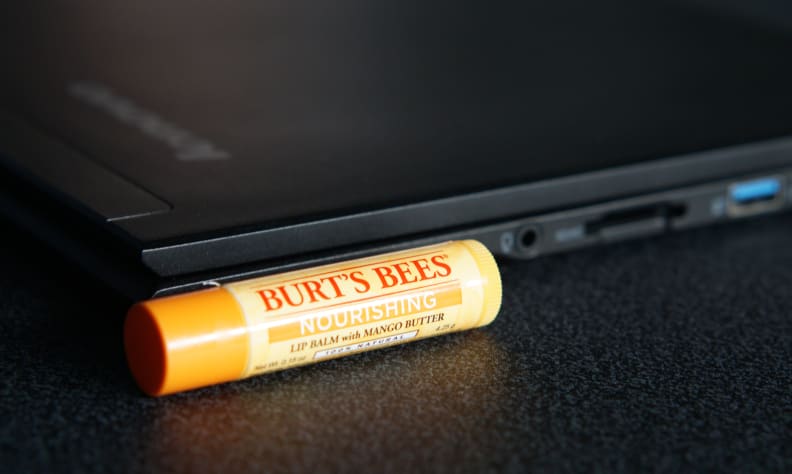 What do I mean? Well, a slim frame like this usually necessitates a smaller battery, and while Lenovo claims battery life can reach up to nine hours, our test showed that number might be a little optimistic. Granted, the battery test we run is fairly grueling, putting laptops through a slew of tasks such as web browsing, photo editing, and even video chats. But, when the dust finally settled and the LaVie Z 360's battery had run its course we went back and found that about three hours had passed.
I know that might seem a little disheartening, but in reality it's right on par with other laptops in this category—Lenovo's Yoga 3 14-inch lasted for a scant 2.5 hours, for example. And besides, you can easily bump that number up by lowering the screen brightness and sticking to less power-intensive tasks when plugging in just isn't an option.
Verdict
Plenty going right, but just enough going wrong
The LaVie Z 360 is a great option for anyone that is looking for a no muss, no fuss lightweight laptop. It's practically a dream come true for anyone that's constantly traveling thanks to its light frame and reversible hinge that lets users switch from a laptop to a tablet. Unfortunately, you'll have to take extra care as the case feels hollow enough that we have some concerns about its durability for the long haul.
If you're in the market for a more robust ultrabook it's hard not to talk about the Dell XPS 13 (2015) (MSRP: $799.99, $1,699.99 for a comparable model). Thanks to its bezel, which is only millimeters thin, the display is absolutely beautiful to look at. Throw in a battery that lasted 5.5 hours in our grueling test and plenty of options for customization, and you can see why it's our favorite ultrabook of 2015 so far.
Of course, the XPS 13 isn't for everybody and there's plenty of other ultraportable options to choose from. We'd recommend checking out the Asus ZenBook UX305 (MSRP: $699.99). Much like the LaVie Z 360, the UX305 is lightweight and has enough power to handle the daily tasks the vast majority of users are looking for. It's cheaper, but unlike the XPS 13 it comes with a slightly weaker Core M processor and GPU.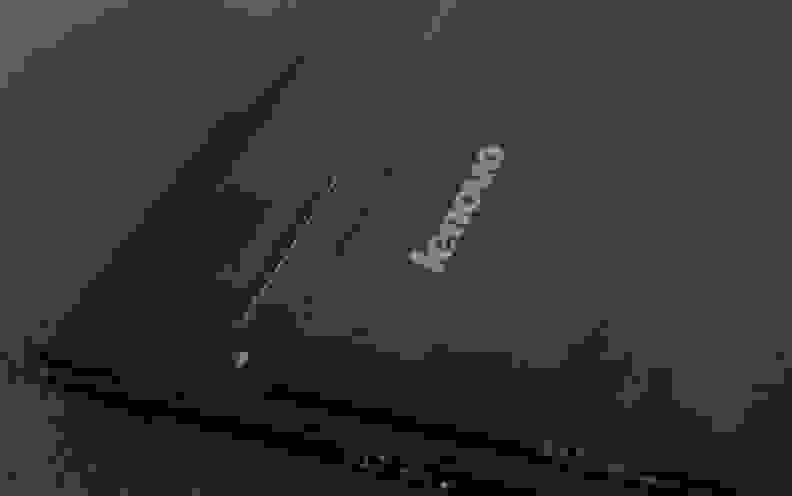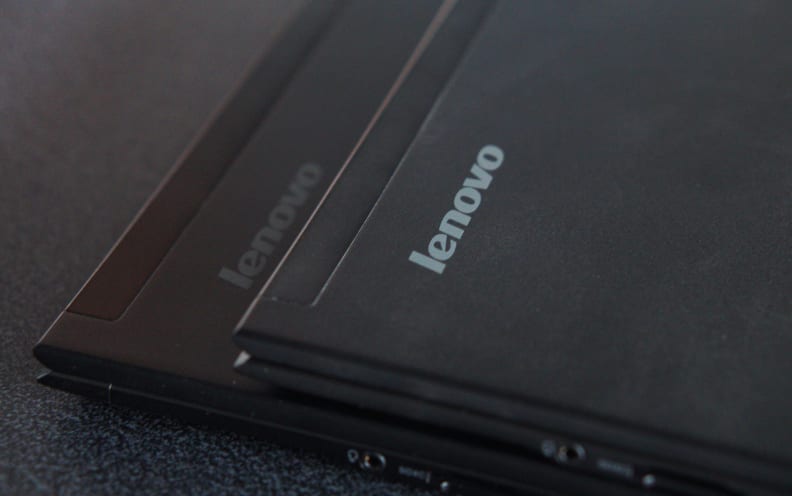 We'd also be remiss if we didn't mention the LaVie Z (MSRP: $1,199.99), the counterpart to the Z 360. As far as specs and design go, it's the exact same laptop. In fact, place the two side-by-side and you'll be hard pressed to tell them apart. The differences are the lack of a touchscreen and the reversible hinge. So if you loved the everything about the Z 360, but want to save a little money by ditching some of the unessential features, the LaVie Z is there waiting for you.
There's no denying that the LaVie Z 360—or it's counterpart the LaVie Z—is a tempting offer for anyone that's constantly traveling, thanks in no small part to the decision not to skimp on less powerful components. But, while Lenovo spends a lot of time lauding the feather-light weight of the LaVie Z laptops, the hollow-feeling chassis doesn't inspire a lot of confidence when handling it. A comparably specced Dell might cost a little more, but ultimately, that might be worth the peace of mind.