Laptops
Lenovo U300S Laptop Review
The Lenovo IdeaPad U300s is a consumer ultrabook that offers an attractive design and a good amount of processing power.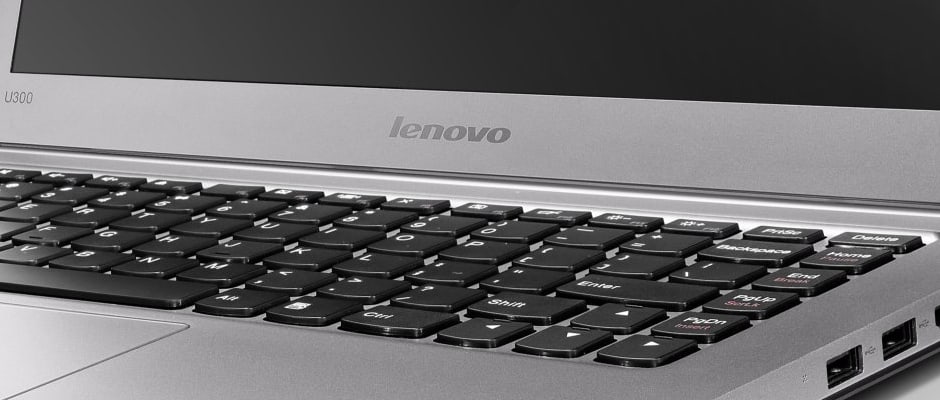 Credit:
Overview
The Lenovo IdeaPad U300s is a consumer ultrabook that offers an attractive design and a good amount of processing power. However, it's battery life is lackluster. This IdeaPad (MSRP $1199) is more expensive than most ultrabooks, but you do get what you pay for: a comfortable keyboard, a sharp, clear screen, and a definite bump in performance over its rivals.
Design & Usability
This notebook has a comfortable keyboard, but the screen is disappointing.
The island-style keyboard is comfortable to use, with reasonable separation between keys. It is far from perfect, though: The right shift key is very small, and we found ourselves often pressing the up arrow instead. The lack of function keys is frustrating, especially with programs that rely on them for shortcuts, and the slight rattling noise that the keys make when you type could get annoying really fast.
The lack of function keys is frustrating.
With the exception of the keyboard, we found the U300s to be a quiet computer in general, although the fans do get a little loud when playing games or doing other heavy lifting—especially on the left side of the case and below the hinge, where the hot air exits through vents. Cool air is drawn in through holes in the keyboard. The outside of the case stays mostly cool, but the area on the underside near the vent got a little warm, at a rather toasty 102°F. Keep it off the legs!
Performance & Features
The Intel i7-2667M processor and 4GB of memory provide decent overall performance.
Our review model of the U300s was built around an Intel i7-2667M dual-core processor that runs at 1.8GHz. When needed, this processor can bump the speed up to 2.9GHz, but only for a short time, and at the cost of battery life and extra noise from the fans that cool the processor. Other models are available that use the lower cost (and less powerful) Intel i5 processor.
4GB of memory are included, which cannot be expanded. However, this should be enough for most users––only serious image or video editors are likely to need more than 4GB.
The SSD drive allows the system to suspend and boot up quickly.
Data is stored on an SSD drive, which uses flash memory rather than a spinning hard drive. This keeps the power use and noise down, but does offer less storage space than a comparable hard drive. The SSD drive also allows the system to suspend and boot up quickly: We found that it could go from standby mode to ready-to-use within a few seconds. Our review model came with a 256GB SSD drive, but the lower end models come with a 128GB drive.
We test the performance of laptops in a number of ways, including running the PC Mark benchmark and timing a number of common computing tasks. We found good performance in these tests, with a video conversion program—Handbrake—taking an average of three minutes and 36 seconds to convert a video down from HD quality to SD. That is a little slower than some––the Dell XPS 13 performed the same task in two minutes and 48 seconds––but it's still an acceptable speed for general use. We found similar results from our tests with Excel and Photoshop.
Conclusion
A competent machine
The U300s is something of a departure for the company. Previously, Samsung laptops had mostly been of the sleek black variety, similar to the LenovoThinkpad range. This is an entirely different beast, with its book-inspired styling and its consumer-focused feature set. The Ideapad branding previously applied to Samsung's consumer tablets, but the U300 expands the brand to include the ultrabook world, too.
Sure, it's more expensive than most ultrabooks, which typically start at under 1000 dollars. However, it may be worth the price. We wish this laptop had a full HD screen: the 1366 by 768 resolution is not enough to show every pixel of a 1080p video, making it a poor pick for video editors. Fortunately, though, most users won't miss this, so the U300 is a good pick that provides plenty of performance and a good set of features for the price.
Introduction
The U300s: an ultrabook sharing a technological family tree with tablets.
PC Mark
No complaints
PC Mark simulates a variety of tasks including word processing and image manipulation. This laptop scored a 4,446. That's higher than its sibling, the X220, but significantly lower than the Vizio Thin+Light. All things considered, it's a good score for an ultrabook.
For Excel and Photoshop, where this laptop took 5.97 seconds to crunch a large spreadsheet and 14.77 seconds to run a series of complex filters—pretty reliable.



Gaming Performance
We found some fps struggling in the high quality test.
We tested this machine using Portal 2. Although it managed to produce good frame rates in our low quality test (managing 85 frames per second), it struggled in our high quality test, managing only 19.3 frames per second. The Intel HD 3000 graphics processor built into the CPU of this laptop can handle low resolution 3D gaming, but doesn't have the muscle to handle the high resolution eye candy.
That is pretty typical of most low-cost laptops: They are adequate for occasional or casual gaming, but those looking for the full experience of modern games will need more graphics power than this laptop offers.