Laptops
Samsung Series 9 NP900X3A Review
The Series 9 is Samsung's ultraportable model, with a slimline profile and sleek design.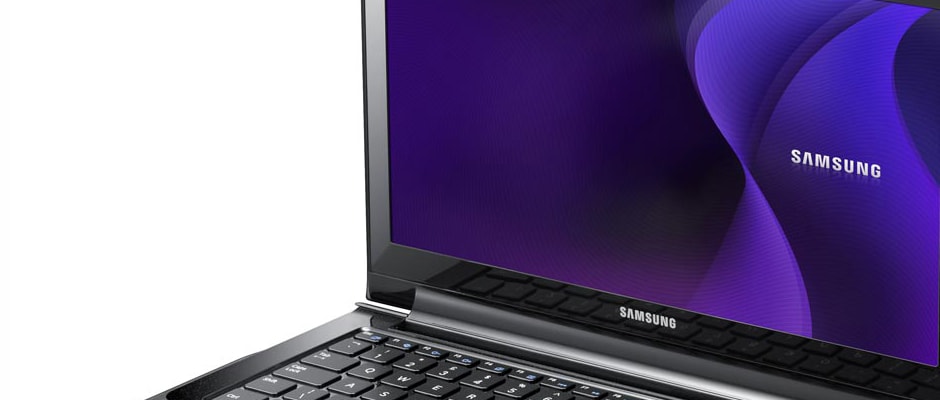 Credit:
Overview
Samsung claims that the Series 9 owes its design to fighter jets. Well, maybe: It has bay doors and a sleek exterior. However, based on its test results, you wouldn't want this laptop anywhere near the front lines. Its 13.3 inch, 1600 x 900 pixel screen had a poor viewing range, it was slow at every turn, and it choked during the graphics portion of our testing.
Though it had a poor showing in our tests, it still wears a high price tag, with an MSRP of around $1,600.
Design & Usability
This Samsung offers a good keyboard and touchpad, but the screen is a little disappointing.
The 13.3-inch display of the Series 9 has a resolution of 1600x900 pixels, and Samsung describes it as a Superbright Plus widescreen display. The screen is very thin, but the image looks a little washed out and pale, and fades when viewed from a shallow angle.
The screen is very thin, but the image looks a little washed out and pale.
The touchpad can sense up to 9 individual touches, and support is offered for 21 multitouch gestures. These gestures can also be customized, so you can set a 4-finger touch to start a web browser, for instance.
The Chiclet keyboard is comfortable to use, with a good amount of spacing between the keys that makes typing easier. The keys do not have a lot of travel, though, and they lack the "clicky" feel of larger laptops. But, given the compromises needed to keep the thin profile, we have no major problems with this keyboard. The presence of dedicated function keys is also welcome—this makes using programs that rely on them infinity easier. Many small laptops (like the Lenovo U300s) put the function keys on the number keys, which makes accessing them an awkward process.
There are a minimal number of ports on this laptop: Under a small drop-down panel on the left side, you'll find a single USB port, a micro HDMI, and a port for the included Ethernet adapter. The drop-down panel feels pretty robust, but the Ethernet adapter fits in rather loosely and could fall out with even a gentle tug on the cable. There is also a socket for power near the hinge. On the right side under a similar drop-down panel is another USB port, a headphone socket, and a micro SD card slot.
Features & Performance
Adequate overall performance, but not the fastest laptop on the block
The model that we looked at is equipped with an Intel i5-2467M processor, combined with 4GB of RAM. 4GB is the maximum RAM capacity—there is no way to expand the memory beyond this. Data is stored on a 128GB SSD drive. Again, the drive is not user upgradeable: Opening the case and installing a bigger drive will void the warranty.
The lack of a discreet graphics card made our graphics test a forgone conclusion.
The lack of a discreet graphics card made our graphics test a forgone conclusion. It was unable to finish the 3D Vantage Mark test. Also, this laptop isn't really well equipped to deal with modern gaming. On the highest settings of Portal 2, the S 9 chugged along at 13.98 frames per second. That's like watching a slide show.
The Samsung Series 9 had a fairly weak showing in our number crunching test, too; it scored lower than its less expensive sibling, the Samsung Series 5 Ultra.
Conclusion
The Samsung Series 9 is a sleek machine, but backed by middling performance.
We still can't get over how good looking the Samsung Series 9 is. And with a travel weight (laptop and charger) of 52.7 ounces, it's extremely portable. That said, its performance was very average. It never ranked at the bottom of our lists, save for the gaming tests, but it also never wowed us. Yet the Samsung Series 9's most detracting feature is its price.
For the MSRP of over $1,600, we could buy an Acer Aspire S3 or a Dell XPS 13, which both offer a less appealing exterior, but significantly higher performance. Be careful how you judge a laptop.
Introduction
The Samsung S9 is a sleek machine that has more style than substance. Take a look below to see what we mean.
Graphics
This laptop looks good, but your games won't.
We used 3D Vantage Mark to test graphical rendering ability. The Series 9 was not able to finish the normal test, getting an adjusted score of E4094. After that, we used a per-fabricated play through of Portal 2 and measured the frames per second. On its highest graphical settings, this Samsung stumbled about at 13.98 fps. If you want your games to look like slide shows, this is the laptop for you.

Number Crunching
We made the work hard.
The ability to do things like calculate the digits of Pi is useful in gauging processor power. We use the program Geekbench to put laptops through the mathematical wringer.
The Series S 9, with its Intel i5-2467M processor, managed to achieve a score of 5511. Given a price tag of around $1,600, this isn't a very cost-effective score. In fact, the cheaper Samsung Series 5 got 5684.