The is a stackable compact washer with only 2.15 cubic feet of capacity. It's made by a very large Turkish company that has a very small presence in the US. Even if you've never heard of it before, you shouldn't count out this little washer. After all, it's not the size of the washer in the fight, it's the ratio of the motor and internal water heater to the size of the washer.
With a strong washing performance and a Sanitize cycle that gets really, really hot, this little machine put up a quite a fight. When all the testing was said and done, the 87120 managed to topple the cleaning scores of washers twice its size. Priced around $939, it should definitely be on your list of washers to consider if you can't fit a full-size laundry. At 23.6 inches wide and 24.4 inches deep, this compact Blomberg can find a way into your closet -- and maybe even your heart.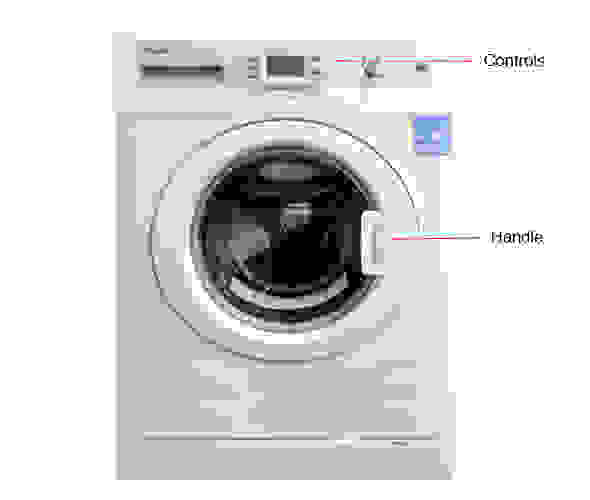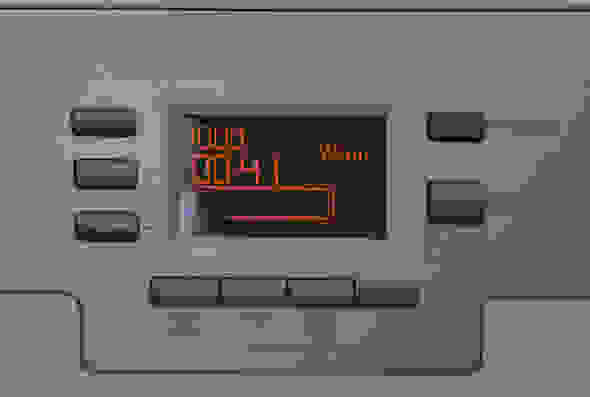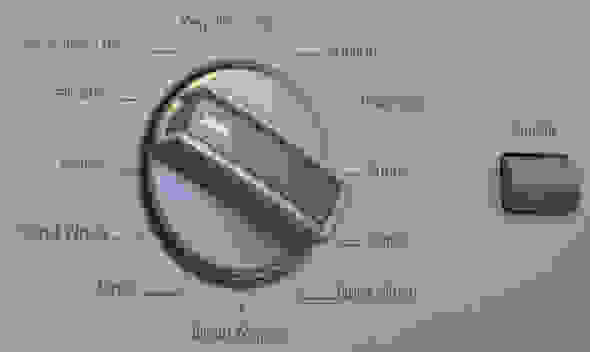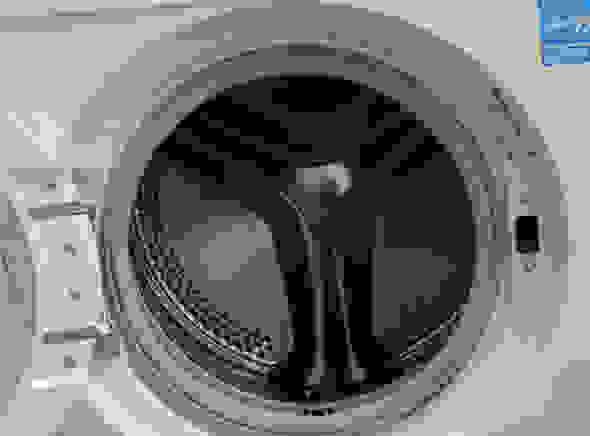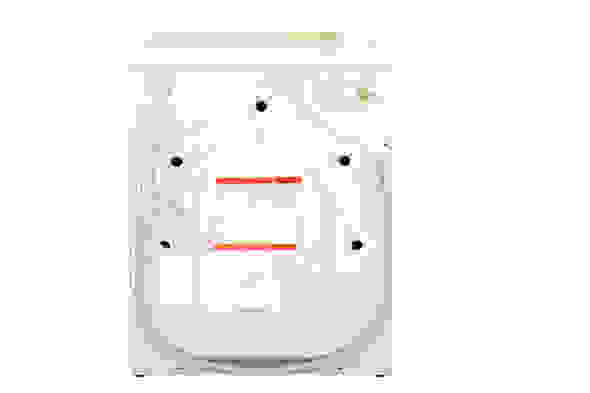 There is theory that there is only one electron in the Universe. This single electron pops in and out of time and space, appearing wherever it needs to be. To operate the , this single electron will need to make few appearances. At about 404 watt-hours, the Sanitary cycle consumed the most power. The Regular cycle used about 101 watt-hours. If wanted to add the super wash feature for a heavily soiled load, the meter jumps to 239 watt-hours.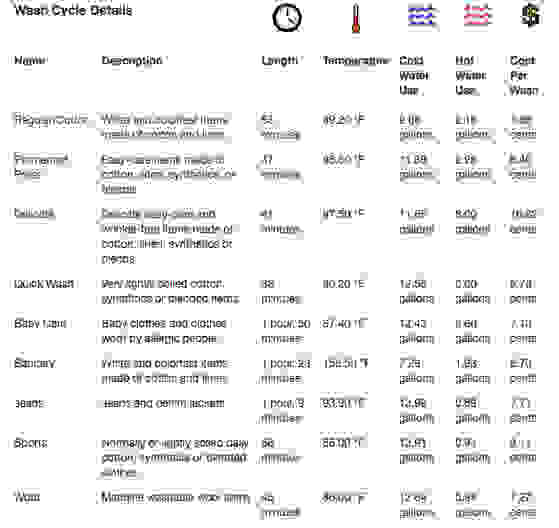 The oceans are the graveyard of rivers and the birthplace of storms. There are plenty of stops along the way, but every drop of water will make the journey to and from the deep blue. Relatively large number of drops will make a stop inside your and eat at the buffet of your food stained shirts.
You'll be dropping dimes on the 's cycles. The Permanent Press cycle, which the owner's manual to be the Normal cycle, cost about 9 cents to run. Amongst its core cycles, the most expensive cycle was the Delicates which ran about 17 cents in electricity and water.
If you think in terms of minutes, then you'll make interest payments. Think in terms of years and your appliances will pay for themselves. Or so they say. In one year, we estimate that the will cost you $36.91. That's more than many front-loading washers twice its size. However, in absolute terms, it's pretty good and certainly less than any top-loader.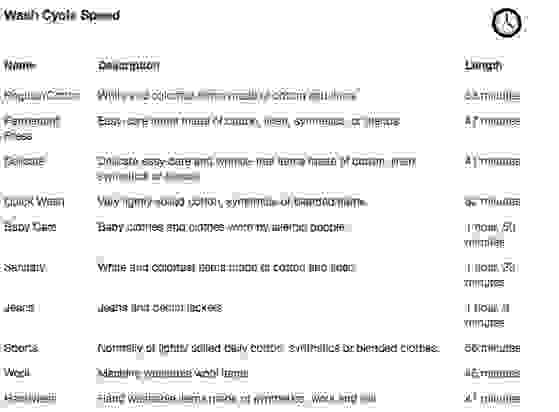 After reading the manual, we concluded that the Blomberg WM 87120 NBL00's Permanent Press cycle is probably the best to handle a varied load of laundry. The cycle handled the stains admirably. It had an especially good time dealing with anthocyanins, the compound that gives red wine its color. Reviewing the numbers, this washer had the hardest time with protein based stains such as blood and sebum. We put average sized washers through the same wringer. This Bomberg comes out a head and shoulders above many of them. It came within striking distance of the Whirlpool Duet WFW96HEA's even though the much larger Whirlpool also costs about four hundred dollars more.

There's no cycle simply labeled Whites on this compact washer. Being the experts, we knew exactly what to do. We used the Regular/Cotton cycle and set the temperature to high. This is because Whites cycles are designed to be used with bleach which has an optimum cleaning ability at higher temperatures. When at home, be sure to add an extra rinse to wash away the bleach, lest your clothes come out smelling like Ryan Lochte.
After the cycle completed, we noted that the wine stains were heavily denatured and significantly less noticeable. The blood and sebum stains still proved to be the Blomberg WM 87120 NBL00's bane. Comparing them with larger washing machines, this compact washer holds its own.
Sometimes you need to a gentle wash for your delicate garments. The Blomberg WM 87120 NBL00 answers your needs with its Delicates cycle. After all was said and done, this washer gently scrubbed out wine and cocoa stains. For blood and sebum stains, it just scrubbed. However, if you really want to take it easy on your clothes, we suggest the Permanent Press cycle.

The Blomberg WM 87120 NBL00 didn't have a cycle specifically deemed Heavy Duty cycle. A quick gander at the manual gave us the idea to use a Regular/Cotton cycle with an added Super Wash feature. When the cycle came to an end, we were pleasantly surprised. Although it took almost an hour and forty-five minutes, the cycle did well across the board. The largest improvement was with blood stain removal. In all other cycles, the Blomberg WM 87120 NBL00 lagged behind most other front-loaders, but here it came out a head and shoulders above. The cost of all this super washing is that your clothes will be worse for wear.
At 32 minutes, the Quick Cycle had a slightly subpar performance. Reviewing the data, the Quick cycle had only about two percent disadvantage to the Permanent Press cycle which took 15 minutes longer.

If we had to describe the clothes wear of the Blomberg WM 87120 NBL00 as an animal, we'd compare it to a dog, and a Yorkshire terrier at that. Adding the Super Wash feature to the Regular/Cotton cycle absolutely tore through our mechanical action strips. Other cycles did not fare much better in this regard. If you are looking to protect your favorite shirt, we'd suggest the Permanent Press cycle, which did fairly well. This little washer has teeth and uses them.
People often ask us the importance of testing water retention. OK — that's a lie. At parties, when we say that we test washing machines for a living, eyes glaze over. However, water retention is important. The amount of water that a washer spins out decreases the amount of water a dryer needs to get out. In this regard, the Blomberg WM 87120 NBL00 did okay, but not spectacular. In an imperfect world, we like to see our laundry retain 50 percent or less of its weight in water. Amongst the core cycles only the Regular/Cotton managed to achieve this. On average, test loads that came out of the Blomberg WM 87120 NBL00 retained about 61 percent of their weight in water. You'll need every little drop spun out if you buy Blomberg's comparatively lackluster matching dryer.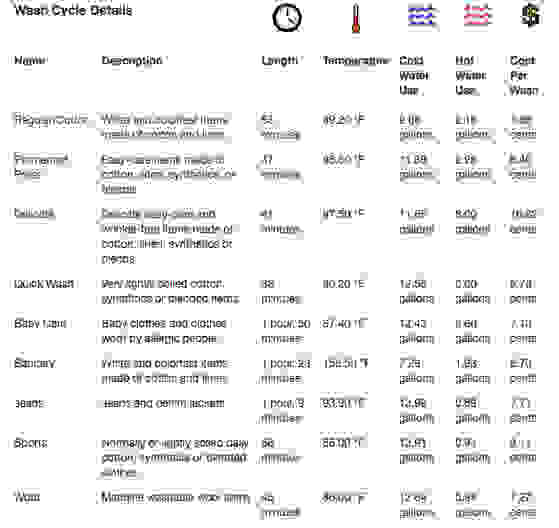 The has all the customization bases covered. You will be able to control everything from spin speed to temperature. Before most cycles, you can add the Soak feature which is like a pre-wash. After every cycle, an Extra Rinse can be added. The Extra Rinse feature would probably be most useful when using bleach or fabric softener, so you can wash the excess chemicals away.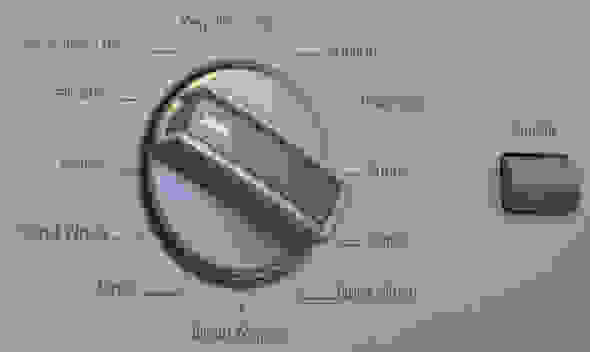 The comes with two additional wash options of note. The big one is the Super Wash. Essentially, it turns selected cycles into a Heavy-Duty ones. On the other end, there is the Anti-Crease options. This increases the washer's use of water and drum movement. It floats your laundry and laps it with gentle waves.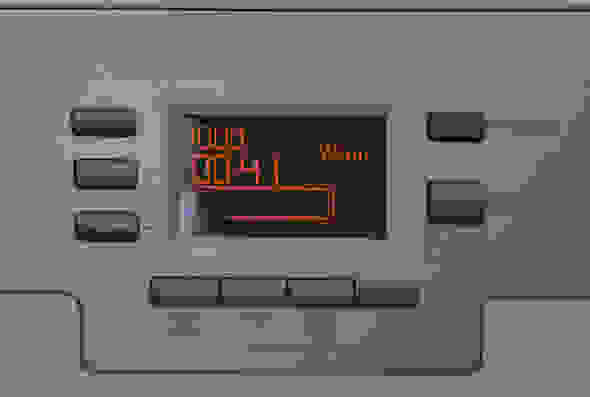 The 's detergent dispenser is divided into three sections for bleach, detergent, and fabric softener. A sticker on top of the machine helped us decipher which compartment went with which laundry substance.
The has a door that is opened by pulling on the handle. Placing in a standard eight pound load proved to be a testament to our laundry maneuvering skills. After the door clicked closed, the still gave us an error message. Almost every cycle required us to give it an extra shove to get the whole thing going.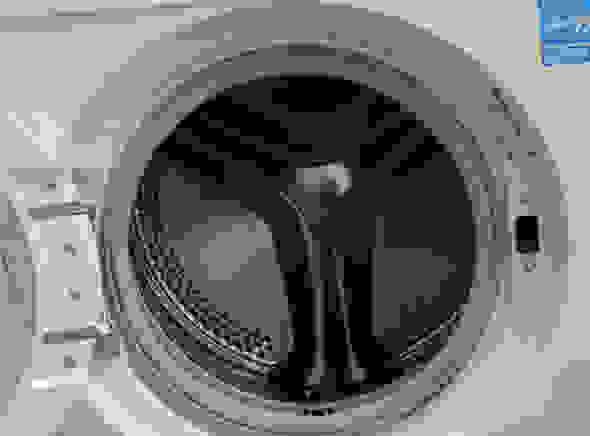 Setting up the required its sister dryer, the Blomberg DV17540. The washer draws its power from a 220 volt outlet which the DV17540 provides. Since this set has the ability to be stacked, this can be a real space saver. However, it should be noted should the dryer suddenly not be there, you won't have a working washer either. That being said, running the was a simple affair.
Controlling the was a simple affair. For the average consumer, turn the knob to the desired cycle and press start. If you want to get fancy and fiddle with the temperature and spin speed, there are clearly labeled buttons for that. When the cycle is over, the display will say END. It will remain that way, staring forlornly into the night until a new cycle is selected or it is turned off. After leaving it on all night...on purpose, we discovered that it consumed on average 7 watts an hour just for the display. We blame this on an oversight of engineering rather than our own incompetence.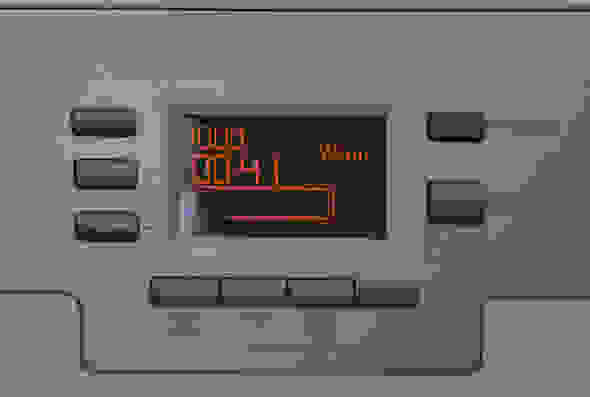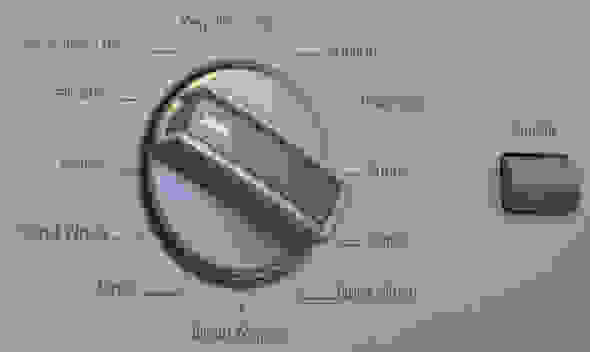 The used water and electricity on par with larger washing machines. The thirstiest cycle was the Delicates cycle, using nearly 20 gallons of water. In the long term, we calculate the yearly operating cost to be $36.91, if your power and water costs are close to the national average.
We were impressed with the 's ability to remove stains. It had a gift dealing with red wine. Blood, sebum and other protein based stains proved to be staunch foes of this washer. Adding the Super Wash feature to the Regular/Cotton cycle pushed the cleaning performance to ahead of the pack. However, doing so greatly frayed our testing strips.
Features? The has them. A Soak feature is essentially a pre-wash, treating laundry with hot water before a cycle, not recommended for protein based stains. A Super Wash feature turns selected cycles into a Heavy Duty cycle, but be warned, this feature is very heavy handed with clothing. You can also add an Extra Rinse to wash away bleach or fabric softener. Finally, you can activate the Anti-Crease option on selected cycles. This feature reduces the drum movement and floats your laundry in extra water.
Meet the tester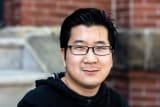 Jonathan Chan
Lab Manager
@ReviewedHome
Jonathan Chan currently serves as the Lab Manager at Reviewed. If you clean with it, it's likely that Jon oversees its testing. Since joining the Reviewed in 2012, Jon has helped launch the company's efforts in reviewing laptops, vacuums, and outdoor gear. He thinks he's a pretty big deal. In the pursuit of data, he's plunged his hands into freezing cold water, consented to be literally dragged through the mud, and watched paint dry. Jon demands you have a nice day.
Checking our work.
We use standardized and scientific testing methods to scrutinize every product and provide you with objectively accurate results. If you've found different results in your own research, email us and we'll compare notes. If it looks substantial, we'll gladly re-test a product to try and reproduce these results. After all, peer reviews are a critical part of any scientific process.
Shoot us an email