Laundry
Blomberg Brings Ventless Heat Pump Dryer to U.S.
No space? No vent? No problem.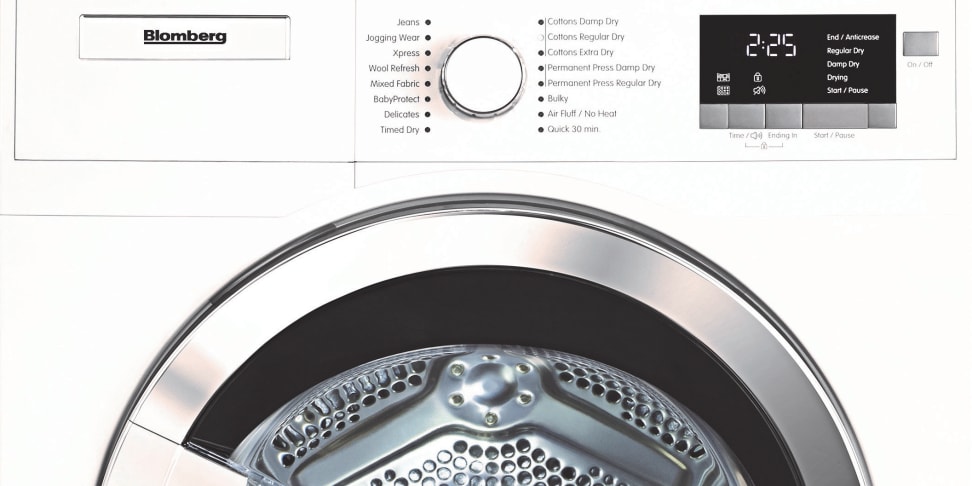 Credit: Blomberg
At this week's Architectural Digest Home Design Show in New York, Blomberg is showing off a ventless heat pump dryer that it claims is the most energy-efficient in its class. According to Blomberg, the new dryer consumes "50 percent less energy" and uses "40 percent lower circulating air temperature" than competing compact air-vented dryers.
The biggest draw here is the ventless design, which allows you to install this dryer literally anywhere.
Built for smaller apartments and homes, the Blomberg DHP 24400 series dryer measures just 24 inches wide and offers 4.1 cu. ft. of capacity—a little more than half of a full-size machine's payload.
Of course, the biggest draw here is the ventless design, which allows builders and homeowners to install this dryer literally anywhere in a home. Want to toss the dryer in your studio's closet? That'll work just fine.
There are a few other neat features here: a "woolen" cycle that can help extend the life of delicate garments, and an extra-large lint trap with an alarm that will alert you when it's time to clean it out.
Blomberg is also offering a couple of compact washing machines that can pair and stack with the new ventless heat pump dryer, including the WM 98400 SX/WM 98200 SX and WM 77120. Of course, if you go that route you'll need a water supply and drain hookup, which limits your placement options.
The new dryer will be available later this year, with either a white (DHP 24400) or chrome door (DHP 24412). Pricing is unknown at this time.
Related Video