Laundry
Maytag Bravos MGDB835DW gas dryer review
We say "bravo" to this gas Bravos!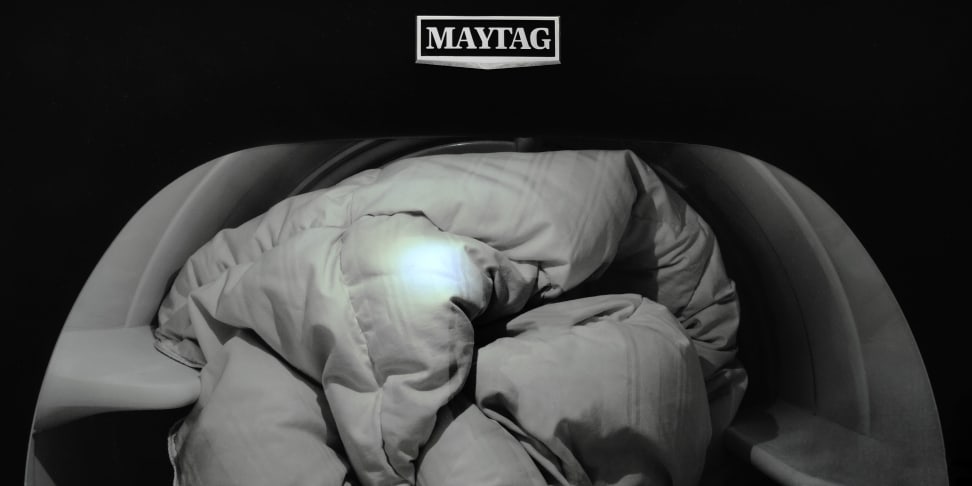 Credit: Reviewed.com / Matthew Zahnzinger
Editor's Note
This is a review of the Maytag Bravos MGDB835DW gas dryer. We tested its electric counterpart, the MEDB835DW, but you can expect identical performance. For more information, read our review of the Maytag MEDB835DW.
Generally speaking, we're big fans of front-load laundry. But if your laundry room—or personal preference—lends itself to top-load washers, we've found the ideal dryer to match: The Maytag Bravos MGDB835DW (MSRP $1,099) is the complete package—and all for just $900 in stores.
Outwardly, the design is merely functional, lacking any real "wow" factor. Controls are easy to read and responsive, but that should really be expected in this day and age. Despite its unassuming exterior, though, this Maytag has a whole lot to offer.
Be sure to read our full review of this dryer's matching washing machine, the Maytag Bravos MVWB835DW.
Why To Buy
This dryer is big. The massive 8.8-cu.-ft. drum makes it suitable for large families, and the opening is wide enough to fit entire armfuls of laundry.
The list of 10 cycles is extensive but relevant, with tried and true favorites like Normal and Delicates, as well as some more specialized options such as Power Dry and Sanitize. This model lacks the steam features that some of our top picks have, but five temperature settings and dryness levels are yours to customize.
And of course, the actual drying process left nothing to be desired. Nearly all excess moisture was removed from every full-sized load we tested. Temperatures were also well suited to each cycle—Normal was quite warm, while Delicates was appropriately cool. Even a big, wet down comforter was no match for this machine. If you can find the MGDB835DW on sale, it'll be money well spent.
For much more information, refer to our full review of the nearly identical Maytag Bravos MEDB835DW.