Laundry
Maytag Bravos MGDB855DW Dryer Review
Maytag's pricey Bravos offers special perks for all fabrics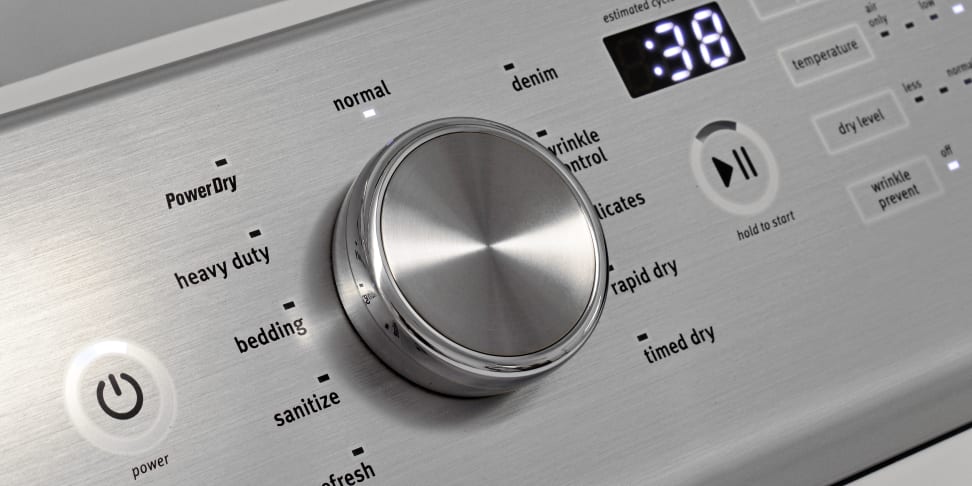 Credit: Reviewed.com / Matthew Zahnzinger
Editor's Note
This is a review of the Maytag Bravos MGDB855DW. We conducted lab testing on its electric counterpart, the MEDB855DW, but you can expect identical performance. For more information, read our review of the Maytag Bravos MEDB855DW.
The Maytag Bravos MGDB855DW (MSRP $1,299) takes a good thing and makes it even better. This sizable 8.0 cu. ft. gas dryer is identical to its cheaper counterpart, the MGDB835DW, except for a water hookup for steam, and a handy drying rack.
If you frequently clean items like delicate fabrics, baseball hats, and treasured stuffed animals, both those features will come in handy.
This model is sleek and user-friendly, with extra silver trim around the door for added elegance, and the same precise temperatures and superior moisture removal as the excellent 835. Usually found on sale for about $1,080, the 855's extra features command about a $150 price premium.
Be sure to read our full review of this dryer's matching washer, the Maytag Bravos MVWB855DW.
Why Buy?
What differentiates this Maytag—and what justifies the greater expense over the 835—is the inclusion of two premium features: a water hookup and a drying rack.
The water hookup adds steam capabilities to the dryer for wrinkle removal and cleaning delicates. You can take advantage of this by using the designated Steam Refresh cycle, or by activating the Static Reduce feature. You don't need a plumber to install it, either—it simply hooks into the same faucet as your washer with an included adaptor.
The drying rack will also come in handy if you want to dry something without tumbling it. Whether it's a delicate dress that might tear, or a pair of sneakers that could damage the inside of your dryer, the drying rack will let you tackle them all without waiting for them to air dry.
If those two features sound appealing to you, definitely consider this machine. But if you're really just interested in the large drum size and want to save some money, consider the MGDB835DW instead.
For much more information, refer to our full review of the nearly identical Maytag Bravos MEDB855DW.