Laundry
Whirlpool Cabrio WED7300DW Dryer Review
In a world of mega-capacity dryers, this regular-sized Whirlpool stands out.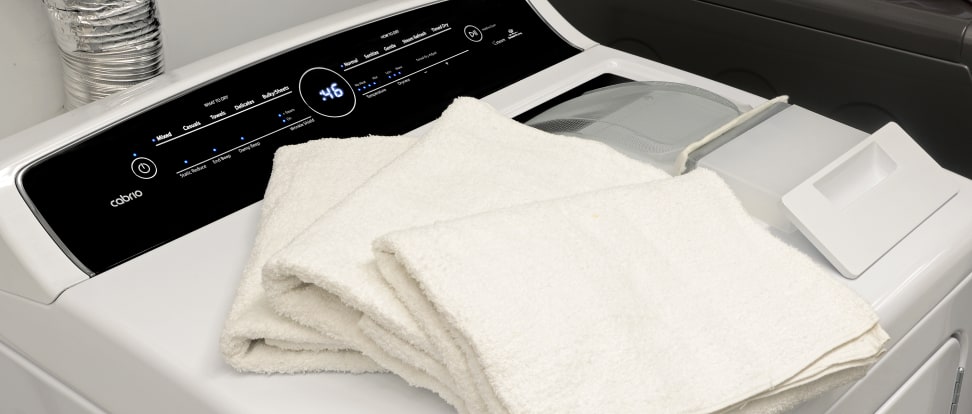 Credit: Reviewed.com / Matthew Zahnzinger
Sometimes, bigger isn't always better. Such was the case with Whirlpool's new 7.0 cu. ft. Cabrio WED7300DW (MSRP $899) electric dryer, and its larger sibling, the Cabrio WED8500DC.
When we tested the 8.8-cu.-ft. WED8500DC, the first Whirlpool to feature the company's new, intuitive touch controls, we were underwhelmed. Sure, this $1,100 dryer was good, but a fancy new interface didn't seem worth the premium price.
The 7300, on the other hand, dries exceptionally well, offers a steam dry function, and is available for an average sale price of just $720. Those touch controls seem a lot more appealing when combined with great drying performance and a low price.
Design & Usability
Old school dryer, new school controls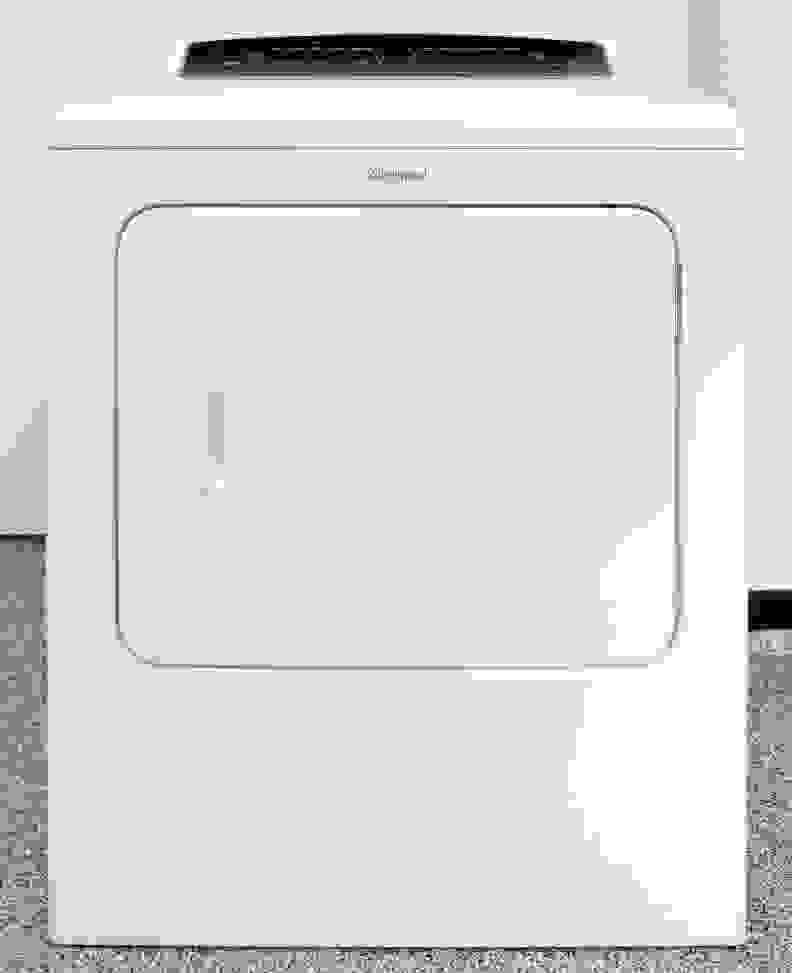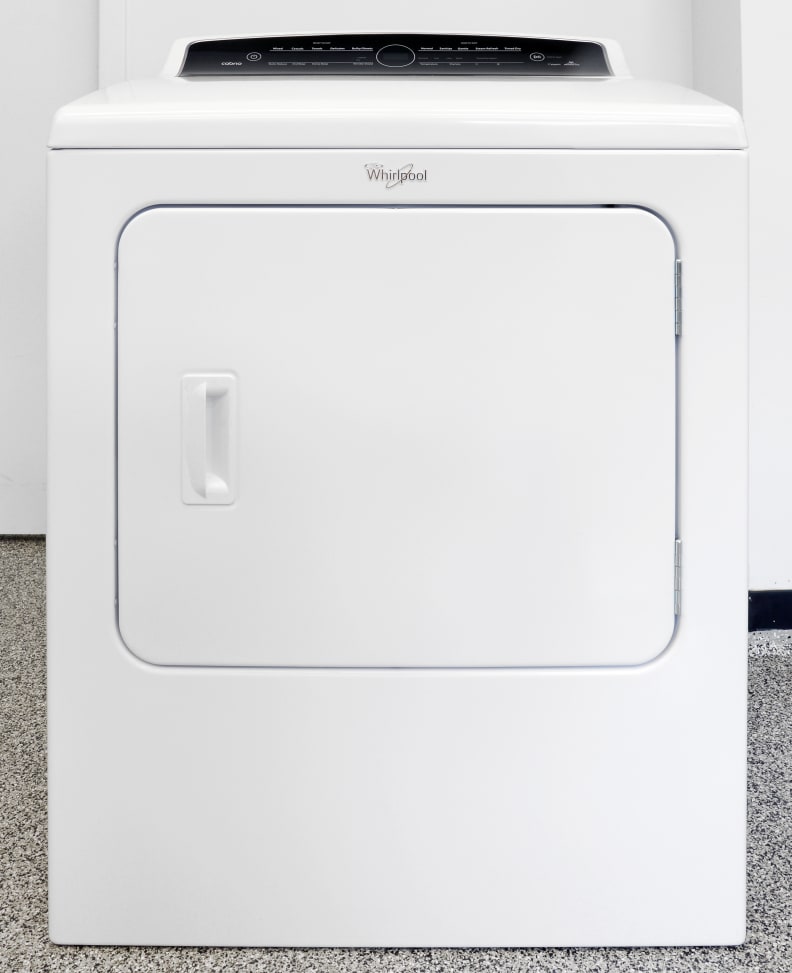 Take away Whirlpool's innovative interface, and you're left with a fairly basic appliance. The WED7300DW's glossy white exterior won't catch anyone by surprise, nor will the matching white drum. (For this price, the lack of a stainless interior isn't surprising.)
The new control scheme, however, makes this machine feel a lot more high-tech. The touchscreen controls are designed to take the guesswork out of laundry. Going from left to right, you first pick what kind of clothing you're drying, and then how you want it dried. Settings are still customizable, but hands-off users will appreciate the streamlined nature of this interface.
That said, we found the touch-sensitive console less responsive than regular buttons, plus the glossy black surface was easily smudged. While this control scheme still has the potential to improve your laundry experience, the technology isn't perfect.
Despite the fancy controls, Whirlpool also opted to use an old-fashioned, pull-out lint trap, found on top of the dryer. It works well enough, but compared to lint screens inside the drum, the pull-out variety tends to release more lint into the air when you try to clean it. It's not a deal-breaker, just something to be aware of.
Performance & Features
Dry clothes, despite the controls
Despite the nonstandard controls, we were still able to conduct our key tests, which focus on the Normal, Delicate, Quick, and Bulky cycles. Each test we ran with this Whirlpool produced wearable clothing within a reasonable time frame, and did so using appropriate levels of heat.


Our only quibble is Whirlpool's cycle breakdown, which essentially removes a designated Quick cycle from the available repertoire (we used a shortened Timed Dry for our test). Folks we talked to at Whirlpool explained that the dryer's sensors should shorten a cycle to accommodate the size of your laundry pile, but if you only have 20 minutes to get your clothes dry, the simplified controls suddenly become a lot more complex.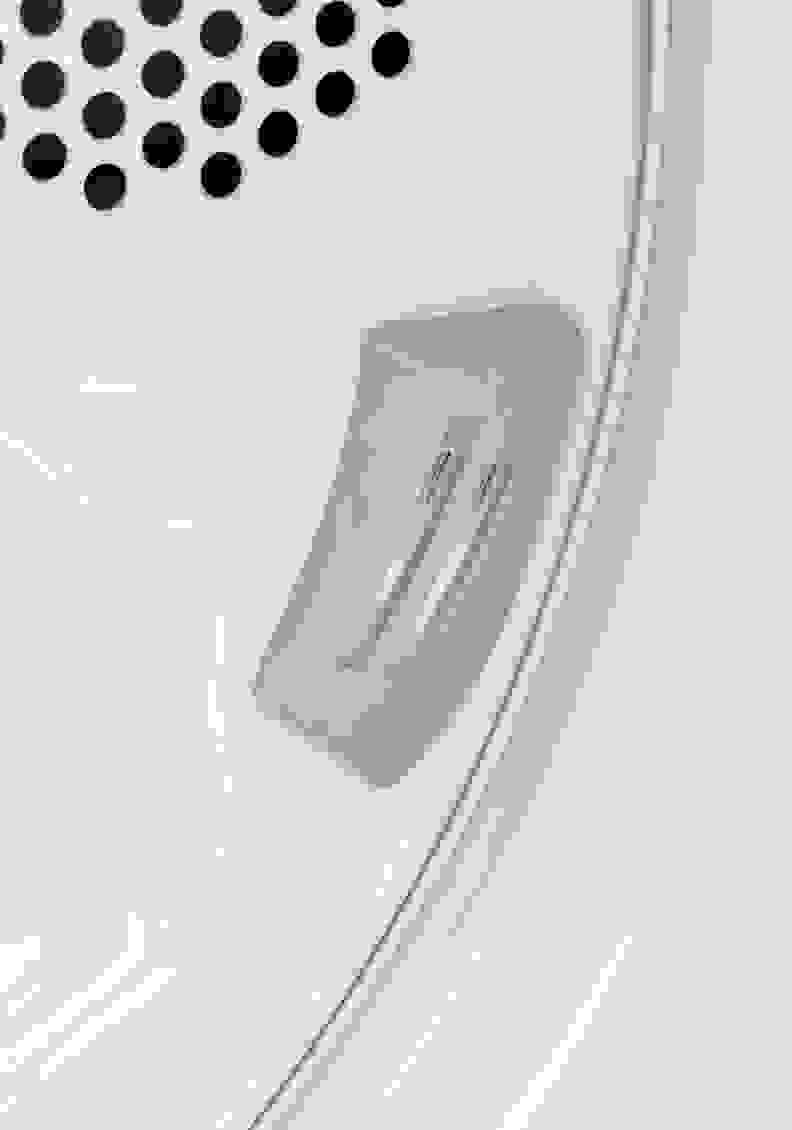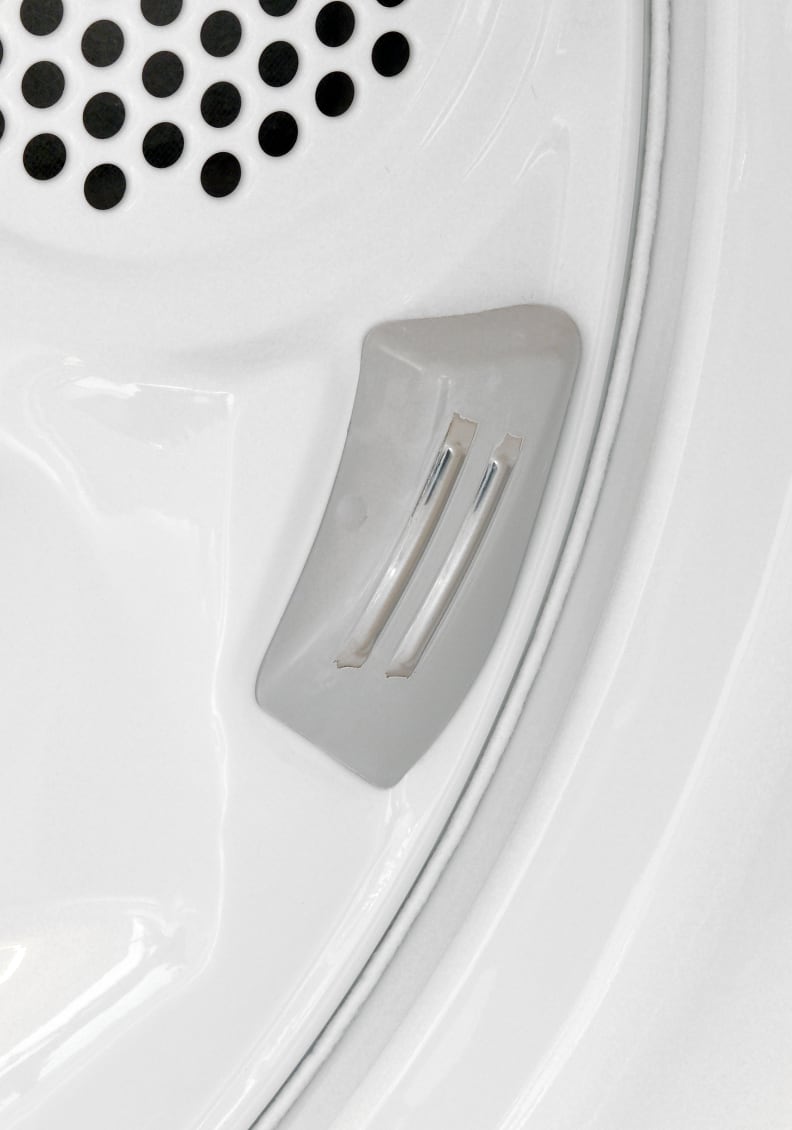 Features-wise, the WED7300DW has a limited, but solid lineup. Most notable is a water hookup that lets you produce steam inside the drum, which helps remove wrinkles and funky smells. There's also a Wrinkle Shield feature, which can be used in conjunction with steam. You've also got Static Reduce mode, and a Damp Beep alert in case you want to line dry your damp clothes.
It's not a feature, exactly, but we also want to address an improvement we've noticed in this model. On some of the other new Whirlpool dryers, there were two visible temperature sensors in the back of the drum. These sensors would catch our test items, snagging threads and making us wary of drying anything delicate or easily torn. Fortunately, Whirlpool corrected this issue, and we didn't notice any torn threads or other evidence of clothing damage during our eight-cycle testing procedure.
Science and testing
By the numbers
After determining which settings fit our traditional testing procedure, we were able to thoroughly analyze the Whirlpool Cabrio WED7300DW (MSRP $899). Examining the data, we've determined that this dryer ranks very high, especially considering its street price.
Normal & Delicate
For our workhorse Normal cycle test, we selected Mixed for our clothing type, and Normal for how we wanted it dried. After 53 minutes, clothes came out 100% dry. Peak temperatures of 149.8°F—while not the gentlest we've seen—are well within safe heating parameters.
The Delicates test (using the Delicates setting paired with Gentle) ran for an hour and 6 minutes, and our clothes came out 99% dry. That little bit of moisture left over is great for finishing on a hanger or ironing board. Temperatures were also quite gentle, peaking at a cool 105.8°F.
Quick Dry and Bulky
There is no designated Quick Dry on the new control setup. Instead, we picked the Casual setting and paired it with a 30-minute Timed Dry. Most preprogrammed quick cycles run about 15-20 minutes, so we were a little disappointed that this Whirlpool only got out clothes 95% dry after 30 minutes. Peak temps of 130.8°F may have had something to do with it, though we can't really complain about erring on the side of gentler drying.
The Bulky test results took us by surprise. Most machines fail this test, at least partially, but the new Whirlpool nearly aced it. Pairing Bulky/Sheets with Normal drying, our large comforter tumbled for about 1 hour and 5 minutes on average. Results weren't perfectly consistent from one test to another—83% dry on one test run, 100% dry on the other—but an average of 94% is excellent for this particular test.
Should you buy the Whirlpool WED7300DW?
A small dryer that delivers big.
Lots of manufacturers tout the ever-expanding drums of their newest washers and dryers. However, the Whirlpool Cabrio WED7300DW makes a strong case for capability over capacity. Nearly flawless drying is already the best perk of all, but it's made even more appealing by a low in-store price of just about $720.
If you're a fan of its control scheme, want a steam dry option, and don't want to pay a lot for an effective dryer, the WED7300DW is an excellent choice.
A Good Bargain