Lifestyle
Everything you need to wrap gifts like a professional
Give presents that spark joy, inside and out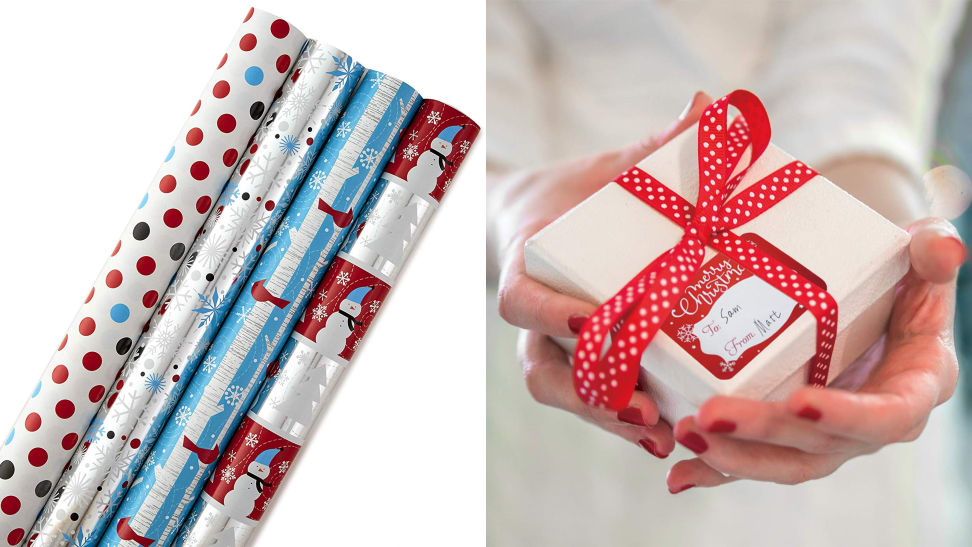 Credit: Hallmark / FFOC Designs
The term "getting ready for the holidays" conjures up thoughts of bustling through a shopping mall (or search engine) to hunt down the perfect items for everyone on your "nice" list. But the hard work of selecting the right Mario Badescu set for your niece or funky tea infuser for your Secret Santa at the office is for naught if you don't protect the element of joyful surprise—without the recipient's anticipation of untying ribbons and tearing into some pretty paper, what's really the point of giving a present?
To make your gifts look as exciting as you know they will be once opened, consider this expert-recommended advice and products for professional-looking gift wrapping.
A gift-wrap station to keep your goods organized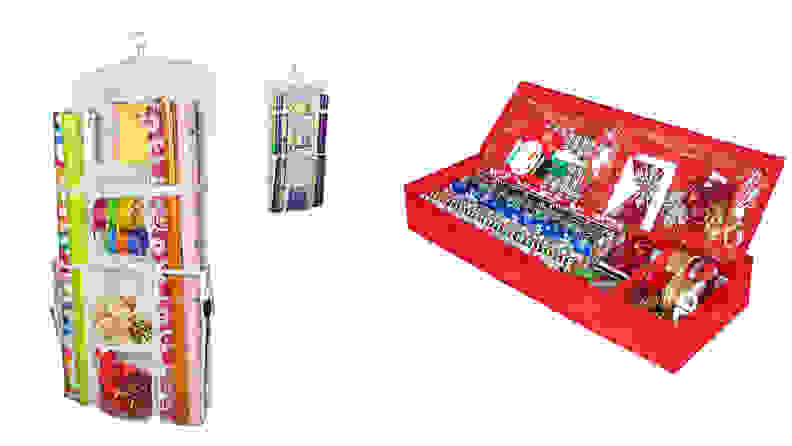 "I always recommend washing your hands before starting, and also clearing a suitable working space," says gift-wrapping expert Alton DuLaney. "This will help keep everything neat and tidy."
One way to keep your gift wrapping clean and organized is by getting yourself a "gift-wrap station," with specific spots for wrapping paper, scissors, tape, and whatever else you need. In addition to keeping your new gear organized, the station may make it easier to recycle old—but usable—pieces of wrapping paper, because it gives you a place to store them without getting wrinkled or lost in the recesses of a dusty closet.
A great option is the Autuno double-sided gift wrap organizer, which hangs over a door (ideal if you have a crafting room, closet, or room dedicated solely to wrapping gifts) and has transparent slots for wrapping gear. If you prefer a desktop or under-bed option, get the Holdn' Storage one, which offers the same, but with the ability to zip up and stow away.
Get the Aotuno Double-Sided Hanging Organizer from Amazon for $19.87
Get the Holdn' Storage Under Bed Container from Amazon for $19.87
Sharp scissors for cutting paper and snipping ribbons evenly
Arts-and-crafts enthusiasts and gift-wrapping savants have long known that the way to make superior clippings is with scissors from Finnish brand Fiskars. The company sells many different kinds from "mixed-media" shears to those standard orange-handled, all-purpose scissors. But if you're looking for a pair specifically to use for wrapping presents and curling ribbons, this soft-grip pair is a good bet. Reviewers love that they have strong, sharp blades that cut wrapping paper evenly, and handles that cradle the hand to make long (and possibly frantic) wrapping marathons easier. "The handles are extremely comfortable so that I can cut for hours without any hand strain," writes one reviewer. "I also like how sharp the blades are. When cutting wrapping paper, I can't imagine anything would beat these."
Get the Fiskars Softgrip Stainless Steel 8-inch Scissors from Amazon for $6.48
Crisp, textured wrapping paper for a next-level look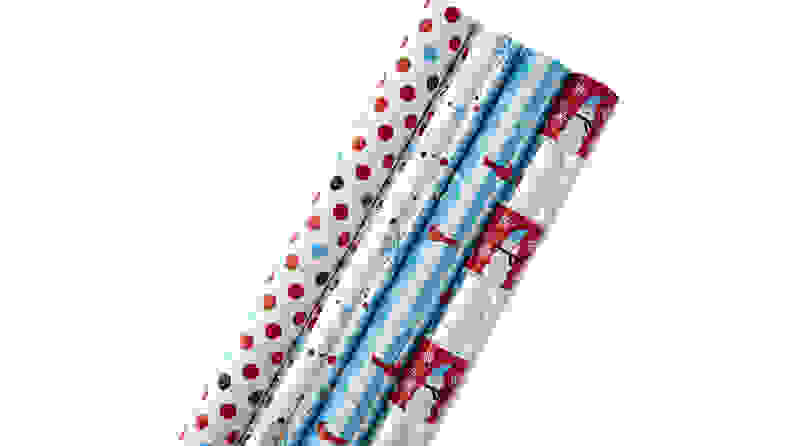 Keep a few rolls of paper on hand when you're wrapping. (Pro tip: Stock up at the end of December when it's all on clearance.) "Gathering a variety of papers in different finishes and textures ensures that every gift is unique," says DuLaney. You can simplify this by getting a multi-pack of wrapping paper rolls, like this Hallmark set that has a mix of matte, glitter, and foil wrapping paper.
Once you pick out your wrapping paper, DuLaney has a few tips for making it look professional:
To cut enough paper, allow an overlap of paper three-to-four fingers wide around all sides of the box. This will allow enough extra to successfully cover all sides of package without too much excess when closing up the ends, resulting in a neat-looking wrap.
To minimize seams, fold over the cut edge of paper and align it with an edge of the box (rather than overlapping it on the underside of the box).
After the box is fully wrapped, use your thumb and forefinger to gently pinch all edges to crisp the lines and smooth down folds.
Get the Hallmark Holiday Wrapping Paper Bundle from Amazon for $9.99
High-quality tape that hides your creases—or makes a statement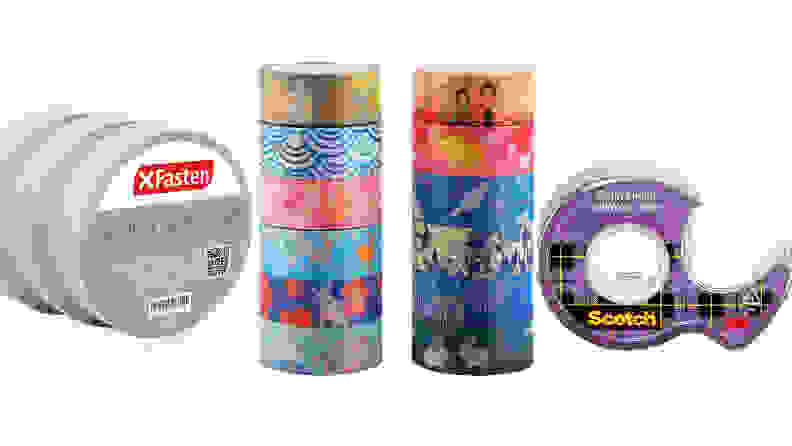 You can go in a few directions with the type of tape you use when wrapping gifts. The most straightforward option is Scotch's classic gift-wrapping tape, which looks a lot like regular tape, but has a smoother finish and little more heft. "I really love the Scotch GiftWrap Tape because it has a satin finish and blends seamlessly into wrapping paper," DuLaney says. "It's literally the glue that holds it all together." It's also thicker and hardier than regular tape, so some reviewers say they use it as their day-to-day tape, not just for preparing presents. "This is my go-to Scotch tape for everyday use—not just for gift wrap," writes a reviewer. "This doesn't rip or split when you're just pulling some off. It's thicker. I only ever buy this kind of Scotch tape."
Don't want any sign of tape on your wrapped gift? Go for double-sided tape, which can make it look as if you've skipped it altogether. "This tape is very strong," writes a reviewer. "It holds securely and is clear. I use this in my crafts, wrapping gifts and to hold personal items in place. I strongly recommend it."
If you're feeling ambitious regarding your mixing and matching skills, washi tape—decorative, lightweight masking tape covered with colorful patterns—is sure to impress. Amazon reviewers especially love the Knaid Kyoto Series tape, which comes with a pack of 12 rolls, all of which have colorful, intricate designs that make a simple wrapped gift look much more deluxe if you coordinate it with your wrapping paper and use it as both an accent and a paper-holder. Each roll comes in its own box, too, so if you need a last-minute gift, you can throw a roll or two of washi tape into the mix. "This washi tape is super cute and works great for decorating other paper goods such as gift bag and scrapbook pages (that's what I use mine for)," writes a reviewer.
Get Scotch Gift Wrap Tape from Amazon for $16.99
Get XFasten Double-Sided Tape from Amazon for $13.99
Get Kyoto Series Masking Washi Tape from Amazon for $13.95
Ribbon to tie up the look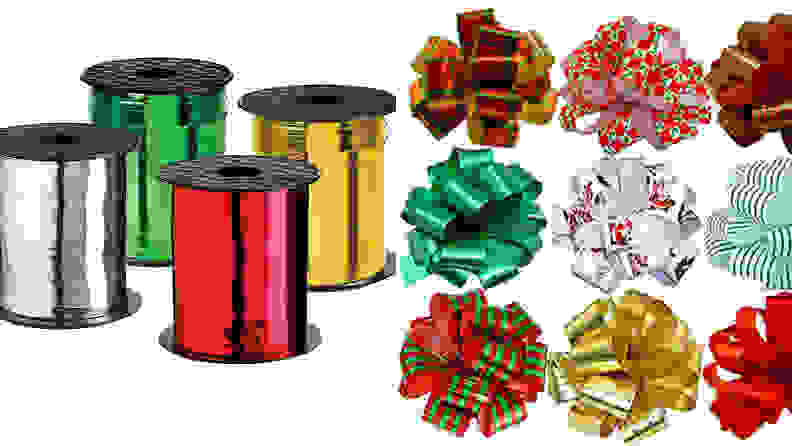 The "really fun part" of wrapping a present, according to DuLaney, comes once the paper is on, because it's time to add extra decoration with ribbons, bows, or decorative tape (if you didn't use the washi in the previous step). You can also take it up a notch. "Add a little something extra to the gift by attaching a smaller gift to the package as an embellishment, like using a necktie as a ribbon when wrapping a button-down shirt," he says. "I like to call that 'putting the present in presentation'!"
If you prefer to stay traditional, your choices are not limited to that ubiquitous curling ribbon. The kind of ribbon you choose is up to you: Viable options include cloth, wide satin-finish tape, or curling ribbon (yes), or a simple stick-on bow that requires little more than peeling off the wrapping and pressing it on a present.
For each one, small details are key when it comes to making your ultimate decision. For satin ribbon, this one has a subtle, classy sheen. (It can also double as a hair bow, if you're so inclined.) "Perfect size for gift wrap of a large item," writes a reviewer. "Wonderful quality. True Christmas red. Very pleased."
For curling ribbon, this set—which contains four spools of red, green, gold, and silver—is a favorite among Amazon customers, who love it for its value and easy-to-curl capabilities. "Exactly what I needed for wrapping presents this year," writes a reviewer. "I love the colors and there is quite a bit of ribbon on each spool. The best part is that it is easy to get really curly."
As for a stick-on bow? This set is just as cute and simple as you want it to be. To use it, all you have to do is pull a string (the bows come flat so they don't get crushed en route) and stick it on your present. "These bows are quick, easy to use, and beautiful," writes a reviewer. "I used them on many gifts and they looked wonderful. It's also great that they are flat for storage so no worries about the bows getting flattened."
Get the Double Face Red Satin Ribbon from Amazon for $5.99
Get the Xmas Curling Ribbon Set from Amazon for $10.99
Get Christmas Wrap Pull Bows from Amazon for $13.95
Labels to make sure you give it to the right person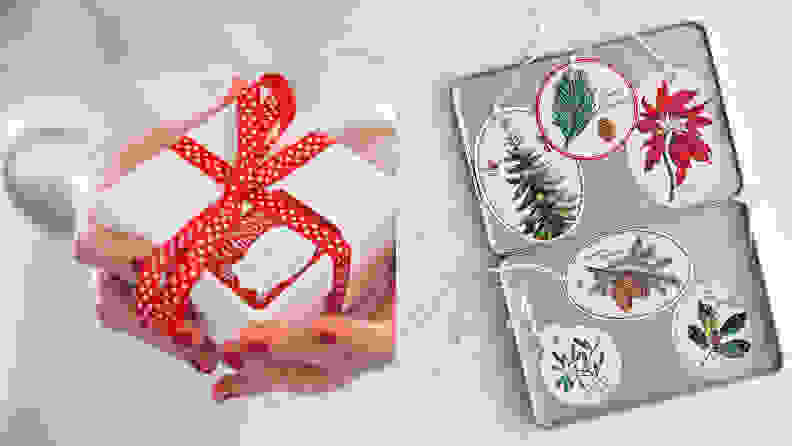 The trick with wrapped gifts is that if you don't label them, you may forget what's inside and therefore who your recipient is. The labels you use to mark your presents are a matter of personal preference—as long as they're sticky and have enough space for you to write the names of your giftees, you should be A-OK.
Amazon reviewers are particularly into this 80-piece set of labels with a shiny foil edge and ample room for writing names. "The name tags are too cute, and they are very sticky," writes a reviewer. "I always have a problem with sticker tags not being sticky enough and falling off. All in all, I will probably be ordering these every Christmas!"
If you prefer a label that ties onto a ribbon (or a bag handle), Paper Source's botanical-covered tags or these easy-to-customize brown paper tags with scalloped edges are both great options.
Get the 80 Count Foil Christmas Stickers from Amazon for $8.99
Get the Botanical Holiday Gift Tags from Paper Source for $15.96
Get the Brown Craft Scalloped Paper Tags from Amazon for $5.99
The product experts at Reviewed have all your shopping needs covered. Follow Reviewed on Facebook, Twitter, and Instagram for the latest deals, product reviews, and more.
Prices were accurate at the time this article was published but may change over time.