Lifestyle
'Eating' your sunscreen can't prevent sunburns, like some bloggers claim
Some bloggers claim diet can protect your skin from sunburn. Dermatologists tell us the truth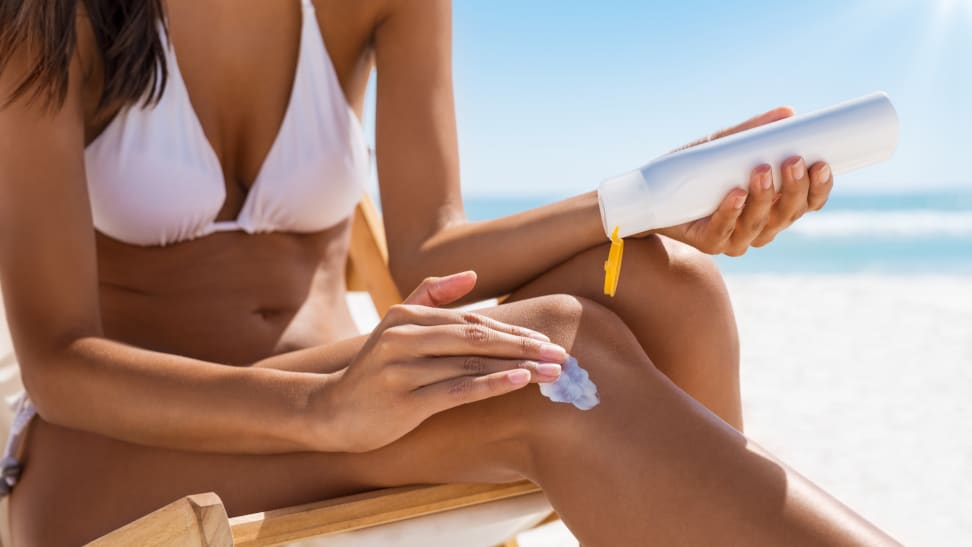 Credit:
Don't try this at home. Or at the pool, at the beach, on a hike, or anywhere else this summer.
A recent post from popular blogger Wellness Mama Katie Wells made a tantalizing claim for those of us who love the sun but maybe don't love the process of applying sunscreen. By changing her diet and adding certain supplements, she says she increased her skin's "natural SPF"—and she claims she is now much less sunburn-prone than she used to be.
You can't change skin's sun sensitivity with food
That advice is anecdotal at best (which Wells herself points out in her post)—and downright dangerous at worst, according to Dr. Lance Brown, a board-certified dermatologist with offices in New York City and the Hamptons, and an assistant clinical professor of dermatology at NYU School of Medicine. "There's nothing scientific to support the claim [that consuming large quantities of anti-inflammatory foods and antioxidants] can protect your skin from the sun," he says.
There's no such thing as a 'healthy tan'
What's more, any amount of sun exposure affects the DNA of your skin cells, increasing the likelihood of the conversion of healthy cells to cancerous ones. "Bad sunburns on a fair-skinned person will increase the risk of skin cancer, but cumulative exposure overtime without a burn also will," says Brown. "There is no such thing as a healthy tan. People like how the sun feels or how the color looks, but that's all that's good about it."
Supplements are better for boosting vitamin D
Wells is correct that the sun exposure does stimulate the production of vitamin D in our bodies, according to board-certified dermatologist Suzanne Olbricht, chief of dermatology at Boston's Beth Israel Deaconess Medical Center. "However, it takes less than 20 minutes a day of sun exposure on a very small amount of skin, [such as] the back of one hand, to create this effect," she says. Still, neither doctor recommends regular sun exposure for vitamin D absorption, which Brown regards as "counterproductive" because of the risk of cellular damage. Olbricht elaborates that doing so can cause "wrinkles, thick leathery skin, mottled pigmentation, red scaling patches called actinic keratosis, and skin cancers such as basal cell carcinoma, squamous cell carcinoma, and melanoma."
To that end, Brown agrees with Wells's recommendation of a Vitamin D supplement. For those who are deficient (a simple blood test can confirm), most sources recommend taking 1,000 IU of Vitamin D daily. He also points out that from a nutritional standpoint, some of the diet that Wells touts is sound. "Anything you eat that's good for your body as a whole, such as fish oil and antioxidants, is good for your skin—it's the largest organ in the body," he says.
This is the right way to be sun safe
To protect your skin this summer, the dermatologists prescribe these tried-and-true methods. Stay out of the sun, either by avoiding it entirely (especially at peak hours), wearing clothing that blocks UV rays, or, yes, protecting your skin with SPF-containing lotion. The FDA recommends choosing products with SPF of at least 15 (higher is better) and labeled "broad-spectrum" to protect against both sunburn-causing UVB rays and skin-aging UVA rays. If you're concerned about possible over-absorption of chemical sunscreen ingredients, pick products that rely on physical, mineral-based blockers zinc oxide and titanium dioxide. Reapply every two hours you're in the sun, or more if you're swimming or excessively sweating. And don't assume that your makeup is enough to protect you from the sun.
The bottom line is that, while true beauty may come from the inside, a topical sunscreen will keep your skin beautiful, healthier, and far better protected than anything you ingest.