Lifestyle
Stitch & Story crafting kits are the cutest thing I've seen all year
Hello Kitty lovers, right this way!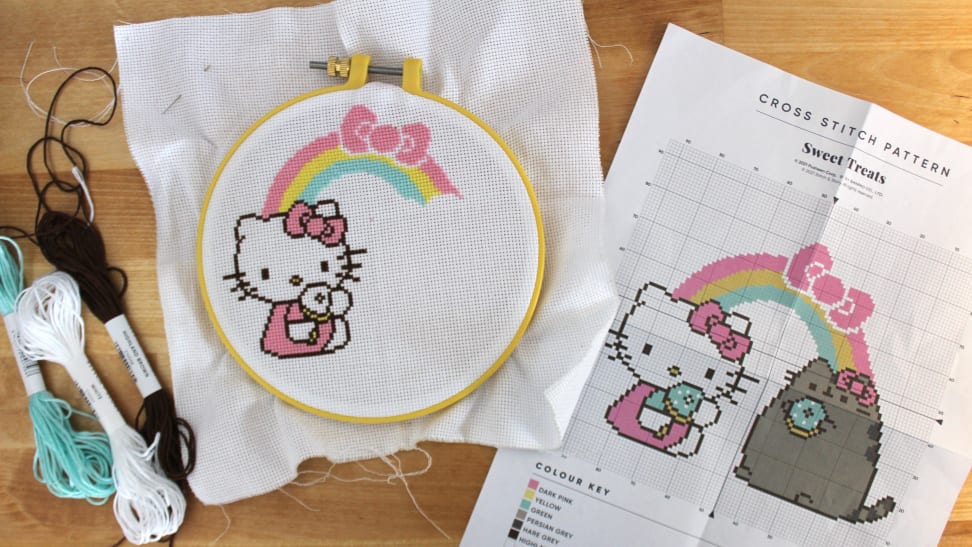 Credit: Reviewed / Camryn Rabideau
I'm always looking for new crafts to try out during my post-work relaxation time, and when I came across Stitch & Story, I was immediately obsessed.
Stitch & Story sells the cutest crafting kits I've ever seen, including knitting, crocheting, and cross-stitch options, and as soon as I saw they had a Hello Kitty collaboration, I knew I needed to test it out. So, I spent the last month completing (or almost completing) three Stitch & Story craft kits—here's how they turned out.
What is Stitch & Story?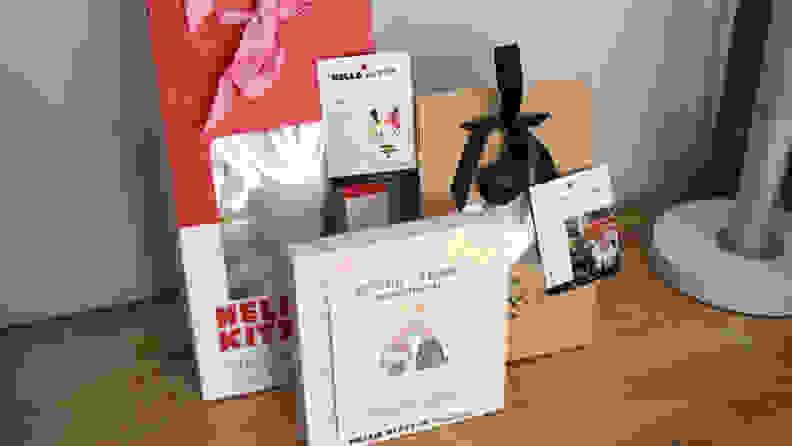 As I mentioned, Stitch & Story sells a variety of craft kits tailored toward novice crafters. The kits include all the materials and instructions you need to create a fun project from start to finish, and in addition to detailed patterns and directions, the brand offers a whole library of online tutorials that help walk you through various techniques. In addition to full craft kits, Stitch & Story also sells one-off patterns, as well as their own line of yarn.
Prices for Stitch & Story craft kits range from around $20 to $50+, and there's a moderately sized collection to choose from, including lots of fashion accessories and home decor items. To get a sense of the quality of their kits, I tested out one knitting, cross stitch, and crocheting kit, including several from one of the brand's adorable collaborations.
Knitting kit: Chunky cable knit headband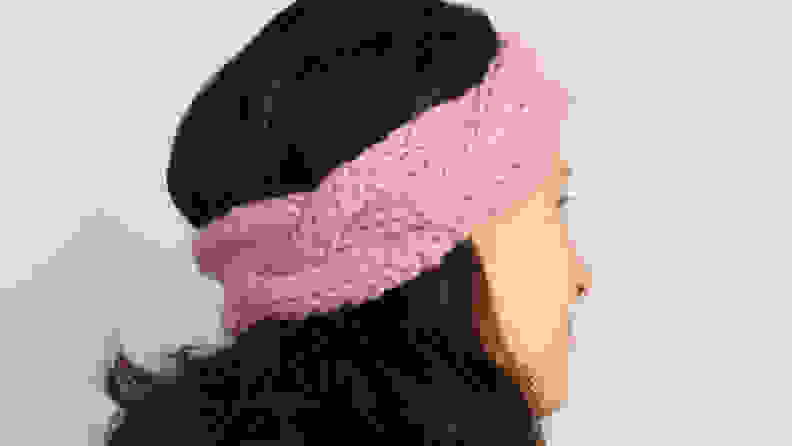 The first kit I dove into was the knitting kit—I've knitted before, so I figured it was good to start with something familiar, and this project also seemed like the smallest undertaking. Right away, I was impressed with the quality of the yarn, which was extremely soft and a pretty pink color. The included knitting needles were made from wood, which I didn't love, but they got the job done.
It has been a few years since I knitted anything, so I needed a refresher on how to start a project. The kit includes a "how to knit" guide that clearly explains how to cast on, and within a few minutes, I had my headband started. The pattern is quite simple and progresses quickly, and even though I had never worked with cables before, the process was outlined thoroughly and clearly and I had no problems following along. Once I figured out the basic techniques required, it only took me a few hours to knit the full headband. I did mess up at one point, losing count of the rows between the cables, but it's toward the back of the headband, so I opted to leave it there.
I was able to complete this project in just two days, and I was pretty pleased with the final result. The headband is really cute—though I wish it was a little wider—and it fits onto my head nicely. Plus, I think there's even enough yarn left to create a second one!
The good:
Thorough instructions
Easy-to-follow pattern
High-quality yarn
The bad:
Slightly pricey for what you get
Chunky Cable Headband Knitting Kit from Stitch & Story for $38
Cross stitch kit: Pusheen x Hello Kitty
I've never done cross stitch before, so this was the kit where I was a true beginner. The pattern features Hello Kitty and Pusheen eating donuts, and given my love for both these characters, it was a must-have kit. The "how to cross stitch" pamphlet that came with the kit did a great job outlining the basics of the craft, including details on how to start and end rows, as well as set up your embroidery hoop.
Once I got my hoop set up, I jumped into the pattern, starting with the rainbow at the top. There are actually two versions of the pattern—one which just features colored blocks, and one which uses symbols to represent the various colors. The process itself was quite easy, but I will say there should have been a needle threader included with this kit. This inexpensive little tool would have saved me a whole lot of trouble, as the included needle has a TINY eye that was extremely frustrating to thread.
After a week of working, I was roughly halfway finished with this craft, and unfortunately, I had to move on to the next kit for the sake of my deadline. The pattern is quite large, and it will take me another week or two to complete. However, the portion I have completed is really adorable, and I can't wait to see the final result.
The good:
Great for beginners
Adorable pattern
Plenty of string included
The bad:
Hello Kitty x Pusheen Sweet Treats Cross Stitch Kit from Stitch & Story for $30
Crochet kit: Hello Kitty amigurumi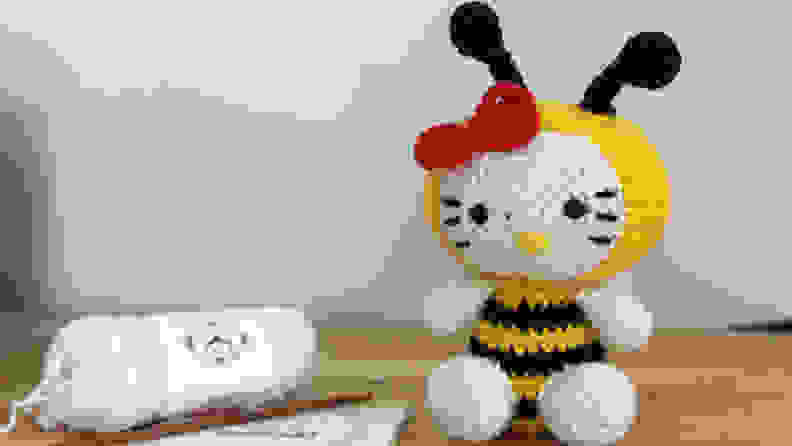 Finally, I started on my final kit. This one was a crochet kit, and frankly, it was the one I was most excited for, as I've been really into crocheting this winter. The pattern was for an adorable Hello Kitty figure dressed up as a bumble bee—there are several other kits available, with the cute character dressed up in sheep, panda, reindeer, and watermelon outfits, just to name a few. These kits in particular caught my eye, as I've never seen good Hello Kitty amigurumi patterns before—there are a few options on Etsy, but they don't look as much like Hello Kitty as the Stitch & Story kits.
Amigurumi is a term for small, stuffed animal figures, and I've actually made them before, so I was familiar with most of the crochet techniques used in this pattern. I was able to jump right into the pattern, and everything was really straightforward and easy to follow. However, I immediately knew I wasn't going to use the wood crochet hook included in the kit—it really uncomfortable and snagged at the yarn. My other big complaint is that the kit didn't include a stitch marker, which is absolutely essential if you're working on amigurumi. I had my own that I used, but I think this is a major oversight, especially in a kit that's on the more expensive side.
It took me about a week to crochet my little Hello Kitty, working for a few hours each night as I watched TV. I ended up using safety eyes on her face instead of embroidering them on like the directions say, and I also made a different bow for her head, just because I didn't like the one included. When it came time to sew the various pieces together, I also ended up using a metal yarn needle instead of the plastic one that came with the kit—I found theirs to be too flimsy and too thick to work efficiently.
When all was said and done, I was really pleased with how this pattern turned out. It's truly adorable, and I absolutely love her little wings. I think the skill rating of advanced beginner is appropriate, and I'm honestly tempted to buy more of the Hello Kitty kits just so I can have the super cute patterns. (Stitch & Story does sell one-off knitting and crochet patterns, but sadly, you have to buy a whole kit for this specialty collection.)
The good:
Includes plenty of materials
Clear instructions
Super cute end result
Patterns can't be found anywhere else
The bad:
Awful crochet hook
No stitch marker
Expensive
Hello Kitty Bumblebee Amigurumi Crochet Kit from Stitch & Story for $52
Should you try Stitch & Story?
After trying out these three kits myself, I would definitely purchase from Stitch & Story again. Overall, the patterns and materials were high-quality, even if some of the tools were just OK. In particular, I think this brand will appeal to crafters with its fun collabs. The Hello Kitty and Pusheen patterns are really sweet and can't be found anywhere else, and the brand also has collaborations with Sophie la girafe and Peanuts.
I'll admit the kits are a little pricey for what you get, but they're a great starting point for beginners. You don't have to worry about finding the right yarn or buying tools, and of course, the adorable patterns are a huge plus!
Shop craft kits from Stitch & Story
The product experts at Reviewed have all your shopping needs covered. Follow Reviewed on Facebook, Twitter, Instagram, TikTok, or Flipboard for the latest deals, product reviews, and more.
Prices were accurate at the time this article was published but may change over time.