Lifestyle
You can buy Taylor Swift's light-up sneakers on Amazon—but are they worth it?
Here's what it's like to (literally) walk in Taylor's shoes.
Credit: Reviewed/Netflix
I know all the lyrics to every Taylor Swift song (and which ones are about each ex-boyfriend). I have considered getting a cat just so it can be friends with Meredith and Oliva Benson (when Taylor and I finally become BFFs, obviously). I started wearing red lipstick and crop tops.
To put it simply: I am a little bit obsessed with Taylor Swift.
So when I heard that the shoes that she wears in her new documentary are available on Amazon, I knew I had to have them. After all, if I can't be Taylor, dressing like her is the next best option, right? Plus, in the Netflix flick, she implies that the light-up sneakers are one of her lucky charms for performing—and I'll take all the T. Swift energy I can get.
Excited—and blasting "Lover" at top volume—I clicked order on the most extra pair of shoes I've bought, already imagining the feel of the sneakers, the flashing of the lights, the knowledge that this would cement my status as a true Swiftie. Here's what happened when I wore Taylor Swift's sneakers—and whether you should get them, too.
What are Taylor Swift's light-up LED Pop Shoes like in real life?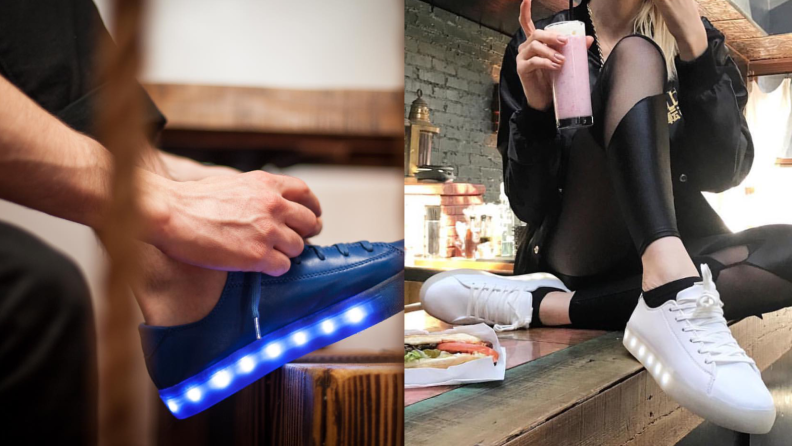 To start, what even are Pop Shoes? "Pop Shoes were born from the idea that boring is bad, and fun is good," the product description reads. "That's why we created a line of premium, light-up shoes that are sure to raise both heart rates and happiness levels."
The leather sneakers—which have the same basic shape as your classic Vans—come in five fun colors: black (like Taylor's), textured black, white, electric blue, and even floral. I ordered the textured black in my usual size 8. When they arrived, I found the outside of the shoe to be really unique with a diamond-like, raised texture all over the top.
How do LED Pop Shoes work?
The first thing I noticed when I opened the box was the charger lying on top inside. It's a USB charger with two ports so you can easily plug both shoes in at the same time to charge (which I did immediately). However, there were no directions included—so I had no idea how long they'd need to charge or how long they'd last once they were charged. I plugged mine in for about 10 minutes and have probably used the lights for a total of an hour max so far and they're still kicking (pun not intended).
Pop Shoes have a strip of 14 LED lights that run along the interior and exterior sole. They have four different settings: on, flashing slow, flashing fast, and off. I like that the lights have a soft glow so they aren't too bright or too dim.
To turn the lights on, you press the top of the tongue, where you tie your shoes. Then, to change the setting, you simply keep pressing that button to rotate through. I had some trouble turning the shoes on and off—because the button is hidden inside the tongue, it's hard to know exactly where to press and I felt like I had to push really hard to get it.
Are the light-up Pop Shoes comfortable?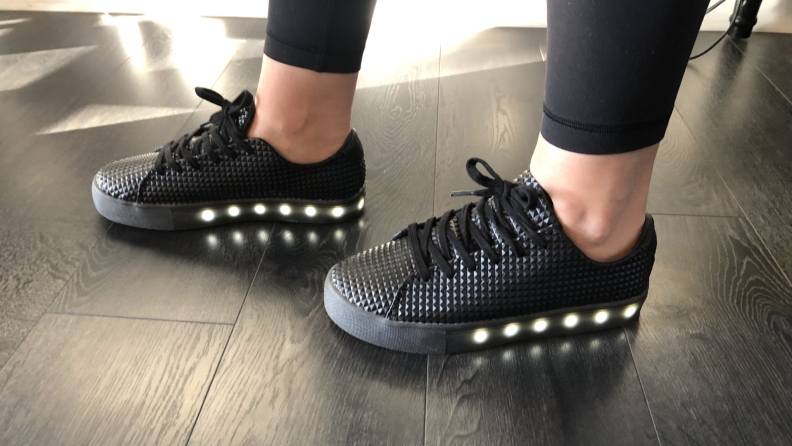 I wanted the answer to be yes, I really did—but sadly, these sneakers are some of the most uncomfortable I've worn. The sole is cushioned and soft but the top of the shoe and the tongue are very stiff and constraining. I also struggled to get the shoes onto my feet as they don't slide on easily. Because the tongue has the button for the lights, it doesn't bend much so it's difficult to get your foot inside without just shoving it in (which is what I had to do every time).
Should you buy Taylor Swift's light-up sneakers?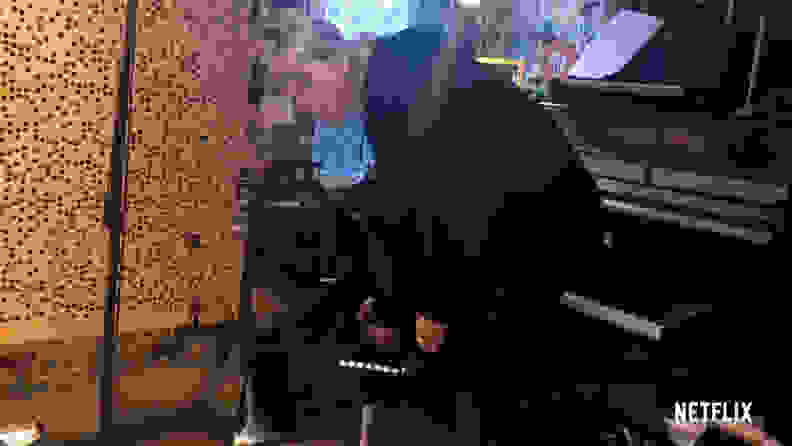 Do Pop Shoes look cool? Absolutely. Is it fun to walk around in the grown-up version of your favorite kids light-up shoes? 100 percent. Is it even more fun to brag that you have Taylor Swift's sneakers? Without a doubt.
However, because these sneakers really aren't comfortable, I'd only recommend them for anyone who wants a super fun, super unique shoe to wear to parties or any occasion that doesn't require a lot of walking around. They're definitely a conversation-starter (hello, life of the party in flashing kicks!) but they're not for everyday wear due to the lack of comfort.
The product experts at Reviewed have all your shopping needs covered. Follow Reviewed on Facebook, Twitter, and Instagram for the latest deals, product reviews, and more.
Prices were accurate at the time this article was published but may change over time.