The e2752She (MSRP $299) is a 27-inch monitor with a native resolution of 1920 x 1080. You'll find this product for less than $200 online because it uses a cheaper TN (twisted nematic) panel—you could say that e2752She's easier on your wallet than on your eyes.
As far as monitors go, this entry from AOC is most certainly a budget bin item, but don't let that sway you: For the sale price, it's not a bad product at all. You aren't getting a fancy design or a beautiful screen—the pixels per inch count is dismal—but if you'd rather have a large, cheap screen than a small, less cheap screen, the e2752She is anywhere from $400 to $800 less than its same-size competition.
Low-cost materials yield a lower price.
The AOC e2752She's low cost owes a lot to its design—or lack thereof. We're not knocking it, but you obviously won't find any advanced engineering here, such as adjustable height or portrait rotation. This AOC is about as plain as computer monitors come, featuring glossy black bezels and a matching round base.
This AOC is about as plain as computer monitors come.
Assembly is fittingly simple: Just snap the pre-attached neck into the base, and you're done. The rear of the panel is a smoother, matte finish that yields only a subtle etching of AOC's insignia and the product's port selection. Connectivity includes two HDMI inputs, a VGA (D-Sub) input, and outputs for both headphones and external speakers. Oddly, there's no DVI-D input in sight.
Screen adjustments are, again, a bare bones affair. The e2752She's panel tilts forward by 4° and backward by 17°, giving it a 21° total tilt span. No other adjustments are possible, though even at 27 inches, this monitor is light enough to be shifted and moved around without much fuss.
The on-set controls are lined horizontally beneath its lower bezel, and include five small tactile keys. Like the rest of the product, they feel fairly cheap and are kind of hard to press. Fortunately, they work, which is all that actually matters from an ascetic standpoint.
Included in the box with the panel and stand are a VGA cable and power (AC) cable. Our test unit came with no quick start guide or driver disc—weird, but we didn't need them and we doubt you will either.
We'd call this UI "minimalist," some would call it cheap
The AOC e2752She utilizes a very simple, straightforward user interface by modern standards. Pressing the control key marked "menu" prompts a semi-opaque UI to pop up from the bottom of the screen. Here, you'll find sub-menus such as Luminance, Image Setup (VGA only), Color Setup, Picture Boost, and OSD Setup.
AOC's Screen+ software automatically splits the screen into four separate work stations.
The Luminance menu contains controls for contrast, brightness, gamma, DCR (dynamic contrast ratio), and Eco Modes—those should probably just be called Picture Modes.
The modes include Standard, Text, Internet, Game, Movie, and Sports, each differing primarily by the amount of backlight utilized. The real nitty-gritty of calibration and color adjustment is in the Color Setup menu (duh, Lee), which allows for the selection of different color temperature pre-sets, as well as fine-tuning of the monitor's RGB balance.
The Picture Boost menu is probably the most unique thing about this monitor. It contains a feature called Bright Frame, which lightens (read: decreases the gamma correction) various percentages of the screen, starting from the top-left corner and increasing until half (or more) of the screen contains a "frame" of more brightly lit pixels.
Additionally, AOC's Screen+ software aims to boost productivity by automatically splitting the screen into four separate "work stations," enabling a snap-to functionality that automatically sizes windows within each station.
That's not a bad spread for such a low-cost product, but it's not pushing the boundaries of display innovation, either. While the buttons are a little too stiff to make browsing through the UI anything but tedious, at least AOC has equipped the e2752She with more than just the basic picture controls.
Not the top of the pops, but worth a listen
By now, we've established a simple truth about this monitor: it's cheap. Securing any 27-inch display for the e2752She's sale prices—less than $200—means that something aspect of its hardware
In this monitor's case, the design and overall aesthetic quality are from the wrong side of the tracks, but also the LCD panel itself is of the cheaper TN (twisted nematic) variety, which tends to translate into lower prices when compared to IPS panels of the same size/resolution.
For browsing the web, office work, or console gaming, it's fine.
It also translates into a worse viewing angle (both horizontally and vertically), a lesser color depth, and a faster response time: AOC claims 2ms for the e2752She, which is really only possible when utilizing a TN panel.
If you can accept less-than-pristine color accuracy and an average contrast ratio, most of this monitor's other specs—gamma, correlated color temperature—will satisfy casual users. TN panels are third-tier in terms of visual appearance, but are the best choice for low response times.
As obvious as it might seem, we feel we should stress that this is not a high-performance screen, and isn't going to be suitable for any professional endeavors (except maybe professional gaming, but even then, you're pushing it). For browsing the web, office work, console gaming, or watching streaming content like Netflix, it's fine.
A good value, if you know what you want.
The AOC e2752She (MSRP $299) has two strong points: It's big, and it's fast. By "fast," I mean this monitor's TN panel is capable of about a 2ms refresh rate, which isn't the best on the market, but is good enough for most gaming, even very intensive stuff. A 27-inch IPS monitor is going to cost a lot more than this.
If you're in the market for a big screen and don't need the best possible picture quality, this AOC's online price of $199 is probably the cheapest you're going to see for this size. If you're not looking to spend as little as possible, however, look for an IPS- or VA-paneled display instead.
Overall, the AOC e2752She (MSRP $299) is not an outstanding performer, nor did we expect it to be. Utilizing a TN (twisted nematic) panel, its color depth is average, while errors within grayscale production and RGB balance lowered its overall score even further. The e2752She's one strength is its response time, which averaged about 2ms. This isn't terrible picture quality for the price, but it's far from the best you can find.
The AOC e2752She adheres fairly well to the sRGB standard monitor gamut, though uncalibrated it has its fair share of problems. We tested oversaturated green, undersaturated red, and white/gray production that tended to emphasize blue—an error that owes to the monitor's RGB balance, as we'll see.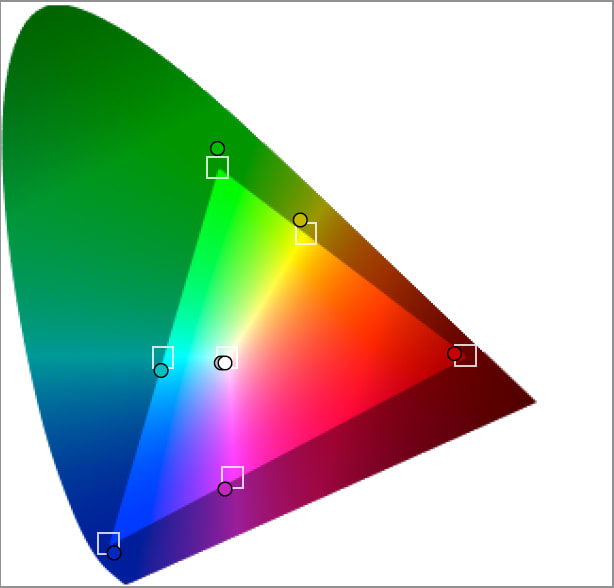 For the most part, the e2752She did a decent job balancing the perceived luminance of its color palette so that nothing was over- or under-emphasized. However, testing revealed that this display does tend to favor blue and cyan, and the grayscale by correlation. It also emphasizes yellow a little too much, though red, green, and magenta are still within acceptable levels.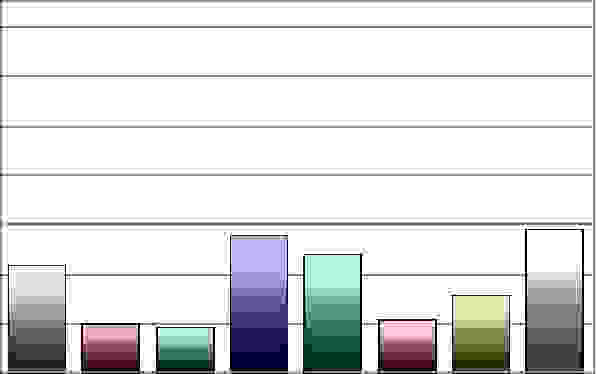 When testing the monitor's grayscale, we totaled a DeltaE of 5.77, which is a little higher than acceptable but isn't the worst we've seen. The e2752She starts out well, transitioning from 0 to about 25 IRE without issue. After those shadow tones, errors in production become more common from about 40 IRE through peak white.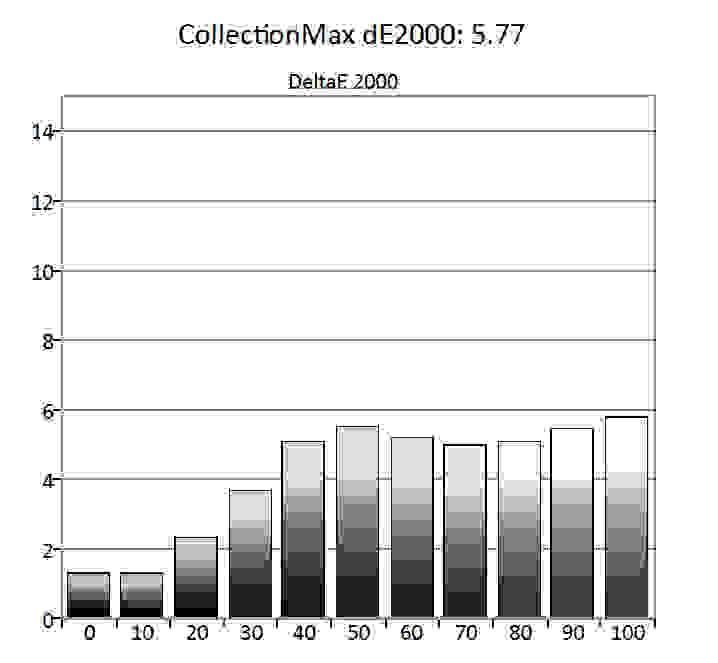 Looking further, we can see that the grayscale error exhibited owes to an improper RGB balance. Ideally, any additive color display will maintain even emphasis of its red, green, and blue sub-pixels throughout the grayscale. Like many modern displays, however, the e2752She starts to overemphasize blue as it exits shadow tones, which causes red and eventually green to become de-emphasized.
Meet the tester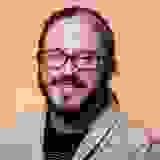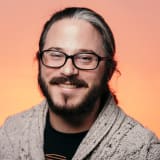 Lee Neikirk
Editor, Home Theater
@Koanshark
Lee has been Reviewed's point person for most television and home theater products since 2012. Lee received Level II certification in TV calibration from the Imaging Science Foundation in 2013. As Editor of the Home Theater vertical, Lee oversees reviews of TVs, monitors, soundbars, and Bluetooth speakers. He also reviews headphones, and has a background in music performance.
Checking our work.
Our team is here for one purpose: to help you buy the best stuff and love what you own. Our writers, editors, and lab technicians obsess over the products we cover to make sure you're confident and satisfied. Have a different opinion about something we recommend? Email us and we'll compare notes.
Shoot us an email