Introduction
Overall Design
While mostly charcoal black in hue, the PA246 does feature a single red stripe (hooray beer) that runs horizontally along the bezel below the screen. It also features 5mm and 6mm markings around the entirety of the display, branding the PA246 as an artist's monitor. The stand is very flexible, allowing for up to 20 degrees of tilt forward and roughly 5 degrees of tilt backward, as well as swiveling, pivoting, and height adjustments.
Front
The Asus PA246Q features a 24.1-inch widescreen display on a P-IPS panel, surrounded by a thick, measured bezel.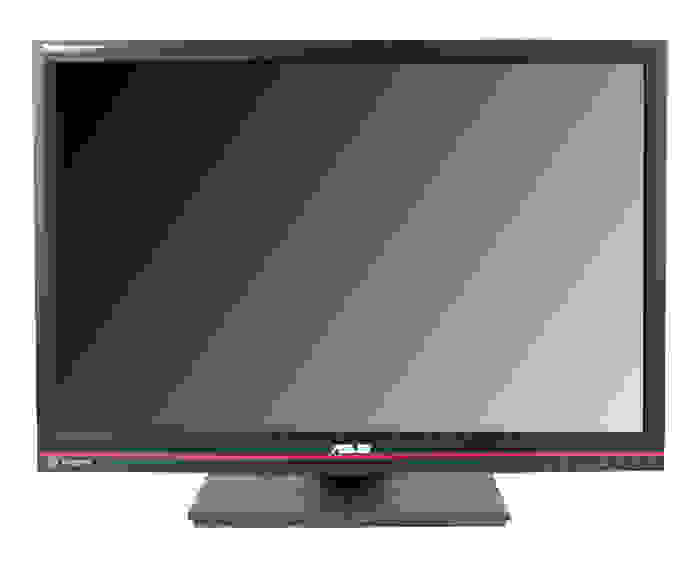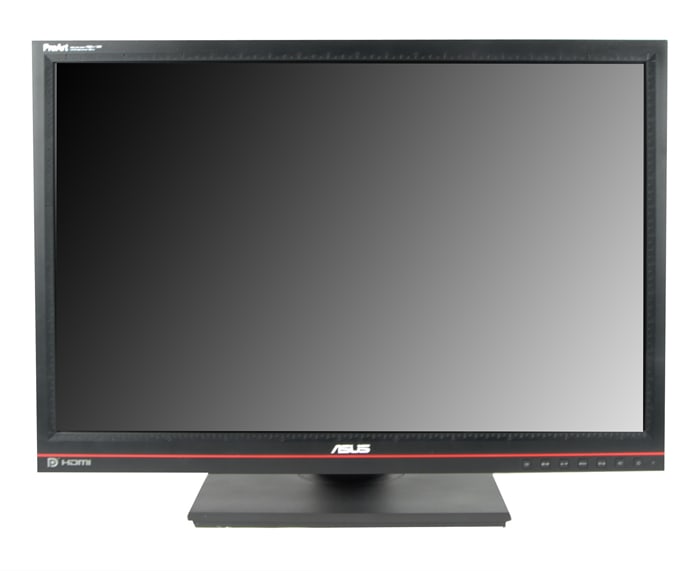 Back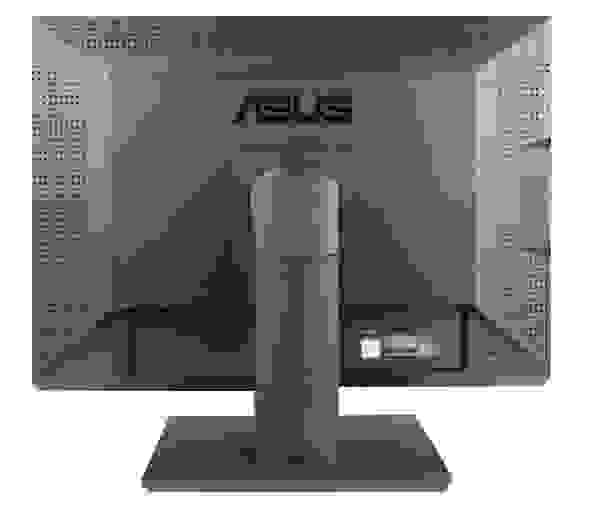 Side
The PA246Q is a thick display (partially due to its etched bezel design), having a maximum depth of 235 mm.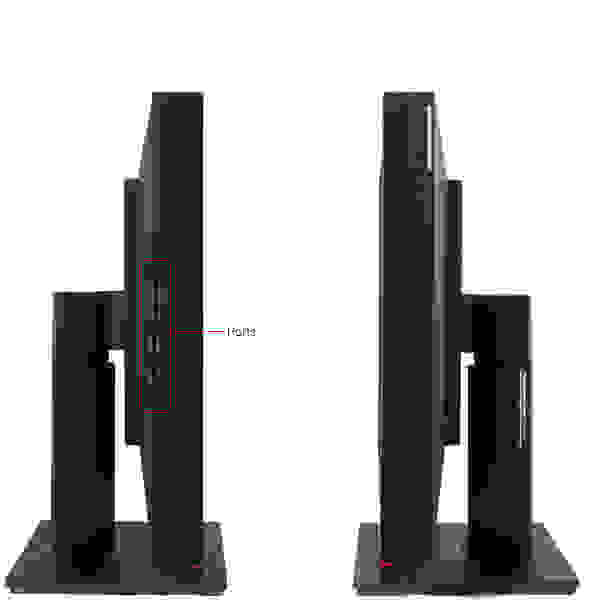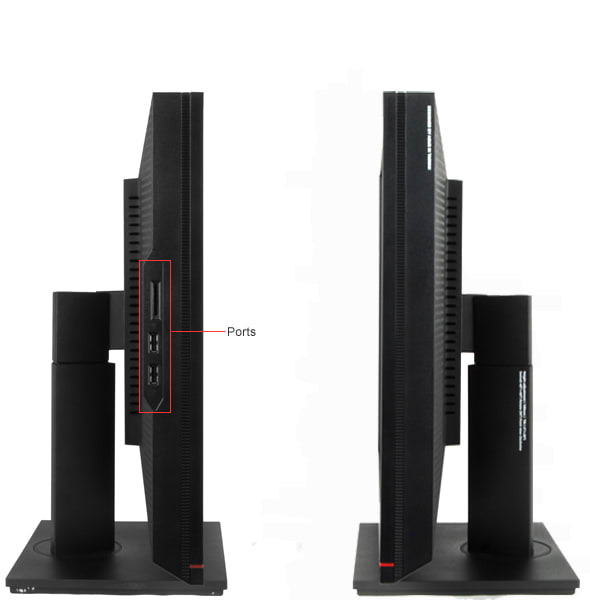 Stand
The stand is one of the more versatile we've seen, allowing for 20 degrees of forward tilt and 5 degrees of backward tilt. It swivels about 40 degrees to the left and right, rotates to portrait, and raises/lowers to change the display's height. On top of this, the base of the stand and the back portion attached to the display are ringed by millimeter markings (like the bezel), making it easy to set/memorize a particular orientation or placement. Unfortunately, users may find themselves relying on this feature more out of exasperation than convenience: the stand rotates, swivels, and adjusts a little too easily, meaning that a misplaced elbow might shift the panel out of its set position to the user's surprise.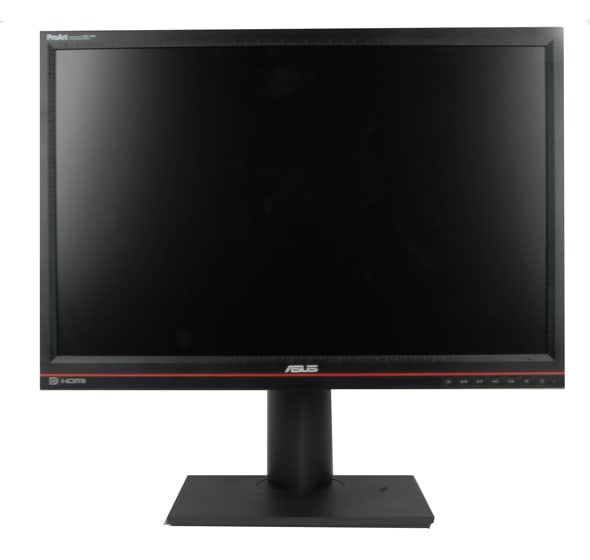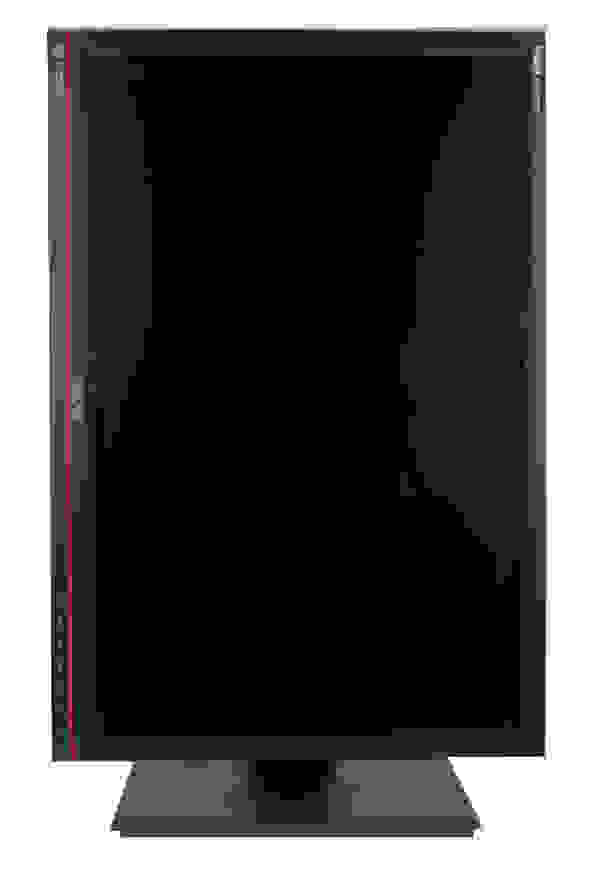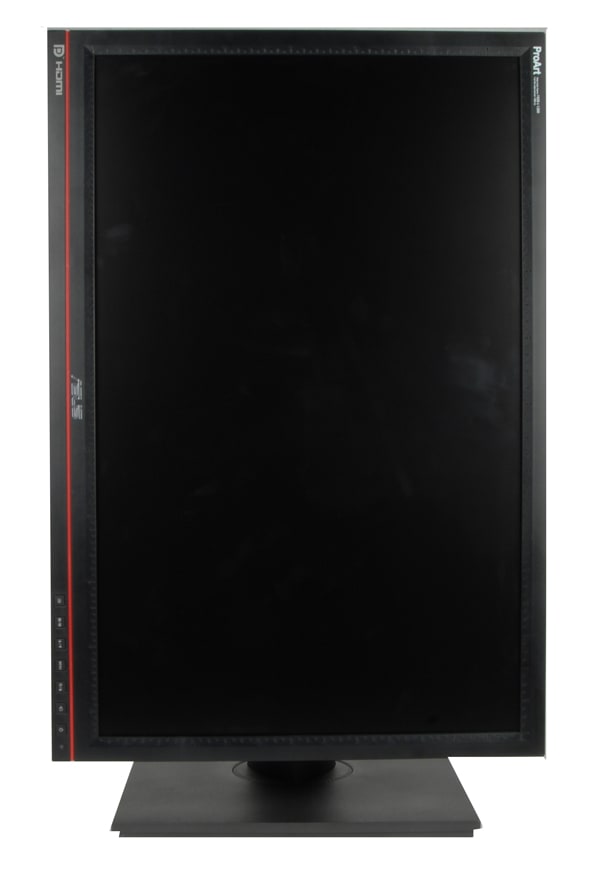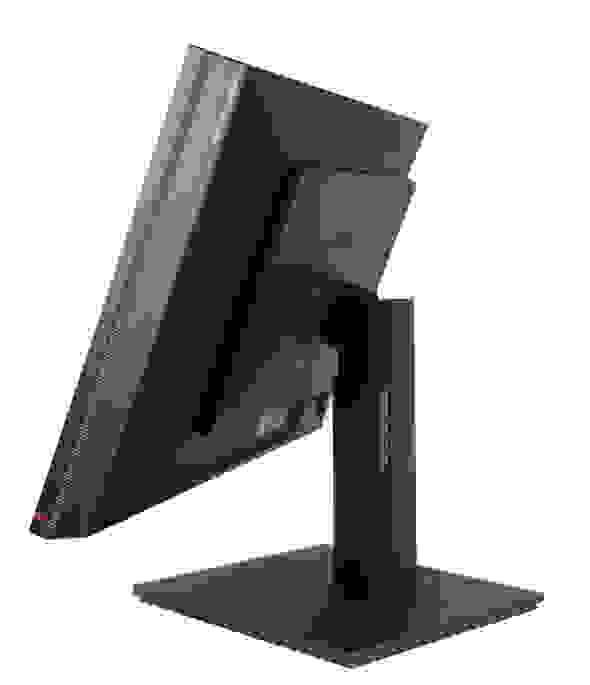 Controls
The Asus PA246Q features a multi-button control scheme (7 buttons total) along the lower right-hand side of the bezel. While the images featured on the buttons are not entirely intuitive as to their functions, an experienced user should be able to deduce and memorize the controls layout fairly quickly, where less tech savvy users may have to play around a little more.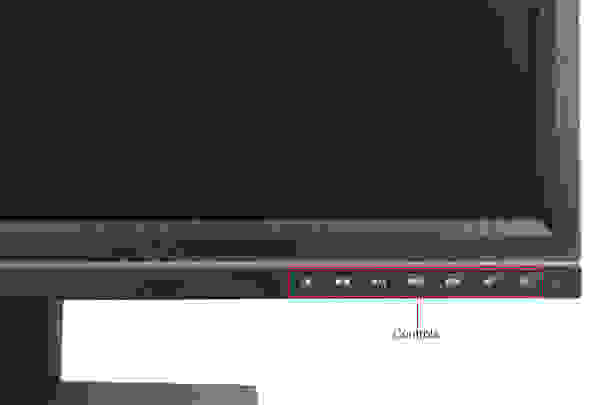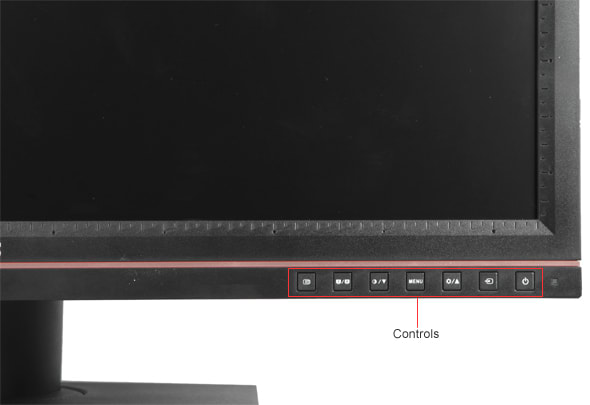 In the Box
The Asus PA246Q ships with the display, stand, quick-start guide, 1 VGA cable, 1 DVI cable, 1 DisplayPort cable, the power cable, 1 USB cable, the software support CD, and the Asus warranty card.
Contrast
We measured an excellent maximum contrast ratio of 847:1. The PA246 tested with a black level of 0.32cd/m2 and a peak brightness of 274.4 cd/m2. Naturally, this more expensive monitor has a much better maximum contrast ratio than lower end monitors meant for more general use, but even amongst its peers-in-pricetag, it tested quite well. More on how we test contrast.


Uniformity
We test uniformity subjectively, viewing the monitor's ability to display completely white and black screens from various angles and distances in order to determine performance. The Asus PA246 was very smooth in its transitions and maintained an excellent level of uniformity radiating out from the center of the screen, but we would expect nothing less from a monitor clearly meant to be used for artistic purposes. It did, however, fall short at its corners. While showcasing a completely white screen, the thickness of the bezel caused some considerable dimming at the corners. While showcasing a completely black screen, we saw very obvious flashlighting (also from the corners). For an artist's monitor, this could be a problem. More on how we test uniformity.
Color Temperature
Color temperature is the measurement of a given output of luminosity over a spectrum of intensity levels, and the amount of light saturation within a given hue. As you can see from the chart, the Asus PA246 tested exceptional color temperature accuracy, representing the entire spectrum of saturation with only a tiny portion of the higher end of the spectrum reporting a temperature error that would be visible to the human eye. Unfortunately, this small area within might be a problem in pictures with lots of shadows and dark hues. More on how we test color temperature.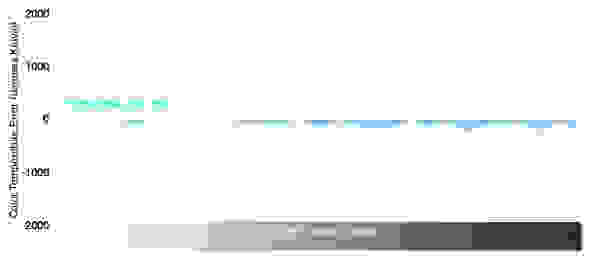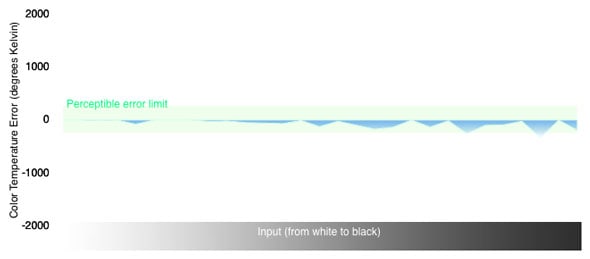 Color Curves
The color curves chart shows a visual representation of how accurately a display reproduces sRGB standard colors across a luminosity spectrum. We look for a gradual, even curve amongst every color, as this means that each separate hue is represented equally. While the PA246 did pretty well overall, the chart below showed us that its reds were a touch oversaturated, meaning that at the highest end of the spectrum they'll lack good definition. Whites and greens were just about perfect, but blues were slightly undersaturated, meaning that darker blues won't transition into midtones very smoothly. This isn't bad for the average monitor, but it's a little surprising considering that the PA246 is meant for professional artistic use. More on how we test color curves.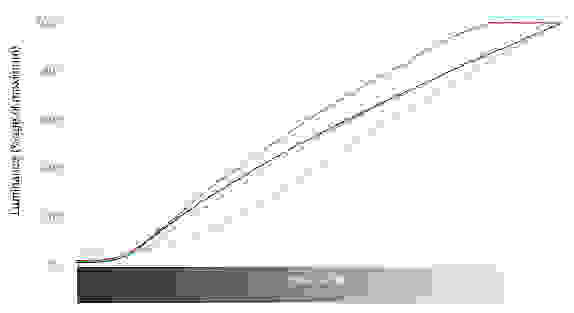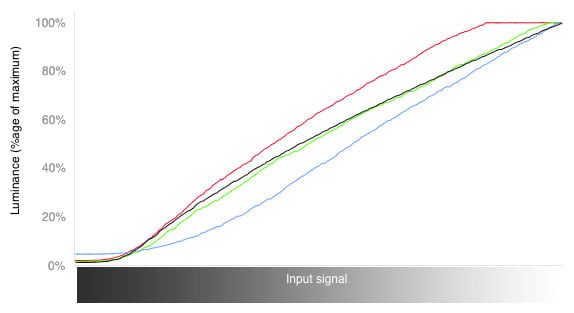 Color Gamut
For color gamut, we run a monitor's tested color representation against the sRGB standard. The Asus PA246 tested with perfect green and white, but its blue and red points were just a little bit darker than they should have been. This isn't the kind of thing that's terribly noticeable, but it's worth keeping in mind when considering investing in this monitor. More on how we test color gamut.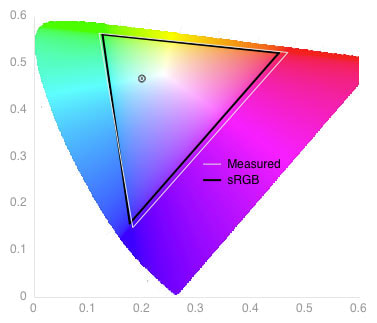 Viewing Angle
To test viewing angle, we compare a monitor's peak brightness and deepest black at a 0 degree viewing angle (straight on) with its peak brightness and deepest black at a 45 degree viewing angle. The Asus PA246 started with a maximum contrast ratio of 847:1, and at a 45 degree angle that contrast ratio fell to 32:1. While the numerical difference is large, this is actually a very good viewing angle for a monitor that will primarily be viewed by a single user at a time.
Calibration
We use two different calibrations for our performance-based tests. The first calibration is the monitor's native luminosity, whatever it happens to be set to naturally. This calibration is used to test the monitor's contrast ratio, uniformity, and viewing angle. We consider the "out-of-the-box" luminosity setting to be a general-use setting, the kind of levels one might see used for a well-lit office or living room. Thus, the most important aspect of this calibration is contrast between dark and light. A good contrast makes for easier reading and less stringent viewing angle limitations, and allows for longer periods of use without eye fatigue. The second calibration sets the monitor's luminosity to 160 cd/m2. This second calibration is used to test the monitor's reproduction of color temperature, as well as sRGB and Adobe RGB color gamuts. Thus, the most important aspect of this calibration is accurate color reproduction. This calibration is especially important for monitors like the Asus PA246, which bills itself as an artist's monitor.
Connectivity
The Asus PA246 offers fairly simple, straightforward connectivity options. The more active ports are located on the side, making them easier to access. The visual connectivity ports and power cable port are located on the underside of the monitor, tucked away beneath the bezel. The underside of the bezel's lower lip offers in ports for 1 USB, 1 DisplayPort, 1 DVI, and 1 VGA connection (and of course, the power cable). The left side of the display is reserved for 1 Kensington lock slot and 2 USB inputs. While it's not a terribly versatile monitor in terms of connectivity, it offers enough connection options to allow for some flexibility.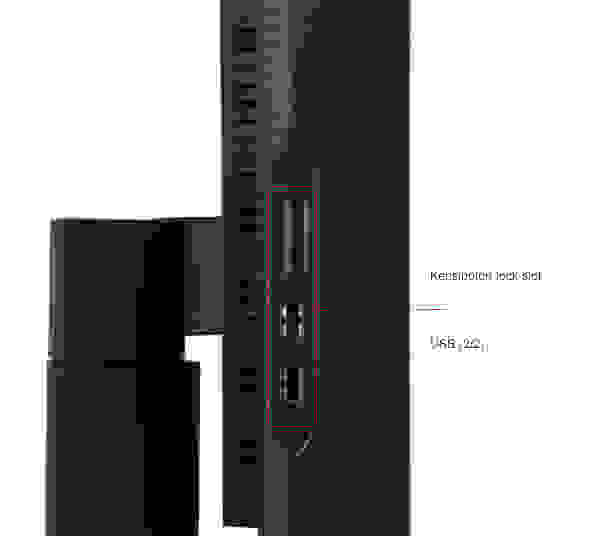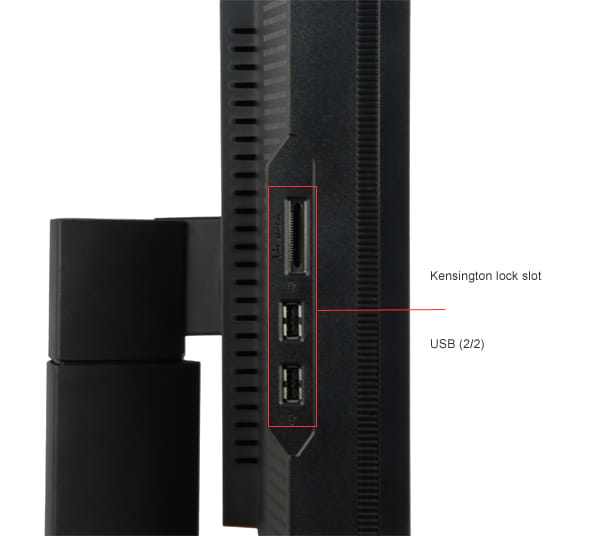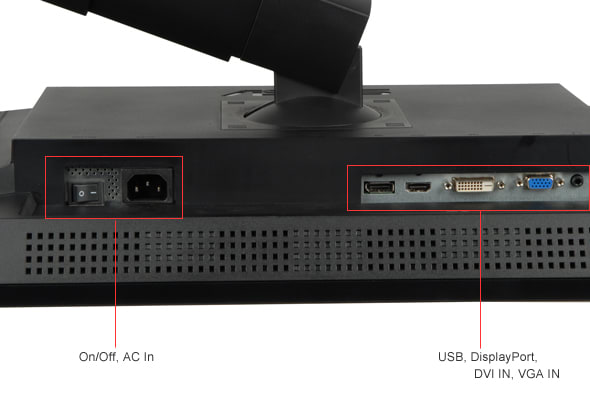 ## Controls & Menus The controls for the PA246 are located in the lower right-hand corner of the display. They are a 7 button set-up, allowing the user to select input sources, alter the display's color temperature (cold, neutral, and warm), and select between display settings like sRGB, Adobe RGB, or Theater mode. The menus themselves are fairly straightforward, progressing with a click of the corresponding button and correlating their left/right or up/down functionality to the other buttons in a very intuitive fashion.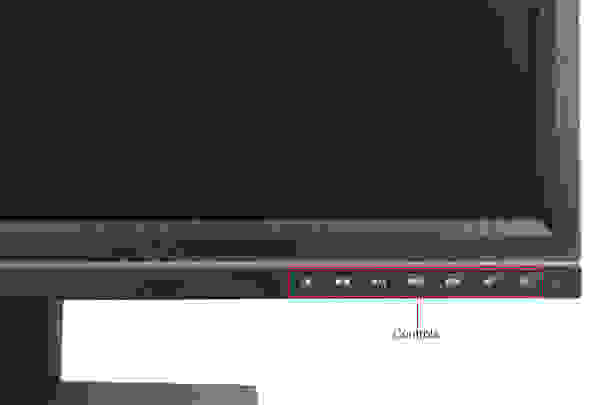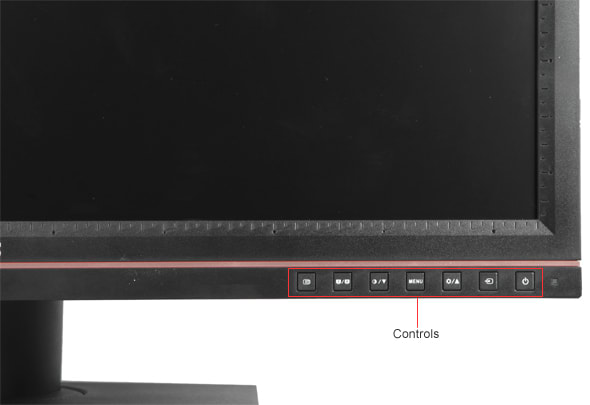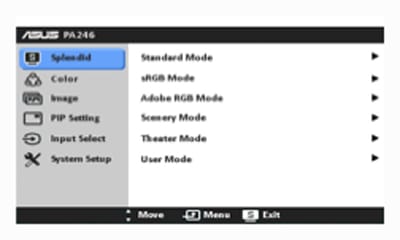 Other Features
Another feature of the control scheme, and one that may prove a boon to amateur and professional artists alike, is the PA246's ability to map measured grids to its OSD with a single press of the left-most button. Pressing this button cycles overlaying grids in Centimeter, Inch, Alignment, A4, and Letter variants, with a few smaller displays to represent 4x6, 3x4, 2x2, 8x10, or 5x7 displays within the monitor's screen.
Comparison Overview
While the Asus PA246 and the Samsung S24A850DW are similarly priced, they are both marketed for different functions. For around $500, you could have either a heavy, art-focused monitor with limited connectivity options, or a slimmer, more versatile display meant for serious but less niche-worthy work.
When it comes to performance, the Asus PA246Q has a clear advantage. Its maximum contrast ratio--the definition between its blacks and whites--is almost 4 times that of the Samsung S24A850DW. It also tested with much more stability and consistency in our tests for color temperature, and features a wider array of color options (sRGB, Adobe RGB) than the Samsung.
On the other hand, the Samsung is much more versatile in terms of its connectivity. It has a 3.5mm audio out, a 4-port USB 3.0 hub, a DisplayPort input, as well as the same VGA and DVI inputs that the Asus features. If you want a lot of devices to be able to interact with your monitor, the Samsung would be the better choice.
These two monitors are, more or less, meant for two different ends. If you want a monitor with features and color options geared towards artistry, the PA246 would be the way to go.
Comparison Overview
The HP ZR24w costs about $150 less, on average, than the Asus PA246. It has just as many connectivity options (which isn't saying much), and the stand allows it to tilt and rotate to portrait. Users who choose to invest in the Asus PA246 will be doing so for different reasons, however.
When it comes down to performance, the two monitors have similar maximum contrast ratios, but the Asus PA246 again has a much wider array of color palettes to choose from, as well as superior overall color reproduction. With its QuickFit Virtual Scale, it's got a lot to offer in terms of art or photography.
If you don't need a notched bezel or Adobe RGB color settings, though, there's no real reason to spend the extra money on the Asus. Users could get the HP ZR24w for less, and have more flexibility with connections, no real general loss in color accuracy, and have a much lighter, slimmer monitor to boot.
Comparison Overview
The Dell UltraSharp U2412M sells for about $150 less, on average, than the Asus ProArt 246Q. And while it performed fairly well overall, there are places where users would notice a big difference in their display performance.
For instance, the Dell's contrast ratio was 219:1. Compared with the Asus's ratio of 847:1, this is considerably lower, and would definitely be something you'd notice on a day-to-day basis. Likewise, the Dell did a little better on one side of the color gamut, but where it erred in blue point saturation would be much more visually apparent than any of the gamut errors made by the Asus.
The two monitors have almost the same amount and kind of ports, so if you're looking for a wide array of connectivity options, neither of these two monitors would be a great choice.
At the end of the day, the Asus PA246 is more truly meant for use within the realm of serious art or photography. But if you didn't have a budget to keep in mind, it would also probably prove a better general use monitor than the Dell UltraSharp over time.
Conclusion
The Asus PA246 is definitely not for everyone. A user who is casually looking for a budget monitor to work as a general day-to-day display should steer clear, as they would likely find the PA246 to be too bulky, and perhaps would even be frustrated by how easy it is to change its height and orientation accidentally. You're not going to want to wall mount it, and because of its thickness and weight, it's not easy to tote around from place to place. The PA246 is likely best suited to staying more-or-less in the same place, with lots of room around it for all its potential stand adjustments.
On the performance side of things, if you're just looking for a display that'll be easy to set up and will give good color production, might we suggest the Acer S231HL? However, if you do find yourself wishing your monitor could double as an easel from time to time, or want to render a drawing or photograph at actual size side-by-side with the real thing, the Asus PA246 would be a good choice. Casual users may not have need of a variable OSD for centimeter or inch grids, or comparisons between sRGB or Adobe RGB colors, but if you have found that you need these features or think you'd find them useful, the Asus PA246 does them quite well.
To recap, don't pick this monitor up unless you're going to make use of its specialties and features--it simply doesn't offer enough in way of casual settings or connectivity flexibility to make up for its price. But we feel very strongly that users pursuing the PA246 for art or photography will not only feel that its price is justified, they'll feel they got a considerably good deal.
Photo Gallery
Meet the tester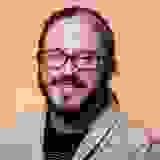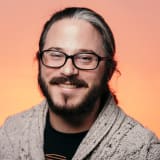 Lee Neikirk
Editor, Home Theater
@Koanshark
Lee has been Reviewed's point person for most television and home theater products since 2012. Lee received Level II certification in TV calibration from the Imaging Science Foundation in 2013. As Editor of the Home Theater vertical, Lee oversees reviews of TVs, monitors, soundbars, and Bluetooth speakers. He also reviews headphones, and has a background in music performance.
Checking our work.
Our team is here for one purpose: to help you buy the best stuff and love what you own. Our writers, editors, and lab technicians obsess over the products we cover to make sure you're confident and satisfied. Have a different opinion about something we recommend? Email us and we'll compare notes.
Shoot us an email