The Asus VE208T is designed in a way that is fairly standard to widescreen LCD monitors: a black plastic build with a nice, thin profile and bezel. Its controls are located beneath its lower right corner, and it sits perched forward from a curved stand that ends in a small round platform. The VE208T tilts 20 degrees forward and 5 degrees back, but does not swivel or rotate to portrait.
A shiny black bezel and matte gray screen make for a handsome, if plain, display.
Shiny black plastic tends to pick up a lot of fingerprints, but diminishes the monitor's weight.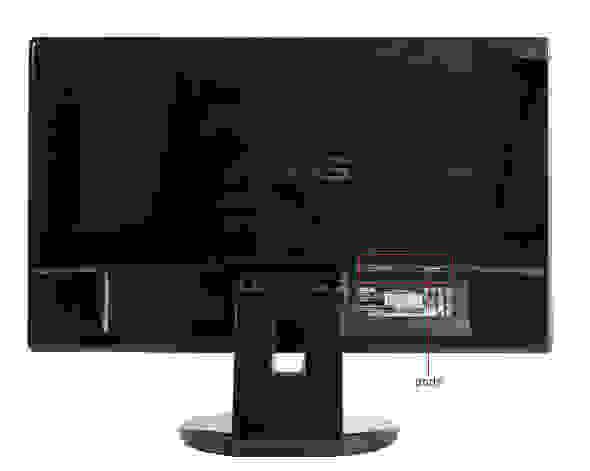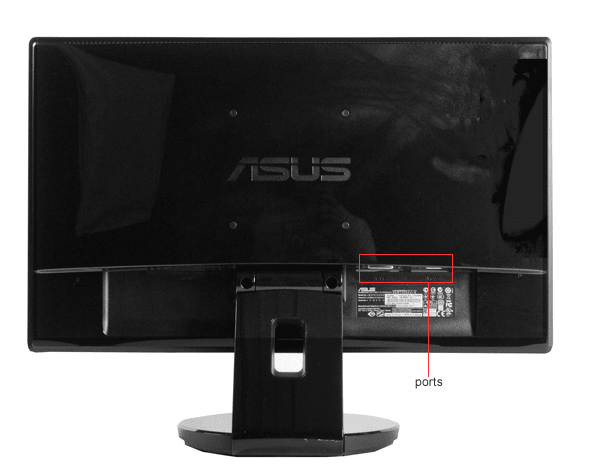 A thin profile extends equidistant from the platform on either side. The VE208T is approximately 200mm deep.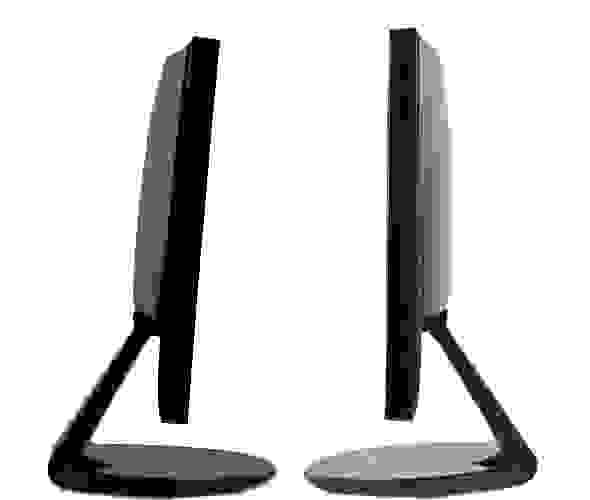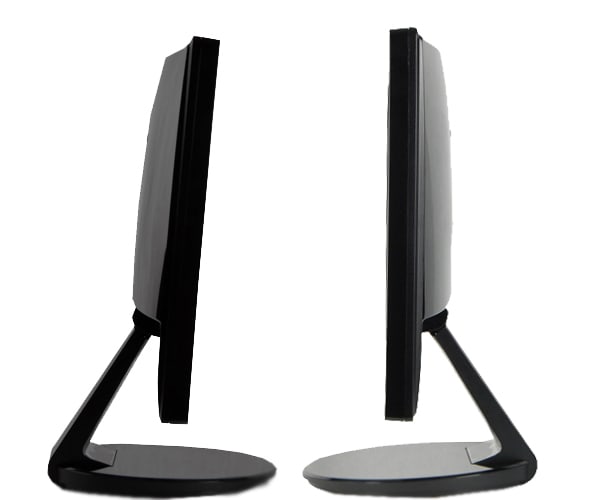 The more rarely used circular platform is rather attractive, and its curved stand allows for a surprising amount of downward tilt.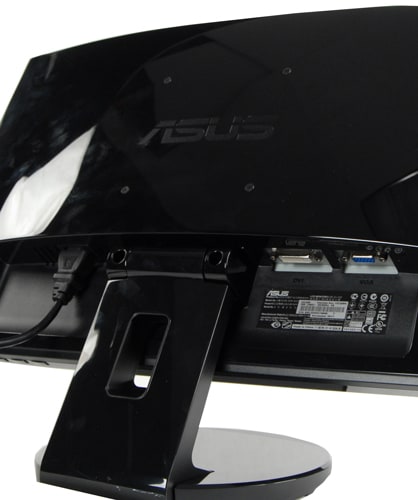 The buttons give good tactile response and are easy to differentiate in the dark, even if their symbols are a bit unintuitive. The power button is a bit bigger than the other five, making it easy to distinguish by touch alone.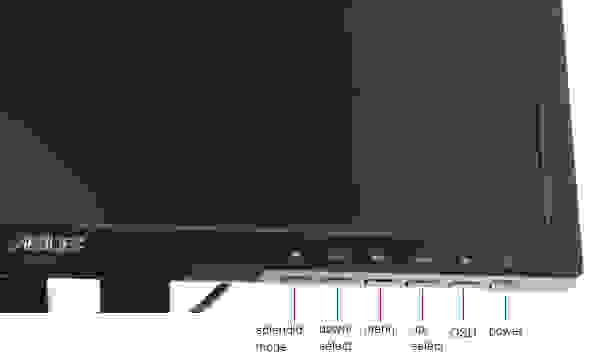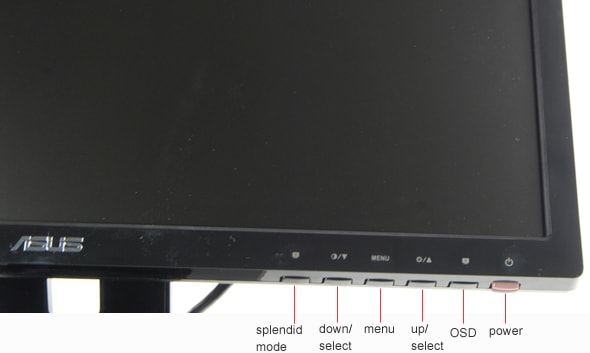 In the box, the Asus VE208T comes with a quick-start guide, DVI, VGA, and power cables, and warranty information. The stand can be assembled in one step, and requires no tools.
At its brightest, the Asus VE208T measured 230.7 cd/m2; at its darkest, 0.3 cd/m2. This gives it a maximum contrast ratio of 769:1, which isn't anything mind-blowing, but is still quite good for its price and intended use. More on how we test contrast.

To test a monitor's overall screen uniformity, we check how well it displays total white and total black across its entire screen in as dark an environment as possible. While this is a subjective test, it is fairly easy to see any inconsistencies or imperfections. The Asus VE208T did pretty well, though it certainly wasn't perfect. Its white screen featured the usual bezel-related dimming, a very mild problem (if one at all). Likewise, its black screen was marred by the power indicator light at the front of the display. These kinds of things are minor, and would really only be a problem if you intended to use the monitor in a profession or field that demanded perfect screen uniformity. More on how we test uniformity.
The VE208T tested with very good color temperature accuracy, showing only slight variation along the luminosity spectrum, with no visible error. We've seen much more expensive monitors that didn't do this well, and were very impressed at this one's performance. More on how we test color temperature.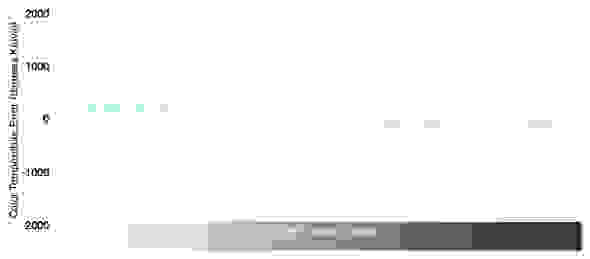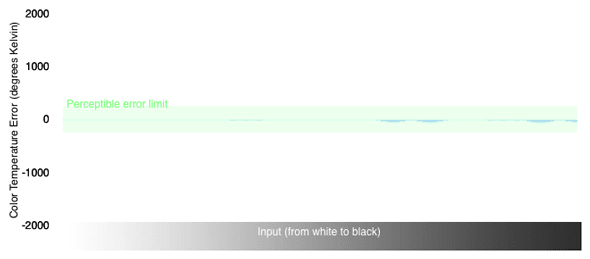 While these curves aren't perfect, they're very good. When analyzing a display's color curves, we look for smooth, uniform lines that move gradually from the lowest to the highest luminance input. While the VE208T's blues were a little slow to ramp up, they will still have good definition from one hue to the next. Red was a little bumpy, but overall this monitor's reds, greens, and whites are very close to perfect. More on how we test color curves.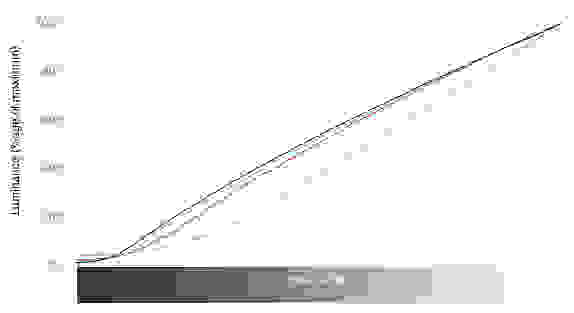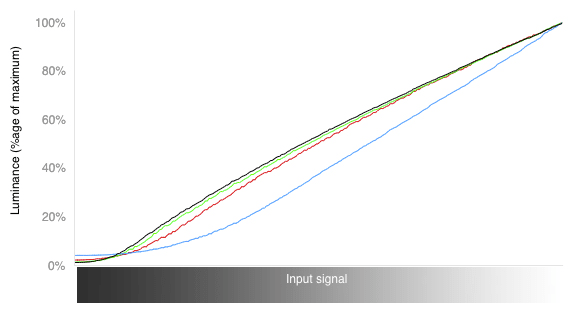 The Asus VE208T tested with probably the most accurate sRGB gamut we've seen out of any monitor so far, which is doubly surprising because it's a low-end model. If you can get past such bare bones connectivity options, this Asus' color accuracy alone is enough to justify its price. More on how we test color gamut.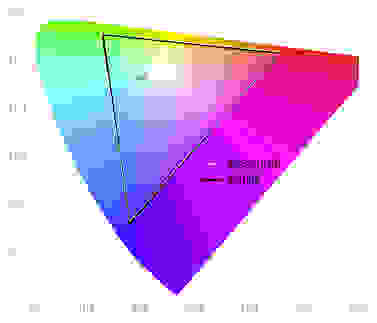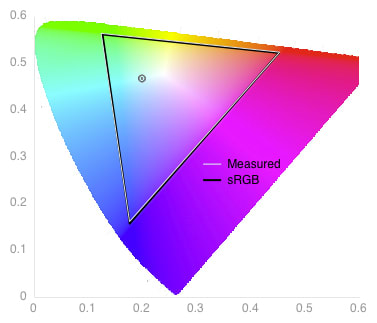 We test the viewing angle of a monitor to determine how well (or poorly) it allows users to view its screen from off-center, such as in a group session or after wall-mounting it. While it's unlikely that many people will be using a 20-inch monitor in a group watching session, it is still important to the evaluation process. The Asus VE208T allows for a decent amount of viewing flexibility, as its contrast ratio was still 124:1 at 45 degrees (details below).
To test a monitor's full potential, we use two different calibrated luminosities. The first calibration involves optimizing the monitor to its own native luminosity, which is usually fairly high. This calibration is used for our contrast and viewing angle related analyses, and is meant to showcase how the monitor does for more general use, say in an office or living room, somewhere with more and/or brighter lighting. The second calibration involves optimizing the monitor to a luminosity of 160 cd/m2, quite dark without being overly dark. This calibration is used for our color temperature and color curves testing, and is meant to showcase how accurately the monitor renders colors on the sRGB or Adobe RGB spectrum. All of our calibration is done using the X-Rite iDisplay sensor.
The Asus VE208T only has two input options, VGA and DVI, and has no USB ports (nor any other ports). The VGA and DVI inputs are located on the back of the display to the left of the stand. Both are vertically oriented. They are not the easiest to access on the fly, but it's unlikely that most users will be changing VGA or DVI inputs very often.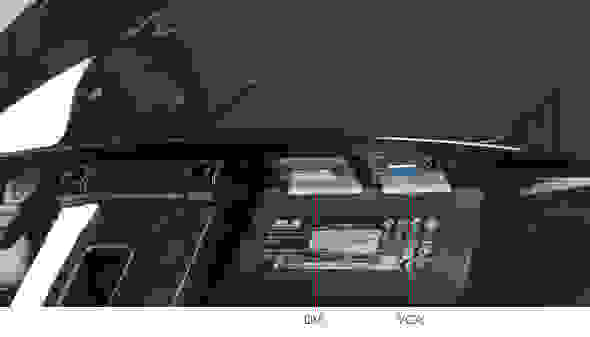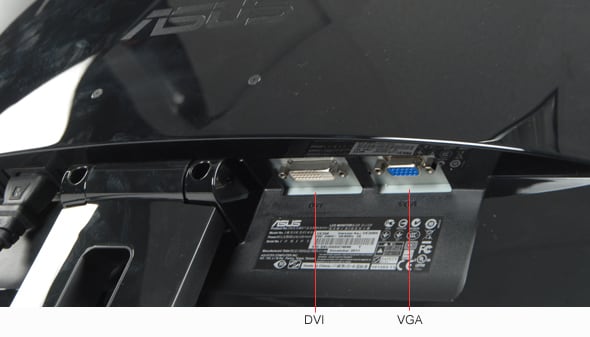 The controls are located on the underside of the bezel, along the lower right corner of the display. They are marked along the bezel itself. Pressing the button marked "MENU" will bring up a menu (no, really?) that allows the user to toggle the Splendid setting (Asus' version of preset color modes), as well as RGB sliders and technical settings such as energy saving or screen dimming. The symbols along the bezel are a little foreign for users who aren't familiar with Asus' monitors, but they are easy enough to figure out with some tinkering. The menus themselves are brief and easy to use.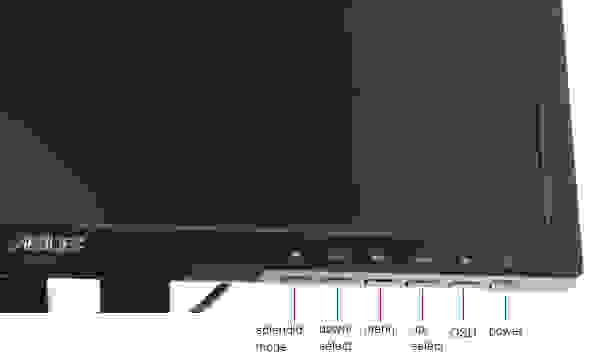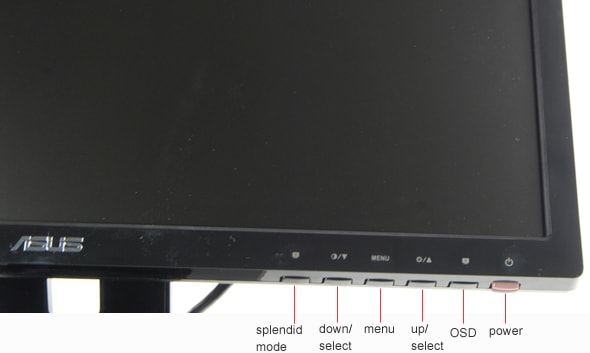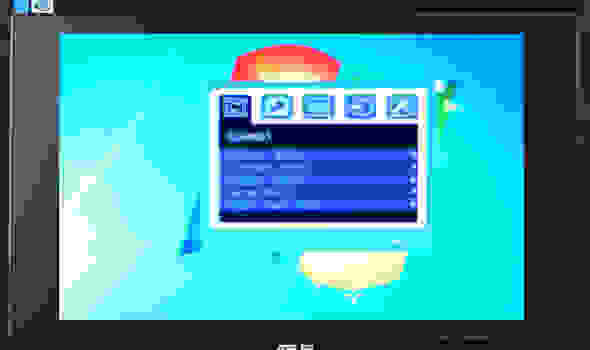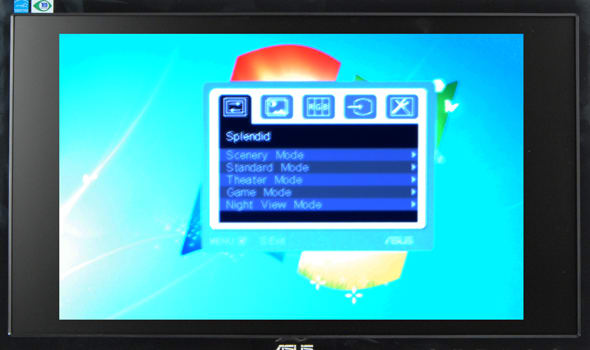 The VE208T has VESA mounting holes--if users so desire they have the option to mount the display on a wall rather than use it from a stand. While we feel that this could be advantageous due to the VE208T not having any input ports that need to be regularly accessed, it also seems like a lot of trouble to go through for a 20-inch display.
The Asus VE208T and the Acer S231HL are very similar monitors. Both are widescreen LED, with the former being a bit smaller at 20 inches; overall, however, they are about the same size and weight. We think the VE208T's curved stand and round platform are a little more appealing than the S231HL's, but this is purely subjective. Where connectivity is concerned, you get a little more with the Acer's 1 HDMI input--both have DVI and VGA, and both are, within the realm of all monitors, quite underwhelming where connectivity flexibility is concerned. One place where they definitely differ is in their individual performances. The Acer S231HL tested very well on color temperature, but was off on almost all color points when put up against the sRGB gamut. On the other hand, the Asus VE208T tested just as well in these fields, and matched the sRGB gamut almost flawlessly. The differences between these two monitors are minimal, but due to their performance and price, we have to recommend the $124 MSRP Asus VE208T over the $149 MSRP Acer S231HL.
Like the VE208T, the ViewSonic VX2450wm (MSRP $224) is a low-end budget monitor. It has a 24-inch screen, but its stand is not flexible, whereas the 20-inch VE208T allows for forward and backward tilt, as well as VESA wall mounting capabilities. The ViewSonic is the more expensive of the two (about $100 more expensive), but you'd be paying for worse overall performance were you to buy it in lieu of the Asus VE208T. The VX2450wm tested with numerous visible color temperature errors and a fairly skewed color gamut, which isn't all that surprising for its price, but we felt it was put to shame to have been outperformed by the less expensive VE208T (which tested very accurate color reproduction and temperature control). The only thing the ViewSonic has over the Asus is a 3.5mm input for audio, otherwise their connectivity options are the same. If you absolutely had to choose one of these two monitors, there's no reason to pay more for the ViewSonic VX2450wm when the Asus VE208T is the better performer.
At $330 MSRP, the Dell UltraSharp U2412 is not a high-end monitor, but it does have a number of features many low-end monitors do not. Its stand allows it to raise height and rotate to portrait position. It also has a decent amount of input ports, with DVI, VGA, DisplayPort, and a 4-port USB hub.
Connections and design functions aside, however, and we only have performance to compare. The Asus VE208T (MSRP $124) is less than half the price of the U2412, and is much less flexible in design and connectivity. Its performance was much better, however, with a 769:1 contrast ratio (compare to the 219:1 ratio on the Dell), comparably smooth color curves, and a much more accurate sRGB color gamut.
Depending on your needs, you may not find the extra connectivity or flexibility features on the Dell U2412 to be necessary. It is not overpriced at $330, but for $200 less you can have a slightly less flexible monitor (with a smaller screen) that performs with more accuracy and dynamic contrast. The decision here is entirely up to the user and their requirements.
There are a wide array of 20-to-24-inch budget monitors available on the market. They are, more often than not, widescreen displays that sit static upon their stands and offer only basic connectivity, usually falling within a price range of $100 to $200. It can be difficult to determine which one has the features you need at a price that fits by simply "window shopping." Side by side at your favorite retailer, they appear, at times, almost identical.
This was our thinking upon beginning the reviewing and testing of the Asus VE208T (MSRP $124). The VE208T, like many low-end models, has a hint of the features available on more expensive monitors: its stand allows for forward and backward tilting, but none of the swiveling or rotating that you'll find amongst higher-priced displays. It has only VGA and DVI inputs--there are no USB hubs, audio inputs, DisplayPort, or any connection options that high-end monitors often have in droves.
Despite all this, the Asus VE208T stands out as a great monitor. Even if you had a big budget for a new monitor, but were only looking for the best picture available, we would recommend the VE208T over more expensive models. It is small, at 20 inches, but its color accuracy and picture performance are almost unbeatable. We feel it easily justifies its price, and if you can abide its limited connectivity and rather inflexible design, the Asus VE208T is probably the most valuable budget monitor we've tested.
Meet the tester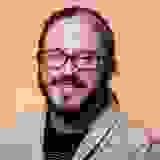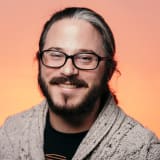 Lee Neikirk
Editor
@Koanshark
Lee has been Reviewed's point person for most television and home theater products since 2012. Lee received Level II certification in TV calibration from the Imaging Science Foundation in 2013. As Editor of the Home Theater vertical, Lee oversees reviews of TVs, monitors, soundbars, and Bluetooth speakers. He also reviews headphones, and has a background in music performance.
Checking our work.
We use standardized and scientific testing methods to scrutinize every product and provide you with objectively accurate results. If you've found different results in your own research, email us and we'll compare notes. If it looks substantial, we'll gladly re-test a product to try and reproduce these results. After all, peer reviews are a critical part of any scientific process.
Shoot us an email