BenQ claims that the BL2710PT is custom-built for CAD/CAM professionals whose line of work requires the use of programs like SolidWorks, PTC, AutoCAD, or Maya. For that reason, this display doesn't really fall into the mainstream consumer sphere.
If you are a designer or work in a CAD/CAM career, though, the BL2710PT could be an invaluable tool. I tested very accurate web colors complemented by a crisp, 27-inch IPS panel that offers users tons of space to work in. While the $600 price tag is pretty steep, it's fair when you consider that this monitor also includes a reliable, flexible stand and plenty of connection options.
WQHD done right
The BenQ BL2710PT offers up a very crisp WQHD resolution, providing 2,560 pixels horizontally and 1,440 pixels vertically. Professionals such as CAD/CAM engineers, architects, and web designers can rest assured that their work will be highly detailed and visible. While this monitor's 109 PPI (pixels per inch) isn't quite "retina" resolution, it's ample considering the 27-inch screen. But what about color?
The BL2710PT adheres to the digital color space adamantly.
Where digital work is concerned, BenQ has you covered. While the BL2710PT doesn't support the wider Adobe RGB color space required for photo and content mastering outside of web design, it adheres to the standard sRGB digital color space adamantly. I discovered accurate, rich colors, most notably within the monitor's CAD/CAM picture mode pre-set.
The BL2710PT wields an IPS panel, meaning it sports a wider viewing angle than many other TFT (thin-film transistor) panels and breaks in quickly to provide the best color. The drawback to that technology, however, is that this monitor has a fairly narrow contrast ratio—it simply doesn't get very dark or provide good shadow detail, so it's not a great choice for more casual tasks like watching movies or playing games.
The usual suspects
There's nothing too fancy or fun about the BL2710PT—it's basically a tool, after all. Other than the five touch-sensitive control buttons along the lower bezel, this monitor is matte black plastic from head to toe. The 27-inch panel is held aloft by a small rectangular pedestal that's fused to a heavy metal plate, ensuring that the BL2710PT won't tip over.
The BL2710PT can swivel by 45° and tilt down/up by -5°/20°.
This BenQ uses the same gymnastic neck that we've seen on some of the company's other displays, something BenQ calls the "Ultra-Flexible Height Adjustment System."
In short, the BL2710PT can raise/lower by about six inches, swivel by 45°, rotate to portrait orientation, and tilt down/up by -5°/20°. It's easy to adjust when you need to move it, but is firm enough to stay put when you don't. The neck features the same cable guide hole and headphone hook socket as other BenQ monitors that use this stand, though the actual headphone hook is not included.
Finally, users have plenty of video connectivity options. Along the bottom of the panel, inputs for DisplayPort, you'll find vertically oriented HDMI, DVI-D, VGA, audio in, headphones, and USB B inputs—the easiest way to access them is to raise the screen to full height and rotate it to portrait mode. On the panel's left side are two USB 3.0 inputs for peripheral devices.
A specialized tool kit
The BL2710PT isn't loaded with extra features and cool tricks—it does make life a little easier for CAD/CAM professionals, however.
The most notable extra feature is BenQ's Display Pilot Software, a set of control drivers for the display that automatically pivots and adjusts the screen whenever you rotate to portrait orientation. This software can also be used to partition the screen into quadrants, breaking up windows into separate workspaces. This isn't anything new, but it's a nice bonus.
The most notable extra feature is BenQ's Display Pilot Software.
BenQ also includes its ZeroFlicker technology, which I've seen before on the company's gaming displays. This technology works as a backlight algorithm, controlling the perceptible flickering of LEDs to reduce eyestrain.
Users will find all of the standard menu options, too. Touching any of the control keys brings up a contextual on-screen menu. There are a lot of picture pre-sets available: sRGB, CAD/CAM, Present, Standard, Movie, Photo, Reading, Eco, User, and M-book mode (a pre-set meant to work specifically with MacBook Pro or MacBook Air laptops).
Users can set customized timers to remind them to take a break.
If you want to customize or calibrate the picture, there's also a more advanced menu that allows for further display, picture, and audio adjustments.
Users can adjust an Eco sensor, and even set customized timers on an interval to remind them to take a break. If you're looking to really hone the picture quality, this is also where you'll adjust settings like brightness, contrast, gamma, color temperature, hue, and saturation.
Great for the right shopper
If there's anything to remember about the BenQ BL2710PT, it's that most users won't need it. This 27-inch display has designers, architects, and CAD/CAM professionals in mind—everyone else would just be paying too much for features that they likely don't need.
If you do happen to work in one of those fields, however, this monitor could be a great upgrade. Accurate digital colors are complemented by a flexible stand and plenty of picture modes, and the WQHD resolution adds crispness and legibility to even very complex patterns, like blueprints or wireframe sketches.
At $600, the BL2710PT is definitely an investment, but it's perhaps an indispensable one to particular professionals. ViewSonic's VP2770-LED offers up competitive specs and color integrity, but also costs twice as much.
I tested the BenQ BL2710PT (MSRP $599) in its CAD/CAM and sRGB picture modes—the settings most likely to be used by professionals. The lab results were very positive: The BL2710PT adheres to the sRGB digital color space with a high degree of accuracy, though it isn't perfect.
Time in the lab also revealed a well-balanced emphasis between the red, green, and blue sub-pixels, which creates a cleaner grayscale. This display favors a very shadowy gamma as well, increasing very slowly out of black through gray to white.
A color gamut is an illustration of the hue and saturation of colors a display is able to produce (note that "luminance" is removed in a traditional color gamut). The chart below maps the red, green, blue, cyan, magenta, and yellow points that the BL2710PT produces against the sRGB color standard for digital displays.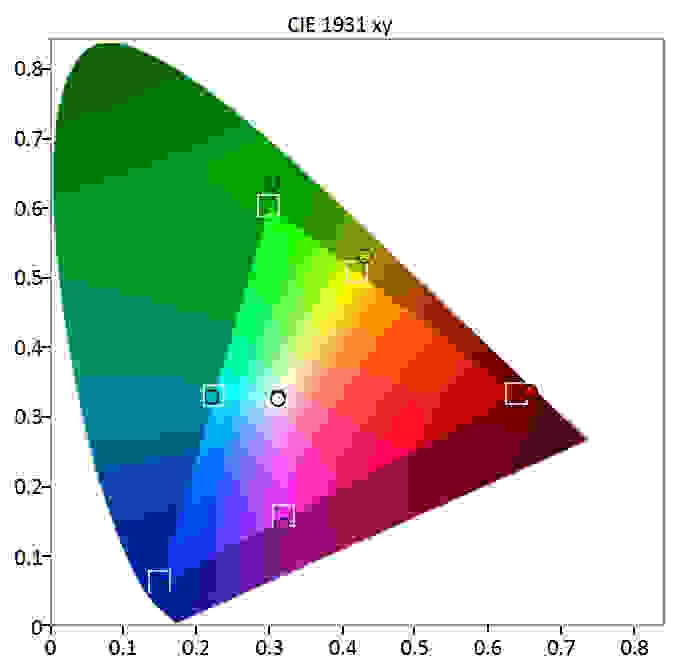 Testing revealed that in the CAD/CAM pre-set mode, the BL2710PT produces just slightly more red and green than the sRGB standard requires. For work requiring primarily resolution real estate, the extra color won't detract from anything, though it does make this BenQ slightly less ideal for heavy photo or graphic editing. Switching to the sRGB mode fixes this extra saturation, however, so most users can find a mode that fits.
Error within the grayscale—a display's production of blacks, grays, and whites—results from an imbalance in the utilization of the red, green, and blue sub-pixels. Visible errors, expressed as a collective called DeltaE, often result in reddish or blueish grays and whites which—obviously—mar the integrity of the picture.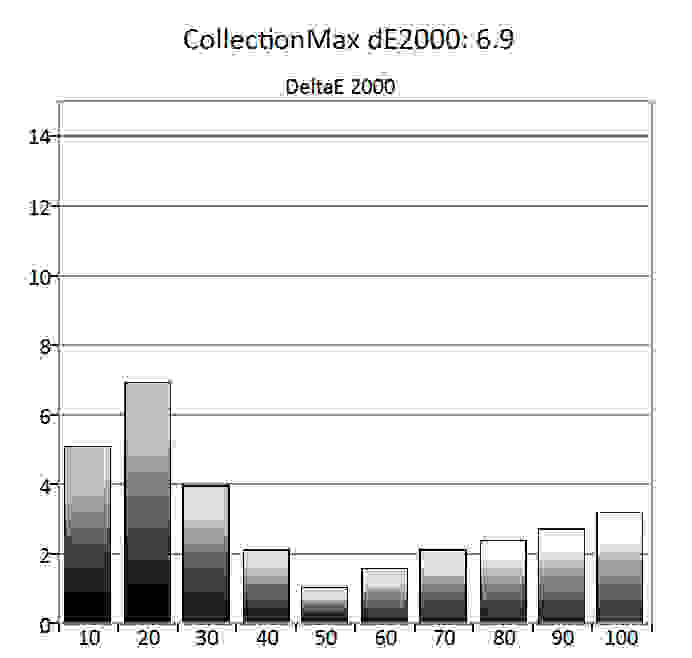 The BL2710PT tested with a fairly high DeltaE of 6.9, which is a good ways above the visible tolerance of 3 or less. A majority of these errors appear within the very darkest shades at 10, 20, and 30 IRE, where—as we've seen—the BL271PT adds very little luminosity. Fortunately, errors begin to decrease and minimize around 50 IRE, where many more visible picture elements tend to live.
Each pixel on a display is made up of smaller elements called sub-pixels. Monitors, like the BL2710PT, wield a red, green, and blue sub-pixel that—when used together—create the grayscale elements of black, gray, and white. It's important for each sub-pixel to be emphasized to the same degree; when they aren't, you get errors like those noted in the Grayscale Error section.
Testing revealed that the BL2710PT tends to favor the blue sub-pixel over the green and red, resulting in slightly blue-tinged grays and whites, as well as the grayscale error within the IRE steps noted within the previous section. This is a fairly normal result from an IPS panel, and is an imbalance that will settle over time.
Meet the tester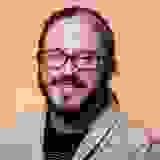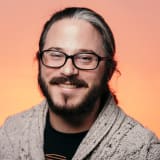 Lee Neikirk
Editor
@Koanshark
Lee has been Reviewed's point person for most television and home theater products since 2012. Lee received Level II certification in TV calibration from the Imaging Science Foundation in 2013. As Editor of the Home Theater vertical, Lee oversees reviews of TVs, monitors, soundbars, and Bluetooth speakers. He also reviews headphones, and has a background in music performance.
Checking our work.
We use standardized and scientific testing methods to scrutinize every product and provide you with objectively accurate results. If you've found different results in your own research, email us and we'll compare notes. If it looks substantial, we'll gladly re-test a product to try and reproduce these results. After all, peer reviews are a critical part of any scientific process.
Shoot us an email