The PG2401PT is one of the industry's newest options in this price range if you're looking for an affordable display with Fogra color certification (if you don't know what that means, you probably don't need this monitor.)
For $999, the PG2401PT is a very valuable tool for printing professionals. While it isn't the largest graphics/printing monitor on the market, the quality of the IPS panel is stellar, and has a multitude of useful features and display modes.
Professional quality
The PG2401PT wields a 24-inch IPS panel, which has natural strengths and weaknesses due to its design. For instance, this monitor doesn't have the best contrast, but it covers the sRGB and Adobe RGB color spaces with a very high degree of accuracy—by far the most important task for a printing monitor.
The BenQ PG2401PT covers the sRGB and Adobe RGB color spaces with a very high degree of accuracy.
Accurate colors (even at wider/more saturated color spaces) mean the PG2401PT is also a great choice for graphic designers, photo editors, and anyone else in need of premium color performance. This BenQ wields a 10-bit panel, which helps preserve details even in very complex photographs.
One task the PG2401PT isn't great at is rendering computer games without latency. Its IPS panel may ace our color tests, but it isn't suitable for fast-paced games that require a very quick response time. You could certainly partner it with slower-paced titles, but it won't do if minimal latency is what you're after.
Never wear black without the blue
Most of the time, professional displays like the PG2401PT are all function, and no form. Nothing fancy, sleek, or stylish—all business. This BenQ, with its matte black plastic and shading hood, almost fits the bill, but a closer look reveals some fun details.
Any way you slice it, the BenQ PG2401PT has personality.
First of all, the stand's flat, angular arms protrude from a circular base, describing a "W" shape. It's not mind-blowing, but it's still more interesting than the average rectangular pedestal.
The neck of the display features a playful blue cable organizer that clamps your connections in place. There's also a matching blue headphone hook, a la the company's gaming displays.
These pops of color give the PG2401PT a little more pizazz than the average graphics display, though some might argue it makes it look more toy than tool. Any way you slice it, though, this BenQ has personality.
As for function? The PG2401PT adjusts easily atop its flexible stand, and hosts a multitude of video connections. On the underside of the panel, you'll find DisplayPort, HDMI, DVI-D, VGA, USB B, an "On/Off" switch, and AC in for the power cable. Two USB 2.0 slots and an SD card slot live along the left side—the shading hood has a small cutout for them, so they're always accessible.
I'll explain the what and why of the shading hood in the next section. For now, just know that it's one of the extra accessories in the box, alongside a quick-start guide, driver disc, calibration report, power cord, VGA cable, DVI-D cable, DisplayPort cable, USB cable, and stand components.
Finally, professionals will be glad to know that there's plenty of stand flexibility here. The panel can raise/lower by about six inches, rotate to portrait, swivel upon its base by 45°, and tilt backward by 5° and forward by 20°.
Made in the shade
The PG2401PT's singular purpose is to serve as a soft proofing tool for professional (or consumer) printers. To that end, this display has a number of features worth highlighting.
In the printing industry, "soft proofing" refers to checking the quality and color of a printed item without actually printing it. The print variety—called hard proofing—costs time and money to both the client and the printer. By having soft proof-capable displays—via the Fogra color management system—distant parties can proof a final product without actually printing it.
The PG2401PT has a number of features worth highlighting.
One of the PG2401PT's most notable features is its shading hood. In order to truly reflect the appearance/color quality of a printed photo, a printer's monitor needs to be very dim. The shading hood provides a barrier to ambient lighting, and also helps heighten the contrast and visibility of the image to the observer.
Within the software menu, users will find an easy way to adjust the contrast and brightness of this display. Touch-sensitive buttons activate a contextual menu on screen, making it easy to pick from color modes—like sRGB or Adobe RGB—and lower the backlight levels to the necessary brightness.
This 24-inch display also comes equipped with a built-in hardware calibrator, allowing knowledgeable users to adjust the color LUT (look-up table) in conjunction with the output of the source device. While each PG2401PT comes factory calibrated with a report, some tasks may require a separate illuminant than the D65 standard. The display has pre-sets for this, but can also be calibrated by the user to exact specifications.
The proof is in the hooding
For its price, the PG2401PT is impressive. Generally, an Adobe RGB capable, IPS-paneled monitor with a stock shading hood and built-in calibration software will run you a lot more than $999.
The PG2401PT is a stellar tool for professional printers.
What's the catch? Well, while this monitor is highly flexible and customizable, it isn't made of the fanciest or most durable materials.
Matte, black plastic runs its course over the entirety of the display, and the blue headphone hook and cable organizer make the PG2401PT look a little elementary. Casual users generally won't need this kind of color efficacy, either.
If you're the prince of prints, however, you'll be ticked pink by the PG2401PT—it's a stellar tool for professional printers, and these (digital) colors don't run.
Every computer monitor we review is subjected to the same stringent laboratory tests, wherein we check the integrity of color and grayscale elements, contrast, viewing angle, and a plethora of other features important to display functionality. The BenQ PG2401PT has some of the better sRGB/Adobe RGB color production I've tested this year, and the overall quality of its IPS panel is stellar when it comes to its role as a printer's tool.
BenQ claims that the PG2401PT is capable of the sRGB and Adobe RGB digital color spaces, as well as the CMYK print color space. The monitor has pre-set picture modes for each of these color spaces, and (after a short break-in period) will deftly map the necessary colors without any calibration or adjustment.
That's not to say the PG2401PT is absolutely perfect, however. While it perceptibly covers the Adobe RGB and CMYK digital/print color spaces perfectly, we did test some very minor error in both the hue and saturation of the green primary, which resulted in slight imperfections in both cyan and yellow.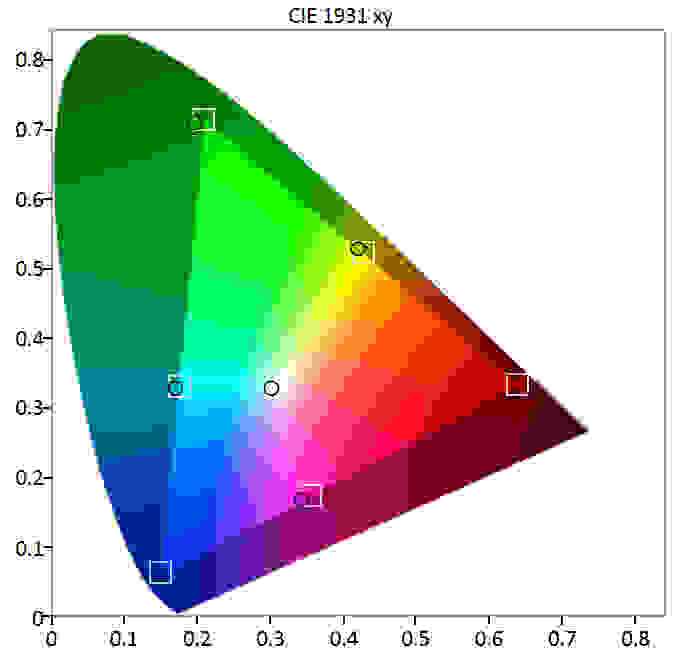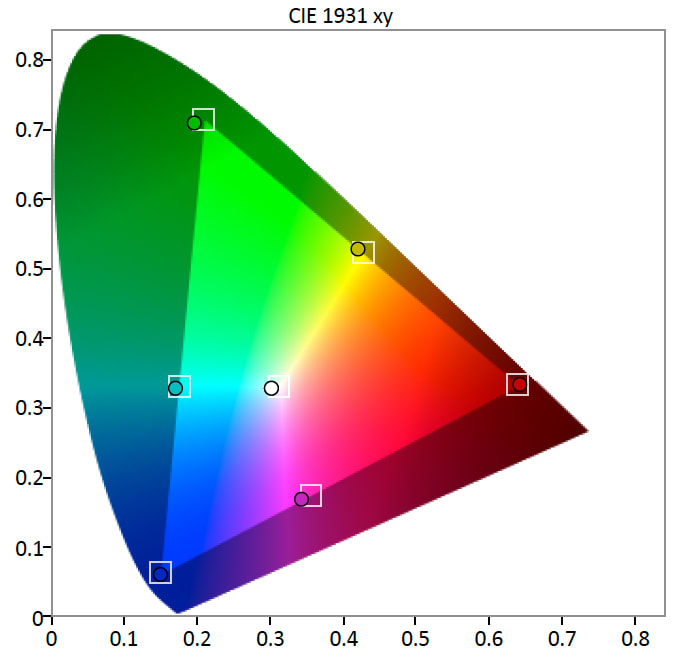 Our color luminance chart maps the error in total luminance amongst a display's primary and secondary colors, as compared to their combined luminance with 100 and 50 IRE along the grayscale. Testing revealed that the PG2401PT allows for very little error within the total luminance of its primary and secondary color points.
As one might expect, this display's green and yellow points—the most luminous colors in digital production—have the highest degree of excess luminance, but only by a very small, unimportant margin.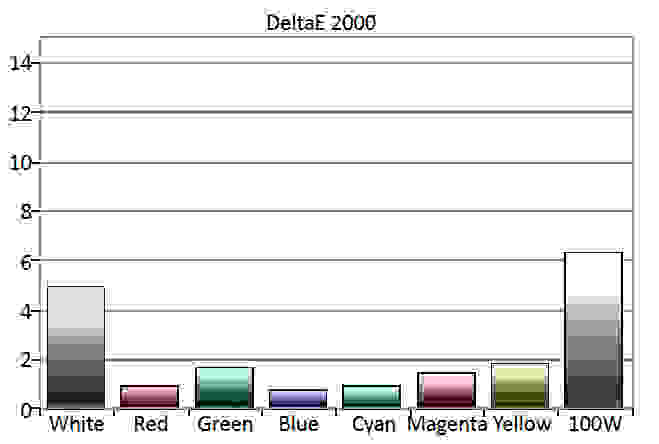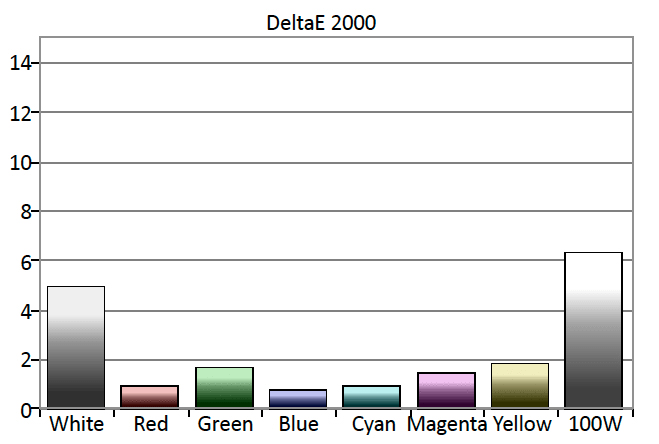 While the PG2401PT tested excellently in both color accuracy and color luminance, we tested a higher-than-average amount of grayscale error—inconsistency in exact white balance between the display's blacks, grays, and whites. While most of this error occurs in the very darkest and very lightest shades, where it's less perceptible, it still poses a potential problem for digital designers.
Fortunately, you'll find the necessary tools to adjust this error within the PG2401PT's software menu. If you really need to, you can perfect the RGB balance to complement a perfect grayscale (more on that in the next section).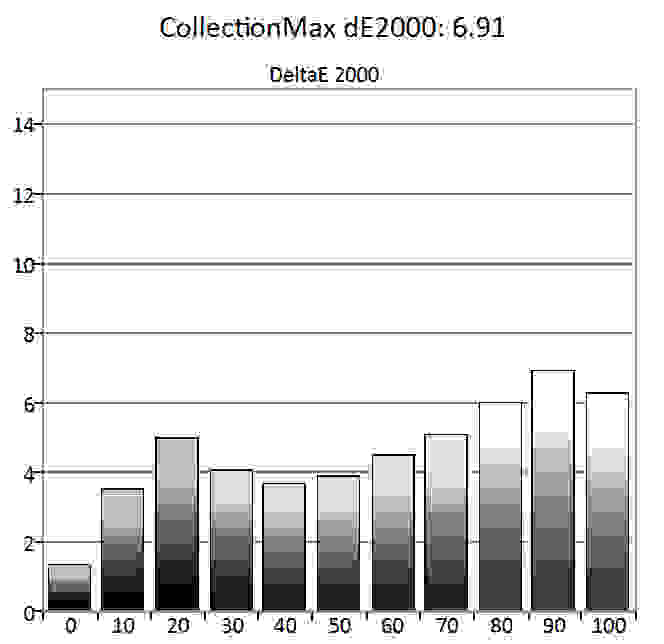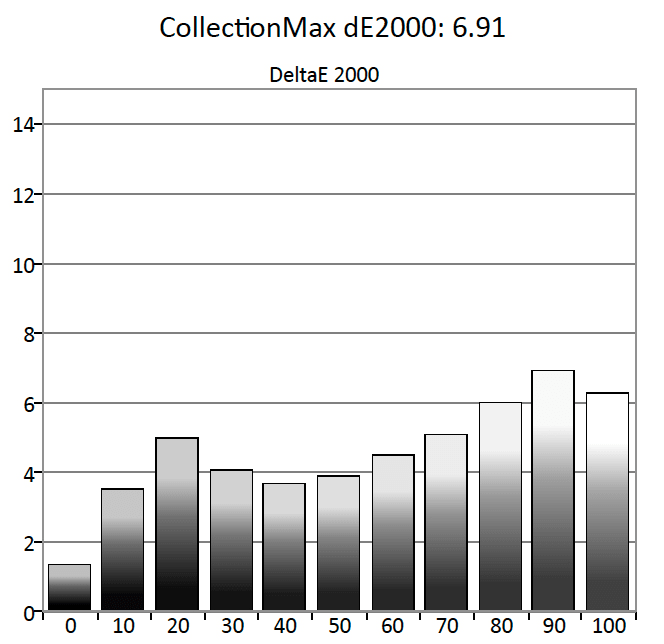 The grayscale error noted above can be traced to an imperfect RGB balance. When a display utilizes one or more sub-pixels with more emphasis than the others, it results in an imbalance in the blacks/grays/whites on-screen. Most LCD displays utilize a red/green/blue sub-pixel setup to create the elements of the grayscale. Testing revealed that the PG2401PT tends to slightly favor the blue sub-pixel as it travels the grayscale from black to white.
The overall effect is subtle, but notable. Professionals will likely wish to use the monitor's on-board calibration software in conjunction with their work PC to edge out the presence of blue ("cool") tone within the black, gray, and white grayscale elements.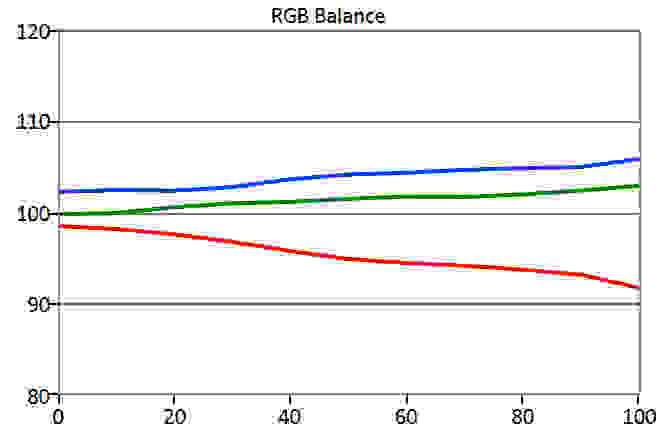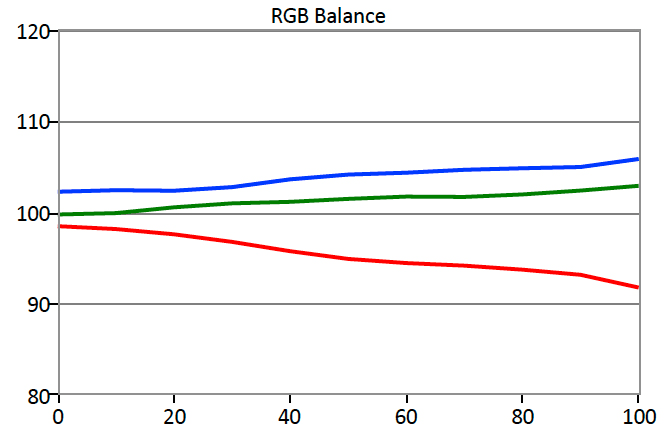 Meet the tester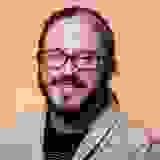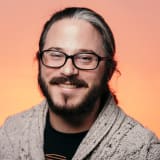 Lee Neikirk
Editor
@Koanshark
Lee has been Reviewed's point person for most television and home theater products since 2012. Lee received Level II certification in TV calibration from the Imaging Science Foundation in 2013. As Editor of the Home Theater vertical, Lee oversees reviews of TVs, monitors, soundbars, and Bluetooth speakers. He also reviews headphones, and has a background in music performance.
Checking our work.
We use standardized and scientific testing methods to scrutinize every product and provide you with objectively accurate results. If you've found different results in your own research, email us and we'll compare notes. If it looks substantial, we'll gladly re-test a product to try and reproduce these results. After all, peer reviews are a critical part of any scientific process.
Shoot us an email