Like many low-end monitors, the HP S2031 features a rectangular display and rounded stand made of shiny black plastic. Its back has a matte finish, meaning it won't pick up as many fingerprints as the platform and bezel. Its controls are located along the middle of the display, beneath the bezel. It tilts 15 degrees forward and 5 degrees backward from neutral, but does not swivel or rotate to portrait.
The front would be a perfect rectangle if not for the small protrusion at the lower middle of the display, where the manual controls are located.
A matte black plastic makes for a plateau-like back that won't pick up many fingerprints or smudges.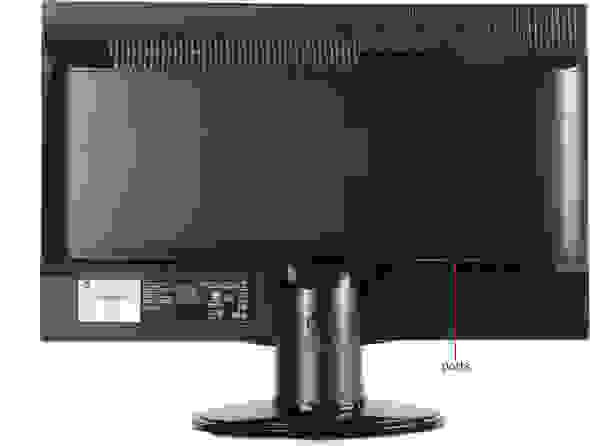 At a depth of 18 centimeters, the S2031 does not have a very thin profile compared to other LCD widescreen monitors.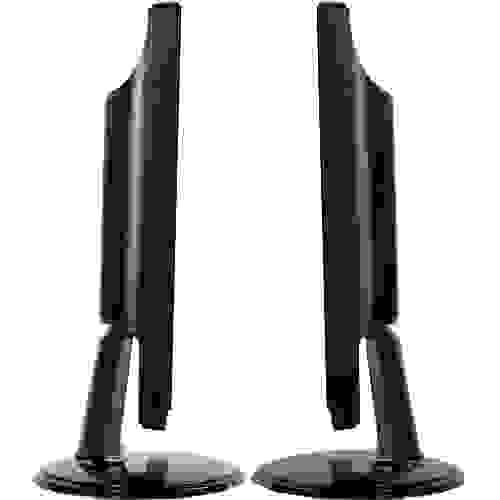 The stand extends straight up from a round platform. Its tilting ability is somewhat stiff, but may loosen over time. The display itself does not sit very far above the platform.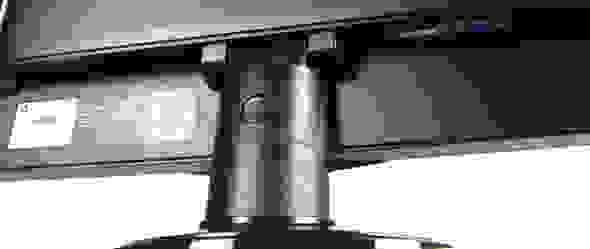 The simple controls for the S2031 are located along the underside of the bezel, in the middle above the platform. They give good tactile feedback, and are extremely intuitive due to the simple guide symbols printed on the bezel.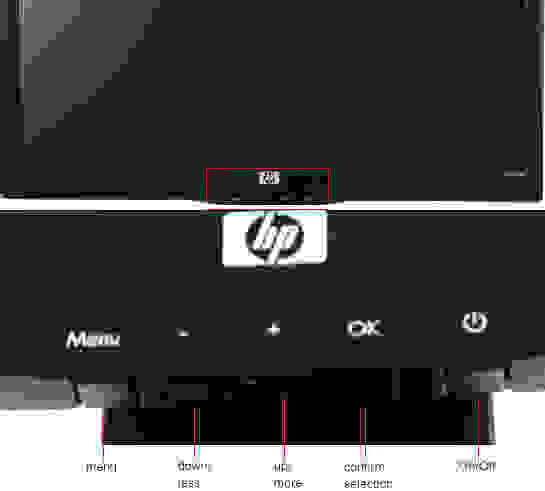 In the box, you'll find the display, stand, power cable, DVI and VGA cables, manual in CD (software) form, and the warranty card. The stand and display snap together in two steps, neither requiring tools.
The HP S2031 tested a black level of 0.237 cd/m2 and a peak brightness of 227.6 cd/m2, giving it a very impressive maximum contrast ratio of 960:1. The S2031 actually tested a higher maximum contrast ratio than its comparison monitors, even those upwards of $100 more costly. While more performance is always better than less, a massive contrast ratio like this is only worth so much for a monitor that may only be used for general or backup purposes. Even still, it means that however you use it, the HP S2031 will have great definition between lights and darks. More on how we test contrast.
We test screen uniformity subjectively, analyzing how well a monitor displays entirely white and black screens at its native luminosity. The HP S2031 displays an entirely white screen almost perfectly: the majority of the screen was smooth and unblemished, with only slight dimming around the edges and corners where it meets the bezel. It did almost as well with black, though it had a common problem where the light from the power indicator bled through along the lower edge of the bezel, keeping it from being entirely uniform. There was also a touch of flashlighting at the corners, though for general everyday use this isn't likely to be a problem. More on how we test uniformity.
The S2031 did quite well during our test for color temperature. As you can see from the chart below, it did have the occasional error across the luminance spectrum, though none of these would be visible to the human eye--it may as well have received a perfect score. Compare this result to the much more expensive Asus PA246Q, it certainly made us scratch our heads as to which model was priced incorrectly. More on how we test color temperature.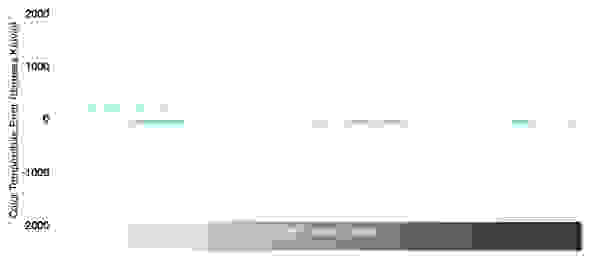 For color curves, we like to see gradually sloping curves from least to most input signal--any bumps, sudden jumps, or flatlining means a loss in detail and hue differentiation. The S2031 did surprisingly well here, with almost perfect whites and greens and just slightly undersaturated reds and blues. There are very few noticeable bumps or skips, good news for any monitor. More on how we test color curves.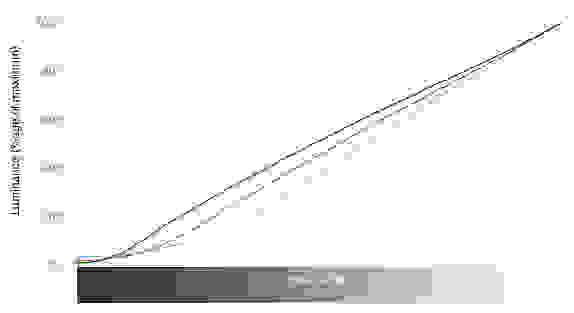 The sRGB standard color gamut is the only one supported by the HP S2031--it is a budget monitor, after all--but it did fairly well in this arena. It was clear from the curves chart that the blue and red points on this monitor's gamut would be slightly undersaturated, but it's a differentiation that is really only a minor problem. This would be problematic if one intended to use the S2031 for professional artistic or photographic purposes, but otherwise will not have much of an impact on overall use. However, if you did want a budget monitor with a perfect color gamut, the Asus VE208T would be a good place to start. More on how we test color gamut.
To test viewing angle, we compare a monitor's contrast ratio at 0 degrees (facing straight at it) to its contrast ratio viewed at 45 degrees off center. While the S2031 has an impressive 960:1 ratio at 0 degrees, it drops to 66:1 at 45 degrees, meaning a lot of black and white detail is lost at a 45 degree or larger viewing angle. This isn't the best total viewing angle we've recorded for a 20-inch monitor, but it's also unlikely that many people will be trying to view such a small screen at the same time anyway. Our advice? One user at a time.
To test a monitor's full potential, we use two different calibrated luminosities. The first calibration involves optimizing the monitor to its own native luminosity, which is usually fairly high. This calibration is used for our contrast and viewing angle related analyses, and is meant to showcase how the monitor does for more general use, say in an office or living room, somewhere with more and/or brighter lighting. The second calibration involves optimizing the monitor to a luminosity of 160 cd/m2, quite dark without being overly dark. This calibration is used for our color temperature and color curves testing, and is meant to showcase how accurately the monitor renders colors on the sRGB or Adobe RGB spectrum. All of our calibration is done using the X-Rite iDisplay sensor.
The HP S2031 has very limited connectivity, with its only inputs being VGA and DVI. It also doesn't have any USB ports or lock slots. Naturally, connectivity is not going to be a strong suit for a $140 monitor.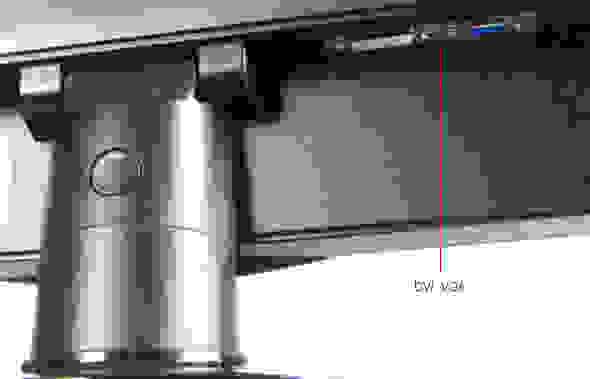 The controls for the S2031 are located along the underside of the bezel in the middle of the display. Its controls are only five buttons, and one of them is power. The symbols along the front of the bezel spell out what each button does. The menus themselves are stripped down and straightforward, allowing for a number of settings to be adjusted easily (see the picture below). We doubt many users need an explanation of any of these features, and applaud HP for keeping things simple.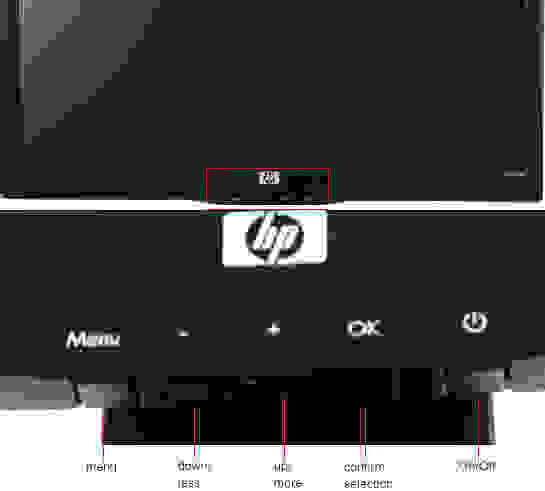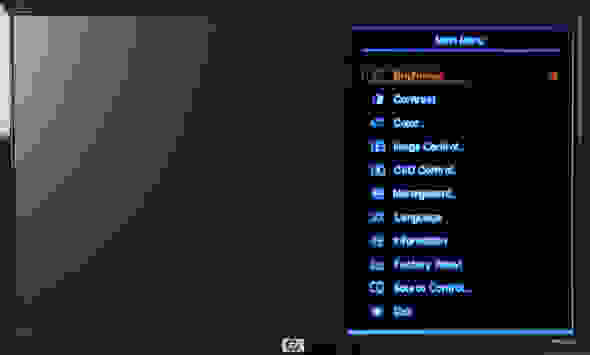 The HP S2031 and the Acer S231HL are priced almost identically--both are about $150. While the Acer has a slightly larger screen at 23 inches, they are designed very similarly as well, both featuring a short stand the balances a rectangular screen not far from the surface it is placed upon. Both feature VGA and DVI inputs, with the Acer's 1 HDMI input giving it an advantage in terms of available ports (still, they are both quite minimal when it comes to possible connections).
The biggest difference between the S2031 and the S231HL are their performances, but even here, they both tested with very similar results. The HP S2031's overall uniformity and color accuracy were better, making it the better bargain in the long run--that is, unless you really need the Acer's HDMI input. We would favor the HP, but with similarities like this, it wouldn't make a difference for most users.
Compared to the ViewSonic VX2450wm (MSRP $224), the HP S2031 is the cheaper of the two monitors with an MSRP of $140. That may have something to do with the difference in screen size (20 inches vs 24 inches), but there are other differences to take into account as well--some of them rather surprising.
One important point to consider is flexibility of design. While the ViewSonic and the HP are very similar in their design schemes to be sure, the HP allows for forward and backward tilt of its display, and even a little bit can sometimes make all the difference. The ViewSonic, on the other hand, is completely static, and might be better off to be wall mounted.
A second point is how many input ports they feature--how do they stack up against one another in terms of multi-device availability? The news isn't good for the HP in this regard: with 2 input ports (VGA and DVI), it has as few as any monitor could get away with. The ViewSonix VX240wm is just as limited, with its only extra input being a 3.5mm audio jack. This lack of clear superiority in any area left us curious as to why the ViewSonic costs almost $100 more than the HP.
Finally, the last (and most important aspect) for many users considering purchasing a monitor will be screen performance--color, contrast, and consistency. Surprisingly, the HP S2031 bested the ViewSonic VX2450wm in identical performance tests: the HP had superior color temperature accuracy, a larger maximum contrast ratio, and even did mildly better during our uniformity test.
The HP S2031, a 20-inch budget monitor, retails with an MSRP of $140. Compared to the 24-inch Dell UltraSharp U2412M, it is quite a bit less expensive, with the latter retailing for $324, almost $200 more.
As might be expected, the Dell has a few perks that the HP is lacking. The first of these would be overall design: the Dell's stand allows it to raise and lower height, tilt forward and backward, and rotate to portrait position. In addition, on top of VGA and DVI inputs (the HP's only available inputs), the Dell has two USB inputs located along the side of its bezel.
Despite a few advantages, the HP S2031 was the better monitor in almost all of our color and contrast based performance tests, though not by a terrible amount. But for the price you are paying for both monitors, we feel the HP S2031 offers a better bargain for most users, seeing as you could buy two of them for the price of one Dell U2412M.
The HP S2031 is a fine monitor for its price. While higher end monitors may offer a lot more in the way of connectivity (and it'd be hard not to), it's unlikely that their performance and contrast specs will best those offered by the S2031--and even if they do, it won't be by much. If you're in a profession that requires multi-device inputs and a wider color gamut (such as the Adobe RGB), the S2031 would probably be better served as a backup or secondary display option. But for users in the market for a good, all-around monitor that's not going to give them a heart attack of it falls off a table, the HP S2031 is not a bad choice (though if you're going for the best performance for your budget, the Asus VE208T has been our strongest budget monitor so far).
Meet the tester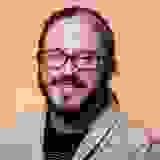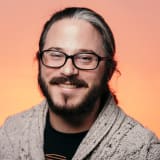 Lee Neikirk
Editor
@Koanshark
Lee has been Reviewed's point person for most television and home theater products since 2012. Lee received Level II certification in TV calibration from the Imaging Science Foundation in 2013. As Editor of the Home Theater vertical, Lee oversees reviews of TVs, monitors, soundbars, and Bluetooth speakers. He also reviews headphones, and has a background in music performance.
Checking our work.
We use standardized and scientific testing methods to scrutinize every product and provide you with objectively accurate results. If you've found different results in your own research, email us and we'll compare notes. If it looks substantial, we'll gladly re-test a product to try and reproduce these results. After all, peer reviews are a critical part of any scientific process.
Shoot us an email