That niche category is a double-edged sword, however. The S24C770T is so heavily-geared toward its touch capability that it bars more general uses. With a single available connectivity type, limited customization options, and screen performance that's not worth a second glance, the S24C770T is a one-trick pony.
However, for $650 you're investing in a very efficacious touchscreen monitor with sharp 1080p resolution and an elegant, attractive look—if you need this, you probably know it already.
For the price, this display is surprisingly minimalist.
Surprisingly, there's really only one way to set up and use the SC770T, and there's also only one way to display a source image—HDMI. Users will find a rather bare bones selection of ports and video connections aligned horizontally along the rear of the stand: Two HDMI, USB (for touch operation), output for headphones, and AC in for the power cable.
Operation is very smooth, consistent, and intuitive compared to what I've used in the past.
The S24C770T is designed very simply, despite its $650 price tag. The 1080p, 10-point touch screen is permanently attached to a hollow, metal, "branch" base, so wall-mounting is not possible. The screen tilts from a fully-vertical position (like a traditional monitor) to a flatter, tablet-like incline—roughly 4° forward and 55° backward. The back casing is entirely smooth, save for Samsung's logo and to allow an opening for the usual Kensington lock slot.
The lack of more backward-compatible connectivity options like VGA and DVI is a bit baffling at first, but also makes perfect sense—those video connections can't carry a touch signal. On the contrary, a native resolution of 1080p makes a DisplayPort input an unnecessary expense for both manufacturers and consumers. The design and connectivity selections mean that at the end of the day, all you're really paying for is 10-point touch.
At the end of the day, what you're really paying for is 10-point touch.
So the $650-dollar question is: Does it work? Thankfully yes, and quite well. Touch functions work best when paired with Windows 8—this monitor was actually optimized specifically for that OS—but the S24C770T is not limited to it. Compatibility has been extended to Windows 7, too.
Basic touch functions include: tapping to select, highlight, or confirm; dragging icons and windows; double-tapping (like double-clicking with a mouse); flicking through ordered pages or pictures in a gallery; and pinching to zoom in and out.
All said, these touch functions are nothing new within the worlds of smartphones and tablets, but the S24C770T won't have you missing those devices, either. The front of the display is overlaid with a very sensitive, sleek-looking edge-to-edge glass that serves as a receptor for points of touch—from one finger to all ten. However all of these functions require, at most, two fingers. In any event, operation is very smooth, consistent, and intuitive compared to what I've used in the past.
Oddly enough, the S24C770T's on-set controls—four keys strung along the bottom of the panel—are not touch responsive, but are traditional buttons. Huh? Also, the on-screen menu can't be controlled via touch. What? I can think of no reason for this bizarre shift in form factor, other than to drop the list price. As for the menus themselves, they'll be discussed in the next section.
As a 1080p, standard-color computer monitor, the S24C770T is meant to adhere to the sRGB standard for the red, green, blue, cyan, magenta, yellow, and white that it produces. This requires color that is within an exact hue, and is exactly saturated—not too much, not too little. Unfortunately, the C770T misses all seven points on some level, tending to overemphasize green at the expense of red and blue. The picture is still fine for most tasks, but doesn't gel the same way as it would with more accurate color representation.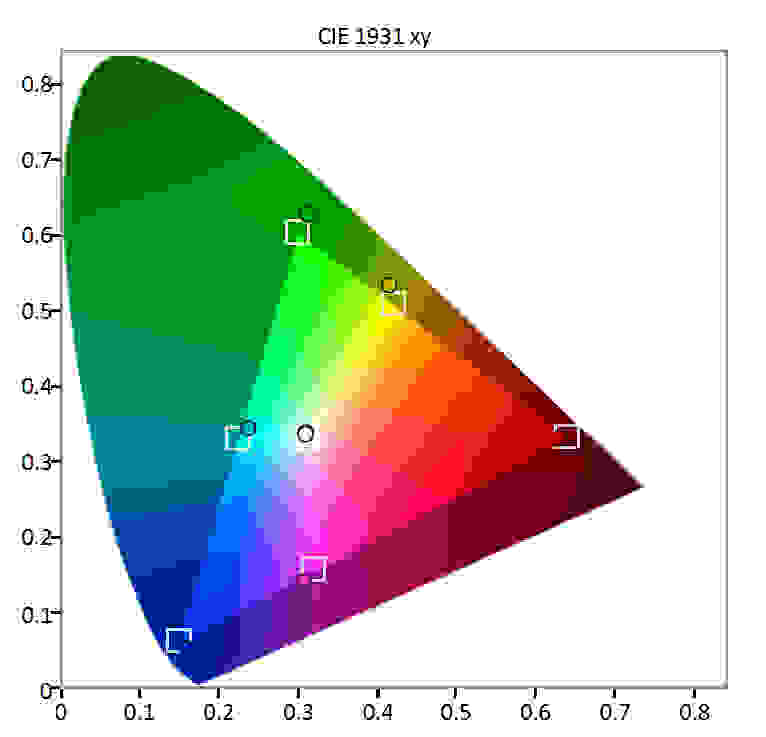 MagicTune Touch: Just a "touch" gimmicky
Alongside the display itself, Samsung includes an HDMI cable, mini-USB cable, power cable, and the driver disc (which includes the S24C770T's user manual and an optional calibration software called "MagicTune Touch"). While a touch-based calibrator seems super useful on paper, in reality, it's just a little bit contrived. Just because you can use touch for something doesn't mean you should.
The MagicTune Touch software allows users to adjust settings like color temperature and gamma.
Once MagicTune Touch is installed, the application is launched from the desktop (or other install location) and brings up a handsome, semitransparent touch menu. The MagicTune Touch software provides the brunt of the S24C770T's calibration control, allowing users to adjust settings like color balance (sub-pixel emphasis), color temperature (warm, normal, cool), gamma, and response time.
The most useful tool is probably the "Touch Calibrate" option, which displays a series of points on-screen and allows the user to calibrate the monitor's touch-tracking manually. Out of the box, the S24C770T's touch interface didn't need any calibrating—but now I'm a little worried that the touch interface might slip in its tracking over time.
MagicTune Touch feels a bit unnecessary considering that its options like gamma, color balance, and brightness could be adjusted just as effectively with traditional buttons—the touch method does nothing to actually aid users in improving the picture.
The S24C770T has no issues with proper gamma adherence—it transitions from black, to middle gray, to peak white with the proper increase between each luminance step. Monitors are meant to adhere to a gamma sum of 2.2, and this Samsung tested with a total gamma of 2.25. Just shy of perfect is always a solid result.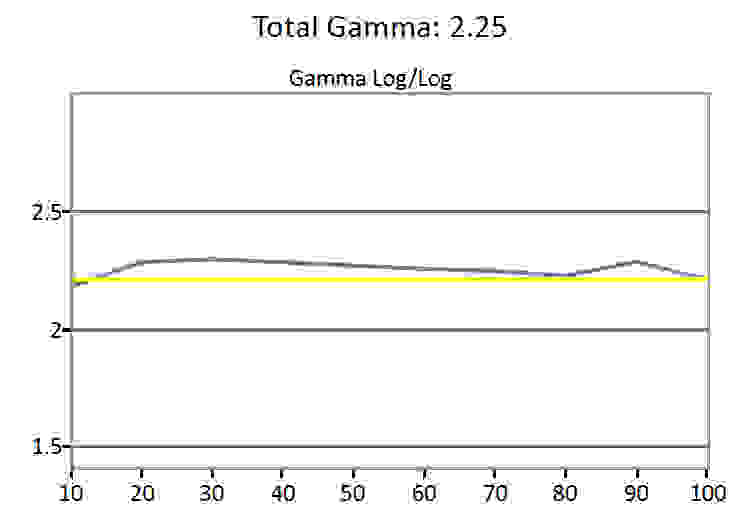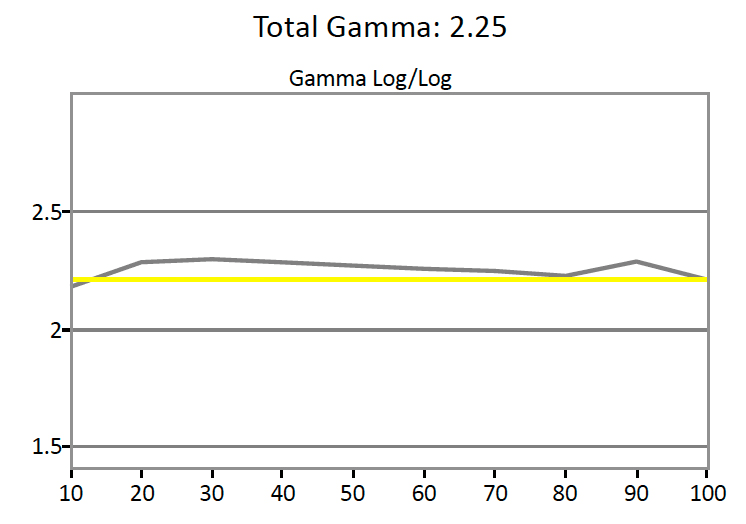 Grayscale balance refers to the equal presence of a display's red, green, and blue sub-pixels within its grayscale spectrum. Errors within the grayscale balance are measured as a sum, called DeltaE, of which a DeltaE of 3 or less is considered within acceptable range for human vision. The S24C770T tested with a DeltaE of 5.7, which means its sub-pixel balance is off, affecting both the integrity of neutral shades like white and gray, and colors individually.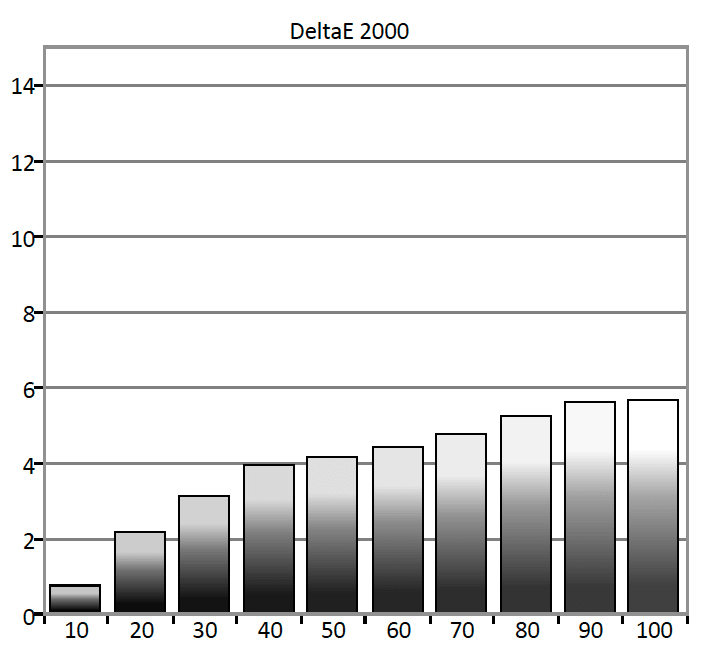 Analysis of the S24C770T's sub-pixel makeup revealed the problem to be an over-emphasis of the green sub-pixel, which resulted in neglect of (or underemphasis of) the red and blue sub-pixels. Emphasizing green boosts the perceived luminance of the display, but reduces the accuracy and vibrancy of red, blue, cyan, yellow, and magenta.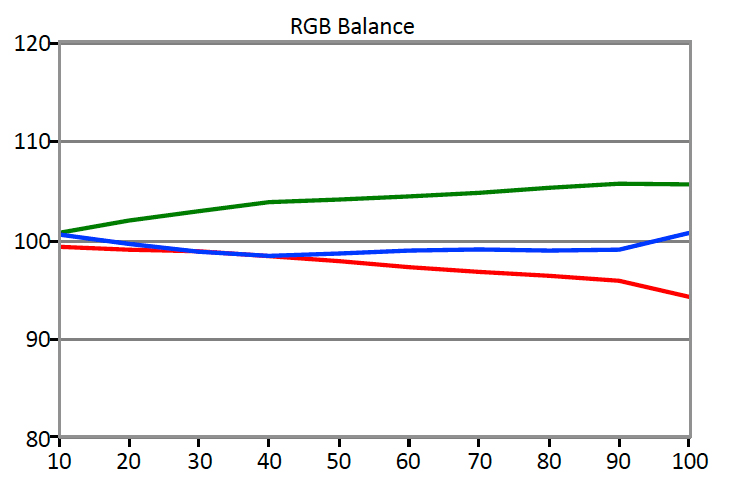 Image quality traded for touch control
The Samsung S24C770T uses an MVA panel, i.e. "Multidomain Vertical Alignment." MVA panels are typically of a slightly lesser quality than TN (Twisted Nematic) and IPS (In-Plane Switching) panels, traditionally performing with slower response times and worse viewing angles. Testing revealed that this Samsung touch monitor is, unfortunately, not a bastion of picture quality.
We can't recommend using this monitor for professional tasks.
The S24C770T has a number of pre-set picture modes, but in order to meet the sRGB standard for monitors, it needs professional calibration. For that reason, we can't recommend using it for any task like CAD or graphics work—but, considering it's a 10-point touch monitor, that point should be obvious.
Out of the box, the S24C770T has fairly low-grade color accuracy and fidelity—it doesn't look bad, but it's not on the level of a high-end graphics display.
The MVA panel also makes the S24C770T an undesirable display for gaming. Its response time can be adjusted via MagicTune Touch, but the monitor still produces some lag in very competitive games like Starcraft II or Counter-Strike. More cinematic, slower-paced or console games will look fine, albeit not as rich in contrast as they would on a television.
Finally, one big complaint I have about the S24C770T is the screen's glossy finish. While this may be a design necessity in order for the capacitive touch functions to work as flawlessly as they do, it means that the monitor is somewhat hard to use around light. It looks nice set up in a retail store, but it's a touch screen, so it's going to be covered in fingerprints in a matter of minutes. The S24C770T also doesn't get very bright—even at max luminance, it's best suited for dimmer, shadier environments.
A little too specialized, this monitor will struggle to find buyers.
The Samsung S24C770T works very well under the right conditions: paired with Windows 8 or 8.1, over an HDMI connection, and in a controlled lighting environment. For an MSRP of almost $700, that's kind of a lot of limitation to put on users, especially as there's nothing particularly special or flexible about this display without its 10-point touch capability.
However, if you're a big fan of touch action and are already running Windows 8, it's a perfectly functional, handsome, and crisp 1080p display, great when used with the "tile" apps of Windows' latest OS. The fluid motion provided by the stand allows a wide range of positions for touch functions—but the practical aspect of 10-point touch in a world dominated by one- and two-finger controlled apps remains to be seen.
Meet the tester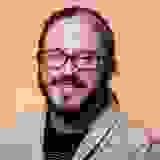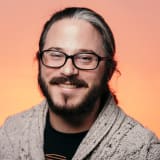 Lee Neikirk
Editor
@Koanshark
Lee has been Reviewed's point person for most television and home theater products since 2012. Lee received Level II certification in TV calibration from the Imaging Science Foundation in 2013. As Editor of the Home Theater vertical, Lee oversees reviews of TVs, monitors, soundbars, and Bluetooth speakers. He also reviews headphones, and has a background in music performance.
Checking our work.
We use standardized and scientific testing methods to scrutinize every product and provide you with objectively accurate results. If you've found different results in your own research, email us and we'll compare notes. If it looks substantial, we'll gladly re-test a product to try and reproduce these results. After all, peer reviews are a critical part of any scientific process.
Shoot us an email