Reviewed
Intel CEO Brian Krzanich Gives Opening Keynote Address at CES 2014
Intel pushes for future consumer integration.

Credit:
Intel CEO Brian Krzanich presented the keynote address that opened this year's CES in Las Vegas. For a convention already bursting with smart integration and ever-smaller portable devices, Intel seemed a fitting choice for the kicking-off ceremonies. The 2014 line-up as presented by Krzanich exemplifies smart and small.
During the speech, Krzanich stressed three major aspects of product development: the way consumers live, work, and play (and ideally how Intel products will help them do so).
Wearable technology was the first key focus. A watch, earbuds, and a headset appearing on the market from Intel this year can accomplish tasks like heart rate monitoring and GPS tracking of the wearer without the need for externals or tethering.
Intel's goal, said Krzanich, is to make wearables more appealing and efficient for the ways in which consumers work, play and live.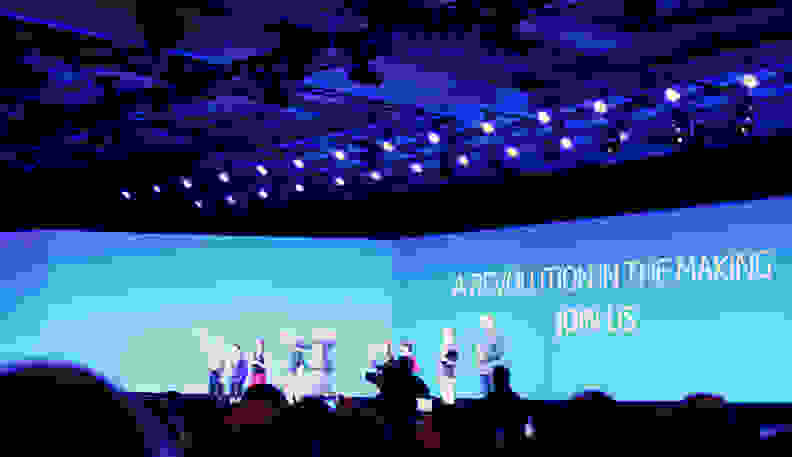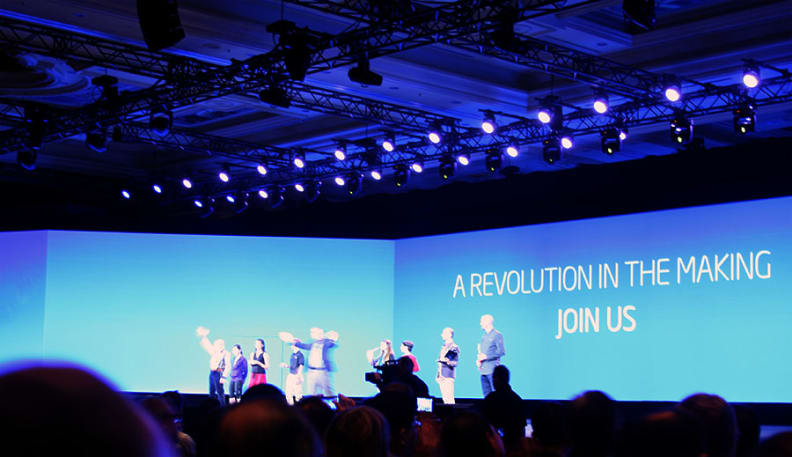 Other products previewed included a baby monitor that attaches to infant clothing and communicates with other devices via smart integration, giving parents the ability to keep an eye on the baby via a "smart" coffee cup complete with a visual read-out that displays vital signs.
The technology that makes devices like the the baby monitor (as well as other major developments this year) possible is the product that perhaps garnered the strongest reaction from the crowd at the keynote: the Intel Edison.
Edison is Intel's latest foray into what the company does best: computer processors. This one is a far cry from previous iterations, though. Essentially a tiny Linux based computer, it measures in at the size of an SD card and has built-in wifi, Bluetooth, and an app store. Edison will be available on the market in mid-2014.
Visual technology was the other major topic of the evening. Krzanich was also joined onstage at one point by DreamWorks head Jeffrey Katzenberg, who discussed a partnership between his studio and Intel that is producing visually-enhanced animated features this year.
The keynote closed on a brief discussion of Intel's investment in clean technology development that avoids the use of critical minerals, which damage the environment. He also introduced the crowd to a diverse group of individuals behind the various new inventions at Intel... including two product experts barely pushing the age of puberty.
Krzanich's speech contained enough shiny new concepts to wow the crowd, while still giving enough technical details to keep things relatively grounded. A visit to Intel's booth at CES this year will no doubt be a better source of concrete facts, but anyone with a passing knowledge of keynote speeches will probably agree that Krzanich kicked off CES 2014 in traditional style.