Reviewed
Intel's Tiny Edison Chip Makes Anything Smarter
Smart computing platform is no bigger than your thumb

Credit:
Undoubtedly the most buzzworthy Intel product of the 2014 International CES 2014 was Edison, a tiny computer in the form factor of an SD card.
Edison has a dual-core 22nm Quark processor, tech that Intel unveiled several months ago at IDF 2013. The Edison Chip also has flash storage, WiFi capability, Bluetooth radios, RAM and a microcontroller that allows it to have real-time input/output with external devices. Right now, Edison is running Linux. No word yet on additional OS support.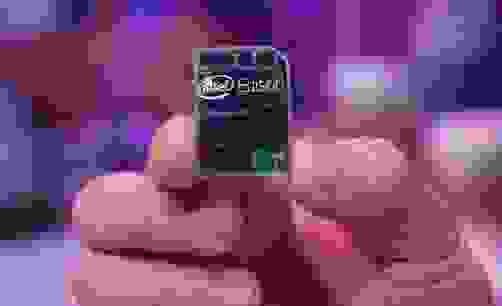 Edison is part of Intel's bid to make anything able to become a "smart" device. For example, Intel showed how the Edison could be used in the Mimo, a baby onesie that has sensors measuring an infant's vital signs. With the Edison chip connected to a small turtle sensor on the onesie, it could activate certain devices in response to a baby's cues. If a baby was crying (activating the onesie sensors), Edison could communicate with other connected devices, starting up an automatic bottle warmer or alerting a parent through—believe it or not—a smart coffee cup. Intel called these examples "Nursery 2.0," aimed at solving age-old problems and making nursery devices smarter.
Theoretically, Edison can be put into anything...
Theoretically, Edison can be put into anything, which opens up untold opportunities for developers. As long as a device has a SD card slot and some type of power source, you can use the Edison Chip to make it smarter. In the future, Intel hopes to offer an app store for Edison, as app developers begin to take advantage of this technology. Apps can be downloaded to the Edison Chip just as easily as downloading to a smartphone or tablet.
To help drive interest in developing for the Intel Edison Chip, Intel has introduced the Make it Wearable challenge, a global effort to investigate wearable applications. More than $1.3 million in prizes will be awarded to the winners.
If you want to get your hands on the Edison Chip, Intel will be releasing it to the public sometime during mid-2014.