We have the strangest feeling of deja vu…
We previously reviewed the gas version of this range, and at first glance the EI30EF35JS is almost identical to its vaporous counterpart. The EI30EF35JS trades the gas burners for a sleek ceramic rangetop surface, and dispenses with the traditional burner dials in favor of buttons. We aren't wild about this decision. Sure the buttons are perfectly functional, but we miss the tactile feedback dials provide. Like the gas model, it has the same stainless steel trim and fun blue interior. Your opinion of its appearance will depend on whether you appreciate tradition or visible tech.
We miss the tactile feedback dials provide.
Though a plethora of options may overwhelm, Electrolux's IQ Touch controls highlight only the available choices. It's a neat feature and we are surprised no one else thought of it before. The EI30EF35JS also uses Fresh Clean Technology, which activates the oven's self-cleaning catalyst at a lower temperature than on most other ranges. This limits the offensive odor that often comes as a result of pyrolytic cleaning. Not that you would know any of this without scouring though the darkest recesses of the Electrolux website and user manuals. For reasons that continue to escape us, Electrolux seems determined to hide all information regarding these, in our mind, pretty cool features.
Here's the lowdown...
Let's get the good stuff out of the way first: the EI30EF35JS's rangetop is pretty much perfect. The EI30EF35JS features three regular burners and two dual element burners, which allow the use of different sized pots and pans on the same element. The primary burner ripped through our water boiling test, and took a total of four minutes to boil 48oz of water. We try to avoid hyperbole wherever possible, but that is an incredibly fast burner. The remaining burners were equally impressive, even the simmer burner only took eleven minutes.


While it lacks the response time of induction and the visual feedback of gas, the EI30EF35JS offers an amazing range of temperatures. Whether simmering a sauce or searing a steak, you can pretty much cook anything on this rangetop. We recorded a maximum high temperature of 807ºF and an incredibly low 78ºF.
It ain't all good, but it ain't that bad.
The EI30EF35JS's oven was more damp squib than hot tamale
For all of it's shortcomings, one thing the EI30EF35JS will never be accused of is a lack of speed. Both the broiler and the oven reached target temperature in no time. The convection setting was particularly impressive, taking only seven minutes to reach 350ºF. That's barely enough time to take the pizza out the box.
Preheat and broiler aside, the EI30EF35JS's oven was more damp squib than hot tamale, especially when compared to its excellent rangetop. The Keep Warm and 350ºF setting were both reasonably precise but inaccurate, hitting the wrong temperatures but doing so consistently. In fact, the convection setting was the the most disappointing as it did nothing to improve accuracy or precision—defeating the very purpose of a convection setting. Those could be fixed with an oven thermometer and a watchful eye, but we also noticed in our cook tests that the EI30EF35JS had a few hot spots, specifically in the right portion of the oven. Hot spots are less than ideal as they result in unevenly cooked food.
Cloudy with a chance of unevenly cooked meatballs
If you value a range that emphasizes speed and user-friendly technology we'd recommend the Electrolux EI30EF35JS. The rangetop pretty much excelled in every category: offering lightening fast boil speeds and an impressive diversity of temperatures. Sure, the Electrolux EI30EF35JS's oven had some trouble in the accuracy department, but it was no slouch in the speed department either. As long as you can look past the uneven baking, appreciate the modern exterior, and have a need for speed, you could do way worse than the Electrolux EI30EF35JS.
Overall the Electrolux EI30EF35JS put in a pretty good show. The oven performance was nothing to shout about, but we were impressed by the almost flawless rangetop.
Superfast preheat with a few speed wobbles here and there.
The Electrolux EI30EF35JS—like it's gas counterpart—won't leave you hanging. In our preheat test the oven took only 11 minutes to reach 350ºF, and only 7 minutes in convection mode. The broiler was equally impressive taking only 5 minutes to reach 606ºF. Speed is one thing, but how does the Electrolux EI30EF35JS manage once it reaches temperature? Not so well, it turns out. The Keep Warm setting was terribly inaccurate. In our tests we recorded an average temperature of 212ºF, Thats 42ºF off from the target temperature of 170ºF. The 350ºF had similar results, with an average temperature of 317ºF. Fortunately, it wasn't all bad as both settings had excellent precision—just at the wrong initial temperature. Unfortunately the convection setting did little to improve oven accuracy: We recorded an average temperature of 311ºF, 39ºF off from the target temperature of 350ºF.
Regardless of what temperatures are displayed, there's also an issue with hot spots. The cookies and cakes we cooked on the right side of the oven showed some browning.
Low lows and high highs.
If the oven was a disappointment, the range knocked it out of the park. We look for two things in a good rangetop: Fast boiling and a good range of temperatures. The Electrolux EI30EF35JS blew away the competition in both categories. Water boiling was uniformly excellent. The primary burner took a superhuman (super-appliance?) just 4 minutes to boil 48 ounces of water, numbers only beatable by an induction range. The remaining burners where equally impressive. Even the simmer burner only took 10 minutes to boil 48 ounces of water. The Electrolux EI30EF35JS's temperature range was equally impressive. The rangetop was capable of temperatures as low as 78ºF with an average low temperature of 79ºF. We also recorded a maximum temperature of 802ºF, with an average high of 777ºF.
Meet the testers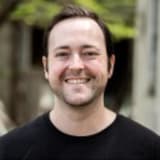 James Aitchison
Staff Writer
@revieweddotcom
Checking our work.
We use standardized and scientific testing methods to scrutinize every product and provide you with objectively accurate results. If you've found different results in your own research, email us and we'll compare notes. If it looks substantial, we'll gladly re-test a product to try and reproduce these results. After all, peer reviews are a critical part of any scientific process.
Shoot us an email