Turns out you don't always get what you pay for…
Tracking down pricing information for Jenn-Air products is difficult, because the Whirlpool-owned brand likes to keep an air of high-end mystique—but we managed to find one for $3899. We know what you're thinking: "For that price it must be good! Right?"
We're not going to bury the lede; the Jenn-Air JGRP430WP had some of the lowest performance scores we have seen to date. The dual-fuel Jenn-Air JDRP430W impressed us when we reviewed it last year, so we had high hopes for this range. Sadly we were disappointed. The Jenn-Air JGRP430WP exhibited mediocre performance on all counts, but hey, at least it looks good, right?
This range at least has looks going for it.
Regardless of cooking quality, this Jenn-Air range has one thing going for it: looks. Over the last few years the company has managed to carve a design niche for itself that effectively mixes a rugged appearance with high-end flair. Be safe in the knowledge that the JGRP430WP will look great in your kitchen—just don't expect it to complement a $400 refrigerator. Appearance also comes at a high price, with the JGRP430WP's MSRP around $4000.
Be safe in the knowledge that the JGRP430WP will look great in your kitchen.
Jenn-Air almost got the control panel right. Traditional, sturdy knobs let you tame gas flames like an expert. But you'll need to use a touchscreen to adjust oven settings. That's great for hiding rarely-used options behind menu screens, but it's bad for hiding fingerprints. Since the LCD screen is at a 90º angle, accessing the oven controls requires an awkward, backward lean—unless you happen be a contortionist. The screen also clashes with the retro styling.

Impractical touchscreen aside, we have few complaints about the aesthetics of the JGRP430WP. We appreciate its cool, industrial styling and sturdy construction. Be aware however that it does not feature a backsplash or warming drawer, but neither of these omissions are deal breakers in our opinion (more on that later).
Sure it gets hot, but this rangetop lacks the control pro chefs require.
We can't fault the JGRP430WP's boiling performance.
We can't fault the JGRP430WP's boiling performance. Three of the four burners were able to bring water to the boil in under six minutes, so have your pasta ready. Things are a little less rosy in the lower temperatures—as is often the case with gas ranges. Only one of the burners could get below 150ºF. And when it came to peaks, the JGRP430WP's burners were more Mount Monadnock than Mount Everest: average top temperatures barely broke 400ºF, which is truly disappointing. To Jenn-Air's credit the burners are sealed in order to prevent spills entering the burner box and the entire rangetop is pretty easy to clean.
On the subject of deal breakers…
We wouldn't recommend you attempt a soufflé in this oven.
A mediocre rangetop isn't great, but the deficiencies in this Jenn-Air's oven were impossible to ignore. Despite fair performance on the Keep Warm setting, the Jenn-Air JGRP430WP struggled to reach and maintain consistent temperatures when we set it to 350ºF and 550ºF, respectively. So what does this mean for you? Well you should have no trouble cooking vegetables or roasting a chicken, but we wouldn't recommend you attempt a soufflé in this oven. In fact, considering how much it costs and how badly it works, we wouldn't recommend this oven at all. It isn't all bad, however, as the convection setting improved accuracy at the 350ºF setting. Unfortunately, it did little to improve temperature precision.
We expect more for $3899, and so should you.
It may seem like we are picking on Jenn-Air. That's not the case; Jenn-Air has shown it is capable of manufacturing excellent ovens. In fact, we recommend you check out the dual fuel Jenn-Air JDRP430W. It sports the same excellent design as the JGRP430WP01 but with drastically improved performance across the board for an additional $800, plus the cost of wiring an electric outlet.
But we can't recommend the JGRP430WP01. The fact of the matter is if you spend just under $4000 on an oven, it's not unreasonable to expect a certain level of performance—performance that the JGRP430WP fails to deliver, despite its professional appearance.
Pro in looks only
The results speak for themselves: the Jenn-Air JGRP430WP is a mediocre range. Take a look at the charts below for the full, gory details.
Don't expect accuracy or precision, and you won't be disappointed.
When set to Keep Warm, the Jenn-Air JGRP430WP averaged a temperature of 149.47ºF. That's not terrible, but it's closer to 140ºF than we would have liked. That number matters because it's right around the food poisoning danger zone.
The JGRP430WP fared far worse in the medium (350ºF) temperature performance tests, which simulates the most common use for an oven. Without activating the convection setting, the oven temperature fluctuated drastically from our average recorded temperature of 310.51ºF, reaching temperatures as high as 408ºF and as low as 291ºF. That falls far outside the 40ºF margin of error we consider acceptable at this temperature.
Accuracy was improved somewhat when using the convection setting, with a recorded average of 344.08ºF—just six degrees off the target. However, we still recorded wild temperature fluctuations when using this setting (between 62ºF and 30ºF). Our high temperature test (550 °F) was equally disappointing, offering up an average of only 512.74ºF, and a low of 465ºF.
At least it can boil pasta...
Fortunately, the Jenn-Air JGRP430WP had some pretty good results in our rangetop tests: Three of the four burners were able to boil 10 lbs. of water in under six minutes—an excellent result. Despite the superb boiling performance, the rangetop had a surprisingly limited, uh, range of temperatures. The simmer burner got as low as 121ºF but none of the three remaining burners could get above 425ºF. So don't plan on searing any steaks with this rangetop, unless you have a flamethrower handy.
Middling broiler performance from the Jenn-Air JGRP430WP
The broiler reached a temperature of 610ºF in 11 minutes—an acceptable result but surprisingly slow among the gas ranges we've tested.
Meet the testers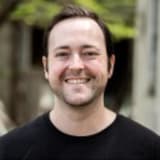 James Aitchison
Staff Writer
@revieweddotcom
Checking our work.
We use standardized and scientific testing methods to scrutinize every product and provide you with objectively accurate results. If you've found different results in your own research, email us and we'll compare notes. If it looks substantial, we'll gladly re-test a product to try and reproduce these results. After all, peer reviews are a critical part of any scientific process.
Shoot us an email