Ovens & Ranges
2012 Cyber Monday Oven & Range Deals
We're tracking Cyber Monday deals on some of our favorite ovens and ranges.

Credit:
Cyber Monday is the sale after the big sale. Retailers want to keep the party going all month long, so they made up another event after Black Friday. Save big, whoop dee doo.
Honestly, there are way too many sales, half-sales, and pretend sales to keep track of, so we'll just call out good prices on ovens and ranges that we like.
We'll add some more deals as they come along—many of them don't get announced until Cyber Monday itself. Check back regularly!
Across the board, Sears is giving an extra 10% off, so if on the fence, that might push you over.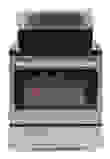 Our 2012 best electric range of the year is on sale for 25 percent off.
• LG LRE3023ST, $749 at Home Depot
This range showed admirable performance in almost all our test results, and is a steal at $750, well below the $1,000 MSRP. It beat others that cost twice as much, so check it out. The deal is good through the end of Cyber Monday. We saw similar prices at other retailers on Black Friday, but we aren't sure if they'll carry over through the weekend and into Monday. We shall see.
---
Sometimes called the Adora, this gas range is on sale a few places this holiday season.
• GE JGB605SETSS, $848 at Home Depot

• GE JGB600SETSS, $790 at Best Buy
The model number at Home Depot is slightly different but it appears to be otherwise identical. The deal at Best Buy is cheaper anyway.

This very impressive LG is our highest rated dual oven range.
• LG LDE3017ST, $1,300 at AJ Madison

• LG LDE3017ST, $1,300 at Best Buy
We found incredible performance from the electric rangetop and the dual ovens, finding only one flaw: the broiler. This is marked down by nearly a quarter, a huge difference.
The deal is good through the end of Monday.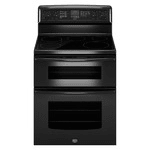 This dual oven electric range from Maytag is available for just $1,100 at AJ Madison, far below the MSRP of $1,599.
---