Ovens & Ranges
Braun's Novelties Focus on Color and Cooking
Ready yourselves for cappuccino, color swaps, and hand-held cooking.

Credit:
Naturally, given a title like "Braun Procession of Novelties," we had high expectations: something interesting had to be there. But the sad fact is that none of the "novelties"—from Braun, Kenwood, and parent company De'Longhi, as it turns out—really merited such a grandiose title. Nevertheless, after the official procession we opted for a private tour with Yvonne Engel, product manager for De'Longhi.
Most of the items Engel showed us boiled down to little more than an an assortment of mixers. First up was the new Braun smart speed hand mixer. The nifty thing about this tool—as anyone who has activated a blender without a lid can appreciate—is that it starts at a slow speed, gradually working up to your desired intensity. It comes with various attachments, such as a whisk head and a chopper that can supposedly handle anything from soft strawberries to thick dough.
The Chefette Hand Blender was next. By default it works as a traditional hand blender, but it also comes with a base that turns it into a standing mixer—the best of both worlds in a single package. The base comes with a stainless-steel bowl that rotates in opposition to the blender tines, providing more thorough mixing action. Whip up an egg custard by hand, for example, then settle the Chefette into its base for easy meringues.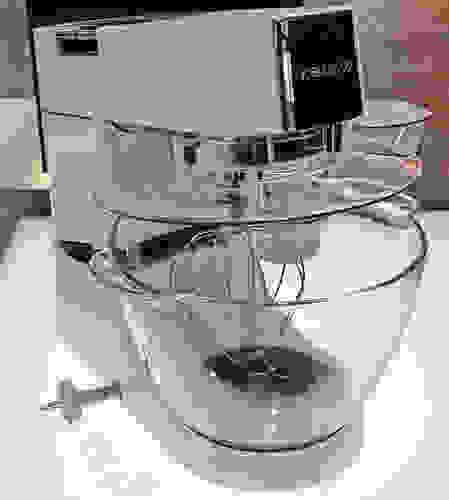 Kenwood also had a new mixing bowl known as the Titanium Chef. Thing is, it's not actually new: The product already exists, but with a stainless-steel finish. This new model boasts a glossy white design in the spirit of the iPhone.
Most of the other novelties were also visual revamps. There's a new iron from Braun that comes in nine different colors. These colorful irons feature something called a soleplate, which is essentially a scratch-resistant blade that won't be damaged going over buttons or zippers. What's more, Engel was pleased to point out a black model—an absolute must-have for the well-dressed bachelor.
De'Longhi's Icona breakfast series, which launched last year, also got a visual overhaul. The pre-existing toaster, kettle, and pump espresso makers will be re-released in white, much like Kenwood's mixer. What's more, a brand new drip coffee pot and automatic cappuccino machine will be added to the lineup in both white and cream colors.
The cappuccino machine comes with a new automatic milk system that can apparently make cream so dense your spoon will stand straight up out of it. It's called the Latte Crema system, and sports an intensive automatic cleaning system and removable milk bin that can be stored in the fridge between uses.
All these products are apparently going to be released over the next few weeks. Unfortunately, Engel informed us that the company reps at IFA were focused on the German market only; there wasn't any information available regarding whether any of these products will make it to the US.
It's a pretty safe guess that most of these quirky products will never see the fluorescent-lit shelves of American stores. And given our cultural proclivity for caffeinated beverages, that's a little disappointing. Oh well, at least we've got pictures of Braun's bottle-flipping, fedora-wearing bartenders to keep us entertained.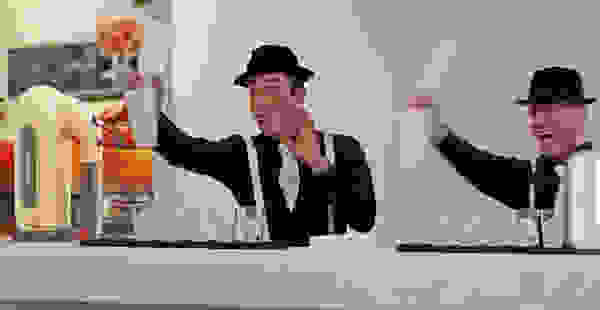 Up next