Ovens & Ranges
How I threw a last-minute dinner party that didn't suck
Stressed. Busy. Might as well throw a... dinner party?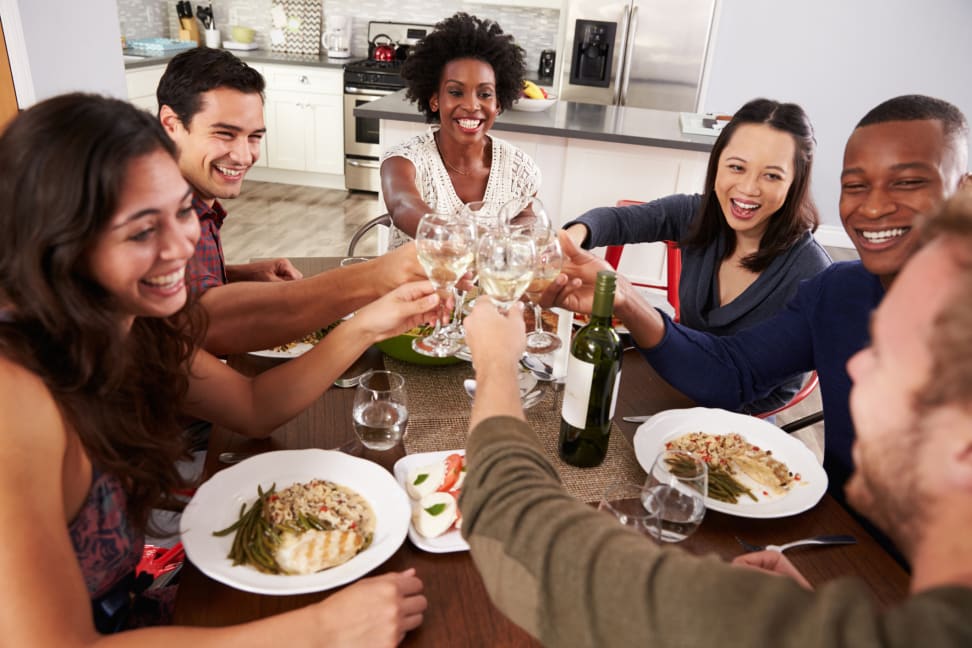 Credit: Getty Images
I love hosting friends for dinner, but dinner parties are typically celebratory occasions. You throw them when you have time to really cook something special, to sip wine late into the evening and toast to as many things as you'd like. They aren't casual affairs pulled together at the last minute right in the midst of a stressful week.
Well, not usually.
Guys, I'll cut to the chase. Last night I threw a dinner party when I was stressed and busy and not in the mood to be festive. And it was a great idea. 10/10, would recommend.
Let's backtrack. I'll explain.
I had promised to throw a dinner party for an article. Then suddenly the piece was due in a few days and I hadn't done the legwork. Whoops. So I invited a few friends to come by last night, and at 6:30 sharp the doorbell rang and my first guest was standing outside holding a bottle of wine.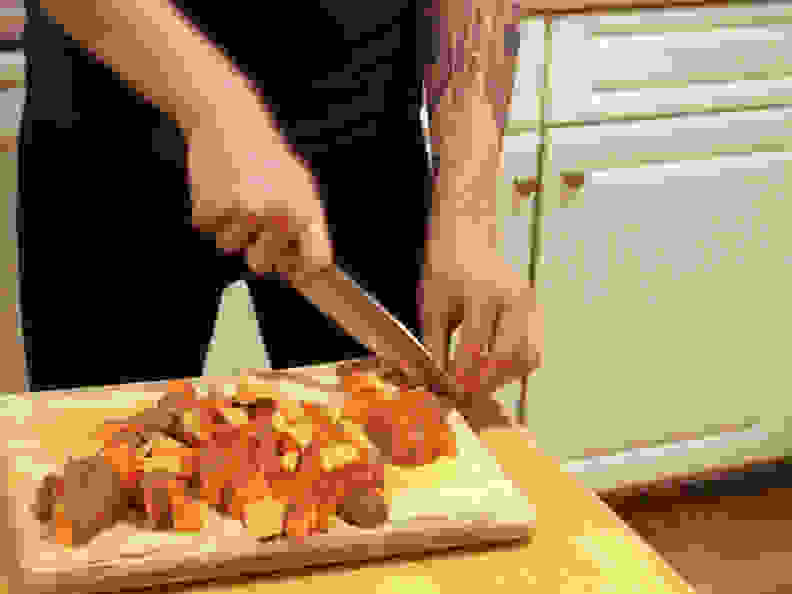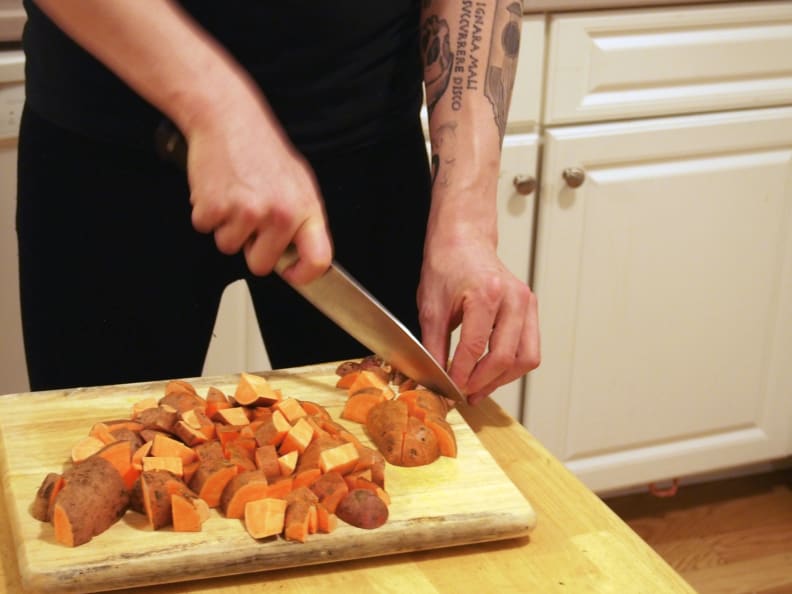 When you're throwing a last-minute dinner party, it's good to be upfront, so I laid out the facts: I hadn't cooked at all yet, hadn't gone grocery shopping, thought maybe we could roast all the veggies we could find in the fridge and serve them with quinoa. Oh, and I would appreciate help. "Thoughts?" I asked, ever the gracious host.
My guest was game, so together we chopped veggies and threw them in the oven with a little olive oil. I started a pot of quinoa on the rangetop, then laid out ingredients for a Thai-style peanut sauce and mixed them together. We tasted the sauce, added extra garlic and ginger, declared it done. No recipes, just common sense.
As the remaining guests arrived, I was feeling pretty good. We set the table, put the food in nice bowls. Poured the wine. It was time to eat.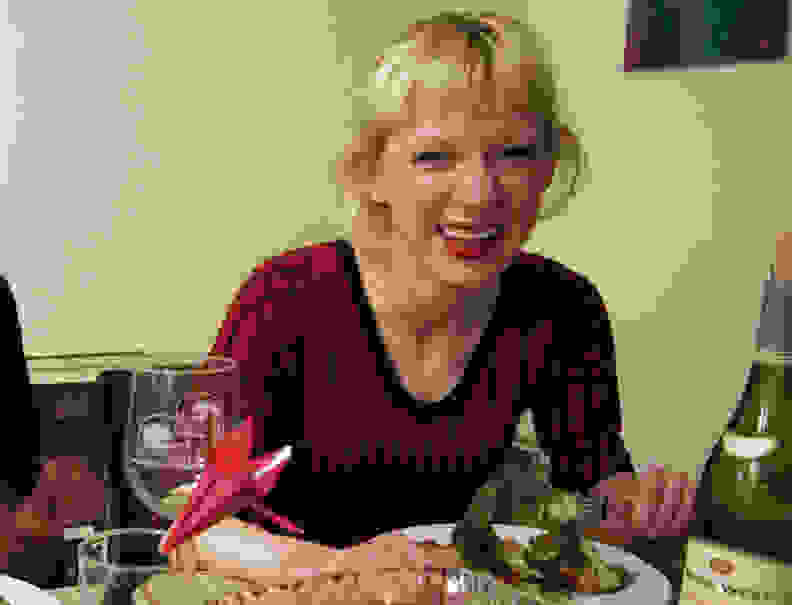 Here's what I learned:
Your friends probably don't mind helping you cook. In fact, it gives you a chance to connect and catch up.
Your friends might enjoy the easy food you usually cook for yourself on a weeknight, even if it's just roasted veggies topped with a made-up sauce comprised primarily of peanut butter. In fact, they might compliment it enough to make you feel pretty great about yourself. You don't actually have to cook something fancy.
When you cook for yourself, you do your own dishes. When you cook with/for friends, sometimes they do dishes for you, so it's not actually that much more work to have company.
Good company is better than watching television. It's a concept that should be obvious, but when you're having a tough week, it can be hard to want to play host. Hard to cook, hard to clean a messy apartment, hard to want to chat at all. But for me, by the time my guests had trickled out the door, I was… not really having a bad week anymore.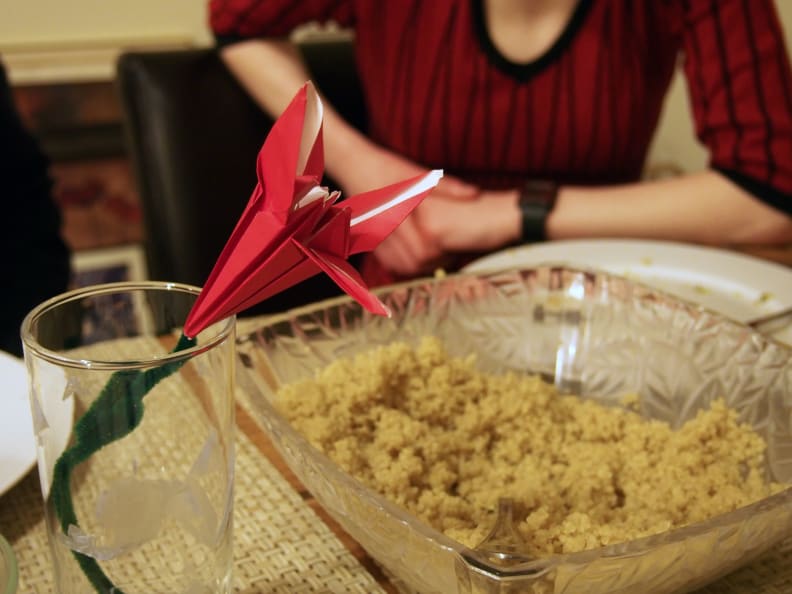 That's the thing about taking the time to cook dinner for people you like and sit down at a nicely-set table together. It forces you to be present in the moment, to forget the stress and exhaustion of your day. It gives you a reason to prepare tasty food, and a reason to refrain from sinking to the couch in defeat for just a little bit longer. It's also—surprise!—fun, once you give yourself permission to embrace the occasion for what it is: spur of the moment, imperfect, and worth savoring.
Related Video