Ovens & Ranges
This $21,000 Grill Is Worth Every Cent
It's the grill of your dreams, but chances are it's going to stay there.

Credit:
Grilling is the most American of pastimes, but most of us don't give it the respect that it deserves. Many American backyards are home to the same old rusty black kettles, grimy utensils, and store-brand briquettes. But for those with the considerable means required, there's an industrial-strength alternative.
Kalamazoo Outdoor Gourmet is an American success story, and it sells to the most successful Americans. The company makes the most capable—and most expensive–outdoor kitchen equipment in the world. From hybrid fire grills, to pizza ovens, to stainless-steel cabinetry and refrigerators, Kalamazoo can outfit the outdoor kitchen of your dreams.
And the prices? Well, they start at $10,500 and only go up from there.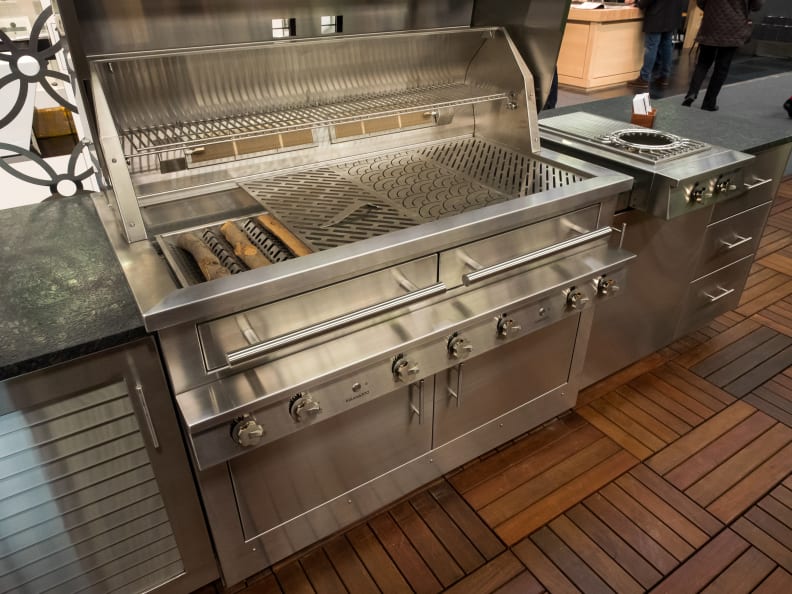 ×
Grill Gallery 2
The most versatile weapon in Kalamazoo's arsenal is the hybrid fire grill. Based around a group of 25,000 BTU burners, the grill is designed to cook with your choice of natural gas, propane, wood, charcoal, or any combination of the above. Wood and charcoal can be added via a pull-out drawer, which protects your food from sudden changes in temperature during the cooking process. The grills also feature uncommonly large fire boxes, which the company says creates more even heat and better circulation for smoking and roasting.
Every Kalamazoo employee who works on your grill signs the inside of the door.
Each of the company's grills comes with an array of accessories that might make you feel a little less guilty about dropping 10 or 20 grand on your charred meat habit. Three types of grates are laser-cut from slabs of stainless steel, and designed to cook meat, fish, and veggies without sticking or burning. The stainless grates are 1/4-inch thick, which the company says allows them to function like cast iron, creating a characteristic sear.
Another nice touch? Every Kalamazoo employee who works on your grill—they're handmade in Kalamazoo, Michigan, of course—signs the inside of the door. You wouldn't buy a $20,000 painting without the artist's signature, would you?
The grills come in a variety of configurations. The smallest model offers two cast brass burners producing upward of 55,000 BTUs of cooking power. And the biggest? It checks in with 110,000 BTUs from four burners and provides a whopping 1,012 square inches of cooking surface. Regardless of size, each grill can hit an impressive 1,000°F—similar to the cooking surfaces in high-end steakhouses. All three sizes can be purchased in a freestanding or built-in design, and with or without a pair of heavy-duty side burners.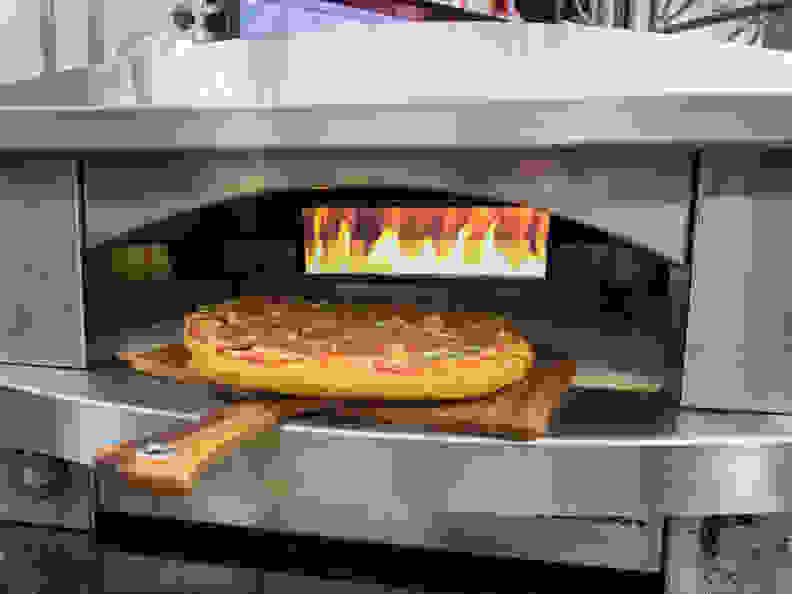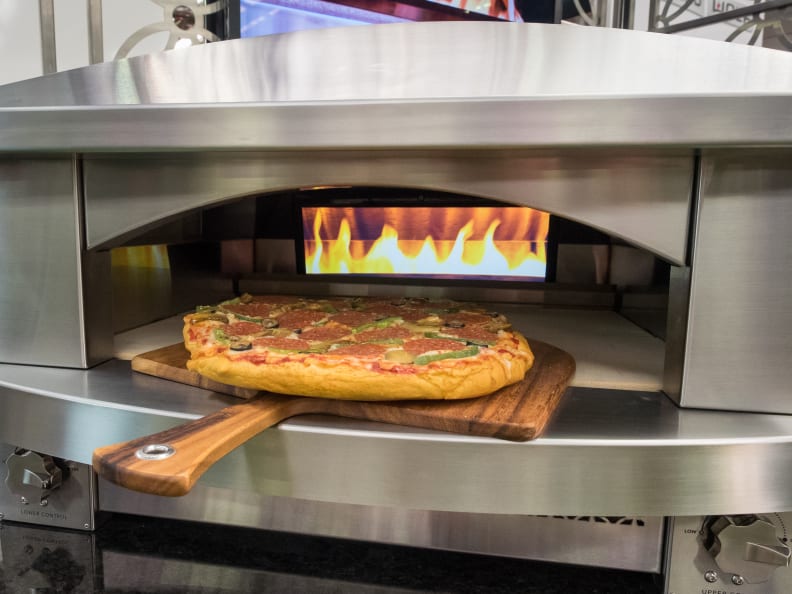 If steak isn't your thing, maybe a $6,800 pizza sounds more up your alley. According to company reps, Kalamazoo's outdoor pizza oven is one of its most popular products, and it's easy to see why. The unit has a pair of independently controlled gas burners, one of which heats the stone while the other cooks the pizza from above. Preheating takes only 20 minutes—far quicker than conventional wood-fired ovens—and if you wait another 25 you can cook a Neapolitan-style pie in under 3 minutes.
We also had a chance to check out the company's new gaucho grill, which replicates the traditional Argentine mode of cooking. It provides fine-grain control over heat and sear by allowing you to raise and lowering a stainless-steel cooking surface over open flame. But unlike traditional grills of this type, Kalamazoo's includes a gas starter system that quickly gets the fire going. Argentinian-style v-grates and a chain-driven rotisserie are just a couple of the available extras.
×
Gaucho Grill
While grills are Kalamazoo's primary focus, they're only part of the story. The company also makes stainless-steel cabinetry, outdoor refrigerators and freezers, the world's first outdoor dishwasher, and even keg tappers. In other words, Kalamazoo can build your entire outdoor kitchen—all you'd need to bring is the countertops.
With a grill, outdoor pizza oven, refrigerator and wine chiller, and a reasonable amount of cabinetry, we calculated a start-up cost of more than $45,000, and that's without thinking about installation.
Of course, when you start planning an entire Kalamazoo outdoor kitchen, the price quickly shoots through the roof. With a grill, pizza oven, refrigerator and wine chiller, and a reasonable amount of cabinetry, we calculated a start-up cost of more than $45,000—and that's without even considering installation and related construction costs.
But let's get real: With a $11,000-plus price tag on its lowest-priced freestanding grill, Kalamazoo isn't targeting anyone who needs to worry about their construction budget. And the rest of us? Well, we can think about upgrading from the rusty black kettle to a big green egg.