Ovens & Ranges
Ovens for Large Families
Cooking for large families shouldn't be a chore. Our favorite big ovens.

Credit:
Cooking for large families is tricky business, and poor equipment can make it even more of a challenge. Without springing for a full kitchen staff and professional appliances—and the renovation to fit them all—there are some things to consider when buying a machine to tackle the problems of a big kitchen.
Thanksgiving Capacity
Fitting a 25 pound turkey into a 4.1 cubic foot pro range like the $4,000 Jenn-Air JDRP430WP isn't going to happen without a struggle. Fortunately, there are plenty of options for high capacity that don't sacrifice performance.
The LG LRE3023ST, our 2012 Best Electric Range, has an enormous 6.3 cubic foot cavity with plenty of room for big birds and only costs $750.
Our 2012 Best Electric Range runner-up, the KitchenAid KERS306BSS ($1,400), has a cavity of 6.2 cubic feet, which can hold a big bird. The cheaper Maytag MER8880AS (under $1,000) is the same size as well.
We've reviewed fewer large gas ovens than electrics, but our 2012 Best Gas Range winner KitchenAid KGRS308BSS ($1,600) can handle most feasts with its 5.9 cubic foot capacity.
The Dual Oven Option
Sometimes one oven isn't enough. Sometimes you need two. If you don't have the space for two wall ovens, a dual oven might be the solution. You can cook an apple pie and a pizza pie at the same time.
Some dual ovens we've seen are less than the sum of their two parts, but the LG LDE3017 is an exception—it's the best dual oven we've seen. The street price is about $1,450, which isn't too bad for such a versatile range.
One big downside to a dual oven is that big dishes usually don't fit—you might have two ovens, but a 25-pound turkey won't fit into either one. The Samsung Flex Duo (street prices around $1,400) works around that problem with a removable divider that can turn two ovens into one.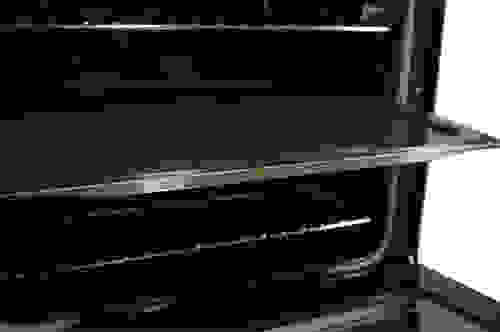 A Rangetop Focus
Excellent oven performance with a big cooking capacity often goes hand-in-hand with a good rangetop. With its five burners, the KitchenAid KGRS308BSS has the most efficient rangetop for a large family.
If you can do with four excellent burners and a warming element, the Samsung Flex Duo or LG LDE3017ST are all more than capable.
Photo: C05T1N, Flickr [CC-BY-3.0]