Ovens & Ranges
iDevices Announces iGrill2: Monitor Four Pieces of Meat and Your Propane Tank
Now we're cooking with gas!
Credit:
iDevice announced today the release of the iGrill2 (MSRP $99.99), which will feature four temperature probes and an optional add-on—the iLP—that monitors propane levels.
Each of the four probes can be inserted into different pieces of meat to keep track of their temperature. The iGrill2 can then send updates to your smartphone via Bluetooth. The system keeps track of cook time and temperature, and even alerts you to preset conditions—like when a leg of lamb passes from rare to medium-rare.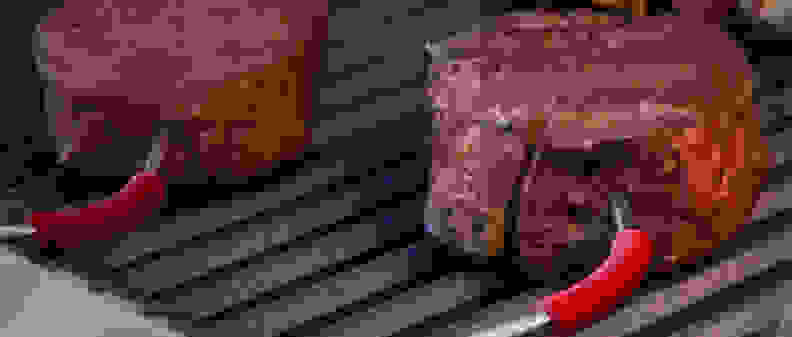 When the grilling is complete, the iDevices Connected app allows users to upload pictures of their masterpieces to Facebook and Twitter. Currently, the app is compatible with iPad (Generation 3 and up), iPhone (4S and up) and iPod touch (5 and up) with a bluetooth range of 30 feet. An Android package is set to debut in 2014.
Their iLP Liquid Propane Monitor is also slated for release in 2014, though pricing has yet to be announced. This sensor uses ultrasonic waves to calculate the amount of gas left in the tank. It will send alerts to your smartphone when you're in danger of running out of propane, and even let you know where you can refill your tank nearby. The only catch: It'll only work if you're within range of the Bluetooth signal, which is only about 30 feet.
The iGrill2 runs on two AA batteries with an estimated life of 150 hours. The iLP, however, will have a battery life of approximately two years. That means you can know how much gas is in the tank even before grilling season starts.
Be sure to check Reviewed.com for the latest International CES news and updates, including more on the iGrill2.