Ovens
Kenmore Shows Off What's New in Home Appliances
Coming soon to a Sears near you...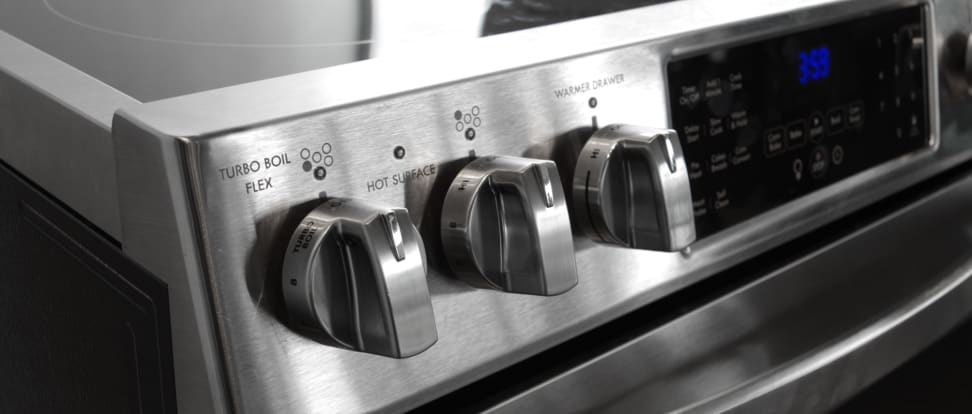 Credit:
Kenmore showed off its upcoming home appliance lineup in Manhattan this afternoon, and it looks like we're in for an interesting bunch of ovens, fridges, washers, and more.
Kenmore appliances are based on products manufactured by other manufacturers, but they're given similar design language and some performance tweaks. They're only sold through Sears and Kmart, and sometimes offer different warranties than their Whirlpool, Frigidaire, and LG counterparts.
Many of the new models we saw add to existing designs that we've already tested. Others are more unique. Here's a sneak peak of what to expect.
No, those aren't slide-in ranges
You'd be forgiven for assuming these two ranges—a gas and an electric—are slide-in models. They have front-mounted controls and no backsplash, for an upscale, built-in look.
But both are freestanding models, meaning that they can be easily installed in place of any existing range. They're also the same depth as a freestanding range, so you won't have to rework your countertop—although you may have to add a backsplash if your kitchen doesn't already feature one.
Both ranges have upscale touches, such as adjustable-size burners and controls that slant toward the user. They're manufactured by Electrolux, who just invested in a state-of-the-art oven factory.
Best of all, they're less expensive than pricier slide-ins. Kenmore representatives told us the gas model will have an MSRP of $2,399, while the electric will have an MSRP of $2,299. Even after a mere 15 percent discount, both ovens would be hundreds cheaper than similarly-featured slide-ins.
A simpler refrigerator
It seems like refrigerators have been getting more complicated lately. But Kenmore has reworked the control panel to be foolproof.
Heck, a Fisher Price See 'N Say is harder to use. Want ice? Just press the giant, glowing icon that shows ice in a glass. Want water? You know what to do.
All the temperature controls are still there, but they're hidden inside the doors. That way they won't clutter up the front of your fridge, and your kids can't mess with them.
The Blast Chiller is back!
Though the LG Blast Chiller refrigerator got a lot of press when it debuted at CES in 2012, LG discontinued it last year without fanfare.
Now, Kenmore is adding a new LG-manufactured French door refrigerator that features the Blast Chiller rapid beverage cooler. It's called the Accela-Chill, and is expected to have an MSRP of $3,499, with discounts almost guaranteed.
Like the LG that preceded it, the Kenmore claims it can chill a 12 ounce can in 5 minutes. We're looking forward to testing it—with Diet Pepsi, of course.
Wash faster
We loved Kenmore's 41472 washer when it first came out more than two years ago. But it's since been discontinued, and the few remaining models are hard to find at Sears stores.
We just got a look at its replacement, and we're excited. It now has a slightly larger drum, and promises an AccelaWash cycle that takes under 29 minutes—ten minutes faster than the same cycle on the 41472.
We have plans to test it—along with the LG model its based on—as soon as it is released.
Up next
Get Reviewed email alerts.
Sign up for our newsletter to get real advice from real experts.