Ovens & Ranges
Your New Favorite Grill Triples As a Picnic Table and Fire Pit
No need to call the fire department, it's just the JAG Grill.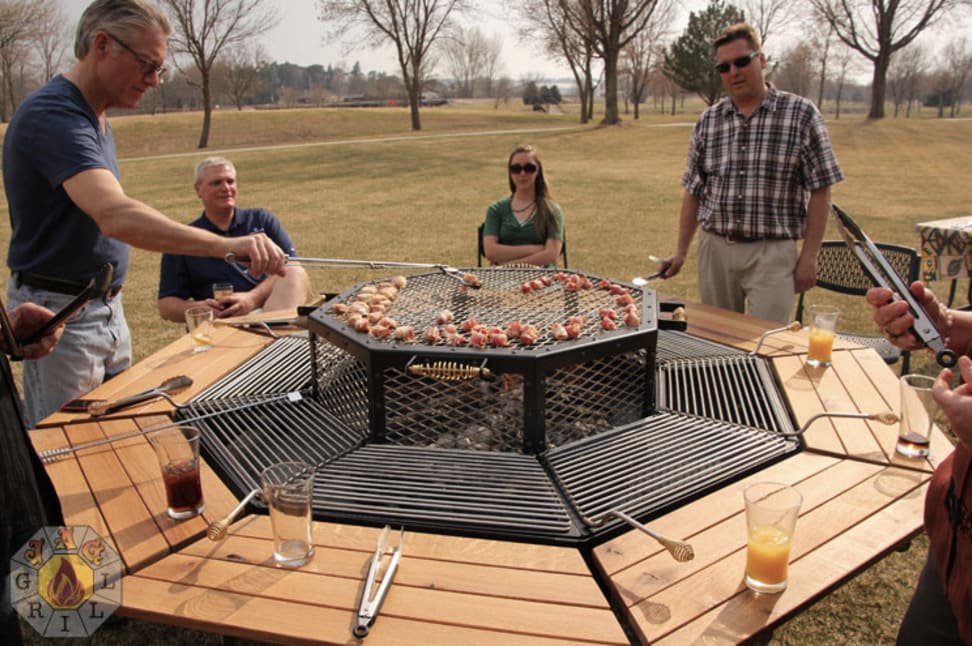 Credit:
With fall finally upon us, it's the perfect weather to spend your evenings outdoors around a warm fire pit. And the JAG Grill puts an interesting twist on the relatively staid fire pit. Instead of your regular knee-level pit, the JAG Grill triples as a grill, picnic table, and fire pit.
The grill comes in two sizes: a six seat version and an eight seat version. They are in the shape of polygons, with the six seat version being, you guessed it, a hexagon and the eight seat version an octagon.
According to JAG Grill, the table-grills are made of steel and have three-inch adjustable legs, removable grill racks, a side door for easy cleaning, and removable wooden table panels.
The eight seat version also has something the company calls a "grill dome," which sounds like the name of a show on the Food Network but is actually just a cover that can be taken off during grilling to add more wood or coals.
The only real downside to the JAG Grill is its price. The six-seat model costs $1,199 and the eight-seat model costs a whopping $2,499. But if you're really into grilling or bonfires—and cost isn't really an issue—then the JAG Grill might be something to check out.
---