Ovens
Amana AER5830VAW 30-Inch Electric Range Review
A fantastic rangetop that's saddled with an lousy oven keeps this Amana from being a best budget pick.
Credit:
Introduction
The Amana AER5830VAW is an inexpensive (MSRP $599) and simple electric range. It's one of the most affordable ranges out there with a smooth cooktop, and that cooktop scored really well across the board. Unfortunately, it's paired with an oven that had trouble hitting and maintaining target temperatures. That makes for a half-baked range that we just can't recommend, no matter how well some of its individual parts performed in our tests.
Design & Usability
Not a lot here.
The is a no-nonsense, plain vanilla range, with minimal features or design considerations. It's not necessarily any uglier than other ranges that have come through our testing facility, but let's just say you won't be buying it to make the neighbors jealous.
There's not a whole lot going on here: It's got four burners under a smooth cooktop, a four-pass broil element, and a two-rack, 4.8-cubic-foot oven with a pyrolitic self-cleaning cycle. This is a simple range that's easy to use, but if you're looking for convection, bridge burners, or other extras, you won't find them.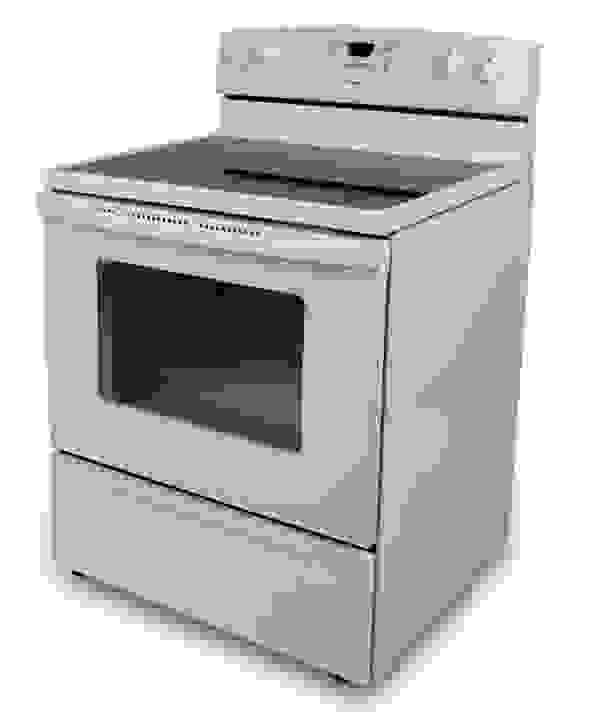 Rangetop
Amana knows how to make a good rangetop.
While we've seen inexpensive coil-burner rangetops put out some extraordinary results, we were surprised to find an inexpensive smooth rangetop this good. It can't jump from temperature to temperature as quickly as gas or induction, but the overall power and temperature numbers were great. The two main elements produced especially strong boiling results and all the burners showed a wide temperature range capable of taking care of all your cooking needs from simmering to searing. For $599, that's not bad.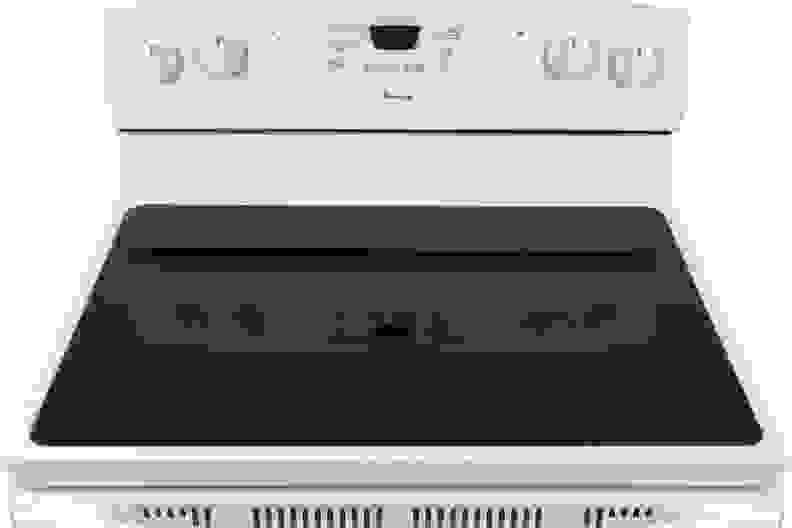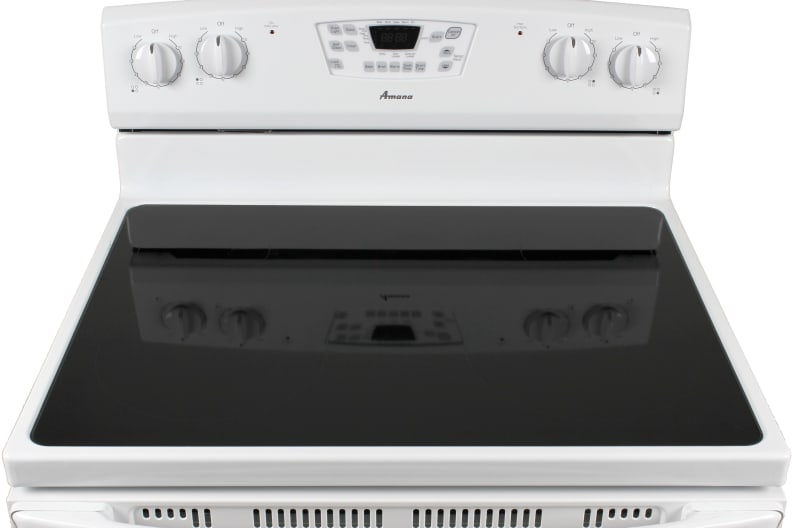 Oven, Broiler, & Convection
A sloppy oven may wreck recipes.
First, the good news: The Amana's oven and broiler both preheated reasonably quickly. As for the bad news, in every single one of our tests, the oven's temperature rose and fell like a Disney Channel star's career. While a small amount of fluctuation is to be expected, it just doesn't do your food any favors to put it into a 350°F setting that averages 383ºF while swinging between 430°F and 312°F. And whether we set the oven's thermostat to 170ºF for Keep Warm, 350°F for baking, or 550ºF for Maximum, our thermocouples proved the control panel wrong time and again.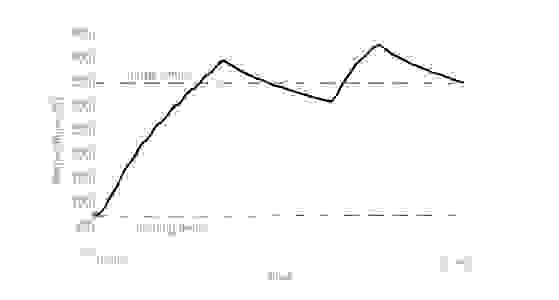 Conclusion
These burners need a new partner.
Just as peanut butter needs jelly, so a good rangetop needs a great oven. Unfortunately, this Amana is more like a peanut butter and mustard sandwich.
Though the AER5830VAW's rangetop was quite good—exceptional, even—for the range's modest $599 MSRP, the oven was just too imprecise and inaccurate. In fact, its performance was poor enough that we can't recommend this range despite its strengths. We know it can be tricky to find an affordable oven that's truly great, but there are certainly more balanced options, like the Whirlpool WFC310S0AW in this price range.
From the Lab
The 's rangetop impressed us considerably, but not enough to save an inconsistent oven. Since most of the problems stemmed from terrible temperature regulation, we hope Amana will improve the thermostat, as they could have a truly great bargain range on their hands.
Oven and Broiler Performance
Uncontrollable: The story of an oven that can't be tamed!
The oven's keep-warm setting of 170°F averaged 182°F, but reached 251°F during the test, which is a shockingly high amount of variance. Keeping with this trend, the 350°F setting managed to operate in a wide-open 113°F window while averaging 383°F. The maximum setting of 525°F more or less hit its average at 533°F but couldn't hold it there, similarly displaying the variance problems that plagued the oven cavity at all other temps. And to make matters worse, there isn't a convection option for a more stable alternative.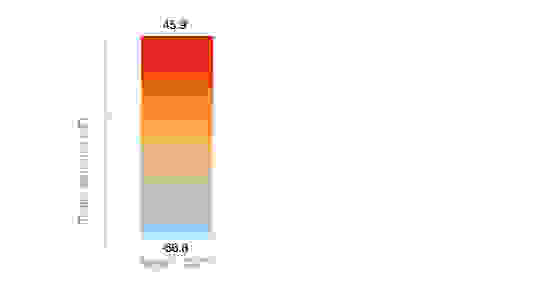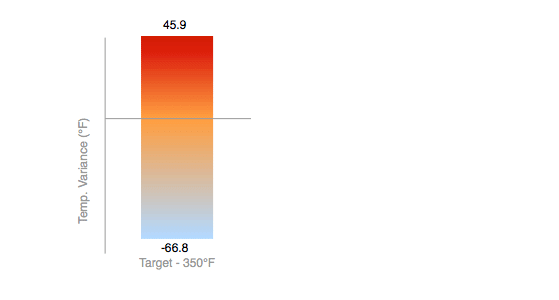 The only strength we found in the oven performance was in preheating. The 350°F setting took just seven minutes to preheat. So even if the quality of the setting wasn't great, you won't have to wait too long. The broiler displayed a similarly muscular performance, hitting 600°F in just seven and a half minutes.
Rangetop Performance
Is this really the same machine that has this oven?
If the oven takes after the monstrous Mr. Hyde, the rangetop plays the genius scientist role well. The front two burners boiled six cups of water in just five minutes, and the rear two in around 12 minutes. The maximum temperatures all came in around between 658°F and 686°F, satisfactory searing temperatures that are hot but not dangerously so. The low end of the temperature spectrum—useful for gentle melting or simmering—performed equally well, with the front burners getting all the way down to 94°F and 102°F and the rear burners to 109°F and 116°F.
Up next
Get Reviewed email alerts.
Sign up for our newsletter to get real advice from real experts.