Ovens
Electrolux EW30EW65GS Double Wall Oven Review
Chic, but a few shortcomings.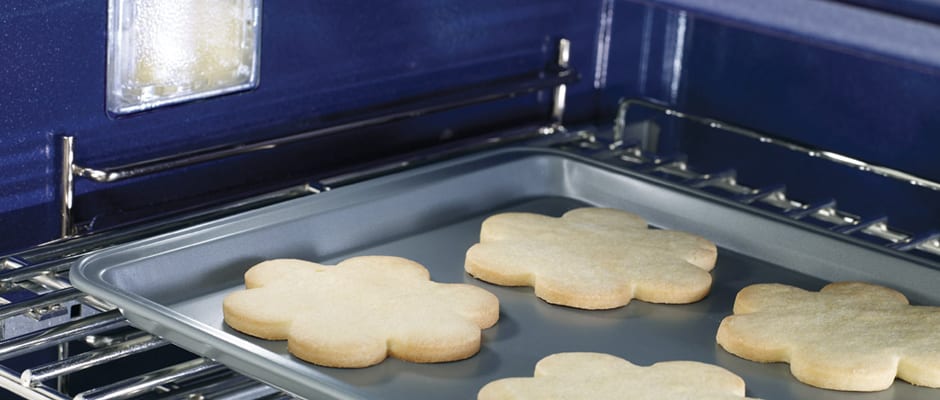 Credit:
The Electrolux EW30EW65GS double wall oven (MSRP $3,549.00) confirms what we already knew: The company knows how to make a good looking appliance. With a combination of industrial metals and soft angles, this is a wall oven that's easy to fall for. However, its cooking performance may not make for a great long-term relationship.
Love is about compromise, and how you regard the Electrolux EW30EW65GS will depend on which shortcomings you are willing to forgive.
Design & Usability
Easy on the eyes
The Electrolux EW30EW65GS features a transitional design, combining a sleek industrial edge with an inconspicuous profile. Transitional design, as the name suggests, is a blend of traditional and contemporary styles that is less likely to pigeonhole your kitchen into any one aesthetic.
The EW30EW65GS consists of two 4.2 capacity ovens, and each share the same features. Along with striking cobalt blue interiors, the ovens each have two Luxury-Glide racks that slide out effortlessly. Sliding out a rack is a lot easier than reaching into the oven to lift out heavy items. The EW30EW65GS also features Luxury-Design lighting that gently ramps up when the oven doors are opened.
Along with the welcome upscale touches, the oven also features a single Wave Touch control panel. The panel is perfectly black until the user activates the oven. Once activated, options appear and disappear depending on the modes and options selected. In terms of cooking options, Electrolux added some extras including Dehydrate, Bread Proof, Defrost, and Perfect Turkey. Each one is designed to automate some of the recipe steps that usually take some kitchen know-how, so the EW30EW65GS is a good pick for novices who don't have the time or desire to tinker.
Oven, Broiler, & Convection
...but looks aren't everything.
While the Electrolux EW30EW65GS combines traditional and modern design cues, it also brought together good and bad scores across our tests. That inconsistency makes for a hard sell.
First, the good: Both ovens proved exceptionally accurate and consistent on both the Keep Warm and 350°F settings, while the convection setting offered similar—if slightly less impressive—results. The broiler also proved up to the challenge, with a snappy preheat time of only five minutes. Meanwhile, the oven preheat, while nothing to shout about, was marginally impressive: both ovens take between 9 and 12 minutes to reach 350°F.
All that accuracy and precision means nothing if your food doesn't cook well. Unfortunately, our cookie and cake baking tests showed just how unevenly these ovens can cook food, which can be a sign of poor airflow inside the oven. The cookie tests were particularly disappointing. A number of hot and cold spots in the oven cavity resulted in borderline burnt cookies at the rear but undercooked offerings at the front center. Additionally, the bottoms of the cookies were overdone in comparison with the tops, indicating poor circulation.
The cake tests offered slightly better results. The bottom of the cakes were still overdone, but the overall consistency was much better than the cookies. If you do buy this oven, we recommend using light-colored pans, as dark ones can reflect too much heat and brown the bottoms of the things you're baking.
Before You Buy
Design and features stand out, performance does not
On sale for around $3,000, the Electrolux EW30EW65GS double wall oven is meant for folks who want an attractive appliance that takes some guesswork out of cooking. Unfortunately, it didn't ace our baking tests. If you like to experiment in the kitchen, this Electrolux may not have the precision you're looking for.
Up next
Get Reviewed email alerts.
Sign up for our newsletter to get real advice from real experts.