Ovens
Frigidaire Gallery FGGF3058RF Freestanding Gas Range Review
This Frigidaire Gallery is one of the best range deals out there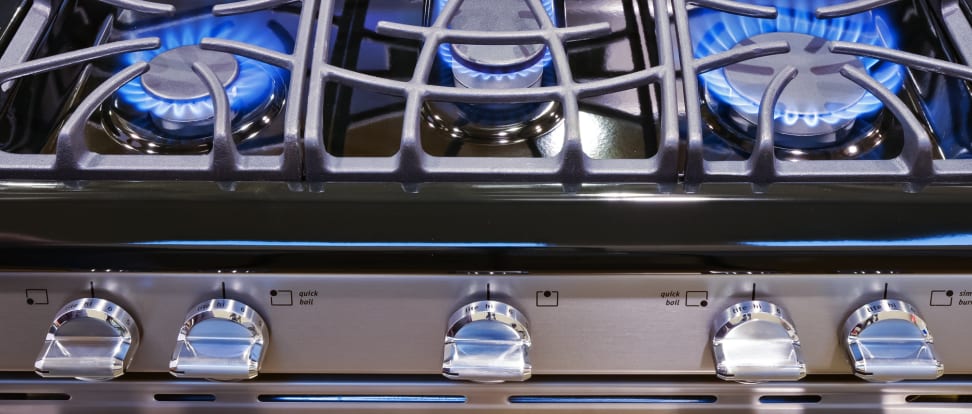 Credit: Reviewed.com
Editor's Note
This is a review of the Frigidaire Gallery FGGF3058RF, which replaces the Frigidaire FGGF3054MF we tested last year. Aside from changes to two of the burners, you can expect identical performance. For more information, read our review of the Frigidaire FGGF3054MF.
The FGGF3058RF (MSRP $1,149) is one of the best deals in gas ranges. Trust us, we've tested and cooked with almost all of them.
For about $800 on sale, you get five powerful gas burners, including a 10,000 BTU oval burner and an upgraded 18,000 BTU Power Burner. There's also a true convection oven with self-clean, delay bake, and a temperature probe. All this is wrapped up in a classic stainless steel exterior, with continuous corner-to-corner cast iron grates on the stovetop.
In every way, the FGGF3058RF is designed to be flexible. For example, it has burners that can boil quickly and burners that can simmer gently. It has a stainless finish, but the Smudge Free finish is easier to clean. We also appreciate the fast pre-heat and overall uniformity of the oven, which will make cookies even easier to bake.
Best of all, the FGGF3058RF gets great reviews from users, and its $800 sale price is pretty remarkable for a gas convection oven with a stainless exterior.
Why Buy?
The FGGF3058PF features Frigidaire's smudge-resistant stainless steel. It's a little darker than traditional stainless, but we found it a lot more resistant to fingerprints.
Frigidaire has also borrowed some power from the 3054's left rear burner and applied it to the 3058's front right burner, which Frigidaire calls a Power Burner. It now tops out at a whopping 18,000 BTU, up from 17,000 BTU. This will surely improve the 3058's boiling speeds beyond its already-fast cousin.
The left rear burner drops from 15,000 BTU to 12,000 BTU. In real-world terms, that may add a minute onto how long it takes to boil a second pot of water. All other burners, including the convenient oval burner in the center, have been left alone.
Cleaning has been upgraded to what Frigidaire calls One Touch Quick Self-Clean, which uses a unique catalyst to ensure your kitchen doesn't smell as bad during a self-clean cycle. Beyond that, there aren't too many differences between the 3058 and its replacement, so if you can find the older 3054 on sale, snap it up.
Up next
Get Reviewed email alerts.
Sign up for our newsletter to get real advice from real experts.