Ovens
GE Cafe CGP350SETSS 30-Inch Gas Cooktop Review
Cool in all the right ways.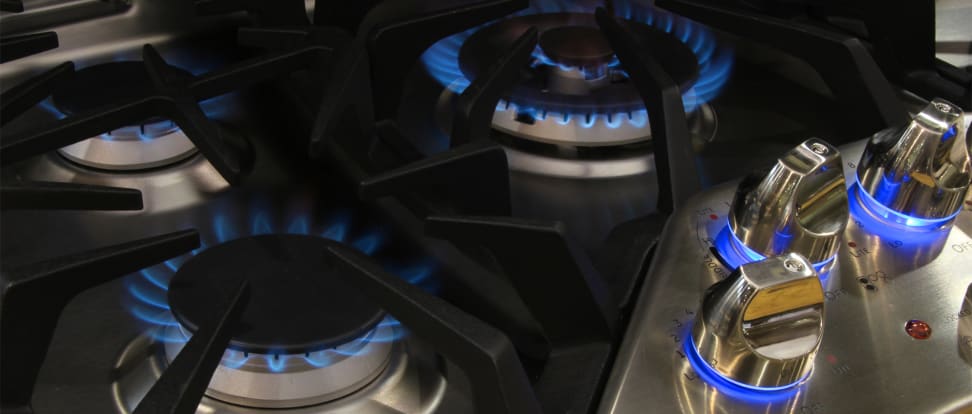 Credit:
Certainty is a wonderful thing, especially when it comes to appliances. After all, you'll be living with that gas cooktop for at least the next ten years.
For this reason, we are happy to report that the GE Cafe CGP350SETSS (MSRP $1,599) 30-inch is one of the best gas cooktops we have ever reviewed. This is a high-end cooktop that's priced accordingly, but you are at least getting what you pay for from the CGP350SETSS: fast boiling, excellent low-temperature cooking, and a design that's easy on the eyes.
Design & Usability
The restaurant cooktop re-imagined
-->
The CGP350SETSS is part of the GE Cafe line, a collection of upscale appliances with designs inspired by those used in restaurants and other food industry settings. Therefore, it's no surprise that the CGP350SETSS echoes the hard industrial edges of commercial cooktops, but with a modern stylish slant. Put simply, we think the cooktop will look great with any kitchen design.
Our only reservation is blue light that illuminates the control dials when the burners are turned on. You may appreciate the extra illumination, but we think it looks a bit overdone.

Features-wise, the CGP350SETSS sports everything you might expect from an upscale cooking appliance. The sturdy cast-iron grates are removable and dishwasher safe, as are the burner control dials. The cooktop also comes with an integrated griddle surface that can be used in place of the left burner grate—a cool feature for Sunday brunch.
Performance
This gas rangetop gets the job done.
The CGP350SETSS features four standard burners—one at each corner—and a central tri-ring burner with a PowerBoil function. The tri-ring burner was the stand out in all our tests, delivering rapid boiling speeds as well as impressive maximum and minimum temperatures. The standard burners held their own of course, but stick with the tri-ring unless you plan on cooking multiple dishes at once.
The tri-ring burner took an impressively fast five minutes to boil six cups of water, as mentioned the remaining burners were less impressive—they took about 15 minutes to boil the same amount of water. That may be an issue if you're boiling pasta and clams at the same time.
Predictably for a gas cooktop, the CGP350SETSS suffers from a limited range of temperatures, particularly regarding high heats. We recorded a disappointing maximum temperature of 421°F from the tri-ring burner, while the remaining burners averaged 399°F. That's unremarkable, but you should still be able to sear steaks with no trouble. The low temperature performance was considerably better. We recorded an average low temperature of 125°F across the cooktop.
An Easy Choice
The bar has been set.
If you're currently in the market for an upscale gas cooktop, the CGP350SETSS is the one to beat. Sure, it's pricey, but not unreasonably so for a built-in cooktop. We think it's worth the cost. With its dynamite combination of good looks and good performance—not to mention a few cool features to boot—the CGP350SETSS is a great fit for an upscale kitchen.
Up next
Get Reviewed email alerts.
Sign up for our newsletter to get real advice from real experts.