Ovens
Kenmore 74033 Gas Range with Single Oven
This middle-of-the-road pick sells well, despite its lack of bells and whistles.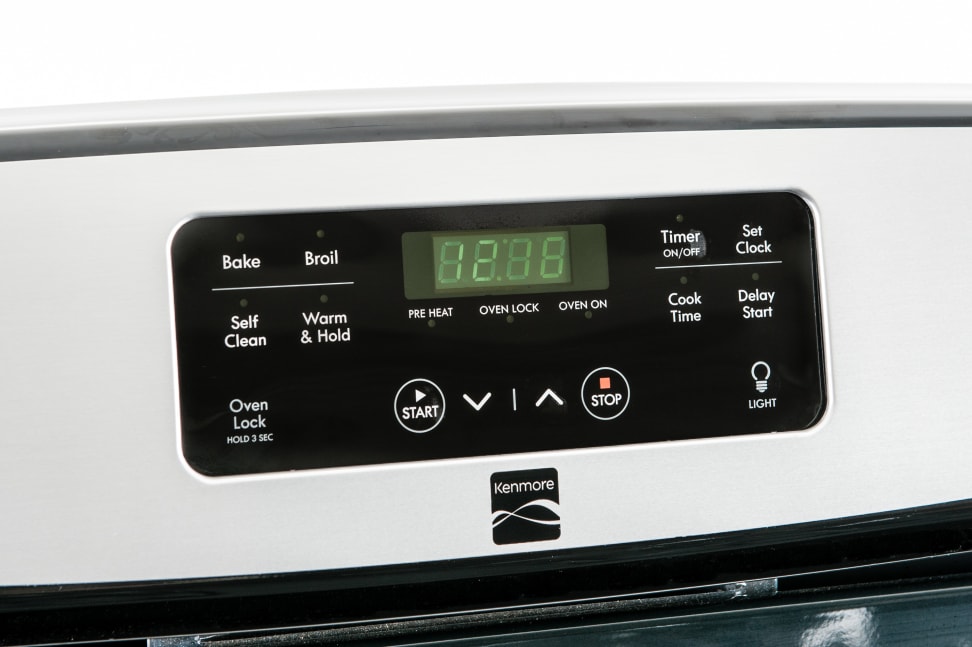 Credit: Reviewed.com / Libby Schiau
If you're looking to replace your gas range, this Kenmore 74033 (MSRP $849) is a popular pick. It's a no-frills model with almost no special features aside from self-cleaning, a keep-warm setting, and a decent one-year parts and labor warranty. The bright side of this Kenmore's Spartan setup is that it's pretty easy to understand.
First off, don't pay full price. $849 is an insanely high ask for such a simple range, but it sometimes drops down to a sale price of $534. That's impressive, even for an entry-level model.
But can a sub-$600 range deliver when it comes to roasting, boiling, and baking? We decided to find out by conducting a battery of cooking tests to see how it stacks up.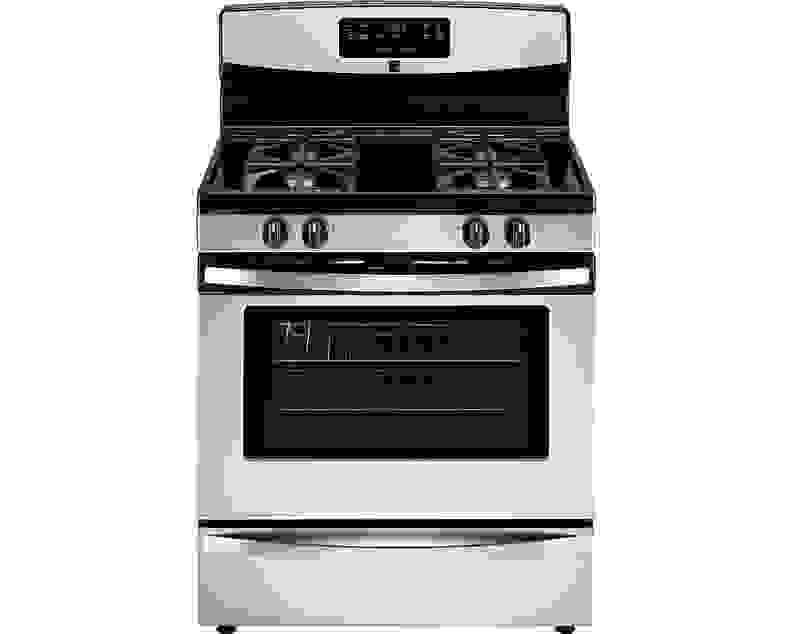 The cooktop takes some getting used to because of its bare-bones settings: The dials only feature markings for high, medium, and low, so you'll need to play around to learn exact temperatures. Those dials are not very responsive, feel a little loose to the touch, and don't click into place well. Three of the burners took eight to night minutes to boil six cups of water, which is pretty fast, but the right rear burner was a slowpoke, and it took nearly thirty minutes to boil water.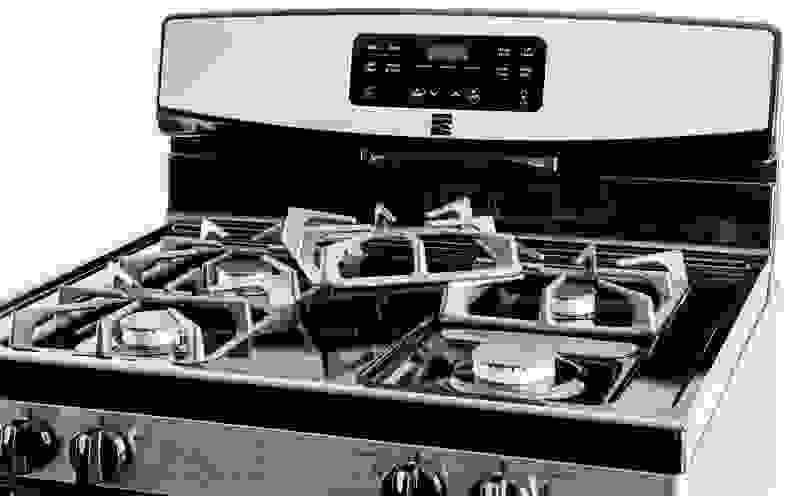 Though the cooktop isn't small, it doesn't have a lot of space for different-sized pots and pans. The grates are easily removable and lightweight, but got easily scratched up during our first week of testing. On the plus side, the cooktop's wells make it relatively easy to clean, though owners did complain that "every little drip and fingerprint shows," and that the stainless is hard to clean.
We also baked, roasted, and broiled with the 74033 to see how well it would do at dinnertime. The oven features two standard racks and takes 8 and a half minutes to preheat to 350° F, which is pretty good. It doesn't have convection—you'll have to spend at least $600 for that—but all the same, that can be a deal-breaker for many.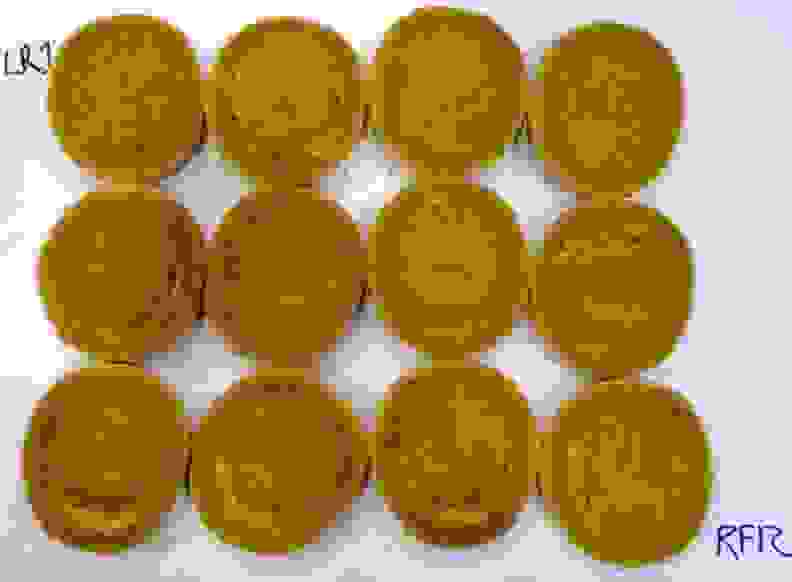 While it cooked our pork roast evenly, it did poorly when we baked cookies and cakes thanks to a hot spot in the left front. If you're going to bake in this oven, be sure to rotate your pan a few times during cooking or risk uneven results. Similarly, the broiler has a hot spot in the front right corner that singed one piece of toast on our tray.
Even though it has a few flaws, this stainless Kenmore will get the job done—and it's an acceptable pick for a budget kitchen renovation.
Still, the 74033 is just so basic that we recommend spending a little extra for a better model—like the Whirlpool WFG515S0ES. It costs about $100 more on sale, but it cooks like a much more expensive range. With this Kenmore, you get exactly what you pay for.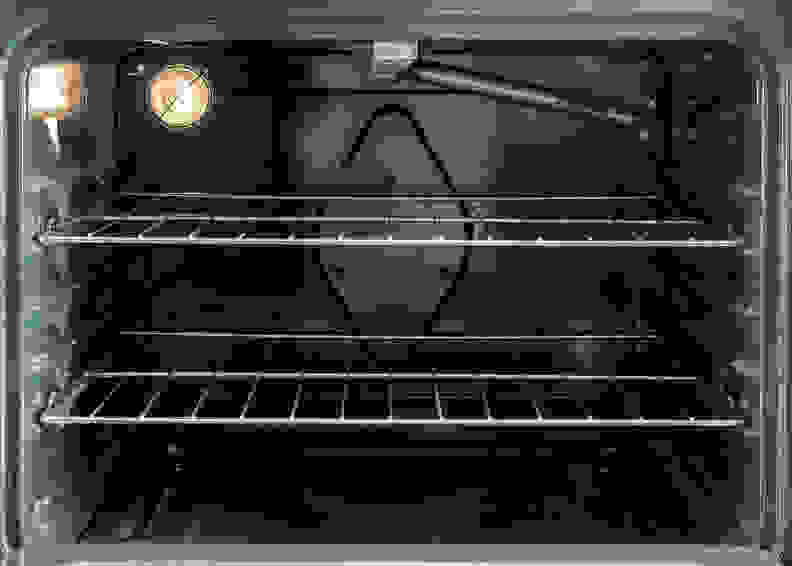 Up next
Get Reviewed email alerts.
Sign up for our newsletter to get real advice from real experts.