Ovens
Maytag MEW9530DS Single Electric Wall Oven Review
Wall ovens don't have to be expensive to be good.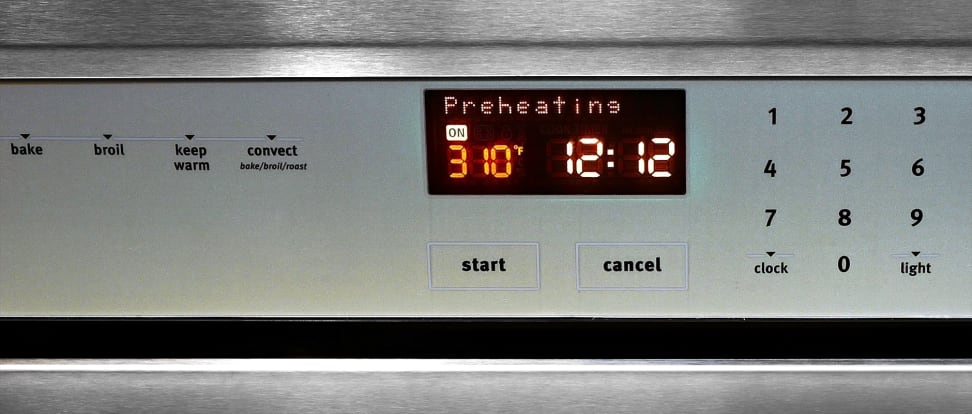 Credit:
The Maytag MEW9530DS (MSRP $1,849) 30-inch single electric convection wall oven combines stellar performance and attractive construction into a potent cooking package, and retails for just over $1,600 on sale. With its spectacular broiler and reliable bake and convection modes, the MEW9530DS is an excellent choice if you're in the market for a mid-range single wall oven.
Design & Usability
Strong looks, but light on features
The MEW9530DS has a single 5.0-cubic-foot capacity oven cavity. While it's not exactly tiny, it might be a bit of tight squeeze if you plan on cooking for the extended in-laws anytime soon. On the outside, a no-nonsense control panel and sturdy handle tell you that this oven is here to get out of the way and let you cook.
You better know how, because the MEW9530DS is fairly light on features when compared to other wall ovens. Along with the standard Bake, Broil, Keep Warm and Convect modes, the oven control panel has a numerical pad for setting cooking times, as well as Delay Start, Self-Clean, Cook & Hold, Cook Time, Kitchen Timer, Settings, and Control Lock. That's it. There's no steam clean, there's no Bread Proof setting, and there aren't any pre-set recipes.
The MEW9530DS does have a Power Preheat setting that Maytag says should cut down preheating time by 25%. The MEW9530DS also has a roll-out rack that makes it easer to put in and take out heavy dishes. Just be aware that these heavy duty racks tend to slow down the preheating process.
Performance
Good food takes time.
While the MEW9530DS's lack of features may have left us wanting, this wall oven brought the goods where performance is concerned. The broiler reached the target temperature of 600°F in just over 5 minutes, so your steak tips will be ready in no time.
We didn't test the oven's Power Preheat setting—we only use default settings when scoring an oven—but without any fancy settings the oven took 13 minutes to reach 350°F in both Bake and Convection mode. That's not particularly fast as far as preheats go, but it isn't interminable either.
Fortunately, the MEW9530DS's excellent cooking performance more than made up for the sluggish preheating speed. The MEW9530DS features true convection (sometimes referred to as European-style convection). Unlike standard convection ovens, which just add a fan into the mix, true convection ovens have a third element near the fan, which results in heated air being circulated throughout the cavity.
During our cook tests we noticed great results from both conventional and convection baking. Food that requires less time in the oven—like cookies, for example—cooked most evenly on the standard bake setting. However, the convection setting was the clear winner for cakes, which take longer to bake and are therefore more sensitive to minor temperature fluctuations.
Why We Like It
-->
Good value at any price
For those looking to install a wall oven, the Maytag MEW9530DS is an excellent choice. The broiler is excellent, and the oven's performance is laudable on both standard and convection settings.
Sure the preheat wasn't particularly snappy, but engaging PowerPreheat should speed it up. An $1,849 MSRP may seem high, but it's pretty much in line with competing single-cavity, 30-inch, stainless wall ovens in this category. We found it on sale for as low as $1,619, which makes it an even better deal.
Up next
Get Reviewed email alerts.
Sign up for our newsletter to get real advice from real experts.