Ovens
Samsung NE58H9970WS Slide-In Induction Range Review
Samsung brings the latest technology into the kitchen.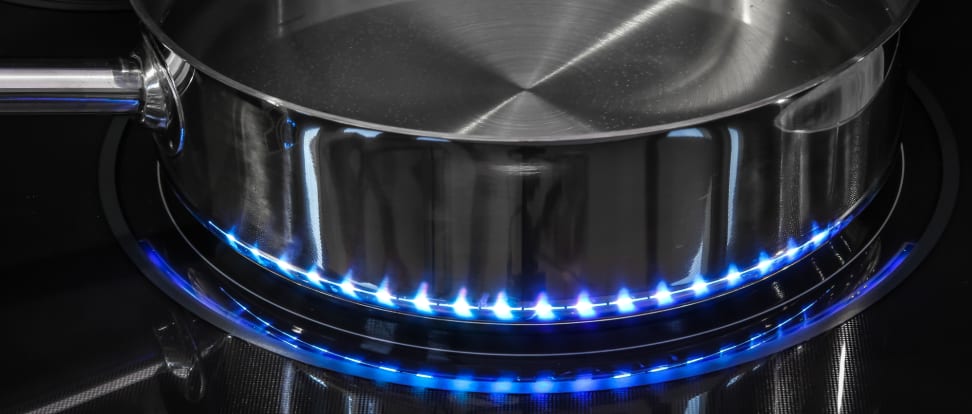 Credit:
The Samsung NE58H9970WS (MSRP $3,699) slide-in induction range might be the most technologically advanced range we've ever tested.
It features Samsung's Flex Duo divider, which lets users switch between a single and dual cavity oven setup in seconds. And the unique Virtual Flame cooktop uses LED lighting to give induction users the visual feedback of a gas burner.
Add in some seriously good looks and outstanding performance, and this Samsung shines—even when the cooktop isn't lit up.
Oven & Broiler Performance
When running as a single oven, the NE58H9970WS did very well in our cook tests. Our cookies emerged with good overall uniformity with little evidence of hot or cold spots in the cavity. The bottoms were a bit dark, but using a lightly colored pan should help prevent burning.
The cakes we baked using the standard bake setting had a few overdone sections. The convection setting had a negative effect on the cookies' overall uniformity, but cakes exhibited generally improved uniformity compared to those cooked on the standard bake setting.
Dual cavity mode resulted in some unevenly cooked food, particularly from the upper section. The cookies we'd placed in the far left of the upper oven cavity were overdone. The lower oven, on the other hand, with its true convection system, had little trouble cooking uniform cakes, but the cookies were slightly overdone in sections.
Rangetop Performance
The NE58F9710WS did extremely well in all of our burner tests. The front right boiled 6 cups of water in 3 minutes. The remaining burners were close behind: Each took no more than 5 minutes to boil the same amount of water.
Minimum temperatures were staggering—just 98°F from the rear right burner. The remaining burners achieved minimum temperatures between 107°F and 118°F.
Design & Usability
Undeniable good looks
The NE58H9970WS is a beautiful appliance. We're smitten with its sleek, transitional design that mixes both traditional and modern aesthetics. In particular, we appreciate the pairing of a cutting-edge flush induction rangetop with sturdy physical control dials.
In between the burner knobs, you'll find Samsung's Guiding Light oven control panel. This system offers a step-by-step roadmap for all of this oven's various cooking settings. As you select your cooking mode, any feature that's incompatible with your chosen setting disappears from the display, leaving only applicable options. It simplifies what could otherwise be a very complex panel.
The NE58H9970WS also includes an oven rack that slides smoothly out of the cavity, making it easier to access heavy items. Just be aware that telescoping racks tend to add a couple minutes to the preheat time of the oven. The NE58H9970WS also has a temperature probe, and a warming drawer down below.
Rangetop
More than just a flash around the pan
If you're looking at this range, you've probably heard of induction. In case you haven't, it's essentially the biggest revolution in cooking technology since fire.
Induction rangetops combine the versatility of gas with the wide temperature range of electric burners. On this Samsung, we recorded peak temperatures that nearly hit 800ºF—way beyond what any recipe requires. The low temperatures are equally extreme, with minimums as low as 98°F. Because induction's temperatures don't fluctuate, that's perfect for melting chocolate. Each burner managed to boil six cups of water in under five minutes, with the front right burner boiling that amount in a mere three.
The rangetop also makes use of Samsung's brand new Virtual Flame display, which provides the kind of visual feedback you'd expect to see on a gas range. We're fans of any technology that gets more people comfortable with cooking with induction.
Oven, Broiler, & Convection
One for all...
When it comes to performance, an induction rangetop is a hard act to follow. That said, this Samsung's oven kept pace with those excellent burners.
After baking cookies without convection, we observed only minor variance among the individual cookies we prepared. The bottoms were a little overdone compared to the tops, but a lighter baking pan should help mitigate that issue. The cakes we baked also showed a few dark spots.
However, turning on convection resulted in cakes that emerged perfectly uniform. Cookies were a bit overdone, and as always we recommend sticking to the standard bake setting for food that requires shorter cooking times.
The NE58H9970WS matched its overall evenness with some fairly speedy preheating: The standard bake and true convection settings both took 10 minutes to reach 350°F. The broiler was similarly impressive, requiring only four minutes to reach the target temperature of 605°F.
Flex Duo
... and all for one.
-->
The NE58H9970WS is equipped with Samsung's proprietary Flex Duo system. Essentially a removable divider, the Flex Duo turns the NE58H9970WS's single 5.8-cubic-foot cavity into separate 2.6- and 3.1-cubic-foot cavities. The divider slides into the warming drawer when it's not in use.
When used as a single oven, the NE58H9970WS offers traditional baking and dual "true" convection, with a heating element in the fan that evenly distributes hot air. Once the divider is inserted, The lower 3.1-cubic-foot cavity still works as a true convection oven, while the upper 2.6-cubic-foot cavity offers only traditional baking and standard convection.
Complicated convection systems aside, we were able to use the Flex Duo system to cook two dishes at different temperatures simultaneously, with little noticeable heat or aroma transfer.
Individually, both oven cavities performed pretty well, but the lower oven's "true" convection outperformed the top, which displayed some uneven results in our baking tests. In other words, put the roast down below and use the top for reheating a side dish.
Why We Love It
Call Michael Bay—it's the Transformer of ranges!
-->
Samsung's NE58H9970WS is an impressive machine. The Flex Duo system is an excellent feature for those who need the versatility of a dual oven setup, but aren't willing to compromise on the functionality of a single oven. The fact that it performed well in our tests in both single and dual modes is just the icing on an evenly baked cake.
In addition to the useful oven, the inclusion of the sublime induction rangetop makes the NE58H9970WS one of the most versatile ranges we've tested. Virtual Flame lighting should alleviate some of the trepidation that first-time induction owners may feel.
Of course all this performance and convenience comes at a price. Considering the versatility on hand, as well as the presence of induction burners, an MSRP of $3,699 is pretty reasonable. We managed to find it online for under $3,000. At that price, it's an absolute steal, so be sure to keep an eye out for sales and discounts.
Up next
Get Reviewed email alerts.
Sign up for our newsletter to get real advice from real experts.