Parenting
This digital thermometer is a game changer for parents
The Comper Forehead Thermometer combines functionality with great design.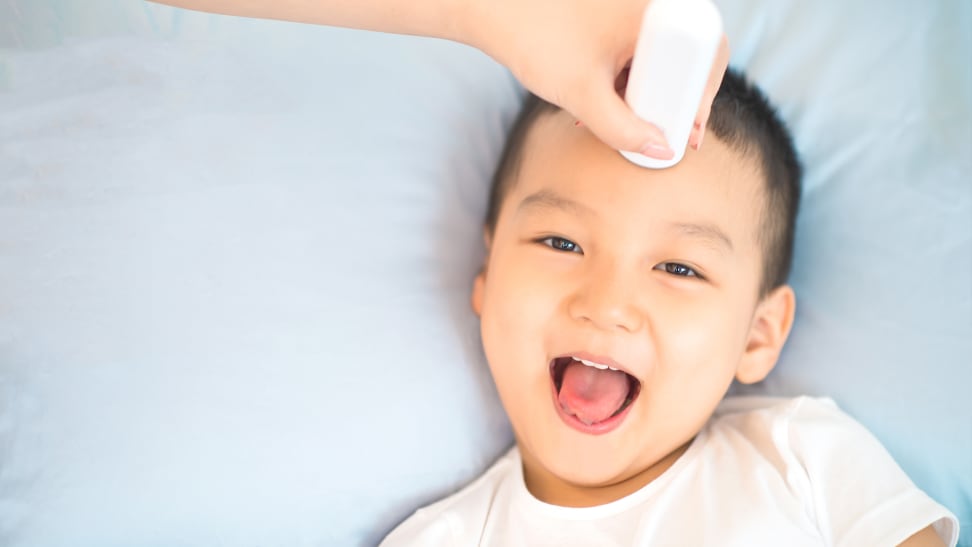 Credit: Comper
I've been a parent for over seven years and in that time I think I've tried pretty much almost every brand and style of thermometer that's on the market—without much success.
From fancy ear thermometers that paired with my smartphone, to very expensive forehead thermometers, to the most basic digital version that they send home with you from the hospital, not a single one I've tried has managed to be both easy to use and painless for my kids. I'm not even going to address the particular trauma of attempting to use a rectal thermometer on a thrashing baby—needless to say that it's not something I plan to repeat ever again in this lifetime.
I had honestly resigned myself to a future of having to bribe my children to let me take their temperature with a thermometer placed under their arm—until I discovered the Comper Forehead Thermometer. By far one of my favorite tech innovations at CES, the Comper Forehead Thermometer works by placing the probe in the middle of a child's forehead and pressing a button to generate a temperature reading, which it does in just 0.5 seconds.
The Comper Forehead Thermometer works by placing the probe on your child's forehead and gives a reading in just 0.5 seconds.
The other forehead thermometers I've tried require the parent to slowly move the temperature probe across a child's brow, which can be difficult if your kid refuses to sit still. The Comper Forehead Thermometer works so quickly that it's ridiculously easy to take a child's temperature—no matter how wiggly they might be.
I also really loved the design of Comper's Forehead Thermometer. This is not your average medical device, in that it's both functional and beautiful. The compact size, sleek white exterior and easy-to-read digital temperature display make this a truly standout gadget. One of the aspects of the Comper Forehead Thermometer that I like best is that the display is bright enough to read in the dark, and the numbers are big enough to read without having to put on one's glasses—a particular plus for older parents or caregivers.
The Comper Forehead Thermometer also pairs with a smartphone app where parents can record and track temperature data as well as share it with co-parents or pediatricians. When paired with the thermometer, the app automatically sets temperature standards for kids of varying ages from newborn to toddler, and notifies parents when a child's body temperature is cause for concern.
The Comper Forehead Thermometer should be available for purchase on Amazon in the first quarter of 2020. No definitive word on price (yet) but I'm personally planning to buy one for my family as soon as I can.