Parenting
Lovevery's new Play Kits for 3-year-olds are right on the money
The toy subscription service is expanding into a new age group.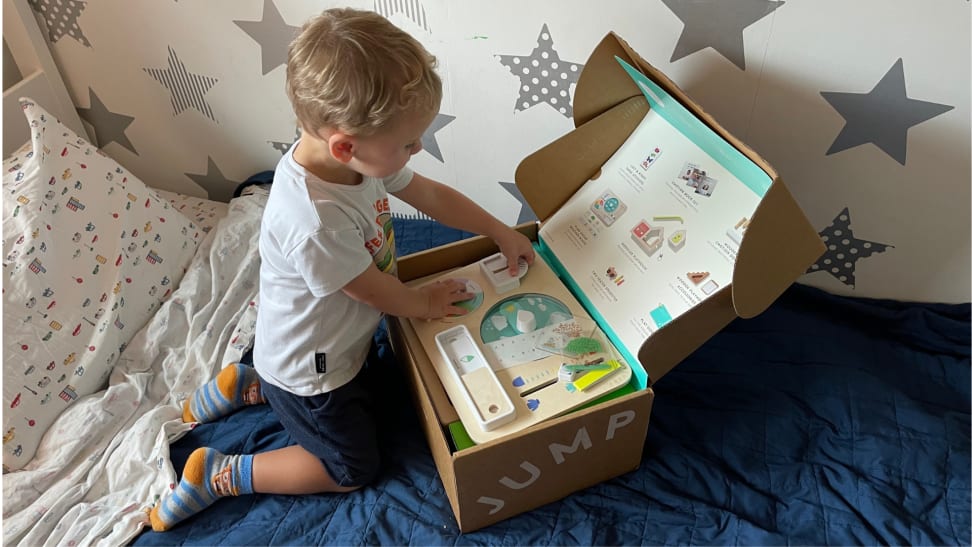 Credit: Reviewed / Rachel Murphy
Lovevery is best known for its play kits for children 2 and under, but now the eco-conscious toy brand is launching a new line of subscription-based toy boxes for 3-year-olds. Full of sustainably made toys and books, the play kits for this curious age group help encourage social-emotional development and independence—important developmental milestones.
What are Lovevery's Play Kits?
Dubbed the "Year of Self," the recently-launched 3-year-old play kits offer an educational mix of colorful toys that my little guy, 3, couldn't get enough of. The play kits are broken up into four themed boxes: the Observer (37-39 months), the Storyteller (40-42 months), the Problem Solver (43-45 months), and the Analyst (46-48 months).
How much does Lovevery cost?
Each box costs $120 and is mailed every three months. The boxes cannot be purchased individually unless you're purchasing one as a gift. You may cancel your subscription at any time, as long as you remember to do so before your next box ships. And, returns are accepted within 30 days of purchase, as long as items are in the original packaging.
Once you place your initial order, it takes five to seven business days for the kit to arrive. A list of what comes inside of each curated box can be found on the Lovevery website, so you can take a look at what you're getting before you order.
For this review, we tried out The Observer box, which is right in line with my son's current age. This isn't our first rodeo with Lovevery, so we knew what we were getting into. Here's our experience with Lovevery's new play kits for 3-year-olds.
What we like
Great variety of educational toys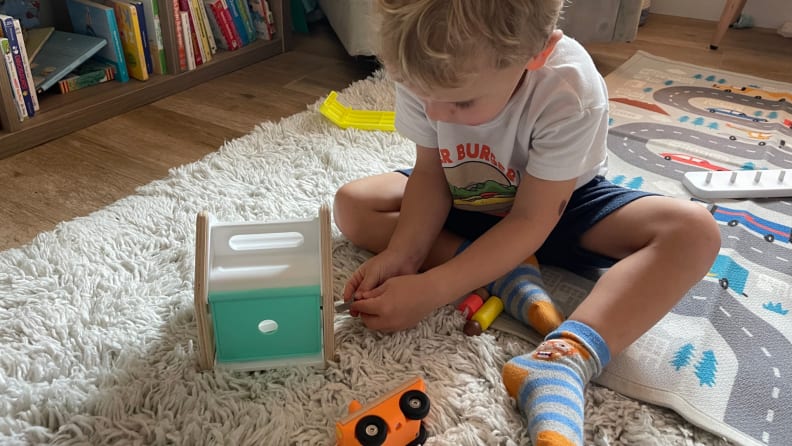 Lovevery claims to have spent years testing and working with child development experts to create age-based play kits for 3-year-olds—and it shows. My son spent hours (day after day, mind you) bouncing back and forth between all of the toys in the box (a true mom win). He especially loved using the set of keys to lock and unlock the door on the front of the wooden toy house. (And I love watching his little mind at work.) The play kit also came with a yellow slide, doll bed, two wooden figurines, stairs, a toy car, and one larger toy playhouse. The toys may sound simplistic, especially compared to the flashy and loud Paw Patrol toys my son is used to, but Lovevery's back-to-basics approach to toys kicked his imagination into overdrive.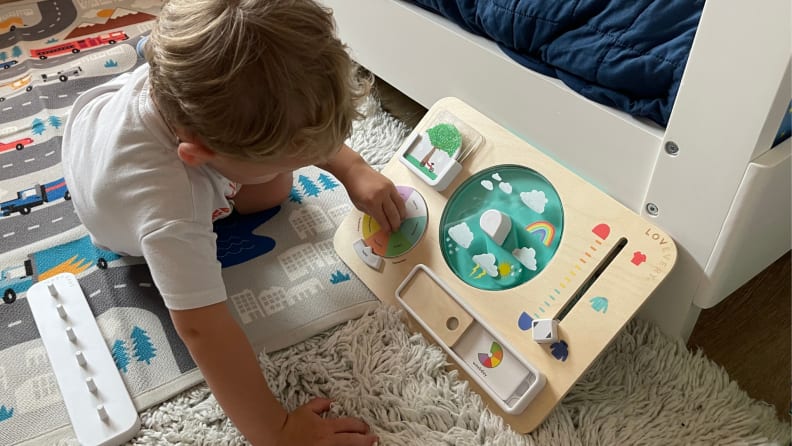 Another big hit was the daily weather chart. This was a great way for me to help him learn even more about temperatures, climate, and weather. It's also great for developing motor skills like turning the dial and moving the temperature gauge up and down. We took turns making up forecasts for different days of the week, and even my older child, 8, got in on the fun. The box also came with three books that focused on social and emotional responses. The big pictures keep my son engaged and focused during storytime.
The variety of toys depends on which age group you're ordering for (you can view what's in the box before you buy), but there's always a good mix of engaging toys, similar to what was included in The Observer Box.
Moreover, these toys can be used beyond the early part of your child's third year. As I mentioned, even my 8-year-old enjoyed playing with some of the 3-year-old toys. I can't promise you the toys will still be of interest five years from now, but there are enough age-appropriate yet diverse toys in the box that kids of all ages can get in on the fun.
Toys that are well-made from sustainable materials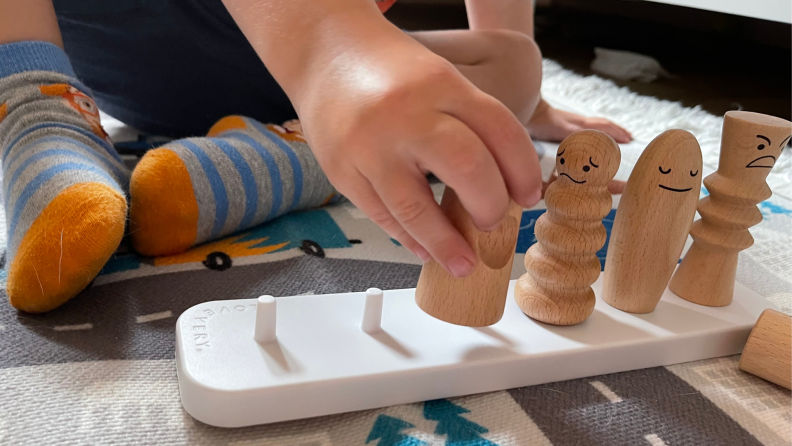 Lovevery claims that its toys are made from eco-conscious materials like FSC-certified wood, organic cotton, and bio-based plastic. The company also uses soy-based ink when making board books for kids, as well as Standard 100 by Oeko-Tex certified products. Chances are you won't be able to find these guarantees on many of the toys at your local big box store. If eco-friendly materials are important to you and your family, you really can't go wrong with Lovevery.
Almost all of the packaging is recyclable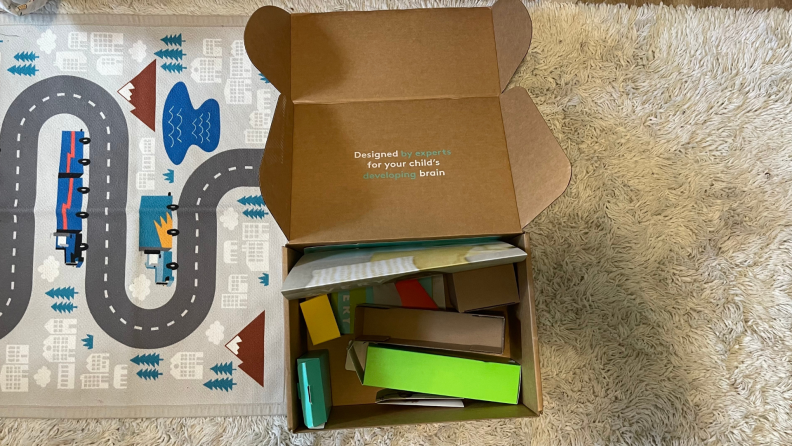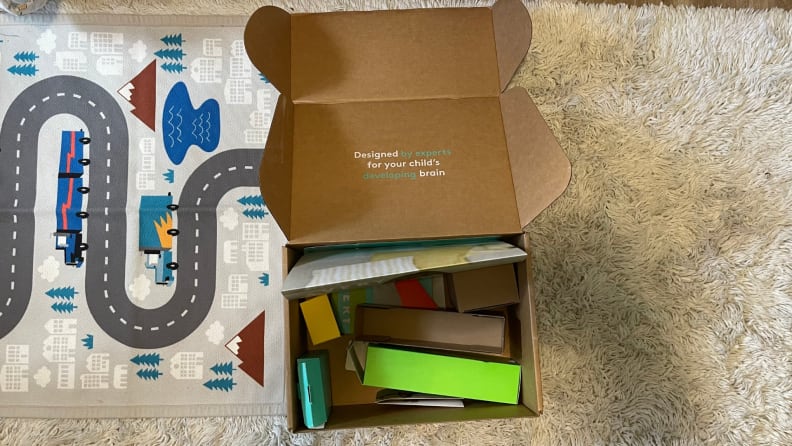 For a company focused on sustainability, I was a little taken aback by the amount of product packaging inside of the shipping box. After reaching out to Lovevery, the brand confirmed that almost all of the inside packaging, as well as the cardboard shipping box, can be tossed directly into your recycling bin. Lovevery claims that by 2025, 90% of the materials used for products and product packaging will be made from renewable, biobased, or recycled matter.
At my house, we keep the cardboard shipping box and use it to store toys that are not in use or rotation. Though a drawstring bag or some kind of included storage would be great to organize each kit, the box is a great way to repurpose the packaging instead of tossing it.
What we don't like
Book pages tear easily
The books included with the 3-year-old kit are not board books, as we've received in boxes past. This wasn't a big deal for me, as my son is thankfully over the "let's tear all the pages out of this book" phase of his life, but somehow I accidentally tore one of the pages during a late-night storytime session. This is not a make or break for me when it comes to Lovevery boxes, but it is something to note if your little one still enjoys ripping paper on purpose. One thing to note is that the cover of the book is hard, helping to better protect the pages inside when sitting on the shelf.
Should you buy it?
Yes, this play kit is great for 3-year-old kids.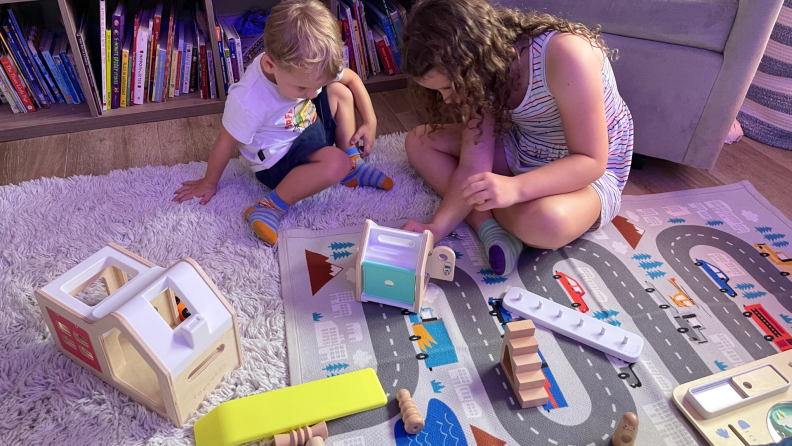 My son has tested several Lovevery boxes during his short three years on earth, and, as a parent, I can confidently say that each curated toy box gets better and better. The toys are sustainably made and feel like a higher quality than what I might quickly go pick up at my local big box store. It may seem like a hefty upfront cost when you can easily go buy something for $10 in the toy aisle of any big box store, but Lovevery is meant to be an investment. The toys are designed to be used for years to come and passed down to friends and family. Plus, these kits are a great way to build up a good mix of high-quality, durable, and attractive toys to keep your inquisitive toddler's budding mind satisfied.
The product experts at Reviewed have all your shopping needs covered. Follow Reviewed on Facebook, Twitter, and Instagram for the latest deals, product reviews, and more.
Prices were accurate at the time this article was published but may change over time.