The quick start guide is a large, folding sheet with lots of explanatory graphics and text, sped the installation process along quickly and efficiently. The manual is a 94-page black-and-white booklet in only one language (English) that describes basic operation, software use, maintenance, and troubleshooting. Canon only provides manuals in the language of the host country (except for the Selphy compact printers, which come in three languages). Tasks are described in numbered steps, well explained, and easy to follow. Fortunately, the troubleshooting menu is also fairly detailed, since the Pro9000 has only a few controls on the unit itself.
Out Of The Box (8.00)
The Canon Pixma Pro9000 printer comes in a large box with a Pixma Pro9000 printer head and a whole army of ink tanks. The printer uses 8 different cartridges: photo black, cyan, magenta, yellow, photo cyan, photo magenta, red, and green. There is also a package that contains easy setup instructions, a user guide, a quick start guide, a registration card, a cross sell sheet, and a CD-ROM with setup software and the Easy-PhotoPrint Pro program. That last program is a plug-in for Adobe Photoshop CS and CS2. The large printer also comes with the standard power cord.
Setup (5.75)
Preparing the Pro9000 for printing was an easy and standard process, despite the multiple inks and wider format. The process involved removing the tape holding all the doors in place for shipping, removing the plastic brace holding the ink head cradle, and installing the printer head and ink cartridges. The ink cradle is the same design as other Canon inkjets. The user raises a lever, sets the plastic printer head in the base of the cradle, then pushes the lever down to lock the head. The inks install into the print head, with each cartridge color coded to its specific spot in the cradle. The cartridges click into place, and the LEDs on the cartridges light up to indicate both that the cartridges are installed correctly and that they are full of ink. The next step is to open the paper trays and load paper. Total setup time was 22 minutes.
Drivers and Administration (8.00)
The printer interface for the Pro9000 is My Printer, the same utility that controls printer selections on all Canon printers, from small compact photo printers through all-in-ones up to this level of professional photo printers and beyond. There are four selections to choose from in the main window: Printer Settings, Paper Source Settings, Printer Status, and Troubleshooting. There is a lot of functionality in these settings, which works well for a printer like the Selphy compact photo printers, but for a higher-end unit like the Pro9000, most users will be performing image editing in a program like Adobe Photoshop.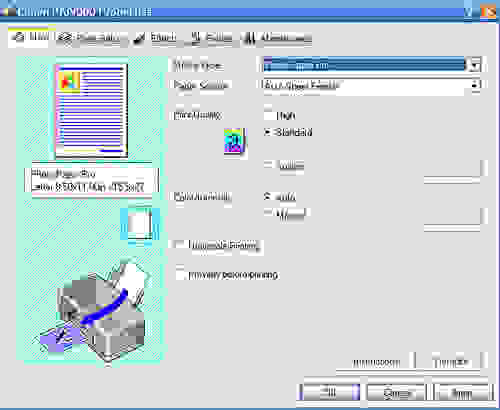 Nonetheless, there are many options in the utility, including paper selection, paper size, quality, and color settings—both color management selections and color balance and saturation. The Effects tab provides the tools for printing color images as black-and-white or monochrome colors, with a wider selection of colors than most printers, including sepia, pink, blue, and green. It also gives the user the ability to apply sharpening and noise reduction tools.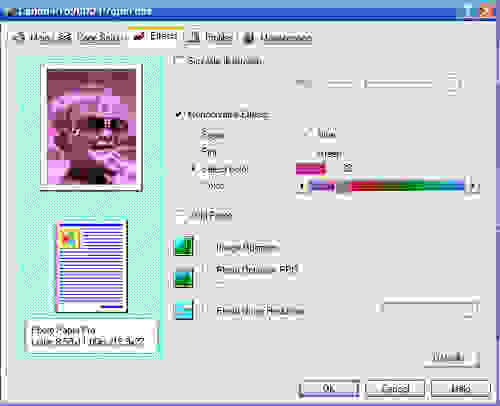 The Profiles tab allows users to save any settings they've used for a particular print job. Most printers have this capability these days, and this is a helpful function if you often print similar types of documents or photos, and you prefer settings that are different from the printer's default settings. Users simply select Add to Profiles in the Profiles tab, name their settings, and the setting is added to the list. (This is different than paper/printer profiles created by the manufacturer or by the user. These are more sophisticated color settings that are tailored to the printer and paper in use. More about this can be found in an upcoming feature article on printer profiling.)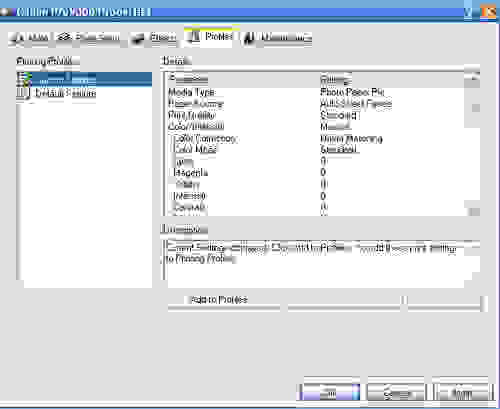 Various maintenance functions can be performed in the Maintenance tabs, such as head alignment, head cleaning, deep cleaning, and bottom plate cleaning.
**Software ** (8.00)
The Pro9000 comes with a suite of bundled software—326 megabytes of it, including the drivers and on-screen manual. During installation, users can choose to customize the options or they can accept the whole suite with Easy Install. The list of programs includes Canon Setup Utility, Easy Web-Print, My Printer, Photo Record, Easy-PhotoPrint, and Easy Photo-Print Pro. Users can also choose to install the Adobe RGB color space onto their system, which is recommended if it's not already installed, especially with a printer of this caliber. Most users will be using RAW files to print with, so they'll want to be working in a color space at least this large.
The Easy Photo-Print program provides a simple three-tabbed system for printing photos. We found this program to be much more intuitive than similar programs from other manufacturers, such as HP's Photosmart Express. First-time users will find no problems getting their first prints out, and this program may function as a quick print solution for even professionals. However, the more serious prosumers that will purchase this Pro9000 will likely be printing from Photoshop or another similar high-end program.
The Easy-PhotoPrint software is appropriately named. It's set up as a 3-step process, making it easy for first-time users to navigate and simply print pictures. Its simple graphic layout allows users to browse and select their photo in tab 1, choose paper size and type in tab 2, and choose layout in tab 3. There are some limited editing functions within this program.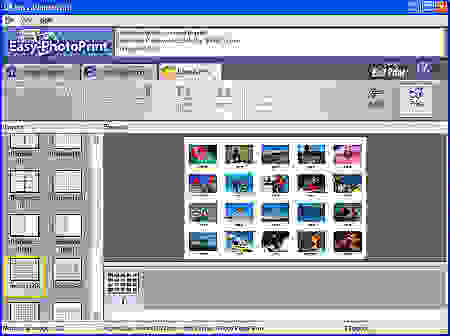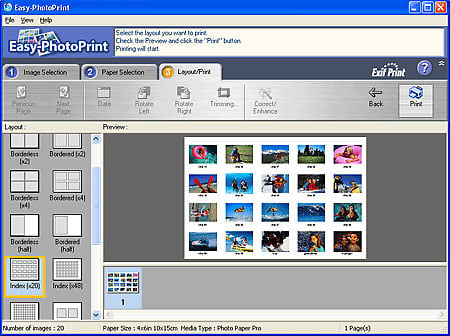 For those who like more control over their editing, Canon provides and Easy-Photo Print Pro plug-in for Adobe Photoshop. Most of the easy versions options are on the plug-ins main screen, with buttons to lead the user to slightly more sophisticated color editing options. One important difference is the ability to adjust color management settings in the Pro plug-in. Users can select a specific printer profile from the list of profiles stored in your computers spool folder or they can set stock settings Photo Color or Linear Tone. Setting the rendering intent is also possible. However, if you're within Photoshop anyway, it's unclear why users would not opt to use that program's color and print settings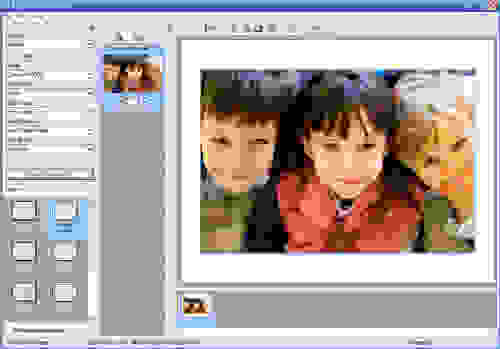 Photo Record is a very handy photo album creation program, with a variety of settings for layout, album type, frames, etc. The frames selection is a bit too stock, flowery, and kitschy, with no selections for more interesting or adventurous designs.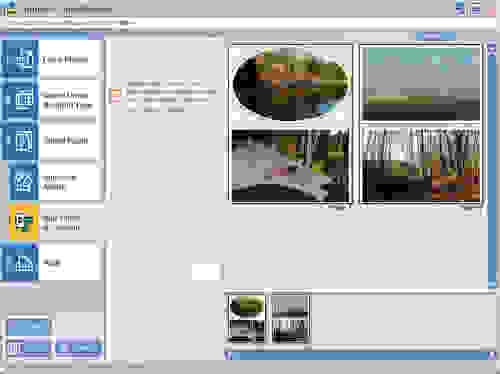 General Performance
Warm-up Time (4.84)
The Canon Pro9000 took 27 seconds to warm up and be ready for printing. This is slightly slower than the 25 seconds it took for Canon's all-in-one inkjet, the MP600, but significantly faster than the 99 seconds it took for a color laser printer like the HP 3600n.
Power Usage (8.04)
Canon's reported power usage is approximately 1.8 watts in standby mode, 20 watts while printing, and 1 watt when powered off. Using a watt meter, our tests actually showed lower numbers for these figures. These numbers were very energy efficient, especially for a printer of this size.
The Pro9000's power score was beaten only by the compact photo printers currently in our lab. As with many printers, no watts were being pulled when the unit was off. Four watts were used when in ready mode, twelve-and-a-half watts when printing and about the same on average for head cleaning. No other pro photo printers are currently in our lab, but we've lined the Pro9000 up against the few all-in-one photo inkjet printers in our labs for comparison.
Speed/Timing
Document (3.70)
Our testing times and rates are based on the highest quality settings, in an effort to quantify a printer's performance at the extremes of its capabilities. The Pro 9000's document printing rates—0.87 and 0.74 ppm for less than one page per minute for both text and graphics—was slower than even some all-in-one photo printers, but document printing is an extra function of these printers and not its first intended use.
Photo (8.71)
Four-by-six-inch prints on the Pixma Pro9000 actually printed faster, 2.0 pages per minute, than two all-in-one photo printers we currently have in the lab—another Canon model, the Pixma MP600, and the HP Photosmart 5180. The Pro9000 lagged behind the MP600 when printing larger prints, but this 8-ink prosumer model from Canon outperformed the HP 5180. Photos printed very slowly at the maximum size, with individual 13x19-inch prints taking nearly 6 minutes per print using a 19-megabyte image.
The Pro 9000 features no media slots, so testing the file transfer timing was not possible. This printer's two closest competitors from the other two big printer manufacturers, HP and Epson, are split on these features. HP provides them while Epson doesn't.
Color Accuracy* (3.02)
Determining the accuracy of a printer involves evaluating its output against a known ideal. For our color accuracy test, we print an electronic version of the Gretag Macbeth Colorchecker chart (show below) on the test printer. We then read the color density values with an EyeOne Pro spectrophotometer from X-Rite and compare them to the electronic chart's original La**b** values. The average difference between the ideal and measured values is the color error.
The Pro9000 yielded a color error of 7.13, a a fairly low value for a pro photo printer. The printer's cousin, the Canon Pixma MP600 all-in-one photo printer, showed less error and so did a small compact photo printer we tested recently, the Epson PictureMate Snap. The Epson Stylus Photo R2400, a pigment-ink system, scored much higher, with only a 1.42 error value. Flesh tones appeared to reproduce well, while cyans and some blues showed more error than other colors. Some of the red tones seemed somewhat undersaturated as well.
Color Gamut (4.97)
The Pixma Pro9000 scored impressively in our color gamut test, covering 56 percent of the Adobe RGB color space. This was more than any printer we've tested to date and represents a very good value for any printer, even one in the pro photo category. The chart below shows a visualization of the ideal color space as a grid pattern with the Pro9000's color gamut shown as the solid color field inside. The more of the grid space the printer's space can fill, the higher the score it receives.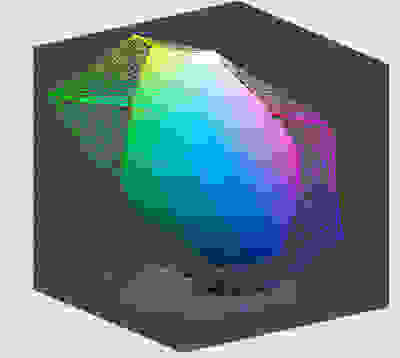 Dmax (6.26)
The density of the black tones that a printer can reproduce is an excellent indicator of the potential tonal range of that printer. Dmax is a measure of that density, with a value of 2.5 being optimal. We measure Dmax by printing out the deepest black tone possible, then measuring it using the EyeOne Pro spectrophotometer. Prints were made both on Canon Photo Paper Pro and Ilford Galerie using Canon's stock profiles and our own custom profiles. We perform all these tests to find the maximum Dmax value possible.
In our tests, the Pro9000 yielded a maximum Dmax value of 2.25 on the Canon Photo Paper Pro using Canon's stock profile. This value is very good for any printer, but it's still less than others both in and outside its class. All-in-one photo printers and even compact photo printers in our lab scored higher in some cases—a disappointment for a high quality printer such as the Pro9000.
Black and White (6.00)
Dmax score is an expression of the possible range of tones that a printer is capable of reproducing. Given the decent, but not excellent Dmax value, we expected a reasonably good tonal reproduction in our black-and-white test print made with the Pro9000. The results were somewhat disappointing, with white tones not holding well and the richness of the blacks not reproducing as strongly as we'd like to see in a higher-end photo printer.
Tour
Front
The front face of the Canon Pro9000 is fairly plain with its dark gray door and centered Canon logo. The outer edges of this side are a lighter grayish silver color. The door on the front has three bumps above the Canon logo that designates where users should push to release the spring catch that opens the door, which glides down slowly, and is a nice touch to protect the door from damage. To the right of the door are three buttons and a USB port. The top two buttons are very large and are for turning on the printer and for printing and canceling jobs. The bottom button should be pressed when feeding paper into the special front tray for larger papers. Beneath the buttons is a wide USB port with the PictBridge logo next to it. When the front door is opened, the Canon logo still appears on a black piece of plastic in the center. Behind that piece of plastic is the printer roller that feeds paper in and out of the front. The roller can be seen below, and the extendable paper tray looks flat from this angle but slides out nicely.

Back
The back is made up of the darker plastic material and is mostly flat except for two niches at the sides. On the left side is a niche for the Ethernet cable port. In the bottom right corner is a niche for the power cable port. In the center is a door that is popped open by a button on the top and lays flat to act as an output tray for fine art and other heavy papers.
Left Side
The left side of the printer looks très mod with its boxy lighter gray front and a darker gray edge along the rear and bottom sides.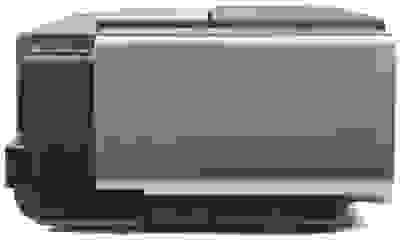 Right Side
This side looks similar to the left side with the boxy silver-colored main portion of the printer housing with darker bottom and rear edges. Toward the back, the niche for the Ethernet port is visible.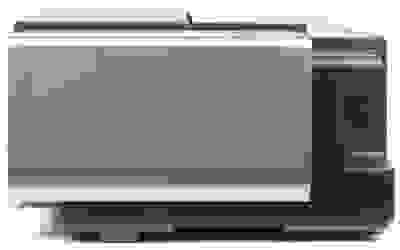 Top
The Pro9000 top has a logo in its center. This logo is on a large dark gray panel that lifts up from two finger notches on either side to create the standard input paper tray. In front of this paper tray is another panel that lifts up to reveal the inner workings of the printer. The dark gray middle is flanked by lighter silver edges. In the upper right corner of the top is a round button that can be pushed to pop out the rear output paper tray on the back.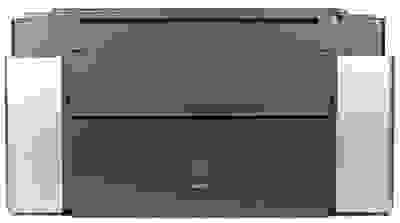 Interior
There are several panels that open to reveal paper trays and cartridges. Lifting the front panel shows the interior inner workings, with printer rollers and the print head containing the eight ink cartridges; this slides from its resting location on the right to the center when the door is opened.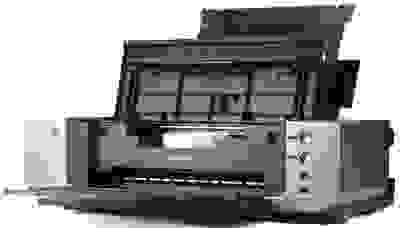 Components
Display (0)
This printer does not have an LCD screen because it relies mostly on a connected computer. Users preview images and edit them on the computer before sending the job to the Canon Pixma Pro9000. This is a typical setup for printers of this caliber which cater to a more advanced audience. Most pro photo printer users will want to edit on-screen within a photo editing program.
Paper Trays (7.50)
The Canon Pro9000 has two separate paper paths, including a front feeder for heavier types of paper up to 1.2mm thick. Most paper is loaded into the top of the printer, which folds upward to make a nice upright supportive paper tray, with the top section arching back slightly to allow longer paper to rest some of its weight. There is one edge guide which, when pinched, can be slid along a ridged strip and locked into place when unpinched. There are 13 labels along the strip designating paper sizes from 4 inches to 13 inches across; users must line up the guide with the label on the right side.
The output tray folds down from the front and lays flat. Two plastic panels slide out from within to extend the tray's surface area. The rollers for this paper tray can also be used as input, especially for thicker papers. The input tray must be reset to accept paper as input by lifting the tray up from the open position to about 45 degrees, then pulling the tray straight out and laying it open. This raises the tray on its hinges so it sits about an inch higher than in output position and in line with the rollers. When paper is loaded this way, the rear output tray must also be activated. It pops out from the back via a button on the rear of the top. There are also two wing-like support extensions that are released via a spring-loaded catch at the front edge of the tray. This layout is great for fine art printing with heavy paper that doesn't do well with the bending and winding paper path typical of compact printers.
CD Burner (0)
This printer has a lot of cool features, but a CD burner is not one of them. This feature can be found on some compact photo printers.
Battery (0)
It takes a lot of power to make this large printer work. And since no one will want to tote this 30+ pound printer anywhere, a battery is not even an option with the Pro9000.
Power Supply
The large Canon Pro9000 is Energy Star certified and uses 120 volts with its included power cable. There aren't separate cable and adapter wires; it is all one thin cable with this printer.
Internal Memory (5.00)
The Pro9000 has only a 42 kb buffer, comparable to the Epson Stylus Photo R1800's 64 kb. It's pitifully small when compared to printers like the HP Photosmart 8750 which has 64MB. Since the Pro9000 doesn't accept memory cards, it's less of an issue.
Hard Drive (0)
The Pro900 doesn't feature an on-board hard drive. This is an atypical feature on pro photo printers except for the very large wide format units. Hard drives can also be found in some smaller compact photo printers from HP and Lexmark.
Accessories (7.00)
This Canon uses a ChromaLife 100 ink system that incorporates 8 ink cartridges, typical for printers in this class. This might keep users on their toes trying to keep up with the supply of each individual cartridge, since they each hold only 13 milliliters, but it provides users with vivid prints. Each cartridge costs $14.25 on Canon's web site, or users can purchase all of them together for $99. Canon's photo paper is relatively affordable. A package of fifty 4 x 6-inch photo paper runs for $7.99, and Canon offers a wide range of sizes and types of compatible papers. The maximum size—13 x 19 inches—costs roughly $2 a sheet, selling in packs of 20 for $40, with the more expensive papers like the Fine Art Premium Matte selling for a bit more, around $2.75 a sheet at $54.99 for a 20-pack. A Digital Art Variety pack can be purchased to sample the various paper surfaces. A twenty sheet-pack with five different surfaces costs $49.99.
Controls/Buttons/Dials (6.00)
All of the printer's buttons are located on the front except for one button on the top. The top button simply opens the rear paper tray that is used only when fine art paper is loaded into the front. There are three buttons on the front. From the top to bottom, they are Power, Resume/Cancel, and Front Feed. The buttons are large, but the icons aren't as intuitive as those on a digital camera so beginners will have to get a quick briefing from the user manual—which they should do before operating the printer anyway. The few buttons fit with the slick design of this printer. Most functions are activated through attached computers.
Menus (0)
The Pro9000 has no on-unit menu. Many pro photo printers don't include this feature, which is more common on all-in-one and compact photo printers. The HP 8750 features a 2-line display, much like laser printers.
Size / Footprint (3.16)
This printer is not something that can be thrown in a backpack and hauled on a whim. It weighs 30.8 pounds and is about the size of a flattened microwave oven. The Canon Pro9000 measures 26 inches wide, 7.6 inches high, and 14 inches deep. There are two rear wheels that allow the user to lift the front and reposition the printer on a desktop. This is a very helpful feature if the printer is normally tucked against the wall and needs to be moved forward to access the rear output tray.
Configuration (7.00)
This Canon uses a ChromaLife 100 system that incorporates an 8-color dye ink system. The eight inks—green, red, photo magenta, black, photo cyan, cyan, magenta, and yellow—are sprayed in 2-picoliter droplets via 6,144 nozzles. By comparison, the Epson Stylus Photo R1800's eight-ink system sports only 1440 nozzles, but the nozzles produce a smaller, 1.5-picoliter droplet size. More nozzles are generally better, but smaller droplet size can also be a plus.
The cartridges are easily accessed for replacement behind the access door. The inks get their name from the projected 100-year life of images printed with them, given they are printed with Canon papers and stored in an album. Two of the inks are dedicated to photo printing to prevent the tanks from quickly running out in other applications.
Value (7.50)
The 13-ml ink cartridges cost $14.25 each, or they can be purchased as a set for $99. Individually, the cost per milliliter is $1.10, much cheaper than HP's inks for it's comparably priced Photosmart 8750 photo printer, which cost $1.92 per ml for color and $1.43 per ml for black cartridges.
Ink Management (7.00)
The Pro9000's ink cartridges, like many Canon inkjets, have red LEDs that light when the cartridges are installed correctly and when the ink tanks are sufficiently full. Low ink levels cause the lights to blink for the individual cartridge. The driver software also features a coarse ink level graphic. A window also appears displaying the type of inks required, a handy reference if you happen to be out of ink.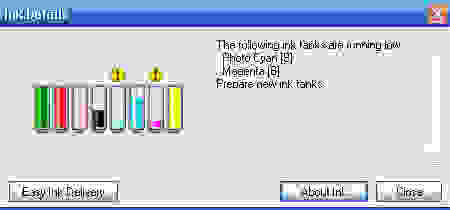 Print Quality (0)
The print quality is something that is selected from the computer. The Canon Pixma Pro9000 printer can print up to 4800 x 2400 dpi whether printing color or black-and-white.
Internal Editing (0)
This printer is meant to work mainly from connected computers, which have technology far superior to any printer's internal editing. The Canon Pro9000, akin to others in this class such as the Epson Stylus Photo 1800, caters mainly to advanced users who will likely use editing software on a computer before sending jobs to the printer. The printer does not have internal editing functions.
Dedicated B&W Settings/Effects (0)
The printer doesn't have any black-and-white specific settings built into it, but users can print solely in black-and-white when designated from the connected computer software or from the printer's drivers.
Media Types (8.00)
There are many kinds of paper that can be used with the Canon Pro9000. The printer caters to fine art photographers by offering a front loading paper tray that can accommodate paper up to 1.2mm thick and 13 x 19 inches in size. It can accept the basics too: 4 x 6-inch photo paper, 8.5 x 11-inch legal and letter paper, #10 envelopes, and everything in between. The Pro9000 is built for printing photos, though, with its 8-ink system. Canon's selection of papers is vast. All kinds of sizes can be purchased with matte, semi-gloss or glossy finish. Consumers can also choose special fine art papers such as PCM DEEP PV "hakou" papers, ARCHES Pure White Soft 240g/m2 papers, Canson Mi-Teintes and Canvas papers, Hahnemule Torchon, Photo Rag 308g/m2, and William Turner 310g/m2 papers.
Formats/Compatibility (8.00)
The Canon Pixma Pro9000 printer is PictBridge compatible with its USB port conveniently located on the front of the printer. It can accept DPOF print orders from digital cameras.
Media Slots (0)
There aren't any slots for memory cards on the Pixma Pro9000. This would have been a nice feature, but most users of this advanced printer will upload pictures to a computer to utilize advanced software editing functions anyway. The HP Photosmart 8750 does include media card slots, but HP tends to aim more for the multi-user.
Wireless Interface (0)
No wireless ports are available on the Pro 9000. Most photo printers in this class are not equipped with this connectivity, as edited files are usually sent from the software programs to the printer.
Network (3.00)
Only networking via a USB wired or wireless network hub, possible with any printer, is possible from the Pro9000.
Ease of Use (8.00)
The Canon Pixma Pro 9000 is simple and elegant in design, and this carries through to its functionality. Doors open easily, if not entirely intuitively, and the austere control panel is mostly self-explanatory. Interfacing with the printer's drivers and software is no problem; it provides pleasing graphics and plenty of help menus. The various functions of the print trays, while not intuitive, are very useful and simple to operate. No print jams occurred during testing.
Value (6.00)
As the lowest priced Canon printer able to print 13 x 19-inch photos, the Pixma Pro9000 does a very good job, printing smaller photos at reasonable times with above average quality. For those just getting into printing their own photographs, this is an excellent first pro photo printer. Blacks are rendered fairly well, and color accuracy and gamut are good. If you're looking for a printer with a lot of bells and whistles, you might want to look elsewhere. The Pro9000 does have a PictBridge connection, but it doesn't have media slots, display, or much in the way of RAM.
Comparisons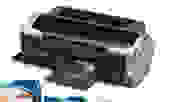 Epson Stylus Photo R1800 — This printer has the same number of ink cartridges as the Pro9000, but it utilizes Epson's UltraChrome Hi-Gloss pigment inks as opposed to Canon's Chromalife dye inks. Pigment inks are generally longer-lasting, but they are not as vivid. Metamerism (the appearance of a color under different light sources) is reportedly worse with pigment inks as well. The R1800 ink set features separate glossy and matte black inks as well as a gloss optimizer to make the images appear like lab-quality. The Pro9000 has only one black cartridge and lacks the clear overlayer, but it does have a separate photo magenta and photo yellow inks. While the number of nozzles—1,440—is less than the Canon Pro9000, the R1800 sprays ink at a 1.5-picoliter size compared to Canon's 2 picoliters. Unlike the Pro9000, the R1800 will also accommodate roll paper and features a FireWire connection. But there is no PictBridge connection, which is featured on the Pro9000 and the HP Photosmart 8750.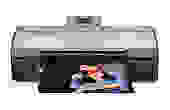 HP Photosmart 8750 — HP, always with the bells and whistles, provides more functionality than either the R1800 or the Pro9000, including media slots, standard Ethernet connectivity, a small LCD display, and 64 megabytes of RAM. But the HP Photosmart 8750 can only print at a maximum of 1200 x 1200 dpi in black, a drawback for black-and-white photographers compared to the Pro9000's 4800 x 2400 dpi for both black and color. Resolution is not always the best comparison across manufacturers because of the differing technologies, but they do report these numbers, so this wide a margin should make the consumer stop and think.
The 8750 features a dye-based nine-ink Vivera ink system, with 2 grays in addition to black, a light cyan and a light magenta. There is no red and green inks, as with the Pro9000, so these colors will have to be made with the other colors.
The Canon Pixma Pro9000 does its job well. Its simple design reflects its singular purpose—printing high quality prints from 4" x 6" up to 13" x 19" in size.
The printer can also produce good quality documents, but at a slower rate than all-in-one printers. In our speed tests, printing rates for 4" x 6" photos were relatively quick, although printing speeds for larger photos was slow. Power Usage was comparable to some of the best performing all-in-ones and compact photo printers. Our quality testing yielded high scores for color accuracy, with flesh tones reproducing very well. Color gamut scored even higher, meaning the printer has a fairly wide range of colors that it can reproduce.
Canon produces some of the most user-friendly software for printers available, and they bundle helpful programs with the Pro9000, including Easy Photo-Print, a 3-step printing program, and Easy Photo-Print Pro, a plug-in for Photoshop.
The eight ink tanks are easily installed and replaced. The Pro9000 alerts users to low ink levels with handy LEDs on the tanks and driver window warnings. The ChromaLife 100 inks produce vibrant prints that, according to Canon's figures, will last 100 years in an album and 30 years behind glass. Canon also provides a wide variety of quality papers, from plain glossy to photo rag and museum etching.
The print trays are efficiently designed and function very well. Users have several options for expanding trays to accommodate larger size paper or different weights and surfaces. With a slight adjustment, the output tray, for example, doubles as an input tray for heavyweight 13" x 19" paper. A back door opens and allows the paper to run through the printer flat and return to the output tray when printing is complete. Two wheels on the rear of the printer are helpful for moving the printer in and out of a storage position to allow the trays to be opened to their full extent.
The Pro9000 features no media slots and just a PictBridge connection. Consumers interested in more connectivity options and a more interactive control panel might want to look at the HP 8750 or the Epson R1800. See the Comparisons section on the Overall Impressions page for more info.

Although simple in design and functionality, for an entry model pro photo printer, the Pro9000 has a lot to offer at a decent price. Photographers will like the sleek and stylish design. Improvements in image quality would be nice, and we hope that our forthcoming review of the Pro9500 ($849), Canon's next jump ahead in the pro photo category, shows better image quality.
**Specs/Ratings

**  
Meet the tester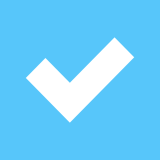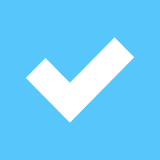 Tom Warhol
Editor
Tom Warhol is a valued contributor to the Reviewed.com family of sites.
Checking our work.
We use standardized and scientific testing methods to scrutinize every product and provide you with objectively accurate results. If you've found different results in your own research, email us and we'll compare notes. If it looks substantial, we'll gladly re-test a product to try and reproduce these results. After all, peer reviews are a critical part of any scientific process.
Shoot us an email