As a digital photo frame, the device is way too large: the bulky case is going to take up way more space than a dedicated photo frame. As a printer, the device works pretty well, though, and it is cheap to use; the high capacity of the cartridges means that each print costs about 25 cents. That is very reasonable for a printer of this type: most cost 30 to 50 cents per print. The PictureMate PM 300 costs $299.
Product Tour Summary
Big, bright screen
Carrying handle
Front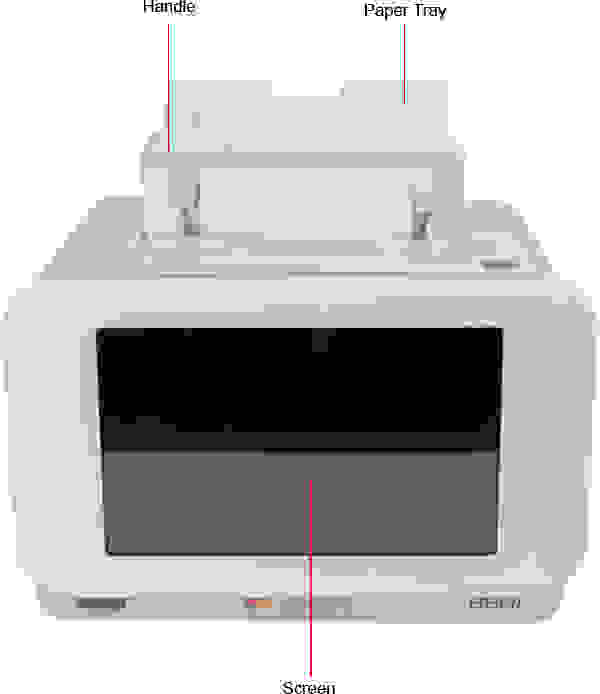 Side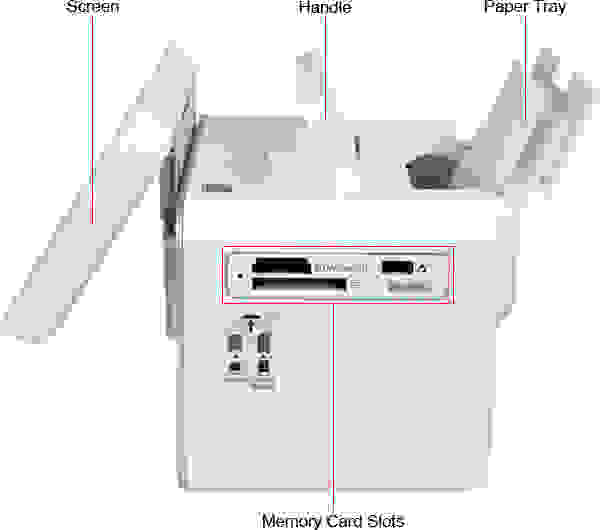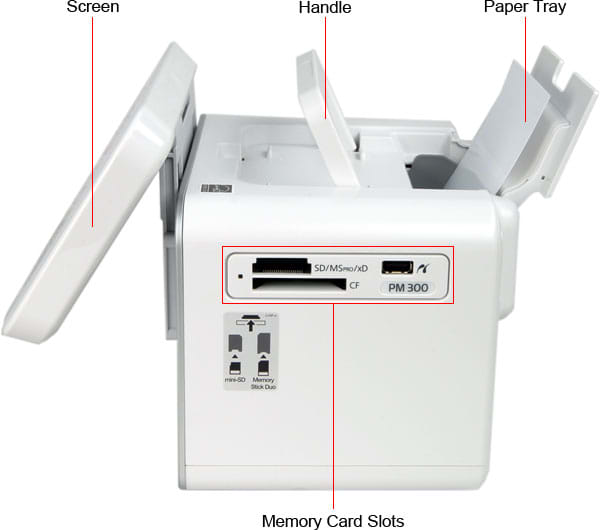 Back
The PM-300 is designed to work both as a photo printer and a picture frame, so the screen has some flexibility. It can slide up and down and tilt up to anagle of about 30 degrees, but it can't rotate or angle left to right. It is also not possible to set the screen in a portrait orientation, which the Sony can do.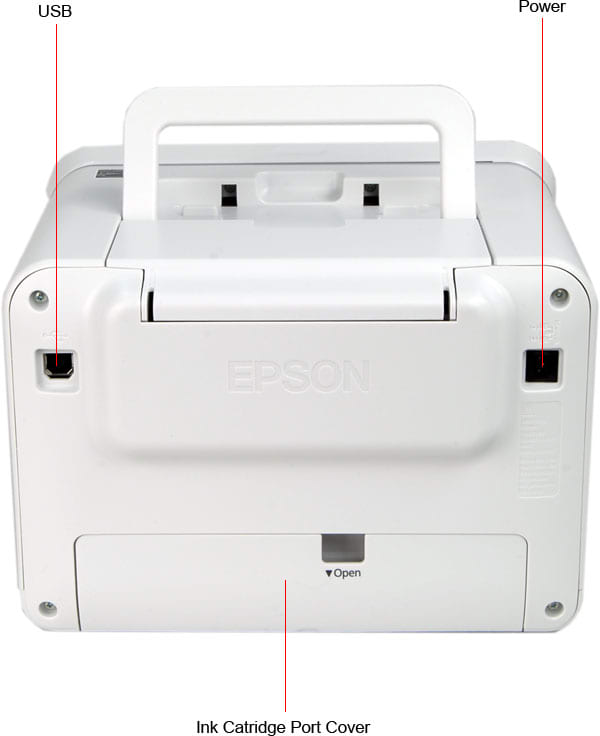 Ink Cartridges
The ink of the PM-300 is stored in a single cartridge that fits into the back of the printer. The cartridge that comes with the printer holds enough ink for about 20 photos, but the repalcement ones can print 150 4 by 6 images. Epson sells the cartridge and paper as a combined package, which costs about $38 for glossy paper or $33 for matte. That works out at a very good price of around 25 cents a print.
In the Box
As well as the printer itself, you get: 
20 print ink cartridge

20 sheets of glossy paper

Power cable

Remote control

Setup guide & basic manual (in English & French)

Software CD

Not included are any USB cables.
Setup & Software Summary
Simple to set up
Comes with basic image editing & printing software
Setup & Manuals
The PM-300 is relatively simple to set up, although the process does involve a few steps. First, you have to unpack the printer and remove several pieces of card that protect the printer in shipping. Then, you have to open the cartridge port on the rear, unlock the latching arm, insert the cartridge and lock the latch again. The printer then crunches and grinds for a few minutes as it initializes the print heads.
The setup process is well described in the Start Here setup sheet, and there is more detail in the basic manual that comes with the printer. There is no advanced manual, but this printer really doesn't need one: the basic manual covers all of the features it offers in a good level of detail.
**Drivers **
The drivers that are supplied with this printer are basic, but adequate. This is not a complicated printer, so you don't need a complicated driver or screen after screen of options.
**Software **
Epson bundles their own Easy Photo Print software with the PM 300 for both Windows and Mac computers.
Print Speed Summary
Can produce a 4 by 6 print in about 37 seconds
**Photo Print Speed **
Tthe PM 300 is a pretty speedy printer: it took around 37 seconds to produce a standard 4 by 6 print. That's a little faster than most, including the Sony DPP-F700, which took 47 seconds to produce the same size of print. We found little difference in the print speeds between printing from a computer or from a memory card: both were equally speedy. For more on how we test print speeds, see this page.
Document Print Speed 
Because this is a dedicated photo printer, we did not test document print speed.
Print Initialization
The PM 300 takes a little time to initialize before it starts printing, but it didn't take much time between prints and didn't seem to pause much while printing.
Color Performance Summary
Colors were slightly inaccurate and a little dull
Color gamut is acceptable
**Color Accuracy **
The ciolor accuracy of the PM 300 was nothing to write home about (or indeed to send a picture postcard home about). All of the 24 colors that we test were inaccurately reproduced to some degree, but there were particular issues with blues, which were overly dark and oversaturated. We saw lesser (but still significant) issues with yellows and oranges.  For more details on how our color accuracy tests are done, see here.
The chart below shows the results: the number in each of the color patches is the CIDE 2000 color difference. The bigger this number, the larger the difference between the original and the printed color is to the eye. If we compare the results with other printers, we can see that they all have issues, but the colors that they struggle with are different. However, the PM 300 had overall slightly better color accuracy than the Sony DPP-F700.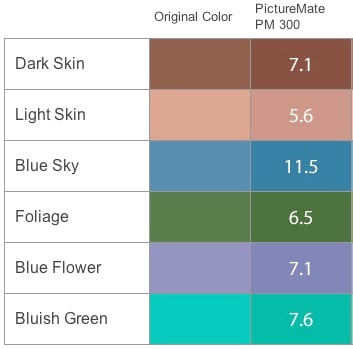 NOTE: Because of the way computer monitors reproduce colors, the images above may not match the results used for evaluating color accuracy. The chart should be used to judge the relative color shift, not the exact printed colors.
Color Gamut*(4.68)*
We measured the range of colors that the PM 300 can reproduce (called the color gamut) at just under 43% of the Adobe RGB gamut. That's a little on the low side, but is in range with what we see for most low-cost printers. It is also slightly larger than the Sony DPP-F700, albeit only by a very small amount. For more details on how we measure color gamut, see here.
Detail Performance Summary
Produces, solid, deep blacks
Details are well rendered, but some prints are rather too heavy on the black
Depth of Blacks
The PM 300 produced prints with very deep, dark blacks: we measured the dMax (the maximum density of the blacks) at 2.4, which is impressive for a cheap compact printer. This definitely had an impact on the prints; they have a visibly greater dynamic range than others, which means that they have more impact. For more details on how we test the depth of blacks in prints, see here.
Detail
The prints that the PM 300 produced had decent, but unspectacular detail. The printer uses a 2 picoliter drop size, so it can produce very small dots on the page when required. This translates into a decent level of detail, but some of our test prints had a slightly soft look to them, particularly sharp tilted edges
Sample Scan Comparisons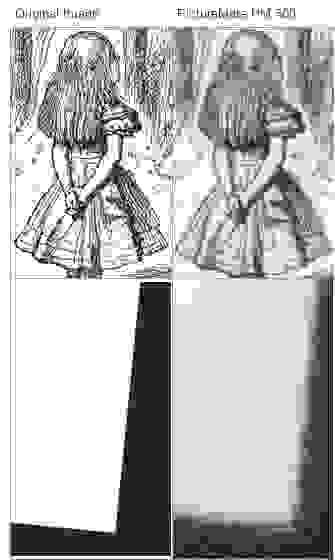 We print out a number of test images designed to test the printer. Our image of Alice looked a little soft: the fine details of the etching of her hair were somewhat lost, and the fine cross-hatching on her hands was also somewhat soft. The same softness was evident on our other test images of lines and faces.
Inks & Media Summary
Uses 2 ink cartridges that cost $38 to replace
Higher capacity cartridges are available that cost about $54 for the set
Can print on paper up to letter size
Ink/Toner
The ink that the PM 300 uses is held in a sizeable cartridge that fits into the back of the printer and which holds black, cyan, magenta and yellow inks. This holds enough for 150 prints (although Epson does cheap it out somewhat by supplying a smaller 20-capacity cartridge with the printer. When you need more, Epson sells ink and paper for the PM 300 in a combined package, costing about $38 for a pack that can produce 150 prints. That means that each print costs about 25 cents, which is pretty cheap for a printer of this type. The Sony DPP-F700 produces similar prints, but each of those costs about 30 cents.
Ink/Toner Management
The printer does a decent job of warning you when things are running low: warnings appear on both the printer screen and on the computer when you have 5-10 prints left.
Media
The PM 300 can print only 4 by 6 inch images: there are no other options for print sizes. You can also only use Epson's own paper; they strongly discurage the use of any other type. They do offer two types of paper, though; you can get glossy and matte papers.
**Paper Storage **
There is only one paper tray on this printer, at the top rear. This can hold up to 20 sheets of paper, and this leaves the paper sticking out of the printer body. This looks kind of ugly, so you have to take the paper out and store it elswhere when you are using the device as a photo frame. Unlike the Sony DPP-F700, the paper is not stored in a removable paper tray: the tray is fixed so you have to remove the loose paper sheets.
Controls & Connectivity Summary
Only one buttons on the printer body
All functions are controlled through the printer driver or remote
No networking features or memory card slots
On-printer Controls
There is only one button on the printer itself: the power button. All of the other controls are handled through the remote control or through the printer driver. The remote is about the size of a pack of cards, and has 15 buttons on it that provide access to all of the printers functions. These buttons are large and clearly labelled, making it easy to use. If you want to print a photo while watching a slideshow, you simply press the print button. From the print screen, it is easy to print multiple copies or do basic editing such as cropping or removing red-eye. Other functions (such as mentaining or setting up the printer) reqire the use of theon-screen menu, but again this is pretty straightforward to use.
On-Printer Display
The PM 300 has a big, bright 7-inch screen on the front, with a resolution of 800 by 400 pixels. This screen can be moved up or down and tilted, but it cannot be rotated. We were impressed with the quality of the images on this screen: photos looked very clear and bright, with good detail. We were less impressed with the quality of the slideshows that the printer can produce: the built-in slideshow effects are jerky and cheap looking. The Museum slideshow, for instance, produces a poorly rendered image of a museum hallway, then zooms in on your photos on the walls. The same effect is then repeated with the next photo, etc. The 'Penguin Story' is even worse, with your photos being interspersed with an animated story of the misadventures of a young penguin couple. And yes, it is as appalling as it sounds.  A few more straightforward options are available, but all use rather jerky cuts, fades and pans between the images that reduce the impact.
On-Printer Menus
The on-screen menus of this printer are simple and straightforward to use. You navigate using the directional control on the remote, and select the required option with the OK button.
Media Slots
Support is offered for CompactFlash, SD/SDHC, Memory Stick and xD picture cards. The smaller variants of both the SD (such as Mini SD) and Memory Stick (such as Memory Stick Duo) cards are supported, but require an adapter, which is not included. Also included is a PictBridge USB port, which supports direct connections from digital cameras and other devices that support this standard.
Wireless & Network
No direct support for wireless networking is included with this printer, but Epson do offer a $40 Bluetooth adapter which allows cell phones and other devices to connect and print to this device.
Sony DPP-F700 Comparison Summary
The Sony is cheaper
The Epson has a larger (but less flexible) screen
Both printers can print maximum size of 4 by 6
Performance
Neither printer wowed us with their color or detail performance, but they both produce adequate print quality for snapshots. The Epson had better color accuracy, but both printers had noticeable issues with some colors. Both are pretty fast, but the Epson is slightly quicker, producing a 4 by 6 in 37 seconds.
Inks & Media
Both printers are designed to print one thing: 4 by 6 photos. Neither can print at different sizes or on paper other than the manufacturers own, so neither printer is particularly flexible.
In Use
The Epson has the bigger screen, but the Sony is the better device to use as a photo frame. It is easier to use, has better image and slideshow quality, and can be used in both landscape and portrait orientations.
Canon iP2702 Comparison Summary
The Canon iP2702 produces better quality prints
The Canon iP27020 can print to a wider range of paper sizes and types
The Epson is more expensive, but has a larger screen, memory card slots and can work as a stand-alone printer
Performance
The Canon was the better performer in our tests: we found that it had more accurate color and did a better job at reproducing details. The Epson was faster at producing photos, though: it took 37 seconds to print a 4 by 6 image, while the Canon took 1 minute and 16 seconds.
Inks & Media
The Canon is a much more flexible printer: it can print on a range of paper types and sizes, while the Sony can only print 4 by 6 photos. The Epson can't print documents, while the Canon is at home printing photos and business proposals.
In Use
The Epson is the much simpler printer to use, but that is because it only does one thing: print 4 by 6 photos. The Canon can do this as well. but can also print bigger photos (up to letter size), print on plain paper and even print onto inkjet DVDs. It's a question of what you want the printer to do: the Epson is better at showing off photos and producing small prints, but the Canon is the better printer for general home and small business use.
Epson Artisan 50 Comparison Summary
The Epson Artisan 50 produces better quality prints
The Epson Artisan 500 can print to a wider range of paper sizes and types
The PM 300 is more expensive, but has a large screen, memory card slots and can work as a stand-alone printer
Performance
The Artisan 50 printer was the better performer in most of our tests, producing slightly better color accuracy, darker blacks and better detail. The PM 300 was a little quicker at the 4 by 6 print size, though, producing a print in 37 seconds when the Epson Artisan 50 took 94 seconds.
Inks & Media
The Artisan 50 is the more flexible printer by a long stretch: it can print on a variety of different paper types and sizes (up to 11 by 8.5 inches), while the PM 300 can only print on two types of paper and at one size.
In Use
The two printers are difficult to compare here: the PM 300 is much simpler to use, but that is because it is only designed to do one thing: print small photos. The Artisan 50 can do a lot more, but requires you to print from a computer: it cannot work as a standalone device. That makes the process more flexible, but also more complicated. Basically, it boils down to what you want to do: if all you want are small prints quickly and a way to show off your photos, the PM 300 is the better pick. If you want to do other sizes and other types of printing and don't mind using a computer to do it, the Artisan 50 is the better choice.
The PictureMate PM 300 is a combination of a photo frame and printer, but that combination involves a lot of compromises that make it an imperfect device.
As a digital photo frame, the device is way too large: the bulky case is going to take up way more space than a dedicated photo frame and can't be mounted on a wall. We also would have liked to see more flexibility from the screen: although the large screen looks great, it only has a limited range of movement and can't be rotated to portrait orientation.
As a printer, the device works pretty well, but the lack of any internal paper storage or a paper tray means that you have to store the paper elsewhere. The handle does make it nice and portable, but you then also need to carry around the external power supply. It is a pretty cheap printer to use, though; the high capacity of the cartridges means that each print costs about 25 cents, which is very reasonable for a printer of this type.
Performance:
The PM 300 is a pretty speedy printer: we were able to produce 4 by 6 images in about 37 seconds.
Inks & Media:
The PM 300 is restricted to using ink and paper from Epson, and only two types of paper are available: glossy and matte. Only one size of paper is available as well: 4 by 6 inches.
Meet the tester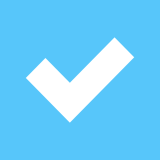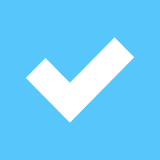 Tom Warhol
Editor
Tom Warhol is a valued contributor to the Reviewed.com family of sites.
Checking our work.
Our team is here for one purpose: to help you buy the best stuff and love what you own. Our writers, editors, and lab technicians obsess over the products we cover to make sure you're confident and satisfied. Have a different opinion about something we recommend? Email us and we'll compare notes.
Shoot us an email