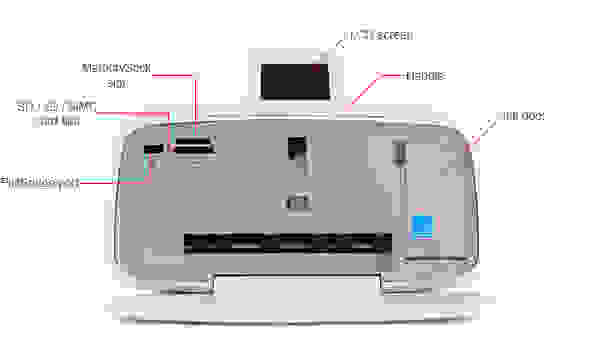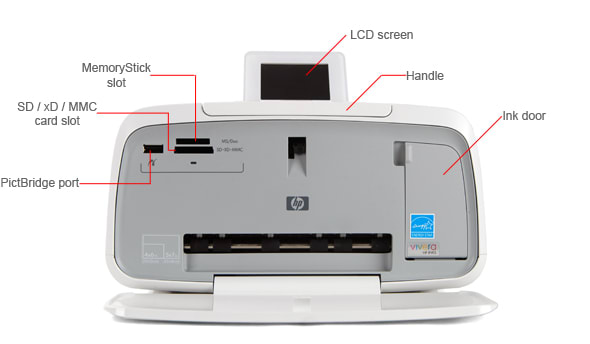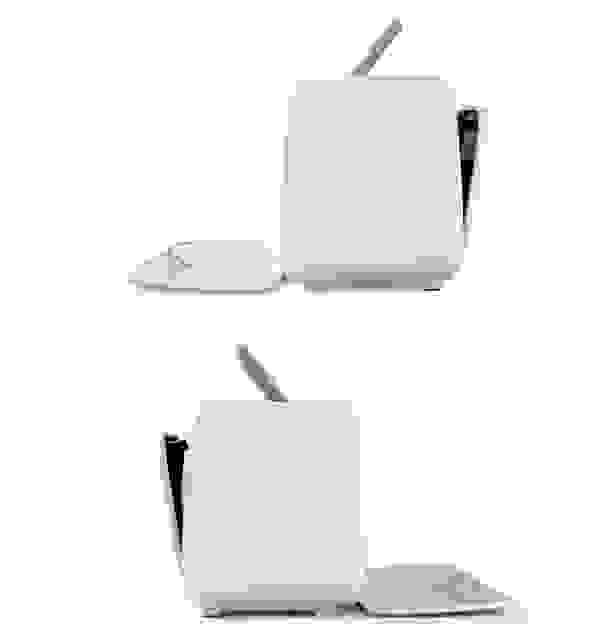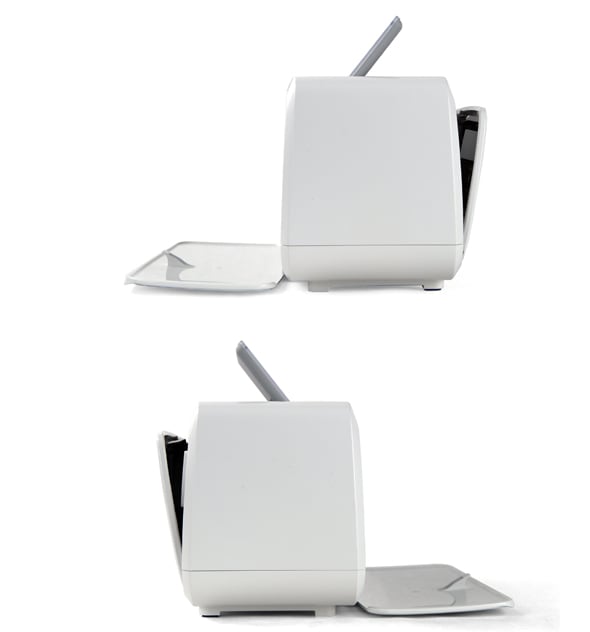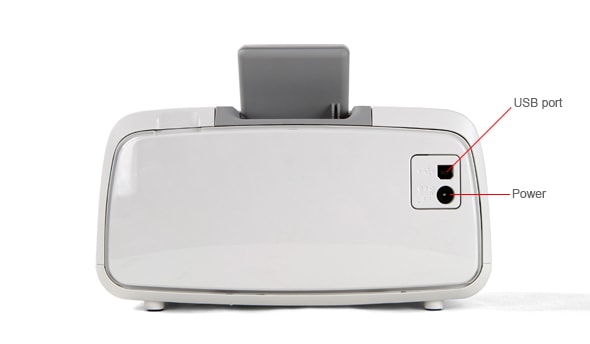 Much like its younger brother, the A646, the uses the HP 110 CMYK cartridge. though the included cartridge lasted about 35 prints in the lab, you can buy higher-capacity cartridges online or at your local retailer for about $25+. The cartridge itself is easy to prepare and load, all you have to do is place it in the housing behind the ink door.
As well as the printer itself, you get:
One HP 110 ink cartridge,

One pakgage of HP 5x7 photo paper,

A power cable,

Assorted documentation
Not included in the packaging for the is a type A to type B USB cable, needed for communication to the printer via computer. In addition, there is no driver disc. Instead, your drivers will be installed when you plug the printer into the computer via USB connection, which is quite convenient.
With fair color and detail performance, but a disappointing color gamut, the
Taking a total of 77 seconds per print, the is a somewhat slow printer, but not terribly bad in terms of print speed. You won't be making a bunch of prints in short order for parties or anything, but there's only so much you can ask a compact printer to do. More on how we test print speed.
Overall, the lags a little bit behind in color performance, but not in an overtly terrible way. Though it can support additional color profiles from the computer, we did not have an incredibly significant improvement in color performance. In addition, using wither the included paper, and Ilford Galerie paper seemed to net us very similar results. For more details on how our color accuracy tests are done, see here.
The chart below shows the results: the number in each of the color patches is the CIDE 2000 color difference. The bigger this number, the larger the difference between the original and the printed color is to the eye. More on how we test color accuracy.
Compared to the other newer compact photo printers, the did not do so well in this category. Still, in the grand scheme of things this isn't a bad score, just not the best.
Camera Color Comparisons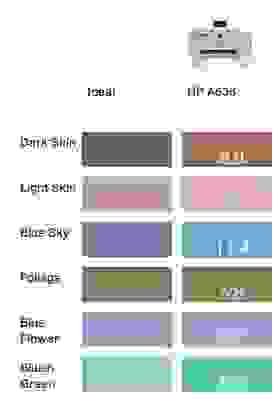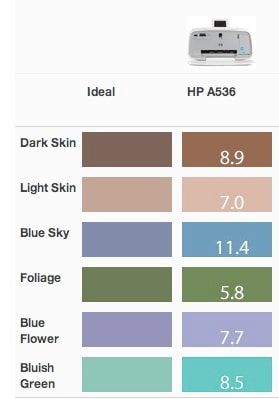 NOTE: Because of the way computer monitors reproduce colors, the images above may not match the results used for evaluating color accuracy. The chart should be used to judge the relative color shift, not the exact printed colors.
The manages to have a fairly wide color gamut, though its unfortunately-picked ocmparison models have wider ones. As far as the average consumer is concerned, the should be able to wow with a wide gamut, but there are better on the market, which even 5 years ago would be a totally insane notion. For more details on how we measure color gamut, see here. More on how we test color gamut.
Though eclipsed by other HP compact photo printer models, the has a fair depth of blacks compared to all other printers. Unfortunately for it, though, there are other compact printers for a similar price that do far, far better. With a DMax measure of 2.11, you shouldn't notice too many problems with your prints, but you can do better. For more details on how we test the depth of blacks in prints, see here. More on how we test depth of blacks.
In short, the does not handle detail recreation well. Not only does it have trouble with high-contrast situations, but it also seems to darken lighter details near dark backgrounds. As far as colors go, it manages to reproduce them fairly enough, but there is a color banding problem towards the darker end.
Sample Scan Comparisons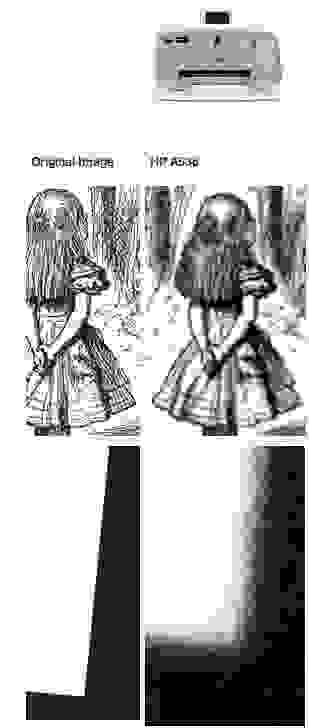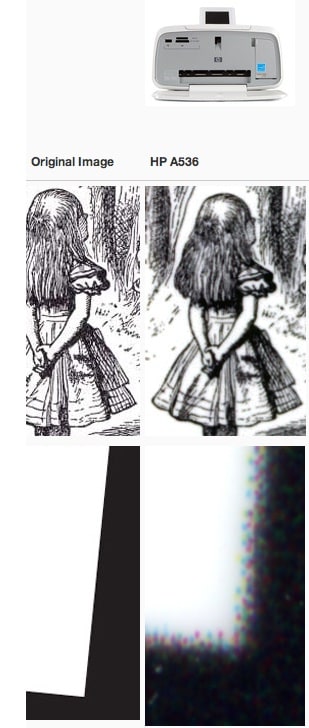 The manages to reproduce fairly even and unartifacted color gradients, despite the overdarkening in the darkest end. Still, an overall average result.
If you take a look at the sample of the dog's face, you'll see that compared to the other printers, the colors of the handsome hound are crushed. This isn't limited to that one scan either; the reflections in Rosie the riveter's hair are also crushed into the darker surrounding colors.
Though it may fall a little flat in performance, the place where the really shines is in usability. Able to make prints from smartphones and media cards alike, the is great for those looking to make photos on the fly at home with a decent range of source media. With all its drivers stored inside the printer's internal memory, you can just plug the unit into a computer via USB connection and get started fairly quickly.
On the top of the live the on-printer controls, which are fairly sparse. As far as physical controls go, there is a power button, directional buttons to scroll through menus, and an "OK" button labeled with a drawing of a printer. Though it may seem a little Spartan at first, you really do not need more buttons on the unit itself to get where you need to go, as this isn't a very complicated printer.
The top of the is home to the somewhat large resistive LCD touchscreen that is your main interface with the on-printer controls. You'll probably seldom use it if you hook this printer up to the computer, but should you rely on it for casual printing, the screen comes with a stylus.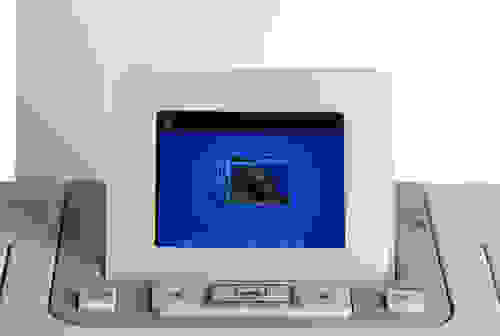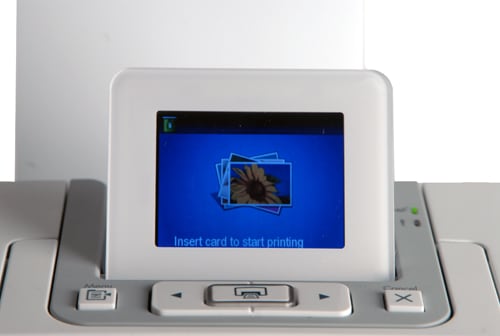 While the menus on the screen of the aren't very visually stunning, they are very functional and logically nested within each other. You should have no trouble finding any options you are looking for, or settings that need to be changed.
If you're a fan of DPOF prints or printing directly from your memory card of choice, note that the two major card slots on the front of the printer will allow you to port pictures directly from your MemoryStick, SD, or xD cards. Printing from these are fairly straightforward, as the screen will guide you through the process each time.
For those of you who value simplicity in their setup, you'll be delighted to hear that the contains all of the software necessary for use on the printer itself; all you have to do is find a USB cable to plug it into the computer, and you can install the software according to your liking without having to mess with any easily-scratched discs. As far as manuals go, you can elect to install the electronic copy, which we highly recommend.
The drivers for the are very standard as far as HP compacts go, but what isn't standard is the vehicle by which they're delivered to your computer; there's no software disc to scratch up or lose. Once you've plugged the printer in via USB, you'll notice a disc icon on your desktop. Double-click to open the driver install utility and you're on your way. Once you attempt to print, you'll be provided with a short list of options, but nothing terribly thrilling or exciting.
The comes pacakaged with a small HP 110 (CMY) ink cartridge, which lasts for only about 35 prints. While the cartridge certainly isn't as low-capacity as that of other compacts, it's still somewhat annoying to have to spend $25 for a cartridge to replace it. In addition, the cartridge simply contains cyan, magenta and yellow ink, which will run you into trouble if you use one color more than others, meaning wasted ink and potentially money.
Much like its bigger brother the A646, the can handle 4" x 6" prints, or 5" x 7" prints, which is quite nice for a compact printer, as they usually can only handle 4" x 6" paper. You won't be able to do anything crazy like print on a t-shirt, but as far as compacts go, this nets a good score.
On the back of the printer there is a small door that pops open once you flick open the LCD screen and front door. inside the tray is a slider that you can use to secure your media, which can expand to accommodate 5" x 7" paper. Due to its diminuitive size, the can only hold so much paper before it has jamming issues: the product specs say that it should hold about 20 pages, and we recommend not going over this limit.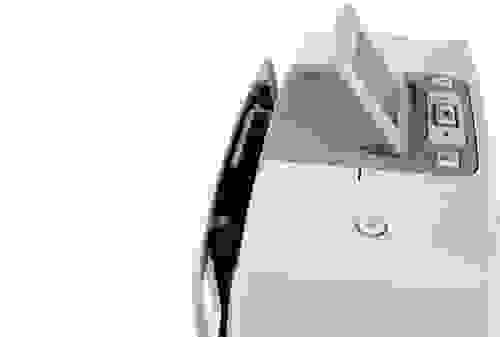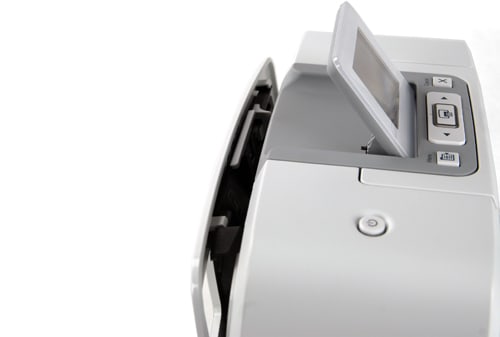 In the following sample images, clicking on the larger image will download the full resolution original.
If you can find an outlet that has both printers, don't even think twice: pick up the HP A646. Not only is it retailing online for around $120 cheaper, but the A646 is virtually identical to the in every way but with better performance. There is absolutely no reason to buy the A536 over the A646 for any reason other than availability.
Even with custom color profiles, the A646 edges out the A536 slightly in terms of color accuracy.
The falls a little short in detail preservation as well. Not only does the A646 handle color gradients slightly better than does the , but it also manages to preserve fine lines a little more effectively.
While the has a dMax measure of 2.11, the A646 has a much higher one, and therefore is capable of a better contrast ratio in pictures.
Even though the color gamut of the isn't bad, it's still not as wide as the HP A646's 69.9%, which is very, very good.
Both printers share usability functions, and as their main difference is the A646's touchscreen, there's really not much to set either apart from each other here.
For the extra $100 you'd pay for the , you're getting bluetooth connectivity, the ability to print 5 x 7 photos, and a smaller, more portable printer. Beyond that, though, the Epson stomps the in terms of raw performance, but the added connectivity and media range might be enough for some people to lean towards the plucky little HP.
No contest here, as the simply can't compete with the Epson PM 225 in terms of color performance. Even with a custom profile, the PM 225 is just too accurate to compare with the .
The PM 225 also handles detail preservation much more admirably than does the , producing finer lines and more even color gradients.
Considering the fact that the PM 225 has one of the best dMax measures we've ever recorded, it's no surprise that the falls short at 2.11. It simply can't handle the same range of contrast as the PM 225 can.
While the 's measured 60+% of the Adobe RGB color gamut isn't half bad, the Epson's recorded range is truly amazing, and among the best ever tested at Printerinfo.com.
It's hard to compare value here, as the Z340 comes with the printer installed as a part of a camera. While it is a very cool feature and great value overall, what one person decides is value, another might disagree based on what their photo printing needs might be. If you simply want instantaneous 2 x 3 prints, the Polaroid Z340 will be a great pickup. If you'd like something a little higher quality, the beats it by far, and for cheaper.
Even though the isn't the most accurate printer in terms of accuracy, it still beats the Z340 by a fairly large margin.
The Z340 cannot compete with any other photo printer we've ever reviewed in terms of detail preservation at all. This is not a high-quality printer.
If you're looking for instantaneous prints from a camera like the Polaroids of old, the Z340 is a very smart pickup, but it can't easily handle things like printing images from other sources, or function on a network like other printers usually can.
All things considered, the is a fairly average printer with not-so-average printing options. While it is a compact, and as such you can't print on the range of media a full-sized photo printer could, the convenience of being able to print from a smartphone or media card is huge.
With decent color performance, and fair detail, it's very hard to ask much more from a printer in this price range. It's true that by now there are other fieldings by HP (the A646) that are much better than the , but it's still worth a look if there is nothing else available.
Meet the tester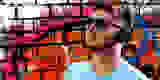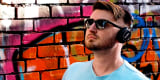 Chris Thomas
Staff Writer, Imaging
@cthomas8888
A seasoned writer and professional photographer, Chris reviews cameras, headphones, smartphones, laptops, and lenses. Educated in Political Science and Linguistics, Chris can often be found building a robot army, snowboarding, or getting ink.
Checking our work.
We use standardized and scientific testing methods to scrutinize every product and provide you with objectively accurate results. If you've found different results in your own research, email us and we'll compare notes. If it looks substantial, we'll gladly re-test a product to try and reproduce these results. After all, peer reviews are a critical part of any scientific process.
Shoot us an email