June 4, 2007 – Both Kodak and Xerox recently announced new anti-counterfeiting technology that they will incorporate into select printing services. Kodak's technology was designed for the wine industry and involves inserting digital markers into wine labels to allow consumers to know what they're buying. Xerox has developed a way to add markers to any document without the fluorescent ink typically used in currency. Currently, the Xerox technology is only available on their color production printers. 

According to Steve Powell, General Manager & Director, Security Solutions, Kodak's Graphic Communications Group, "Wine fraud is a rising problem that threatens to seriously damage the premium wine industry." Some vintners' products sell for hundreds of dollars at auction. Invisible markers will be added to paper, inks, and packaging of wines from cooperating wineries, such as Colgin Cellars, HL Vineyards, Vineyard 29, and Staglin Family Vineyard. Kodak has developed proprietary handheld readers to detect the markers. These are leased to customers and shipped in tamper-proof packaging. The security feature is minimally intrusive to the labeling process, low-cost, and covert. The company is also incorporating their Kodak Security Solutions into other industries, including identity documents, pharmaceuticals, and apparel.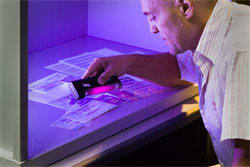 Xerox's anti-counterfeiting technology uses a special combination of the same toners already found in four-color printers at commercial print shops to selectively bring out the fluorescent character of the optical brighteners found in many printing papers. This allows the adding of security features into the printing process, which can be applied to checks, birth certificates, and important documents. The security feature is part of Xerox's FreeFlow Variable Information Suite, a software package available to businesses like commercial printers, banks, and insurance companies. More information on Xerox's new technology can be folund in their press release. Further details about Kodak's innovations are described in their press release.