Printers
Australian Startup Develops Memjet: 30 PPM Color Printing Under $200
Australian Startup Develops Memjet: 30 PPM Color Printing Under $200

March 23, 2007 - A Sydney, Australia-based startup, Silverbrook Research recently announced their development of Memjet, a consumer inkjet printer reportedly capable of printing 30 pages per minute color and 60 pages per minute black for under $200. Speeds of one page per second have previously been available only on higher-end printers marketed to larger organizations.
In a statement, Bill McGlynn, chief executive of Memjet's home and office business said, 'Conventional wisdom is that you cannot have high speed, quality color and low cost all at once…We believe this breakthrough technology will change the printing industry by eliminating the cost and performance barriers of color, and by allowing both incumbents and non-incumbents to compete on a new playing field.'
Memjet's major innovation is its unique print head, composed of an ink jet nozzle array as wide as the sheets it prints, and capable of a maximum resolution of 1600x1600. This design differs from traditional inkjet printers that pass a smaller print head back and forth across the page. Memjet print heads are comprised of a row of MEMS-based inkjet nozzles with 6,400 nozzles packed into each 20mm chip. A separate processor capable of 900 million calculations per second controls the nozzles, delivering drops across the width of the paper. An A4 letter-sized printer includes a total of 70,400 nozzles.
*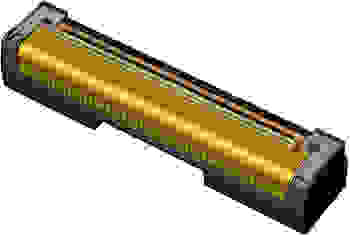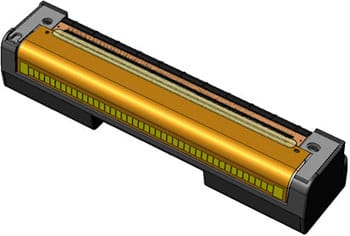 The Memjet Printerhead*
Silverbrook aims to bring an 8" x 10" color inkjet Memjet printer to market by the Q4 of 2008. In addition to the color inkjet printer, Silverbrook is also developing a sub-$150 photo printer, a label printer, and a $5,000 large-format photo printer for poster-sized print jobs. The Memjet technology has the potential for even larger machines, and is scalable from 20mm (the size of each print head) to more than 2m (6'). The printers mentioned above will use dye-based ink like the majority of consumer inkjet printer makers.
The Memjet Companies currently manufacture core components including printheads, driver chips, and software, but has no plans to build or market the printers themselves. Instead, the Memjet technology will most likely be licensed to one or more established consumer electronics companies that have the ability to ramp-up fabrication of consumer printers. In an indication that Silverbrook is gearing up to make a major impact, the company has already established relationships with third-party manufacturers.
Silverbrook Research was co-founded in 1994 by Kia Silverbrook with the goal of developing a range of technologies, but a group within the company has been actively developing Memjet for ten years. Kia Silverbrook was the keynote speaker at the Global Inkjet Printing Conference in Prague, Czech Republic on March 21, 2007. Additional information about Silverbrook Research and Memjet printer technology can be found at the company's website: www.silverbrookresearch.com and at www.memjet.com.
Get Reviewed email alerts.
Sign up for our newsletter to get real advice from real experts.