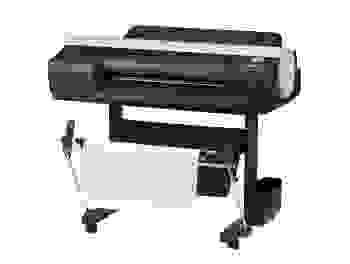 May 7, 2007 – At PMA Australia on May 4, Canon announced the release of two new members of the wide format, imagePROGRAF line, the iPF5100 and the iPF 6100, for photographers and graphics arts professionals. These new 12-ink printers have color calibration devices built into them, much like HP's new Z series large format printers. The iPF 6100 can print on 24-inch-wide paper, while the iPF5100 can make prints up to 17 inches wide. The iPF6100 will be available in Australia in July 2007, while the iPF5100 will be released a month later. The iPF6100 features two, 1-inch print heads with a total of 30,720 FINE (Full – Photolithography Inkjet Nozzle Engineering) nozzles spraying 4-picoliter droplets. Both models include black, matte black, gray, and photo gray inks for wider tone reproduction. Both models feature skew correction to adjust paper if it is fed incorrectly. Canon's technology incorporates a "multi-sensor that rivals any commercial densitometer," says Steve Brown, Production Printing Systems Group Manger for Canon Australia. This sensor can allow the user to adjust for changes to print heads, image quality, or different printers in order to maintain a stable color environment. Canon includes a new color management software system with the printer called Kyuanos, the Greek word for sky blue. The system allows users to maintain consistent color across devices and under different lighting conditions. The release of these two new printers was announced by Canon through the Wide Format Online website. No prices were available at press time.
Get Reviewed email alerts.
Sign up for our newsletter to get real advice from real experts.