Printers
Canon Announces Three New PIXMA Photo Printers
Canon Announces Three New PIXMA Photo Printers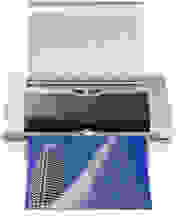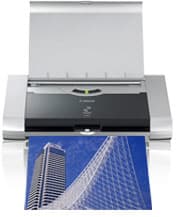 *February 21, 2007* - In advance of PMA 07, Canon today announced the release of three new photo printers. The PIXMA iP90v Photo Printer, retailing at $249.00, is a small, compact printer intended for home or business travel use. Two new home units, the PIXMA iP3300 and PIXMA iP1800, are Canon's latest entries in the "value" category, retailing at $79.99 and $49.99, respectively. Canon is also rolling out a new line of ink cartridges just for the iP1800—a pigment black ($15.99) dedicated for documents and a tricolor cartridge ($19.99).
Folding up to about the size of a laptop computer, the portable iP90v utilizes Canon's FINE (Full-photolithography Inkjet Nozzle Engineering) technology, and is touted as having the highest number of ink nozzles—1,088—in its class. The unit can print documents and photos at a maximum resolution of 4800 x 1200 dpi and an 8.5" x 11" maximum print size.
Canon's specs for the iP90v include print speeds of 16 pages per minute for black text docs and 12 pages per minute for color draft-quality prints. A borderless 4" x 6" color photo prints in 81 seconds at standard quality. The unit is PictBridge-enabled and includes an IrDa port for wireless printing from cell phones. An optional Bluetooth adapter is available for separate purchase.
In keeping with the iP90v's compact nature, the print cartridges have an adaptive fearture that can streamline your print flow on the road. If the black ink cartridge runs out, the user can switch to the "Use Composite Black Mode," which tells the printer to use all three color inks to create black— not ideal quality, but a handy feature when you run out of ink cartridges after hours. The iP90v has more limited compatibility, only working with Windows 2000/XP and Mac OSX v10.2.8.
The new PIXMA iP3300 and PIXMA iP1800 photo printers also utilize the FINE print technology, with the same max resolution as the iP90v. The iP3300 is PictBridge-enabled and sports a low-profile gray chassis. With a compact, sleek, black design, the iP1800 can produce prints from wallet-sized to letter-sized, utilizing 1,472 print nozzles.
Both units are certified for use with the new Windows Vista operating system. The iP3300 is compatible with Windows 98/Me/2000/XP, Windows Millennium Edition, Windows 98, and Mac OSX v10.2.8 operating systems. The iP1800 has more limited compatibility, only working with Windows 2000/XP and Mac OSX v10.2.8.
Get Reviewed email alerts.
Sign up for our newsletter to get real advice from real experts.