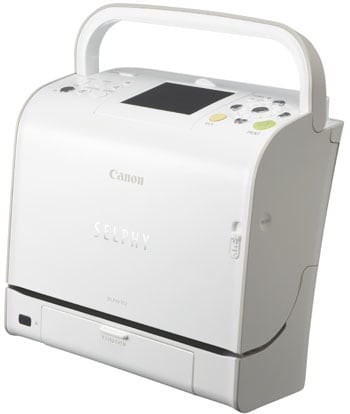 September 26, 2007 – Canon announced the release today of the Selphy ES2 compact photo printer. The printer can function as a stand-alone unit for printing from cameras, memory cards, or wirelessly from cell phones and PDAs, or it can print from a computer. Prominent on this new model is the 3-inch LCD screen and Canon's Easy-Scroll Wheel for accessing menus. Packed into the menus are options for image editing, adding frames or clip art to images, and special effects. The ES2 is available now and sells for $199.99, and prints will cost 28 cents each with Canon's postcard-sized print pack.
Similar to the mini320 inkjet printer, the ES2 now has an all-white chassis, as opposed to the metal, silver front of the ES1. Canon improved on the ES1 by adding a larger, 3-inch LCD screen (formerly 2.5 inches on the ES1) and the company's patented Easy-Scroll Wheel to the ES2. The wheel, formerly found only on their all-in-one (AIO) photo printers and, recently, on their mini320 compact inkjet printer, makes menu navigation and image selection simple and smooth. Slightly different in design, the ES2's Easy-Scroll Wheel is a raised disc with ridges to make it easy to spin. The four directional arrows are arranged as separate buttons around the wheel.
The ES2 utilizes a Digic II image processor to power several image adjustment tools, such as automatic red eye removal and Portrait Image Optimizer, which detects faces and adjusts brightness and contrast for best results. Image embellishments available in the menu in the menu include frames, speech bubbles, and clip art. Users can also soften the focus of an image, add fade to or soften the edges, or add "star lights" using the Image Effects features.
Unique to the Selphy ES line is the integrated ink/paper cartridge, which bundles the dye sublimation ribbon cartridge and paper in one plastic cartridge that is easily inserted into the printer via the side door. Paper will be available in color and black-and-white options in postcard-sized (4x6-inch) and in color in card-sized (3.5x5-inch) and credit-card-sized (2x3-inch) paper.
Like the ES1, the Selphy ES2 features a full range of memory card slots and a retractable USB cable connects to Canon cameras for direct transfer of images. An IrDA port is also included for beaming photos directly from cell phones and PDAs. Additional wireless connectivity can be achieved with the purchase of a Bluetooth adapter. An optional battery can purchased for use in locations without a power supply.